Many claims are made about a caravan model's toughness for duty – this is what happens when a mining company builds a caravan! The Explorex caravan is borne of the Kimberley.
It's very easy to get caught up the excitement of looking at a shiny new van. All the gloss and chrome can be a distraction from the longevity and serviceability of that caravan and whether it will provide you with trouble-free economical ownership.
If you want to talk durability, then there's no better testing ground than the often-harsh remote locations used by the mining industry. If a van can withstand the rigours of outback life with a rotation of occupants on a regular basis, then there's a reasonable probability that the manufacturer knows a thing or two about building a robust product.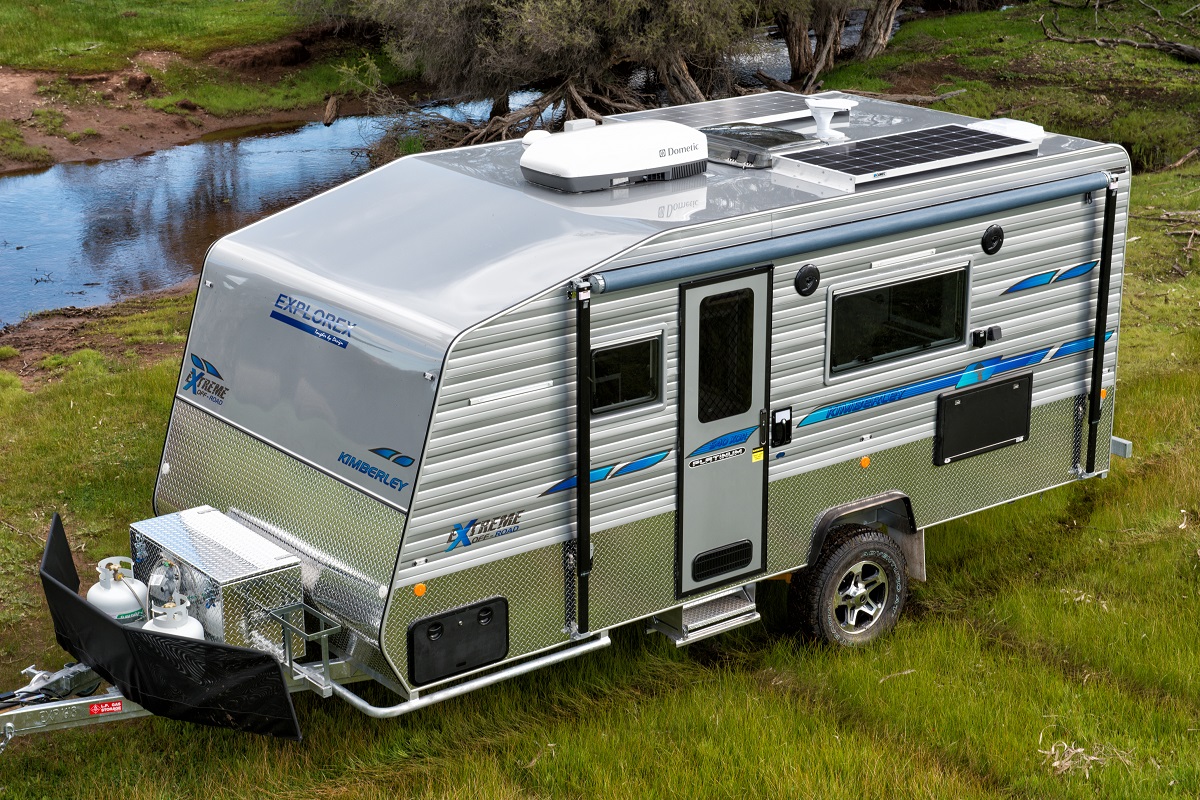 Explorex is a family-owned business located in Wangara, Western Australia. It's been designing and building an impressive range of commercial vans for the mining industry – from sleepers to kitchens, to crib rooms, offices and all-in-one combinations – since 2003. So when the operators decided to take all that experience and inject it into a range of off-road and dirt-road caravans for the domestic market and provide buyers with the flexibility to customise their builds to suit their needs, the end result is a van that can confidently handle the demands of any serious WA traveller.
The Kimberley is one of Explorex's smaller and lighter vans in the Extreme Off-Road range starting with a Tare of 2240kg for the Platinum edition as pictured. Explorex designs and builds its own heavy-duty four-inch steel chassis for the Kimberley, which is then hot-dipped galvanised to ensure durability and longevity.
Stuart Marr, sales and service manager, informed me that every Explorex chassis is hand-welded and finished to the highest possible standards using in-house proven quality control measures. The walls and roof frames are made from fully-welded galvanised steel tube, and these frames are in turn welded to the chassis for additional strength. Internal walls are also made with steel frames; this gives solid fixing points to mount proper doors such as the one used for access to the ensuite. The roof is also one-piece aluminium to avoid leaks.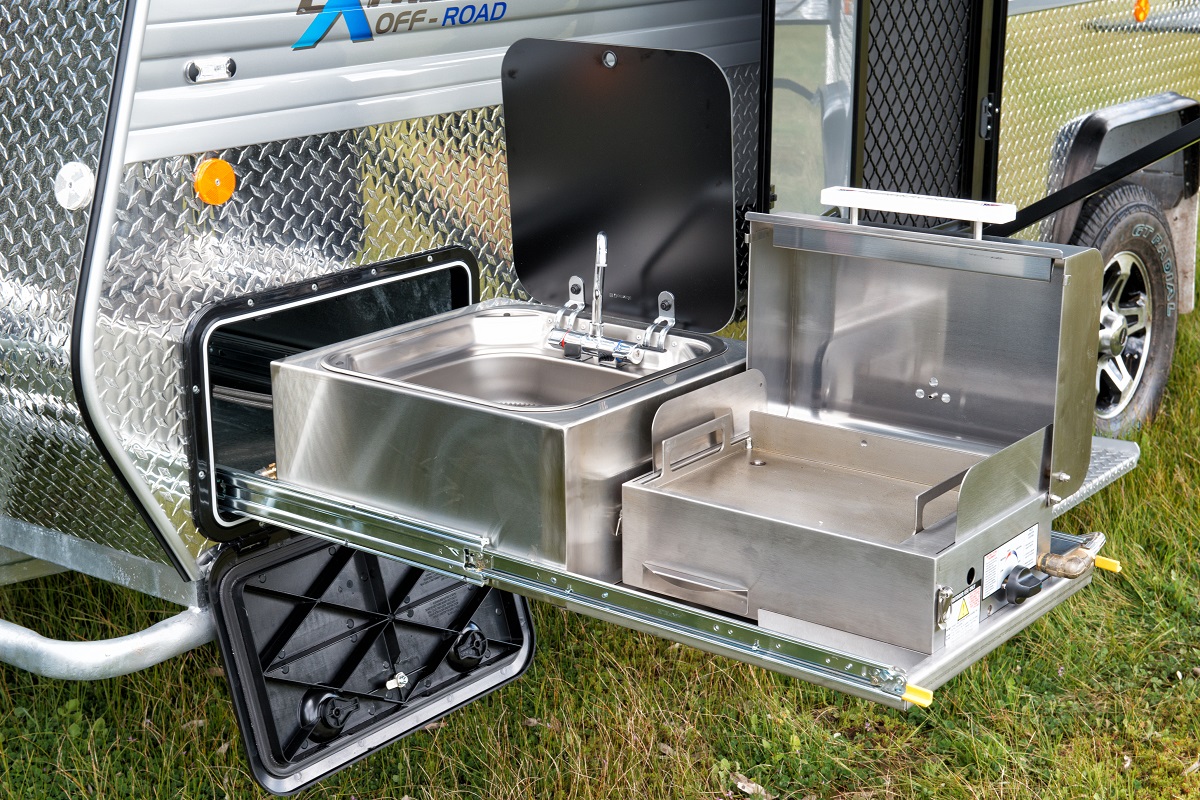 Having been convinced that these units were built tough, I checked out the Kimberley Platinum: A smart-looking van sitting on polished 16-inch alloy rims and finished in crystal silver cladding with blue decals and shiny checker plate protection on the lower third of the panelling. Out front was the popular Cruisemaster D035 coupling which makes hook-up and disconnect a relatively painless process.
A mesh stone guard sits just in front of the two 9kg gas bottles, with a large storage box behind. There's also two jerry can holders placed either side of the storage box, and an external tap mounted to the front four-inch A-frame on the driver's side for easy access to water for washing hands or filling a kettle during a quick roadside stop. Two scrub bars extend from the A-frame to the outer edge of the van to provide a little extra protection.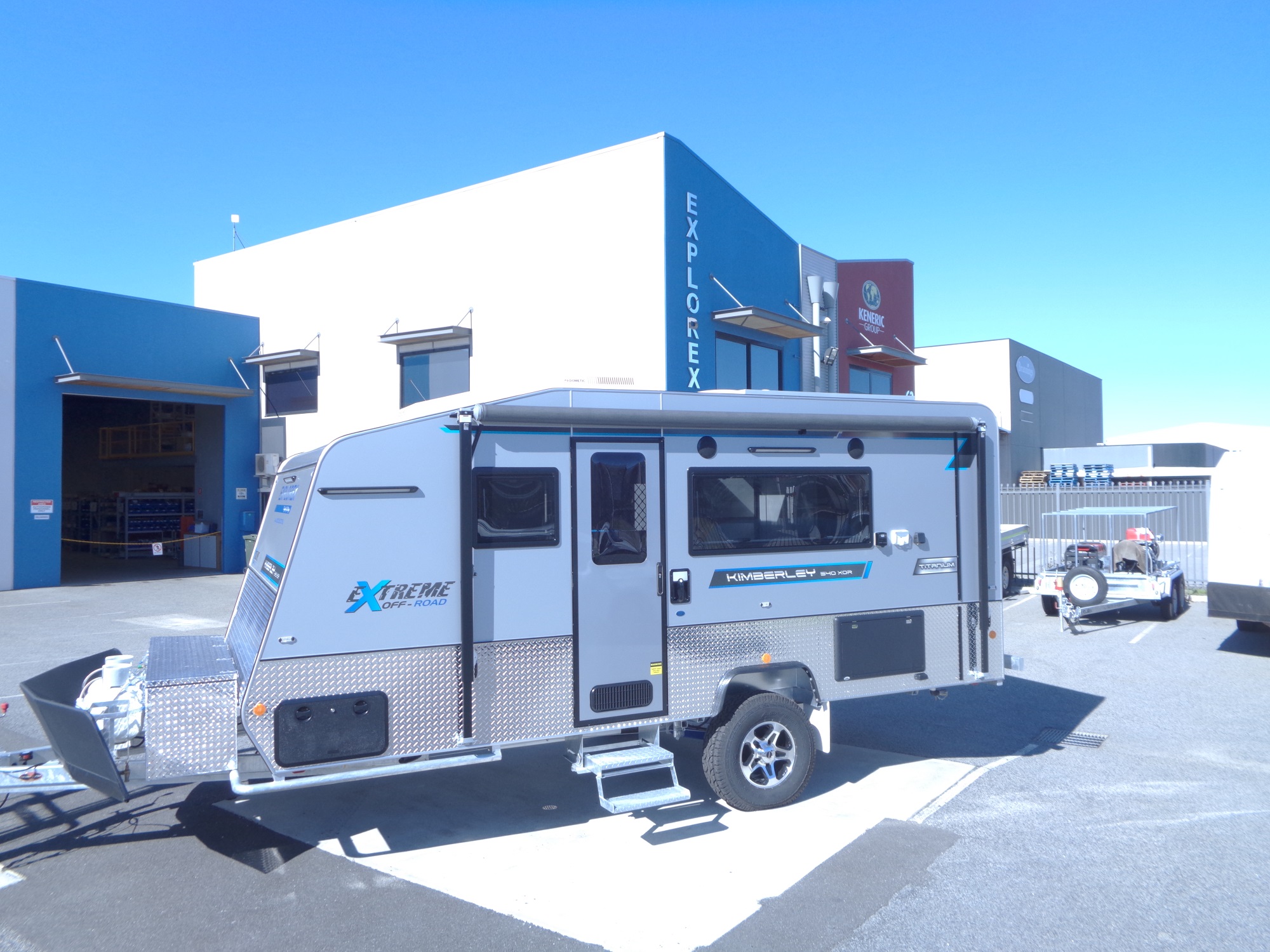 At the front left corner is an (optional) slide-out kitchen which tucks neatly back into the normal pass-through storage area. The unit consists of a sink and a hot and cold water supply with a stainless-steel Bushman (or Swift Al Fresco) barbecue on the side – ideal for those times when it's too nice to cook inside and you want to simply enjoy the outdoors. The remainder of the pass-through is accessed from the driver's side, with plenty of room for hoses, groundsheets, etc. However, if choosing the kitchen option, having a separation panel to keep the kitchen unit apart from the stored equipment would be handy.
There's a two-step access to the van via a full-length door. Just past the entry door is a side-wall fold-down bench space, offering a convenient surface to place drinks or make an afternoon snack before relaxing under the 13ft Dometic awning in the cool shade listing to your favourite audiobook or music via the external speakers.
Around the back is an integrated bumper with two rear recovery points, but only one spare wheel mount. For an off-road van in this price range, I would have liked to see two spares by default; although the requirement could be easily accommodated with an additional mount. The rear skid bar running the width of the van offers good protection over gravel or stone-covered surfaces; however, its square-edged profile did act like an impromptu plough, getting hooked into a little mud during a creek crossing and accumulating a reasonable amount of goop up underneath the van.
For those undesirable 'whose turn is it'? duties, the toilet cassette is easily accessible via a neat compartment door. Interestingly, given the close proximity to the rear ensuite, there was no external shower unit; nor is it on the options list. While not a deal-breaker, it's a fairly common 'nice to have' for an off-road caravan.
On the road, the Kimberley tracks very well indeed. The 2800kg Cruisemaster independent coil set-up with dual shocks easily dispensed with small road irregularities. Winding roads presented no problems and the van felt stable, even when passing larger vehicles or under braking.
Inside the Kimberley, the first thing that becomes evident is the strength and quality of fit and finish. All internal cabinets are made from 15mm plywood, and they're glued and screwed with no staples. Each cabinet is then screwed directly to the steel frame structure, offering solid support. The floor is commercial-grade vinyl; it's both practical and durable while still pleasing to the eye.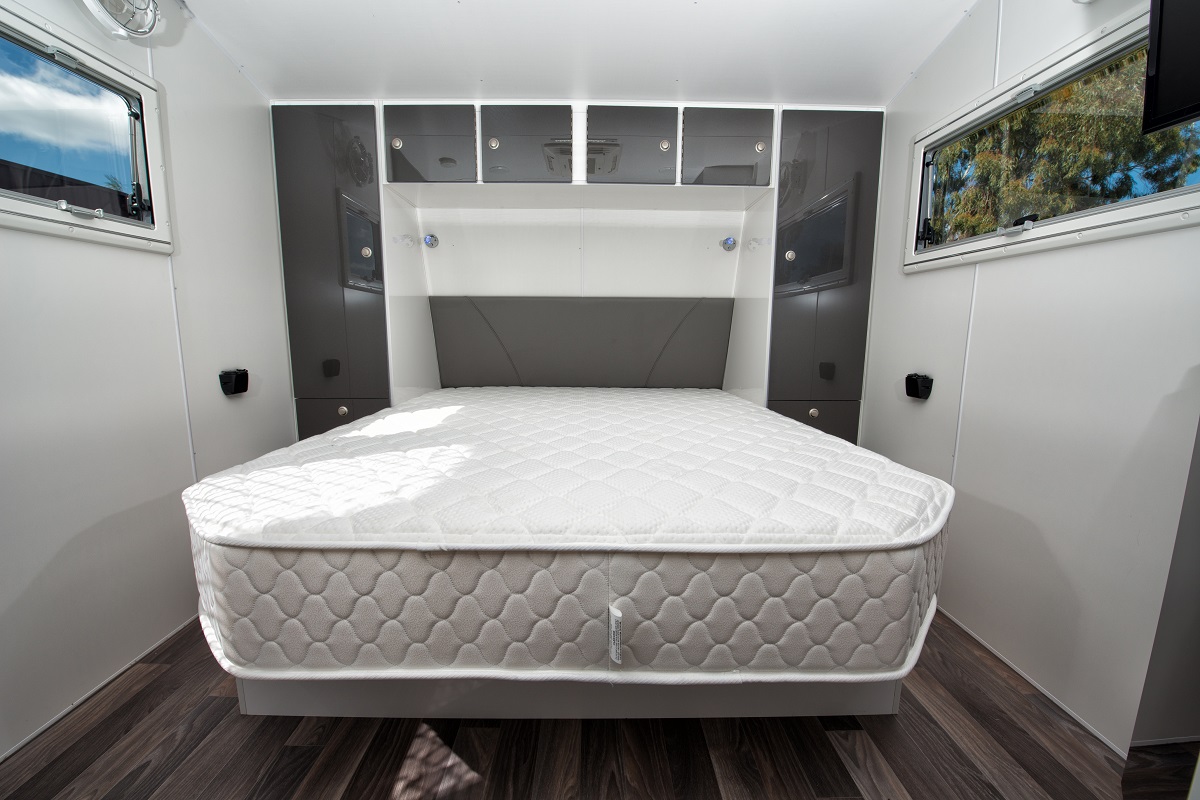 The queen-size bed pivots up for additional storage, and there are side robes with lower drawers and overhead lockers for all your clothing. There's leather café-style seating and a bifold table that stores neatly away when not needed. A large 190-litre 12/240V Dometic fridge with freezer keeps food fresh and drinks cold. Inside cooking duties are catered for via a 30-litre microwave and a Thetford cooktop and grill with rangehood. Add a circular sink and flick-mixer tap neatly mounted in a laminated benchtop, and gloss splashbacks plus an additional benchtop above the fridge, and the travelling chef should have no problem keeping tummies satisfied. All drawers have steel runners and are self-closing with Hafele door locks to keep things secure.
Stuart advised us that Explorex has been paying considerable attention to interior layouts and now has a new range of colours and materials, plus the accuracy of CNC routing for the cabinetry division. And given there are 14 layouts on offer, there's bound to be one to suit every need.
The ensuite has a separate toilet, and a full-size shower and screen with its one-piece moulded shower unit allowing easier cleaning plus an overhead hatch and fan to get rid of steam. Hot water is via a Suburban gas/electric system with twin 82L water tanks underneath. The ensuite also has a ceramic vanity basin, flick-mixer tap, overhead lockers and underbench storage. There's even a Lemair space-saver washing machine neatly concealed under the bench.
Lighting is courtesy of LED strips, while comfort and entertainment are catered for by a Dometic AC system with a 24-inch TV/DVD unit complemented by a radio, CD, DVD or MP3 player – which can be switched from internal to external speakers as needed.
Covering electrical demands there are two 150W solar panels and a 30A regulator, two 100 AH batteries, and a Victron monitor to keep track of power consumption and input; while charging duties get seamlessly coordinated by a 25A smart charger or the optional 40A Redarc charger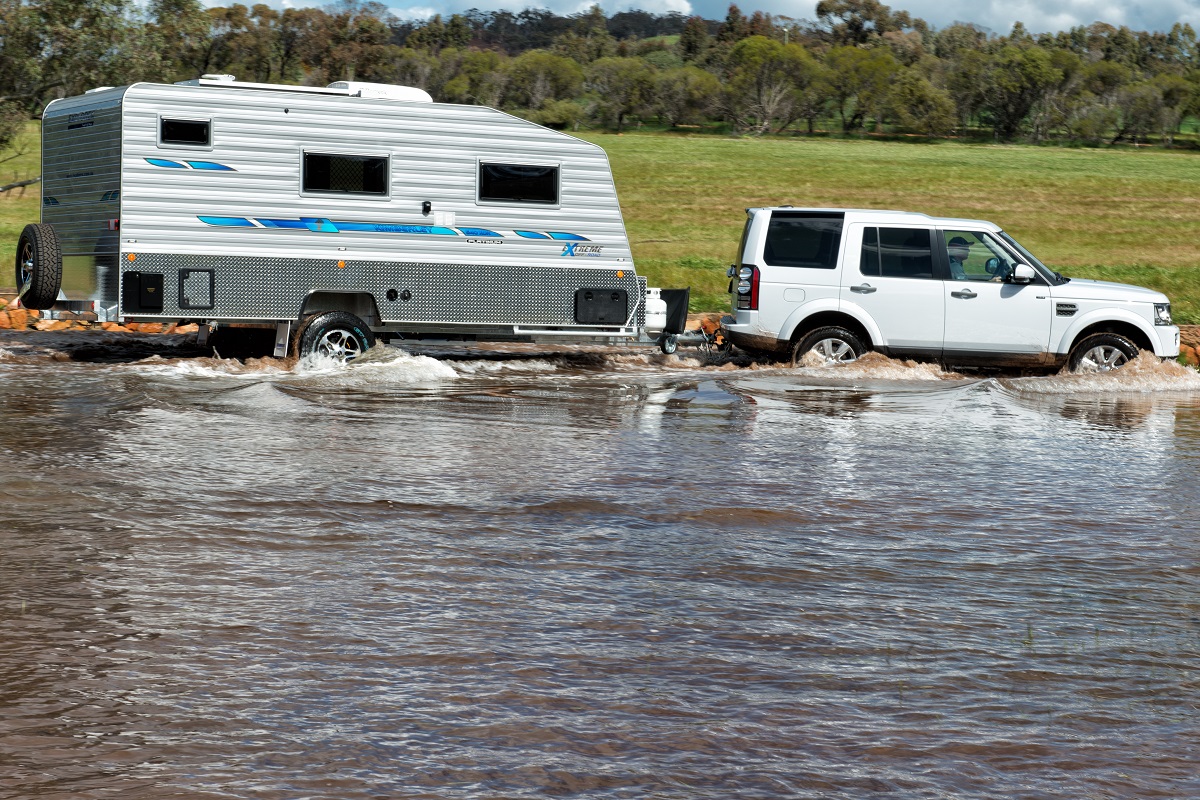 Verdict
It's obvious that Explorex puts its focus on build strength. With a robust pedigree stemming from the mining environment, this manufacturer knows what is required of a true off-road caravan.
The Explorex team is so confident that their welded steel frames provide a strong van more than capable of enduring the demands of the adventurous traveller that they provide an extensive 10-year structural warranty. With that level of commitment to their products, their range has got to be worth checking out if you're in the market for a durable off-road van.
Pros
Steel-frame construction
Improved interior design
10-year structural warranty
Cons
No external shower unit
Compromised departure angle
The rear scrub bar acts like an impromptu plough in mud
Only one spare wheel for off-road use
Brief Specifications
External body length: 5.4m (17ft, 7in)
External body width: 2.48m (8ft)
Travel height: 3.05m (10ft, 2in)
Tare weight: 2240kg
Aggregate Trailer Mass: 2800kg
Ball weight: 200kg
PRICES (RRP)
Kimberley Platinum $86,240
Kimberley Titanium $88,440
Words and images Ray Cully.