This is possibly the best tow vehicle on the planet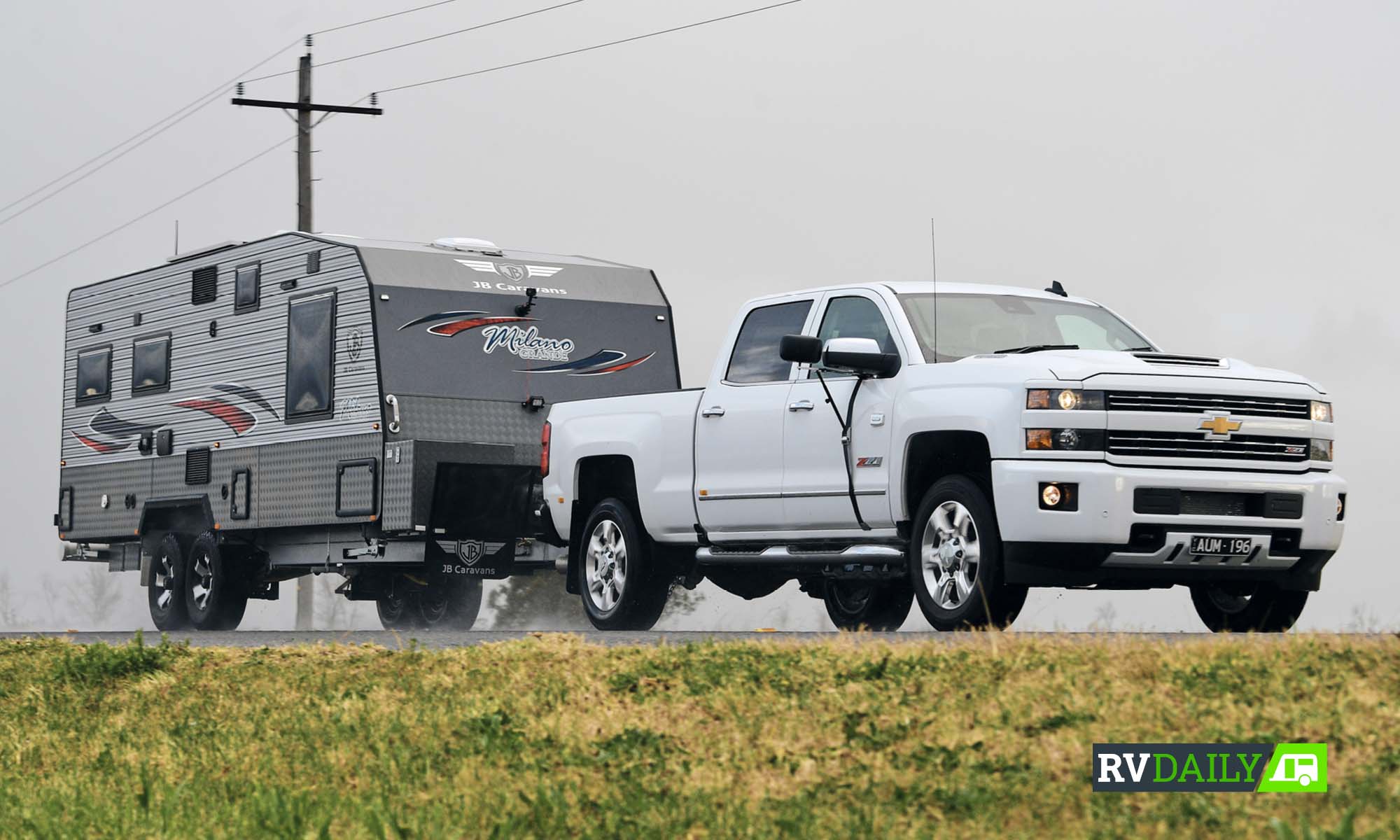 HSV's imported Chevrolet Silverado ute hits the spot, big time
Towing. It's a tough gig, which can really sort the wheat from the chaff. In an age when engines are getting smaller, using multiple turbos and extra-ratio gearboxes to keep performance, many still pine for something bigger. Something more effortless.
If that sounds like you, I hope you brought your wallet. We've been driving the new Chevrolet Silverado, which HSV is importing and re-engineering into RHD in Melbourne. They're a 4X4 ute done in the big gulp American fashion; everything about it is big. That includes the price tag, which comes in at $139,990 for this Custom Sport variant. It's twice the price of a 'normal' ute, but it's about twice as big. And it's got twice as much engine. Let's have a closer look.
There's a party under the bonnet, and you're invited. The host is 6.6 litres of common-rail, V8 diesel. His good friend turbocharger is coming along, and they're doing their favourite party trick: 1234Nm @ 1600rpm, and 332kW @ 2800rpm. It's an incredible amount of power, with only the RAM's Cummins 6.7-litre, six-cylinder diesel being able to be muttered in the same breath as a full-volume, factory-backed option.
The performance of the engine, running through a six-speed Allison 1000 gearbox, truly needs to be experienced to be understood. Peak torque comes on with incredible force, leaving you in a frightened panic when fully deployed, until you get used to it. Acceleration, when the rear tyres can muster some traction, is ferociously quick for a vehicle of this size. The tacho hardly moves, but the speedometer spins clockwise with alarming pace.
Suspension on the Silverado is surprisingly archaic, especially when you consider how much technology and convenience is built into the cabin. Torsion bars are up front, a set-up only shared with Great Wall's Steed. At the rear are big leaf springs, which give a nice ride. This is no doubt helped by the leviathan wheelbase. The Silverado does skip and occasionally buck over rough roads and corrugations, not dissimilarly to most other
(normal-size) 4WD utes.
When you're towing, you never encounter a point in time when more grunt comes to mind. We had a JB Milano Grande caravan, which weighs a not insignificant 3200kg Tare. Regardless, I never needed to depress the throttle more than halfway. You'll notice our testing day was graced with some solid rainfall, and I can tell you that at 80km/h, inducing wheelspin, even with a big caravan on the back, was easier than talking a toddler into dessert before dinner.
Inside, the LTZ (on which the Custom Sports is based) runs with more spec to the LTZ and Z71 little brother Colorado 4WDs you might be used to. The seats are 10-way adjustable, with heating and cooling. They're huge and comfortable, kind of like your uncle's 80s leather couch. There's wireless charging, along with Smartphone mirroring through the eight-inch touchscreen. Other than that, you'll notice many similar touchpoints and buttons to a Colorado, especially around the (dual-zone) climate control and piano-style keys.
Aside from the engine, the Silverado packs some serious punch with integrated electric brake control, and a towing mode that adjusts the way the throttle and gearbox is controlled. Plus, there are exhaust brakes. Exhaust brakes. And they are a revelation. When loaded up, you're barely relying on brakes to control your speed downhill. It gives you another level of control and confidence when towing big loads.
With a 50mm ball, the towing capacity sits at 3500kg. Go to a 70mm ball – which we did for this test – and that number runs up to 4500kg. If you're batshit crazy, fit up a pintle hook. That'll give you 5890kg of towing capacity. Although the payload isn't huge (875kg), the gigantic GCM of 9801kg means every gram of that payload is usable (unlike smaller utes).
For a 4WD ute that's over six metres long with a 153-inch (3.8m) wheelbase, weighing in at almost 3.5 tonnes, the Silverado is surprisingly easy to drive. Naturally, navigating such a huge sum of steel on Australian roads takes some getting used to. But once you're on the open road, or finding yourself in a lane with a bit of size, the Silverado feels relaxed and easy. The ride is nice, and you're comfortably ensconced in the massive cabin. The car steers easily, and the engine gives incredibly effortless, and remarkably refined progress.
Hook up some weight on the back, and nothing in particular really changes. You might notice a big box shape in the rearview mirrors every now and again, but your experience is otherwise smooth sailing. You rarely feel the need to dig into more than half of your power reserves. And when you do, it's not for long. The Duramax motor is a truly awesome piece of engineering.
What's also great about the Silverado is the size, wheelbase and weight of the thing. It means the trailer is unable to push you around. The Silverado doesn't get fazed, regardless of whether you're going uphill, downhill or over rough and twisty roads. It's that good. We were driving some of the more decidedly dodgy roads through the hilly Upper Hunter Valley and found the only way to make the Silverado feel unsettled was when applying too much throttle.
Our fuel consumption didn't go over 20 litres per hundred kays at any stage and was closer to 16L/100km at times. Considering the size of the overall set-up, and the sort of roads we were driving, I'd say that's bloody impressive.
It's worth noting the Silverado did go through a fair amount of AdBlue when towing, so you'll have to accommodate the extra cost and complication that comes with a top-up every 2nd or 3rd tank when towing.