Think about it, could you handle the travelling public?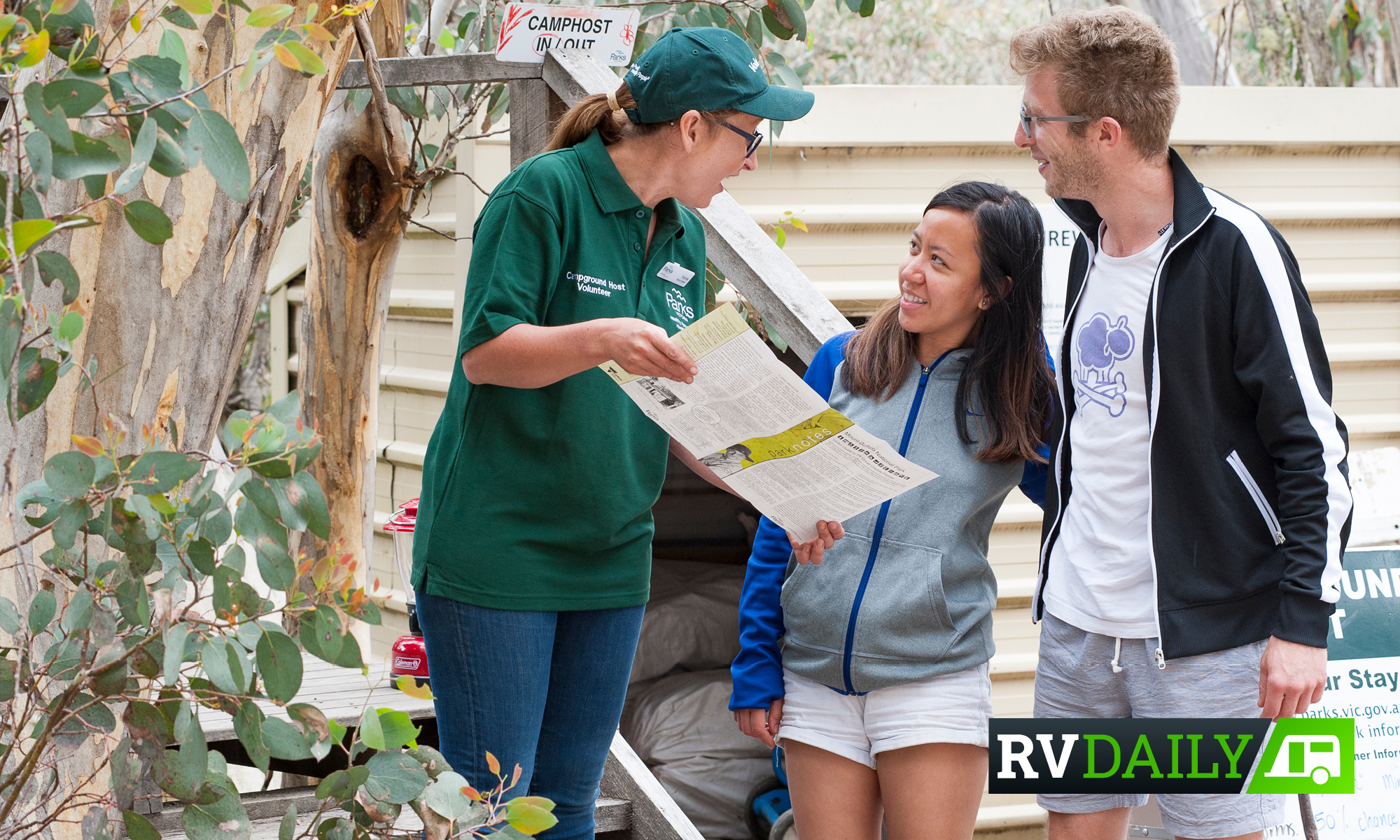 You get the best site in the campground and live where you holiday. Is being a campground host heaven on Earth or just work in paradise?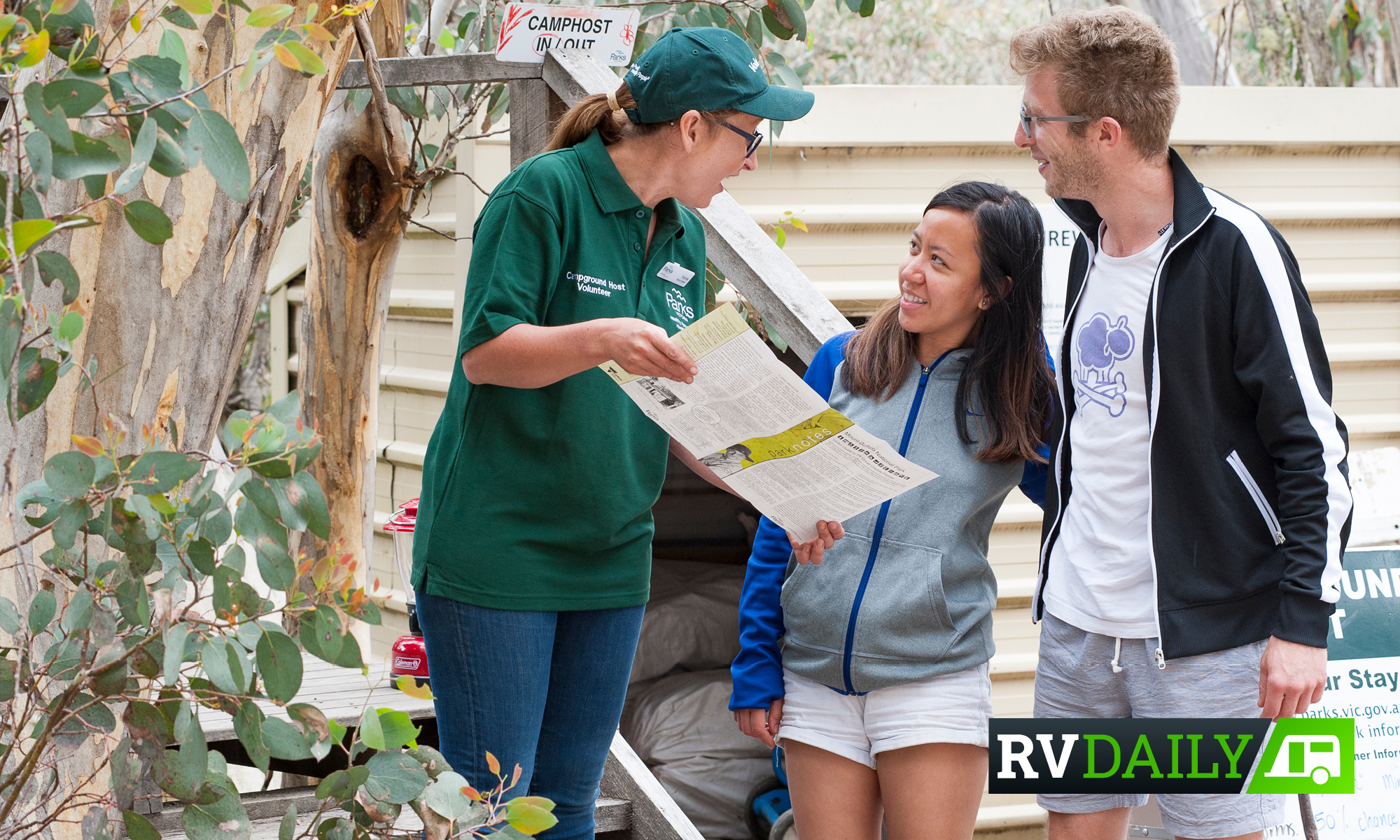 CLICK HERE TO READ THIS ARTICLE IN OUR FREE ONLINE MAGAZINE
Frequent the national park campgrounds around this country and sooner or later you'll come into contact with a special breed: the campground host. They're an enigmatic bunch and we were forever wondering whether it was the best gig in the caravanning world or a pain in the backside having to 'work' in an idyllic patch of Australia.
And besides, who do these 'hosts' think they are anyway? Coming around and pointing out where to get the wood for the campfire and would we mind paying our camp fees? Knowing all the good walks and the best spot for a swim or sundowner depending on which way the wind is blowing? How dare they walk around like they know the place! Well, we were about to be schooled big time in the art of eating humble pie in the Yuraygir National Park near Grafton, on the NSW North Coast.
Among the dust of the dirt road, a briny smell rising off the beach and the sound of thousands of cicadas, we rolled in to Illaroo campground, a small NSW NP site just north of the tiny hamlet of Minnie Water. It's a first come first served set-up and amazingly there was still one site left on top of the dune overlooking the ocean. We couldn't believe our luck, one week out from Christmas and the school holidays in full flight. "There's one! There's one right at the front!!" we yelled and the kids strained against their seatbelts to view our site for the next week.
As we went through the motions of the reversing-the-rig-into-position fight, I was the first to notice something amiss one site over. A lawnmower next to the caravan. My husband then pointed out the khaki uniforms hanging neatly on the portable washing line. We wrinkled our noses like we'd bitten into a glossy rotten apple: campground hosts. Back in the car we zipped and found another site a few hundred metres away – after all, camping next to the grounds' hosts was akin to picking the school principal's son or daughter up for a date: awkward and restrained. We'd have to be on our best behaviour if we camped next to them with a spick and span campsite, children who sang sweetly not whined incessantly, and restrain ourselves to one beer at 5pm lest we look like the relaxed holiday makers we really were.
But the joke was on us. In our haste to move we'd positioned ourselves right next to the (admittedly spotless) drop toilets, which was fine as the wind blew northerly but not so great on the second last day when the southerly arrived. And those campground hosts? They were worth their weight
in gold.
Apart from looking like the kinds of neighbours who'd take your wheelie bin in and feed the cat while you were off RVing for the weekend, Les and Jeanette, subcontractors for the NSW Office of Environment and Heritage, also have a clear passion for the Illaroo campground and the area encompassing Yuraygir National Park (NP). We spoke to them several times over our six-night stay and were impressed not only with their knowledge of the area, but the way in which they managed to combine working, holidaying and enthusiasm for this wonderful country of ours into one glorious existence.
After years as regular holiday makers in the Bintang bucket of Bali, Les and Jeanette were "burned [so] badly" they swore off the island and decided to start exploring their own backyard instead. A trip south of their Gold Coast home saw them at Illaroo and a love affair was born. They returned to the campground a number of times and eventually heard of the possibility of becoming subcontractors in the campground during school holidays – an opportunity, according to Jeanette, just too good to pass up. As a full-time business owner on the Gold Coast, she said their sojourns working at Illaroo were "like living in heaven".
Their duties include, among other things, collecting camp fees and checking national park car permits, which seems benign enough, but as with anything touched by our governmental forces, there's a lot of policy and certificate compliance behind the scenes: simply being passionate about Yuraygir was not near enough on the résumé. Having already possessed qualifications such as an ABN, Child Safety and Workplace Health and Safety certificates along with the general know-how of running a business, dealing with money, people and a bit of bureaucratic red tape were all part of the package landing Les and Jeanette the host-post of the century.
Each state park's service also runs its own induction and training in becoming a campground host, something Damian, a volunteer host of three campaigns at Victorian Parks Blanket Bay campground, says was essential and reassuring prior to his first stint. Apart from providing great information on what to expect, there were "experienced campground hosts there to help with any questions". Some situations have nothing in the manual to prepare you however, with Damian spending one afternoon frantically checking the toxicity levels of 'unidentified' berries a certain four-year-old camper had eaten, only to relieve an anxious mother some time later with the news they were bush tucker. Suspicious berries, wasp nests and 'pacifying' campers who hadn't booked a site over the Christmas period at Blanket Bay's booking-only campground were all in a day's work for Damian, who insists he still had "plenty of spare time to have a ball!"
Despite being on call at the campground for 10 hours a day, Les and Jeanette also seemed to have plenty of time to engage in holiday-like activities. After we spent some fruitless hours fishing for something, anything, off the beach, Les sidled up with the advice to wait until the northerly wind had passed, try off a particular rock shelf at low tide or take a drive up the beach toward Sandon River. For a bloke working "10 hours a day", his intimate knowledge of fishing to conditions around Minnie Waters was staggering.
But as with anything, it's not all beer and bait balls. There are the odd fee evaders to contend with, the unfortunate vandalism of the park to report (someone had lit a fire under the covered picnic area but on top of a plated gas barbecue during a storm while we were there) and, once in a Christmas blue moon, dealing with disruptive campers. Even over periods of intense usage though, Les maintains they've rarely had to turn campers away. "We know who's coming and going," and have almost always managed shuffle spots around to accommodate all.
And the very worst thing about being a camp host at Illaroo? Jeanette was pretty emphatic with her response: "Going home!"
We saw Les and Jeanette a few more times during our stay, chatting about walks in the area, the best place to buy firewood and secret lagoons for a swim safe from the surf. As the faint pong of the drop toilets next door settled over us on the last few days and we gazed at that stunning beachside spot we'd spurned right next to the best one in the entire campground, that humble pie tasted pretty bitter. On the other hand, I think Les was having fresh caught fish for dinner. Yep, we'd been well and truly schooled.
Want to become a campground host?
According to Blanket Bay's Damian, an open mind and good people and communication skills are important in volunteering for this kind of "fantastic experience." Every state has its own regulations, policies and particular campgrounds where you can volunteer to become a host. Remuneration differs from state to state. Most require you to have a National Police Check, a Blue Card or Working with Children Card, or other qualifications.
Click on the links below for more information:
New South Wales – There are plenty of opportunities for hosting throughout NSW.
Queensland – Queensland organise their campground hosts on a park-by-park basis.
Victoria – Victoria has had over 3000 volunteers in their campgrounds since the year 2000.
South Australia – SA has the oldest running campground host program in the country.
Western Australia – WA has around 53 sites where campground hosts are required.
Northern Territory – Visit the site and have a look through their 'events calendar'.
Tasmania – The Apple Isle has a limited number of volunteer 'caretaker' positions available.