While everyone is mourning the loss of the V8 with the release of the new 300 Series Land Cruiser, everyone is forgetting one thing. You can still buy a Toyota V8 Land Cruiser.
I am an unashamed Toyota fan and the proud owner of a 200 Series Land Cruiser. Absolutely 100%. As someone who has been into off-roading and outback touring for the last 30 years or so, and having owned a variety of 4WDs during that time, I can honestly say I had always wanted a Land Cruiser and when I finally got one, I wondered why I had waited so long to get one. It's far from a perfect car, I'll admit that. But driving around in a big, comfortable wagon that is almost unstoppable off-road to the soundtrack of that guttural 4.5-litre twin-turbo diesel V8 puts a smile on my dial every day.
My love for the ol' girl goes further than just the engine. After living on the road for the last 3 years and touring around Australia towing our 3.5t off-road caravan across the country through all manner of adversity, I have a healthy enthusiasm for Toyota's engineering and reliability. The Cruiser hasn't once given us a hint of trouble and it's never failed to pull that van no matter where we've pointed it and we've pointed it at some pretty rough places. That car has earned my respect.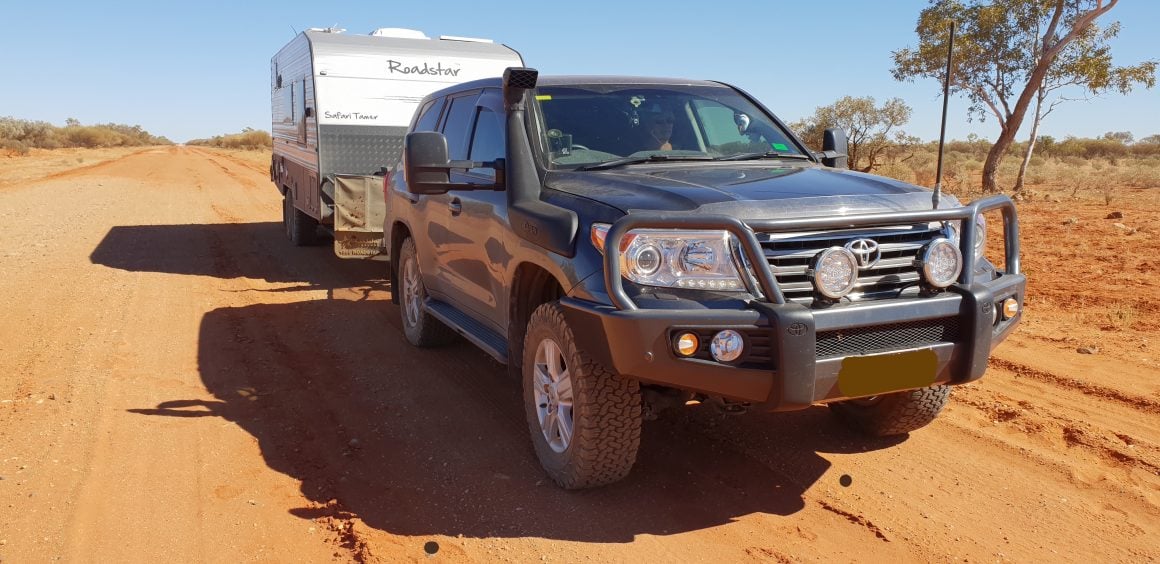 But even I have to concede, in a world run by environmentalists and threatened by climate change, whether you believe it or not, the fact is the V8 Cruiser is out of place in today's green world. You can understand Toyota's thinking behind the changes with the new 300 series and its downsizing to a smaller, more fuel-efficient V6 engine. The problem is, for many Land Cruiser owners who have been brought up on the adage "there's no substitute for cubic inches", the new 3.3 litre V6 isn't exactly shaking their tree. I'm all for progress and doing the right thing by the planet but I cannot say the new 300 Series Land Cruiser thrills me in any way. If I was to ever consider replacing the 200, I think I would want another V8.
Upon reading this, I can hear the chorus from the masses exclaiming 'cross over to the dark side and buy a Y62 Nissan Patrol'. And I would have to agree. While I may not be thrilled at the prospect of owning another petrol V8 (I once owned a petrol Land Rover Discovery with the depleted bank account to match), I concede I may have to bring myself to live with the Patrol's unrelenting thirst for high-octane unleaded if I want another V8 4WD. For many other Toyota die-hards, that is tantamount to high treason for which I should be hung, drawn and quartered just for entertaining the thought.
But it doesn't have to be that way. Toyota lovers can still have their V8 diesel cake and eat it too, albeit a plain sponge cake with no frosted icing. Enter the elephant in the room; the 70 Series Land Cruiser.
This vehicle is equipped with the same 4.5 litre V8 diesel engine as the 200 Series and, at this stage, Toyota hasn't hinted at any plans to drop this engine from the 70 Series lineup anytime soon. Yes it's only got a single turbo and it doesn't quite put out the same power and torque as the 200's donk, but the 70 Series is a very basic vehicle that doesn't weigh anywhere near as much as the 200 so it still goes like a cut cat when you put the boot into it.
I remember the first time I drove a V8 70 Series Cruiser. I was an instructor conducting a 4WD course for the Victoria State Emergency Service down at the 4WD proving grounds at Werribee. It was one of about a dozen vehicles we were using. It gave me the opportunity to drive the 70 Series through a variety of conditions, both on and off-road and I liked it a lot. It was basic, rugged, practical and that engine was so nice to drive compared to the other 4 and 5 cylinder engine vehicles.
There was one particular hill at the proving ground that was a real challenge for all the vehicles on the test, except the Land Cruiser. It was long, steep, rocky and it had been washed out with recent rain. I lined the 70 up at the start of the hill, put it into 2nd gear low range, and started the climb at a steady pace. With each increase in gradient and crumbling of the track, I just pushed the go pedal a little further and onwards it went. As the going got harder, and the wheels started scrambling for grip, some more acceleration was all that was required for the 70 to get its grip back and keep on going all the way to the top of the hill. The ease with which it conquered this obstacle that defeated the diff-lock and/or traction control equipped competition, in wet and slippery conditions with nothing more than all-terrain tires, was very impressive.
As a tow vehicle, the 70 Series Cruiser gets the job done. It is nowhere near as comfortable as the 200 Series off the factory floor but with the change in your pocket from the price difference, you can fit some Recaro seats, a decent stereo and some other niceties and make it much a better vehicle to live with. The only drawback I see is the lack of an automatic transmission. Once you've towed with an auto, it would be a real come-down to go back to a manual. Oh…and you would lose the dual-zone climate control; a feature my wife couldn't live without. As good as the 70 Series may be, you will have to make some pretty big compromises if you buy one.
At the end of the day, we will all have to wait and see if the V6 in the new 300 Series lives up to its hype. With a reported 700nm of torque on tap and an estimated 200kg less weight to lug around, Toyota promises it will leave the 200 in its wake. The problem for Toyota is that promises don't mean squat in the real world. When you take into account that Toyota will probably sell the new Cruiser for between $100,000 and $150,000 depending on the model and spec, that's a lot of money to put behind a promise especially if you're coming out of a 200 Series.
History has shown replacing a big engine with a small engine in a large 4WD has not gone well for the brand responsible. Nissan killed off one of the best engines ever put into a 4WD, the 4.2 litre TD42T straight-six turbo diesel, and replaced it with the 3.0 litre, 4 cylinder ZD30. In so doing, Nissan basically handed Toyota the large 4WD market in Australia on a platter. Then consider the new Toyota V6 is only 0.3 of a litre bigger than Nissan's ZD30, and it's clear Toyota will have a pretty big marketing exercise on its hands.
We have already seen demand for second-hand 200 Series Cruisers climb to ridiculous heights with a corresponding rise in second hand value. I reckon we will see the demand for Y62 Patrols go up as well. But for die-hard Toyota fans, they may well forsake the bells and whistles of the 300 Series and opt for a 70 Series Land Cruiser just so they can have a Toyota V8 engine. It may well spoil the party for the 300 Series.
But if the 300 Series Land Crusier ultimately delivers on its promise to be better in every way than the 200, and that has to include reliability, then the repressed tree-hugger in all of us may just tip the scales in the 300's favour and ring the final death knell for V8 4WDs in Australia. We will just have to wait and see.
Safe travels.
Related reading: Toyota unveils the new 300 Series Land Cruiser….FINALLY!