Australia boasts a lot of oversized things, including the world's largest sand island, the world's longest geocaching trail, the world's largest cattle station, the longest fence on the planet and more recently, the largest known plant on earth.
But did you know that our great country also has the world's longest golf course? Yep, that's right. The 18-hole par 72 Nullarbor Links Golf Course spans a whopping 1,365km. Stretching across the states of South Australia and Western Australia, this is one great reason to drive the iconic Eyre Highway across the Nullarbor on a bucket list adventure.
How does the Nullarbor Links Golf Course work?
The concept is unique. Road trippers play one hole in each participating roadhouse or town along the Eyre Highway between Ceduna in South Australia and Kalgoorlie in Western Australia. There is a green and tee-off for each hole but don't expect a manicured fairway. As you can expect, fairways along the Nullarbor can be more aptly described as 'outback style'.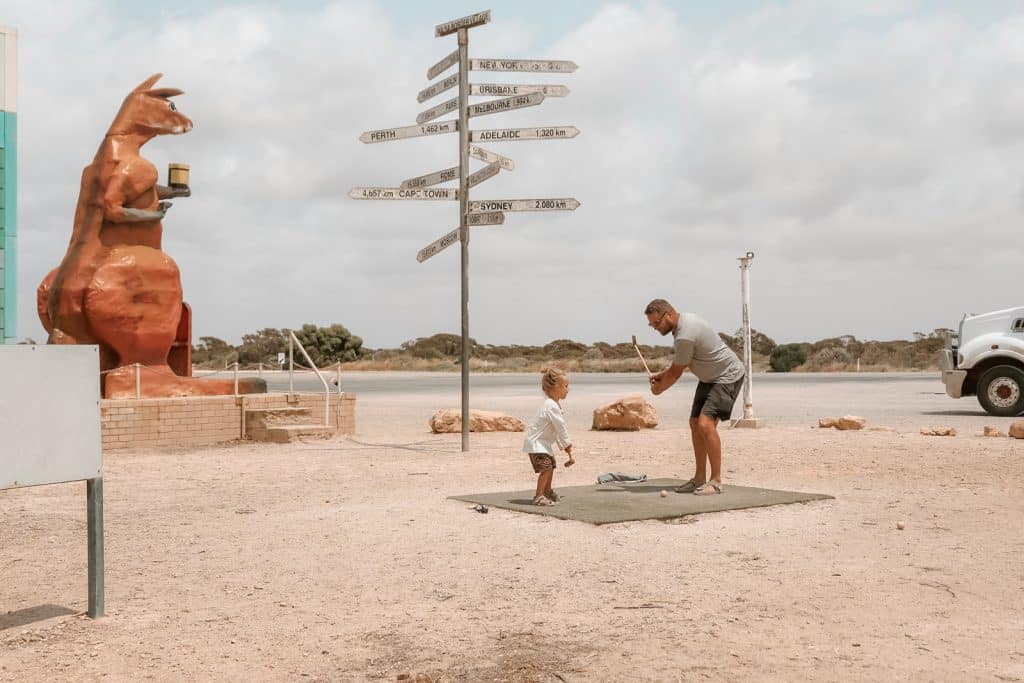 But …. why?
Because the Eyre Highway is desolate and about as interesting in spots as listening to my kid discuss the merits of using Redstone blocks in Minecraft. In other words, it can be as boring as bat s***. Driving this route is a quintessential Australian Outback experience and the Nullarbor Links Golf Course provides a much-needed dose of fun to break up the drive.
Also, if you grab a Nullarbor Links Golf Course score card (more information below) and get your card stamped at every hole, you can nab yourself a Nullarbor Links Golf Course certificate of completion from the visitor centres at either Kalgoorlie or Ceduna.
Okay, where do I get my Nullarbor Links Golf Course score card?
Purchase your score cards at:
Kalgoorlie Visitor Centre: Town Hall, Hannan St., Kalgroolie WA
Ceduna Visitor Centre: 58 Poyton St, Ceduna, SA
Norseman Visitor Centre: 68 Roberts St, Norseman, WA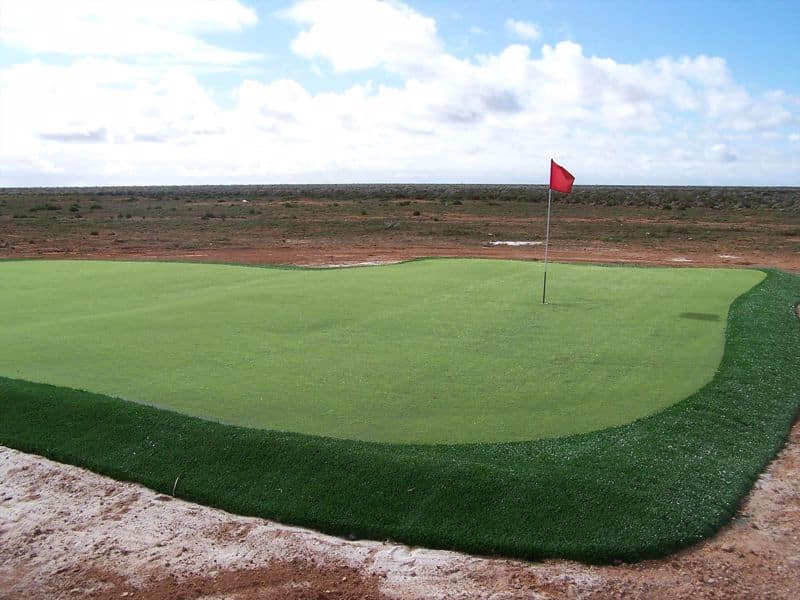 Nullarbor Links Golf Course club hire
Bring your own clubs or hire them from the roadhouses along the way. You can also hire them from the Ceduna, Kalgoorlie or Norseman visitor information centres. Bright coloured balls are the way to go if you want to find your ball after an epic drive down the outback fairway
By drive, I mean the golfing variety and not in your car. You're not supposed to drive your car on the fairways at all!
The 18 holes and where to find them
From east to west, here are the 18-holes of the Nullarbor Links Golf Course. If starting in WA, just do it in reverse.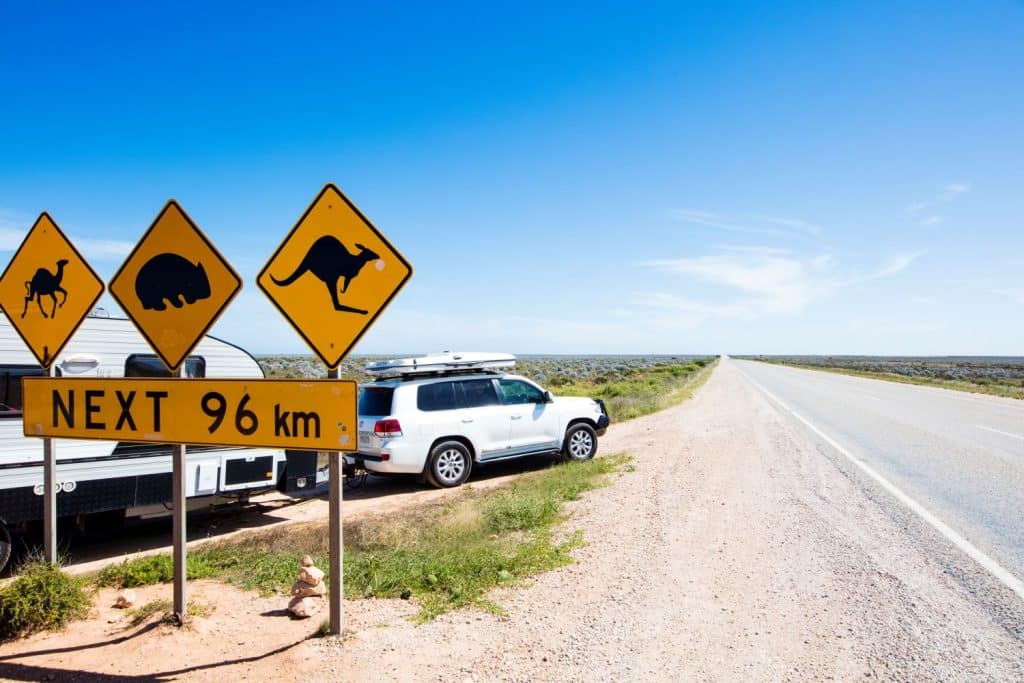 Hole 1 – Oyster Beds
Where: Ceduna Golf Club, Ceduna SA
Info: Par 5 – 485m
Hole 2 – Denial Bay
Where: Ceduna Golf Club, Ceduna SA
Info: Par 4 – 370m
Hole 3 – Windmills
Where: Penong Golf Course, Penong SA
Info: Par 4 – 260m
Hole 4 – Wombat Hole
Where: Nundroo, SA
Info: Par 5 – 520m
Hole 5 – Dingo's Den
Where: Nullarbor Motel, Nullarbor, SA
Info: Par 5 – 538m
Hole 6 – Border Kangaroo
Where: Border Village, SA
Info: Par 3 – 160m
Hole 7 – Nullarbor Nymph
Where: Eucla Golf Club, Eucla WA
Info: Par 4 – 315m
Hole 8 – Watering Hole
Where: Mundrabilla Motel, Mundrabilla WA
Info: Par 4 – 330m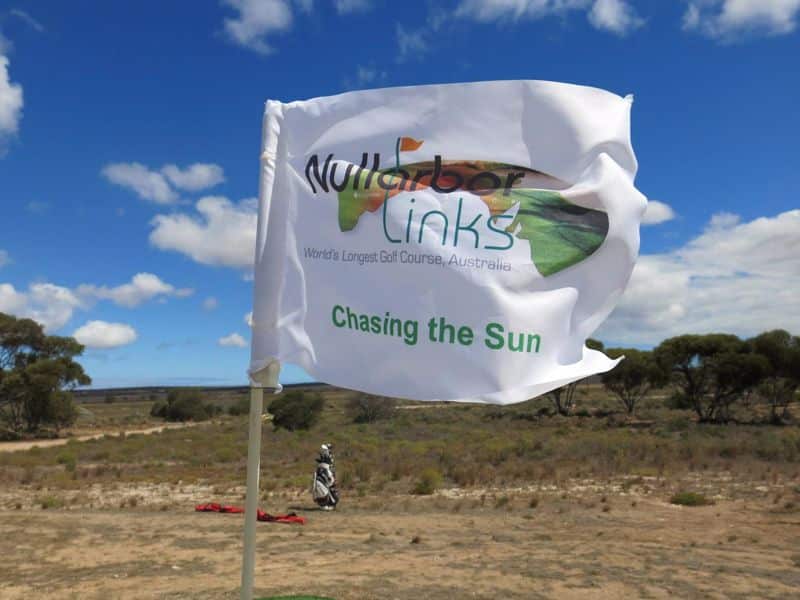 Hole 9 – Brumby's Run
Where: Madura Pass Motel, Madura WA
Info: Par 3 – 125m
Hole 10 – Eagles Nest
Where: Cocklebiddy Motel, Cocklebiddy WA
Info: Par 4 – 347m
Hole 11 – 90 Mile Straight
Where: Caiguna Motel, Caiguna WA
Info: Par 4 – 310m
Hole 12 – Skylab
Where: Balladonia Motel, Balladonia WA
Info: Par 3 – 175m
Hole 13 – Sheep's Back
Where: Fraser Range WA
Info: Par 3 – 141m
Hole 14 – Golden Horse
Where: Norseman Golf Club, Norseman WA
Info: Par 4 – 436m
Hole 15 – Ngadju
Where: Norseman Golf Club, Norseman WA
Info: Par 4 – 354m
Hole 16 – Silver Lake
Where: Kambalda Golf Club, Kambalda WA
Info: Par 4 – 392m
Hole 17 – Golden Mile
Where: Kalgoorlie Golf Club, Kalgoorlie WA
Info: Par 4 – 339m
Hole 18 – CY O'Connor
Where: Kalgoorlie Golf Club, Kalgoorlie WA
Info: Par 4 – 365m