SALTY SANCTUARY POINT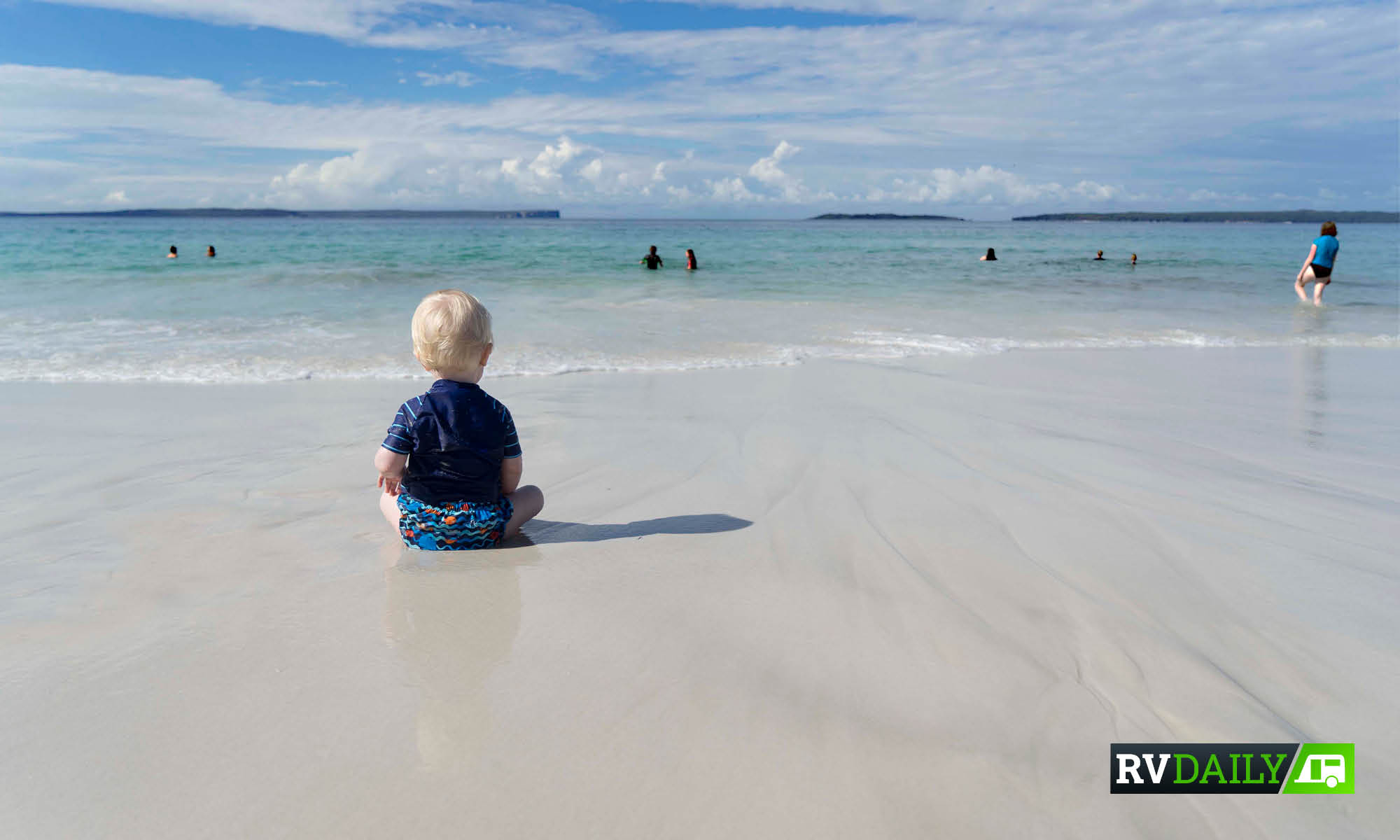 Somehow a sunny day at the beach is never really cold no matter what time of year it is, so a last-minute decision for a weekend escape was the perfect opportunity to get a bit of salt water therapy before the winter chill really set in.
For images, videos and the full RV Daily experience, read this in our online magazine.
As usual, these spontaneous trips at the tail end of school holidays do have a few minor hiccups. Like… where are we going to park up? Everyone was full, but we were determined to escape the Big Smoke for a few days.
So the Friday crack of dawn research found a caravan park and from the online photos it looked really great – lagoon frontage and kayaks to hire. Sweet! And the weather forecast was promising. I must admit it sounded a bit strange when they asked the size of the trailer and car; but we didn't really give it too much thought and booked a spot.
The beauty of this little Nipper Teardrop Camper  is that it is so easy to pack up and just dash off. We left work a little bit early, hitched up and headed down the coast. Maybe the big ute was a bit of overkill with the little camper, but it sure made towing it a breeze; I had to keep reminding myself that we had something behind us.
The early sunsets and sudden darkening of the skies meant we arrived in the dark. The great thing with this wee Nipper is there's really nothing to set up when you arrive. It's literally a bedroom on wheels. We arrived in the pitch dark, pulled into camp, simply unhitched and crashed for the night – ready for an early morning of exploration.
When the sun hit the skies this very little caravan park in Sanctuary Point gave away all its secrets. Lesson number one: Never trust the images you see on a caravan park website! We were close to the lagoon edge – if you call 800 metres close – but not close enough to manually carry a kayak down… you need a ute to take the kayak to the water's edge. While this was a possibility, as we had a ute, it fell into the too-hard basket so we canned that idea and resorted to other options.
We also realised why they questioned us on the size of the trailer. There were only three drive-through sites and they were a very tight squeeze.
This park caters for permanents and cabins, with three drive-through sites for midget vans and some spots for tents. Lucky we had a small trailer. But we were not spending our days around the caravan park so it didn't really bother us. We were only booked for two nights so it worked out okay for us.
We did have some early morning visitors. When we woke up there were two kangaroos sitting right outside the van. It was very quiet and peaceful, and really we didn't need much more. It had all the basics to enjoy a weekend away.
First stop was Hyams Beach. A word of warning: Get in early, otherwise you will battle
to find a car park close to the beach and you'll have to walk for a while. As we pulled into the car park a bunch of bikers were leaving so we were very lucky.
With quaint holiday homes and a couple of camping spots in the national park a bit further south, this little spot bustles all year round. The camp sites in the national parks (Bristol Point and Caves Beach) fill up fast – so it's wise to book in advance. Bristol Point is not suitable for caravans or camper-trailers; Caves Beach is much larger and has more amenities for a longer stay.
Back to Hyams Beach. It's a stunning beach, the snow white sand squeaks beneath your feet, the gentle curve of the bay makes it an excellent surf spot, and when the sea is calm, floating on the waves simply bobbing over the gentle swell is possibly the most relaxing way to wind down after a busy week. Can I stay here for longer?
While the beaches are stunning and it was tempting to just sit and enjoy the peace there is a lot more in this area to explore. Feeling like a bag of lightly-salted potato crisps, we packed up and headed off to explore the national park.
Only a short drive and we were in Booderee National Park where $11 bought us a 48-hour entrance permit and they gave us a map so we could find lots of little spots to stop and swim or explore.
First stop was the Cape St George Lighthouse. This was a beacon to shipping that stood near Jervis Bay Village. Constructed in 1860 it was active until 1889. Between 1864 and 1893 there were 23 ships wrecked on the south coast of New South Wales in the vicinity of Jervis Bay. The tower was destroyed between 1917 and 1922. The ruins remain and are National Heritage listed. The grounds are accessible, although the ruins themselves are closed – so no clambering over the rubble. There are little info plaques giving you the history of the place… and you really appreciate how lucky we are to have the outhouse in-house!
Next stop was Hole in the Wall. It sounded like an impressive viewpoint.
You cannot drive down to the beach. You have to park up on the road and if you want to spend a while here it's a case of only take what you can carry. There are no facilities or amenities. The beach is crescent-shaped, so it's well protected from southerly winds. The natural feature from which it takes its name is at the eastern end. The Hole in the Wall is not really a hole, it's more like a semi-circle.
There are no surf life savers at this beach but the water is shallow and the waves non-existent (so don't bother lugging your surfboard down). The rocks along the shore are covered in oysters – bring suitable footwear so you can do some exploring without ripping your feet to shreds. If you have oodles of time it's a great place to just prop up a deck chair, sit down and read a book or two.
There is one thing that most people come to Jervis Bay to do, and that is fish. The larger car parks are filled with boat trailers and yes, visitors do catch quite a lot of fish.
As with all little towns there is a convenience store. The Jervis Bay one is small but a good spot to grab an ice block or some basics. It's expensive if you need to stock up with all your food.
There is a lot to do in this area. Pop into Huskisson (or 'Husky' as the locals call it) and if you time it right you can catch a boat out to go and see the dolphins or whales. Or just wander along the main street where you can pick up some fudge and pander to your sweet tooth.
The whole area is drenched in peacefulness. There is no rushing, no traffic jams; people strolling and taking their time. You cannot help slipping into the momentum of contentment with the warm sun and gentle rhythm of the day.
After a long day swimming and walking through the national park it was time for us to
head back to camp. Sanctuary Point is small and the beauty of this is there are no city lights blaring into the night sky – making the evening perfect to sit outside and enjoy. But don't forget your bug spray… otherwise you will be sucked dry while fattening up a lot of mozzies.
Waking up to another stunning day called for another salty swim down at Hyams Beach before taking a slow drive back to Sydney – stopping off in Berry and joining the line for the rite of passage, essential, carbo-loading hot sticky cinnamon-dusted donuts. Somehow that bag of 12 donuts didn't last too long, and all hopes of keeping some for later disappeared before they even reached body temperature.
Berry is a quaint town and it's very easy to spend the whole day meandering through the eclectic shops. If we didn't have enough self-restraint that trailer would have gotten very heavy with all the things we could have bought.
Before long the shadows lengthened and the horizon silhouette changed from undulating hills to the concrete jungle. We were back in suburbia, refreshed and ready to face the next working week.