Caravan review: Roadstar GT Sport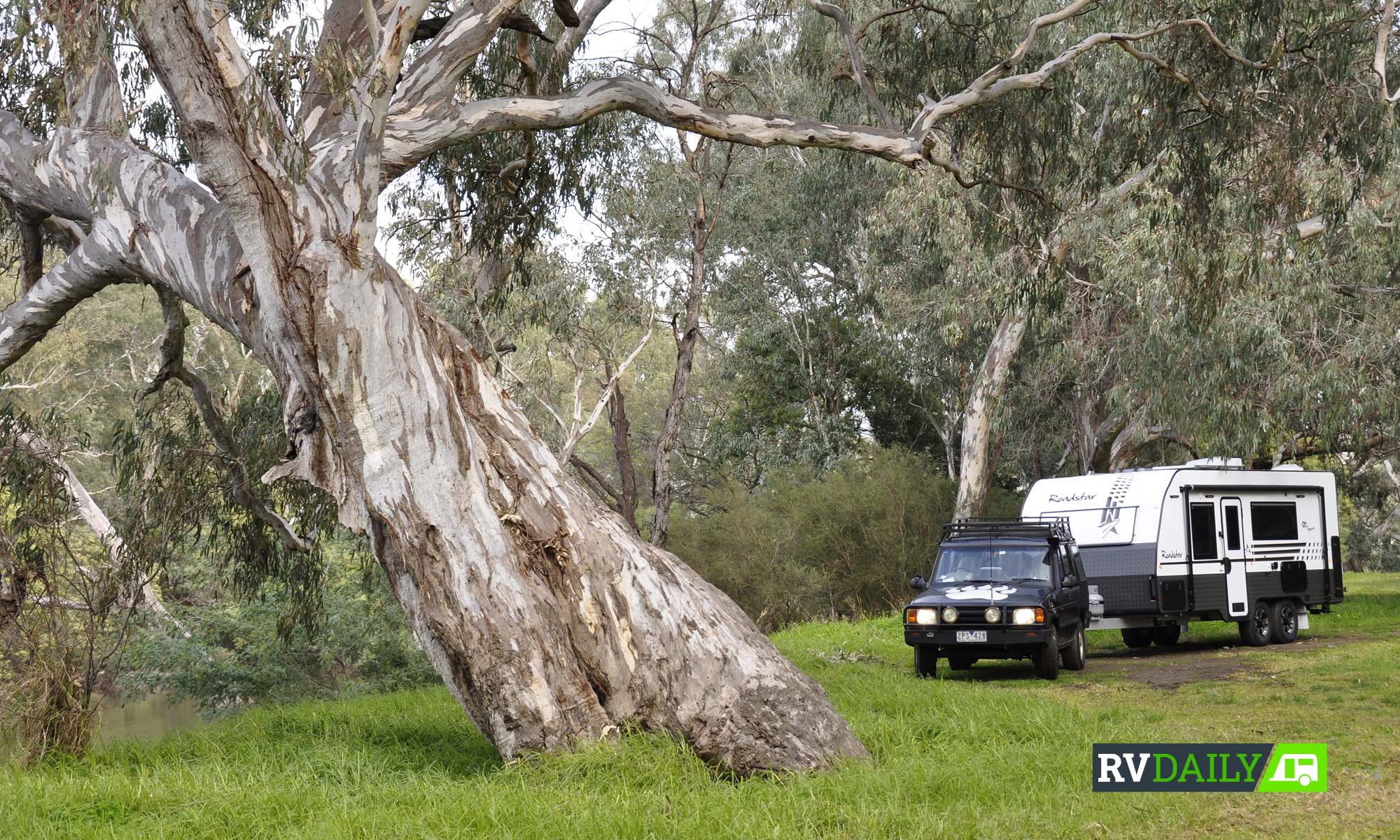 Grand touring, just not on a grand scale. Let's take a look at the Roadstar GT Sport caravan
When it comes time to hit the open road for a trail to adventure, the Roadstar GT Sport may be just your ticket to ride. Life is about enjoying the happy times in our beautiful country with friends and loved ones – whether you take them with you or meet new ones along the journey. One thing is for sure, your Roadstar GT Sport will become your trusted mate and make many new friends on the long journey.
Roadstar is a strong Victorian manufacturer with an impressive history supplying a range of RVs. The GT Sport is a versatile caravan that is available in a wide variety of configurations including single and dual axle – in fact, there are 15 layouts in the GT Sport range including body lengths from 16'6" (5.05m) through to 22'6" (6.9m), as well as the optional MK2 options packaging.
Our demonstration model was the GT Sport 18'6" x 7'10" (5.6m x 2.2m), which to me is an ideal size for the great majority of travellers, particularly when the glory days post-kids finally arrive. Ours had the impressive tandem Dexter Torflex independent rubber suspension and breakaway electric brakes for smooth towing. This Dexter suspension system comes with an industry-leading 10-year manufacturer's warranty and is a lightweight torsion arm suspension that is self-contained within the axle tube. It attaches directly to the chassis, adding strength as a load-carrying cross member.
We took the unit on a bit of an off-road experience, although nothing too dramatic. She performed beautifully even when confronted with some deep potholes requiring good departure angles. On the road she was a breeze; it was an ideal size and weight combination that would well suit serious travellers who are doing long miles in mid-range or large vehicles with up to 2.5-3.5-tonne towing capacities.
The Roadstar has a super strong yet relatively lightweight Supagal chassis and rides on 15-inch alloy 235/75 R15 Light Truck tyres with attractive alloy mags. The drawbar is fully welded 150 x 50 x 3mm BHP steel. I was very pleased with the plumbing and wiring underneath, showing a level of care and responsibility in manufacture. There are two 95-litre poly water tanks set high in the chassis with galvanised shrouding, and even the rear bumper is on adjustable U-bolts for loading options.
This one had a single spare wheel that also acts as a bumper stop, just in case, but that should never be needed with the reversing camera (including monitor) as standard.
Out in front is a 50mm ball coupling plus all the traditional electrical wiring harness including the Anderson plug, reverse camera and breakaway unit. There's an external water tap, jockey wheel and two 9kg gas bottles as well as frontal wear protection from the black powder-coated checker plate stone guard that extends up to just below the front window with its protective alloy awning. The checker plate protection is extended right around the Roadstar including at the tail end.
The GT Sport range is available with standard aluminium panelling, yet ours was optioned with attractive, well insulated and impact-absorbing Dibond, an aluminium composite material with exceptionally high corrosion and UV resistance. It also offers low fade with full-colour thickness plus low thermal expansion and weight. It's a tad under $3K as an option but will ensure terrific visual appeal, strength and longevity. The front, roof and back sections minimise any joints, and Roadstar uses an exclusive Novatio sealant, a special, high-strength flexible MS polymer specifically designed for the unique requirements.
While the GT Sport lacks a front boot, it makes up for it with a cavernous full-width front compartment or tunnel boot. It is large enough for heaps of storage including long items such as fishing rods. The 'living' side of the van has all the usual fittings plus fold-out table, TV mount/aerial, 12/240V outlets, a Carefree roll-out awning, large triple-lock security door, external speakers, LED lighting and an illuminated grab handle. The roadside of the van has lockable water fillers, ventilation for the Swift gas/electric hot water system and a further dust-proof hatch for the tunnel boot.
Overhead is a Gree air conditioner, digital-ready TV antenna, 150-watt solar panel, premium Ranger skylight hatches with LED illumination and sliding flyscreens. Roadstar has fitted the largest size possible double-glazed Euro-style windows around the GT Sport, and all with pull-down mesh screens and blockout blinds to all windows.
STEP INSIDE
Here's what Roadstar says: "It's the fit and finish that Roadstar is most proud of. The result: CAD-designed and CNC-cut furniture that integrates seamlessly into the caravan."
The product is an enticing blend of modern finishes and stylish colour schemes combined with premium creature comforts to please the most fastidious buyer. It satisfies all the senses with comfortable microfibre leather dinette, white marble laminate benchtops, deep redwood flooring and premium mushroom/fawn acrylic finish to doors and drawers. Roadstar is emphatic that all of the superb cabinetry is made from 100% plywood with no MDF and no chipboard. The package is simply RV eye candy with gloss white internal mouldings on the walls and roof, plus the high-end brushed chrome fittings as offsets.
The layout is exceptionally livable and very spacious. Upfront the queen innerspring island bed is surrounded by wardrobes, cabinets and drawers plus individual reading lights. There's plenty of headroom and it was a pleasure to wake up to the vision and sound of a gently flowing river viewed through the very large window. The kitchen/dinette has plenty of bench space extended by the laminated hinged stove cover over the Swift 4 gas burners and grill. This unit was optioned with a full oven and there is a stainless range hood and microwave. There's filtered water and hot/cold mixer at the large stainless sink and thankfully a large Thetford 184-litre three-way fridge/freezer to keep the show on the road for extended periods off the grid.
This caravan has superb storage with overhead and under-bench/dinette cupboards, utensils drawers plus the tri-fold table, all warmly illuminated by soft glow LED lighting throughout, creating a welcoming atmosphere. Overhead hatches let in plenty of natural light.
Roadstar has fitted a remote-control CD/MP3 sound system with roof speakers. For further entertainment, there's a 24-inch HD LED TV with inbuilt DVD player with power from the 100-amp AGM battery with its digital voltmeter and 40-amp charger or via the 240-volt system.
I loved the convenience of the enclosed ensuite, particularly for those lonely, out-of-the-way campsites. This beautiful ensuite has a full flush cartridge toilet surrounded by plenty of elbow room, attractive ceramic vanity with large cabinet, full-height mirror with good lighting, overhead cabinets and a disguised 3.5kg top-load washing machine. The full-height shower is an absolute godsend at the end of a long day's travel. Yet again, the lighting options, power supply and ventilation throughout are very well delivered.
GT Sport (18ft, 6in model)
Brief Specs
Interior Length: 5650mm
Interior Width: 2250mm
Interior Height: 1940mm
Exterior Body Length: 5840mm
Exterior Overall Length: 7690mm
Exterior Overall Width: 2500mm
Exterior Overall Height: 3100mm
Average Ball Weight: 200kg
Average Tare Weight: 2100kg
Average ATM: 2550kg
RRP $65,800 GT Sport (18ft, 6in model)
Words John Willis. Images Alison Kuiter.