If you've recently purchased a pre-loved caravan or camper, its a good idea to have the electrical system checked by a professional. Here's why.
Everyone loves the idea of free camping but, these days, we want to do it with all our modern conveniences. For this reason, the majority of new caravans and motorhomes are built with state of the art 12-volt electrical systems. They are far more advanced than their predecessors of just 10 or 15 years ago. That said, it is easy enough for owners of older caravans to upgrade their 12 volt systems so, they too can enjoy the benefits of luxury off-grid camping.
Because of this, if you've purchased a pre-loved caravan, the chances are that the previous owner has made modifications to the 12-volt electrical system. Some will have had a professional to do the job properly, however, many will have taken the DIY path to reduce the costs of the upgrade. This wouldn't be a problem except many DIYers have little more than a rudimentary knowledge of electronics and, at times, it shows.
The above picture was sent to us by our good friend Chris Emmerson. He runs CJE Caravan Repairs in Melbourne and he sees a lot of dodgy DIY electrical modifications done by well-meaning owners who have almost no idea what they're doing.
When I first saw this picture, I had a bit of a laugh but, upon reflection, I realised this is actually quite dangerous.
The purpose of a fuse is to cut the power in the event of a short circuit or another electrical fault, thereby avoiding damage to the equipment and, more importantly, preventing a potential fire from starting. The way this fuse has been wired in makes it completely ineffective. Even if it did break, the power would still be able to flow through to the device.
If you own a pre-loved caravan or motorhome and you've got even the slightest doubt about the quality and safety of the electrical system, get it checked by a professional caravan repairer or an auto electrician, sooner rather than later. It's more than likely DIY modifications have been made and there is simply no guarantee the previous owner knew what he was doing at the time.
While we are on the subject, we want to share with you another potential problem we came across recently.
The Waeco CFX-50 fridge in the back of our Landcruiser suddenly started to give us trouble. One morning, I noticed the digital display had gone blank and the power LED indicator was flashing an "error code 2" sequence. The last time this happened, it was traced to a poor connection in the main power supply wire from the auxiliary battery. Given I had repaired the fault last time and eliminated any potential problem connections, I was surprised it had reoccurred.
Thinking there may be a problem with the fridge itself, I took it out of the car and connected it to another power supply. It fired up immediately. While this meant I was not in the market for a new fridge, it meant the problem was back with the power supply in the car. A test of the voltage at the plug showed around 8 volts. My thoughts now turned to a flat battery however testing of the voltage at the battery terminals showed a full 12.6 volts. I was perplexed.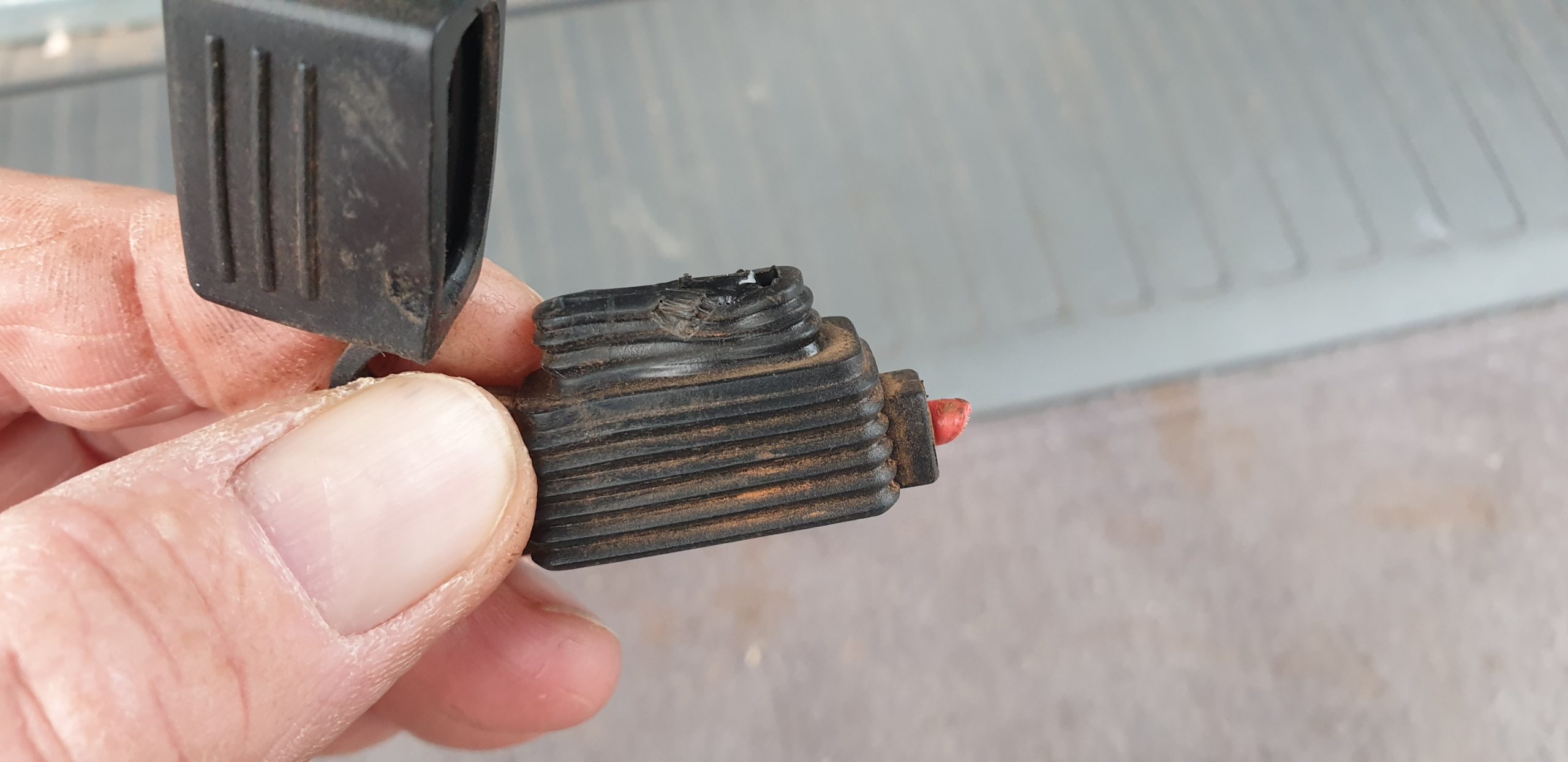 Then I recalled some advice I had received a few years ago regarding the reliability, or lack thereof, of inline blade fuse holders. Apparently, they are prone to corrosion and are often supplied with cheap, poor quality fuses. I accessed the fuse and was horrified with what I found.
Essentially the fuse had melted without actually blowing. The theory is that the contacts had corroded or tarnished which caused a hot spot on the connections. Over time this hot spot built up enough resistance and heat to melt the cheap fuse. The possibility of a fire with this situation is clearly evident.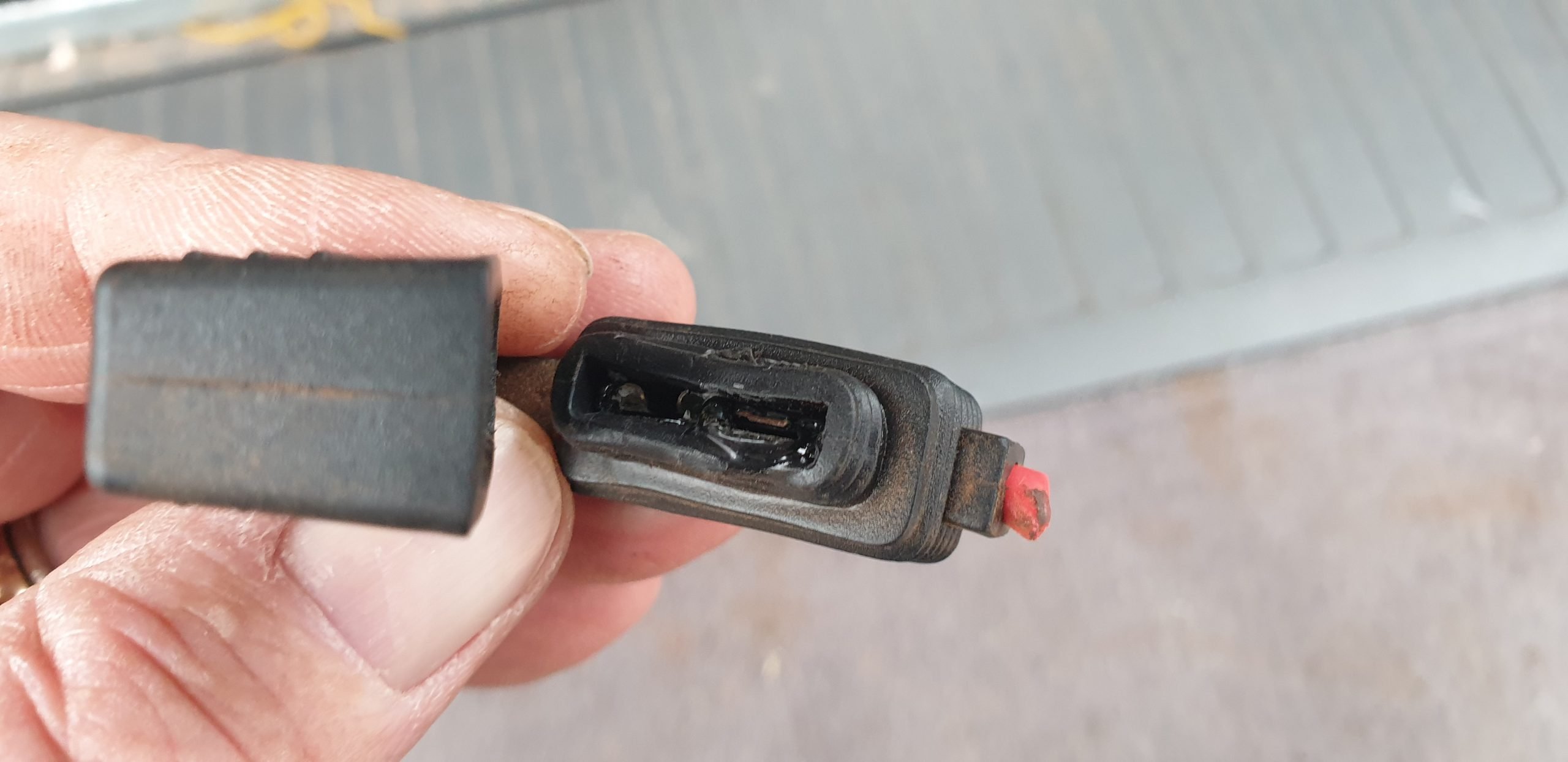 These fuses are very commonly used in both caravan and vehicle 12 volt systems, particularly in aftermarket modifications. If you have these inline fuses in your 12 volt electrical systems, it is a very good idea to remove the fuses and inspect the connections for signs of tarnishing or corrosion. Better yet, consider replacing them with a high-quality fuse box or proper circuit breakers.
Safe travels.