We put Australia's best-selling 4WD to the (tow) test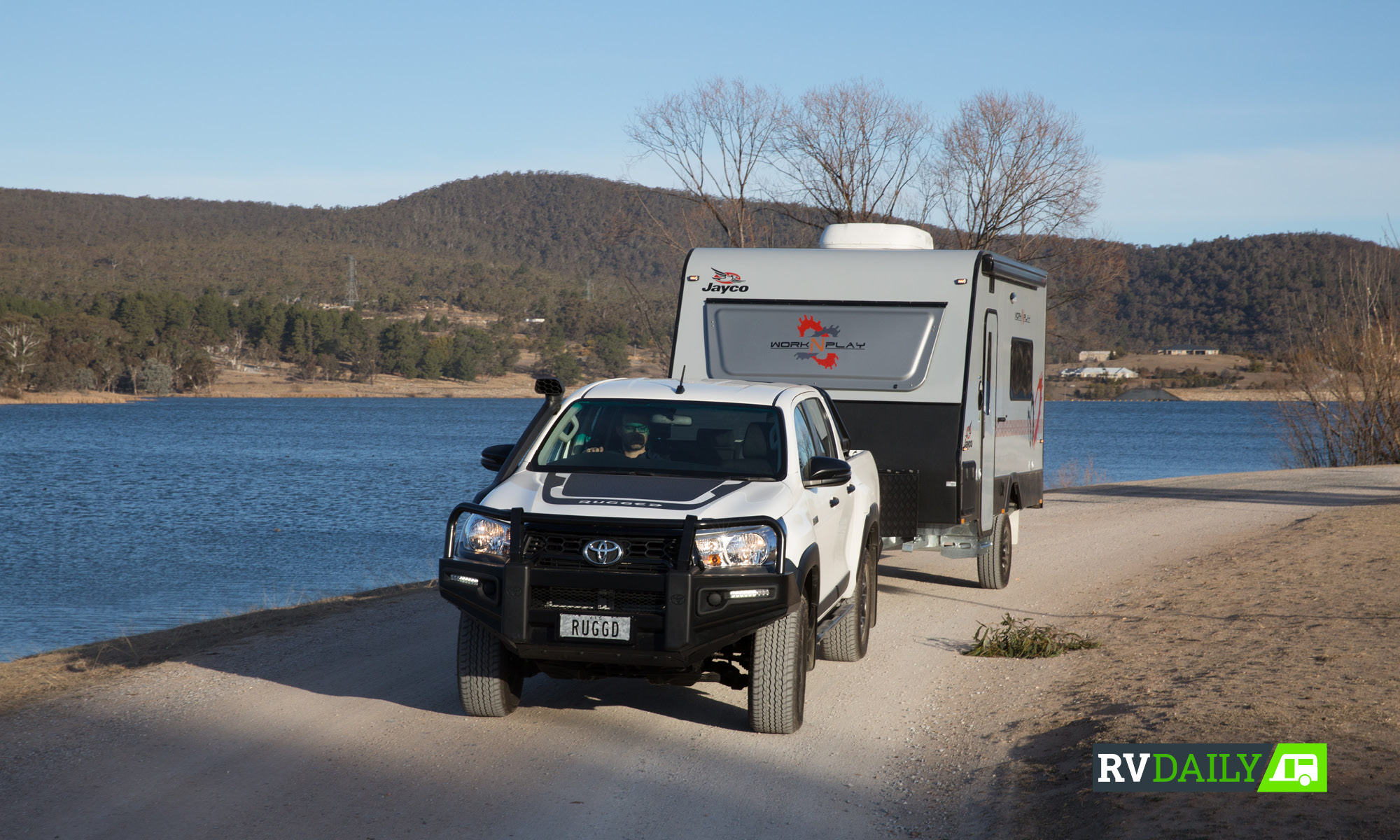 It's Rugged by name, but has it got the heart for the hard yards?
It's not just Australia's best-selling 4WD, it's also Australia's best-selling car. Toyota's HiLux has long had a sales dominance of its own segment. But now that 4WD and SUV sales are on the rise massively and dominating other segments, the HiLux outsells, well, everything else out there. It's quite a remarkable situation that's been on and off for years.
The HiLux already holds a lot of cred as a working vehicle and recreational 4WD. The dirt monkeys over at our sister magazine Unsealed 4X4 love the raw capability the HiLux has over rough terrain. But what about the 'Lux as a tow rig? Are the driveline and suspension up to the task of dragging something big and heavy around the country?
We lobbed into Jayco Sydney, based in St Marys, west of the big smoke, and asked nicely to borrow their Work 'n' Play caravan for the day. We then headed for the hills around Lithgow.
The driveline
The engine is Toyota's own 2.8-litre, four-cylinder diesel. It uses a single turbocharger to make 130kW @ 3400rpm and, depending on your choice of gearbox, either 420Nm @ 1400-2600 (manual) or 450Nm (auto) @ 1600-2400rpm.
While the engine doesn't make the same power as a Ranger or Colorado, and is very much left behind by fancy Euro V6 diesels, the Toyota's 2.8-litre unit does earn points for its refinement. When not working hard, the engine is quite smooth and doesn't emit too much noise and vibration. When put to task, however, and the revs start climbing on the tachometer, that all starts to go out the window a bit.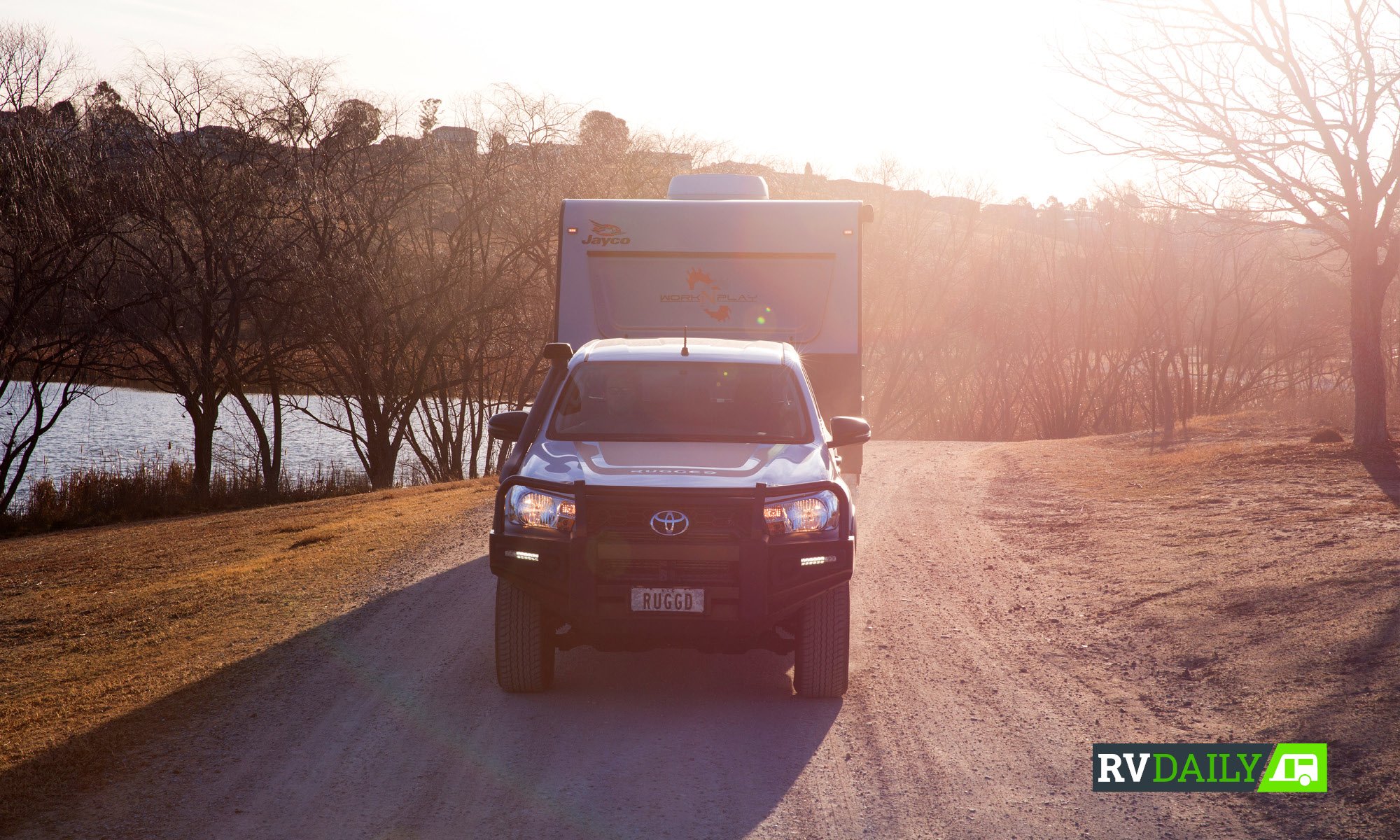 We've got the Rugged with the six-speed manual gearbox. If you prefer an auto gearbox, like many do, the listed increase is $2000. I wouldn't be turned off this manual option, unless you're looking to be towing heavy loads a lot.
Interestingly, the additional torque listed with an automatic isn't really something that translates to more poke at the wheels. Performance is similar between the two, because the automatic does a good job of soaking up additional torque.
If you're looking to tow with a HiLux, you'd be tempted to go with the manual and its higher towing capacity. But, my dear readers, there is
much more to a vehicle's towing capacity than
just a single figure.
The gearing
There's no doubt the more modest power and torque figures means the HiLux doesn't have the same outright grunt as the competitors. But Toyota has compounded the problem with much higher overall gearing with the HiLux.
When you're driving around with an empty towball, you barely use sixth ratio at all. It's simply too high. So, you're kind of down to a five-speed. Then, chuck a fair amount of weight on the back (we were towing a shade over two tonnes), and all of a sudden you're realistically only using four ratios.
I found myself quickly reaching for the shifter and pumping the clutch pedal as the engine was asked to really dig in. As it wouldn't hold a higher ratio up hills or around slower bends, revs were always higher up. That means that nice refinement isn't really in reach when towing.
Gearing between the auto and manual is different, with a higher final drive (diff ratio) in the manual-equipped HiLux. In any case, it's too high, especially when mated with the engine. If the ratios were closer together, the HiLux would no doubt be a better proposition for towing. But naturally, this would come at the expense of fuel economy and general driveability.
What's inside?
The HiLux Rugged is based upon the SR specification level, which isn't range-topping. It's more about modest specification and your basics being covered, without the overall niceties of the SR5. That means a comfortable and supportive cloth seat, and the same infotainment unit (plus a few extra bits). No leather cladding on the steering wheel or gearstick, and that's about it.
The interior of the HiLux is generally quite a nice place to be, anyway. Compared to other utes in the Australian market, it's a solid performer. Just don't expect the tech onslaught that's the standard fair of others among its peers.
What's outside?
What the HiLux Rugged does get over a garden-variety HiLux SR is mostly seen when you're standing outside the vehicle. There is a stout steel winch-compatible bull bar up front, which offers great protection against animal strikes and a mounting spot for the usual front-on accessories.
Crappy plastic side steps are thrown in the bin too, replaced by well-designed steel units.
These are a proper rock-slider as well, mounted to the chassis, and are able to support the weight of the vehicle.
At the rear, the same theme of steel continues with a newly designed rear bumper. This unit gives good protection as well, along with a couple of rated recovery points. It's a definite improvement over the normal plasticky, chromey thing.
Tyres are still your garden-variety OEM offering, which don't offer much aside from quiet driving dynamics. Opt for something with Light Truck construction and a decent tread pattern before you hit the road.
Comparing a HiLux SR and Rugged gives you around $8000 of price difference, depending on what sort of deal you can strike with a salesperson. That extra spend gives you the aforementioned exterior additions, along with a load-rated sports bar and also some decent additions to the interior such as digital radio, satellite navigation, and some floor mats. All this is topped off with a factory snorkel and some fancy decals on the duco.
What we're towing
What you're seeing here is Jayco's Work 'n' Play 14-foot caravan, which operates as a small toy hauler. The back half of the van is an empty space, with some foldaway sleeping accommodation and a stack of heavy-duty tie-down points. To get the full experience, we loaded up the rear end with a couple of dirt bikes and plenty of bags.
Along with a front door to the kitchen area, the whole back is accessed via the rear wall, which is hinged. This can be used as a kind of verandah off the back, or as a ramp to the ground to help with loading and unloading gear.
It's a good option for something that can fit in plenty of toys and gear, but still accommodate two or three in comfort with bedding and kitchen set-up. The Tare weight is a fairly meagre 1528kg, as is the 92kg ball weight. Prices start from around $43,000.