Projecta boosts its range of RV power management systems with the INTELLI-RV range for RVs and caravans to now include a second Bluetooth-compatible model, the PM300-BT.
Formerly available only on the range-topping PM400, the Bluetooth feature allows users to control and monitor key electronics from the comfort and ease of their smartphone using the official app.
Like the PM400, the PM300-BT comes with a remote LCD screen that offers information on battery/solar charging (Volts, Amps, SoC, time remaining), up to four water tank level inputs with pump control, a load switch, night/silent mode for quiet operation. The main wiring unit features 14 fused outputs for wiring up 12V appliances and lighting, WAGO terminals for easy installation, plus a host of protection features and sensors to ensure easy, safe operation and monitoring of electricals. The all-in-one power-management solution offers 30A (12V) five-stage charging, 35A power supply, 30A MPPT solar charging and 100A DC VSR.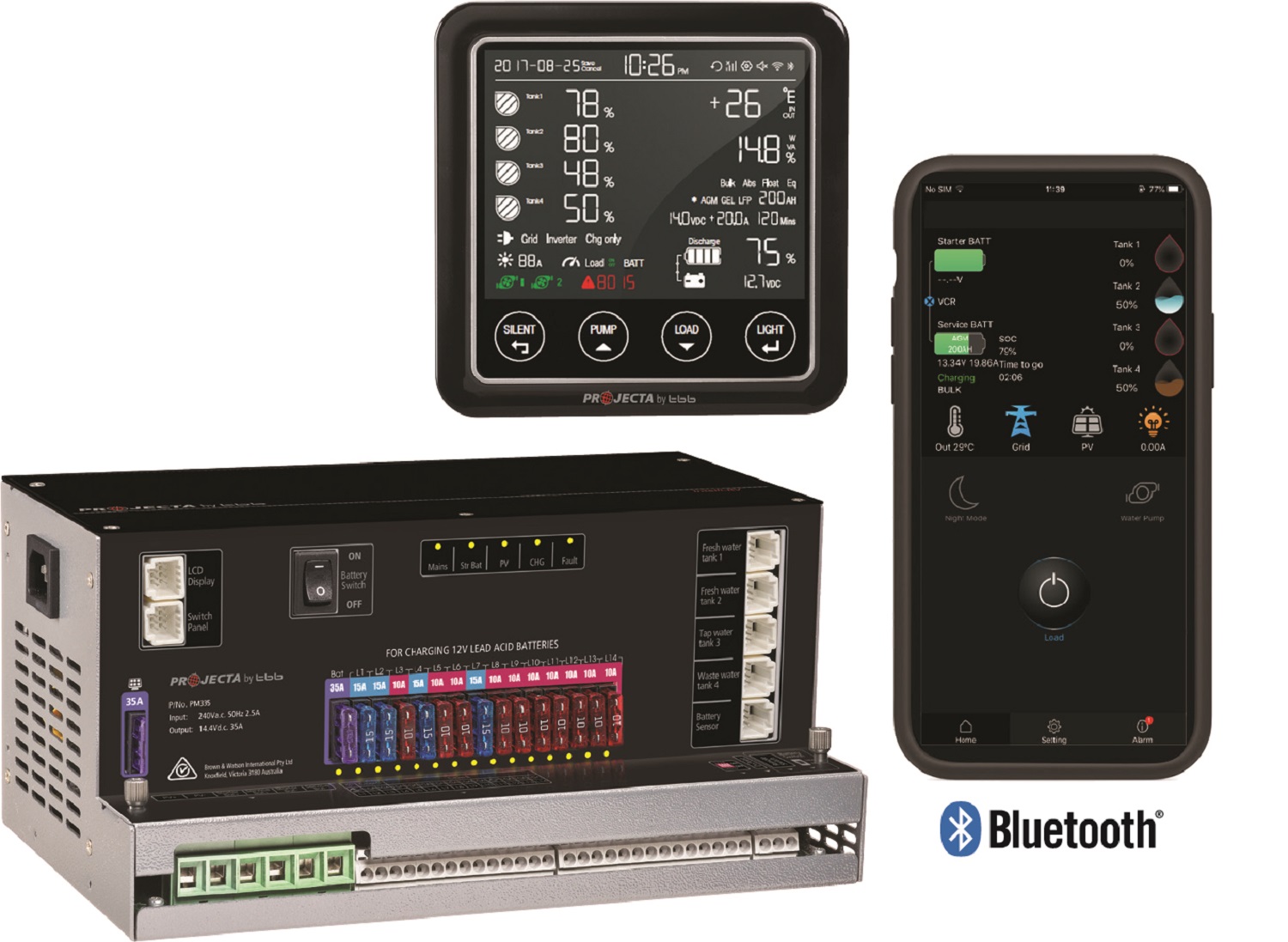 IDC25/45 Charge Link
Projecta has also released an IDC Charge Link that allows users of INTELLI-RV power management systems (excluding PM100) to install its popular IDC25 and IDC45 dual battery solar chargers in parallel and achieve full compatibility and communication between the two systems. A broad range of batteries, including GEL, AGM, wet, calcium and lithium, can be effectively managed using Projecta's IDC25 and IDC45 chargers.
New accessories
If your needs run to a total installation, Projecta has also added several sensors and extra length cables to the range of INTELLI-RV accessories. The new accessories cater to those working with larger vehicles. They include a 200mm Water Sensor with 7.5m of cable, a Battery Sensor with 10m of cable, 10m and 15m cables for the remote LED and LCD displays that feature in the PM200, PM300, PM300-BT and PM400.
For more information click here