Power tools that run from rechargeable batteries would be a must-have in everyone's tool kit especially when many of the tools lend themselves to the caravanning and camping lifestyle so well. But what if you need a specific tool for your chosen brand of battery platform that you can't buy in the shops? Well, a small Aussie company called Slade International may have a solution for you.
I absolutely love gadgets, especially things like torches and power tools, basically, I've got to have anything electronic. You might call it a weakness. My wife calls it a sickness. I suppose we all have to have a vice or two. Anyway, part of my electronic collection is a number of Ryobi power tools that run from their One Plus 18v batteries. I've got their chainsaw, blower vac, drills, angle grinder and transfer pump. They all get a pretty good workout.
Lately, I've been in need of a good portable work light as the one I had been using for many years finally gave up the ghost. Unfortunately, I wasn't too keen on the options available from Ryobi. They were either too big or didn't provide enough light for my needs. Recently I was visiting my mate, Chris Emmerson from CJE Caravan Repairs and noticed he had this really cool work light that was powered by a Ryobi battery. It was small and very bright. Chris was only too happy to tell me where he got it from.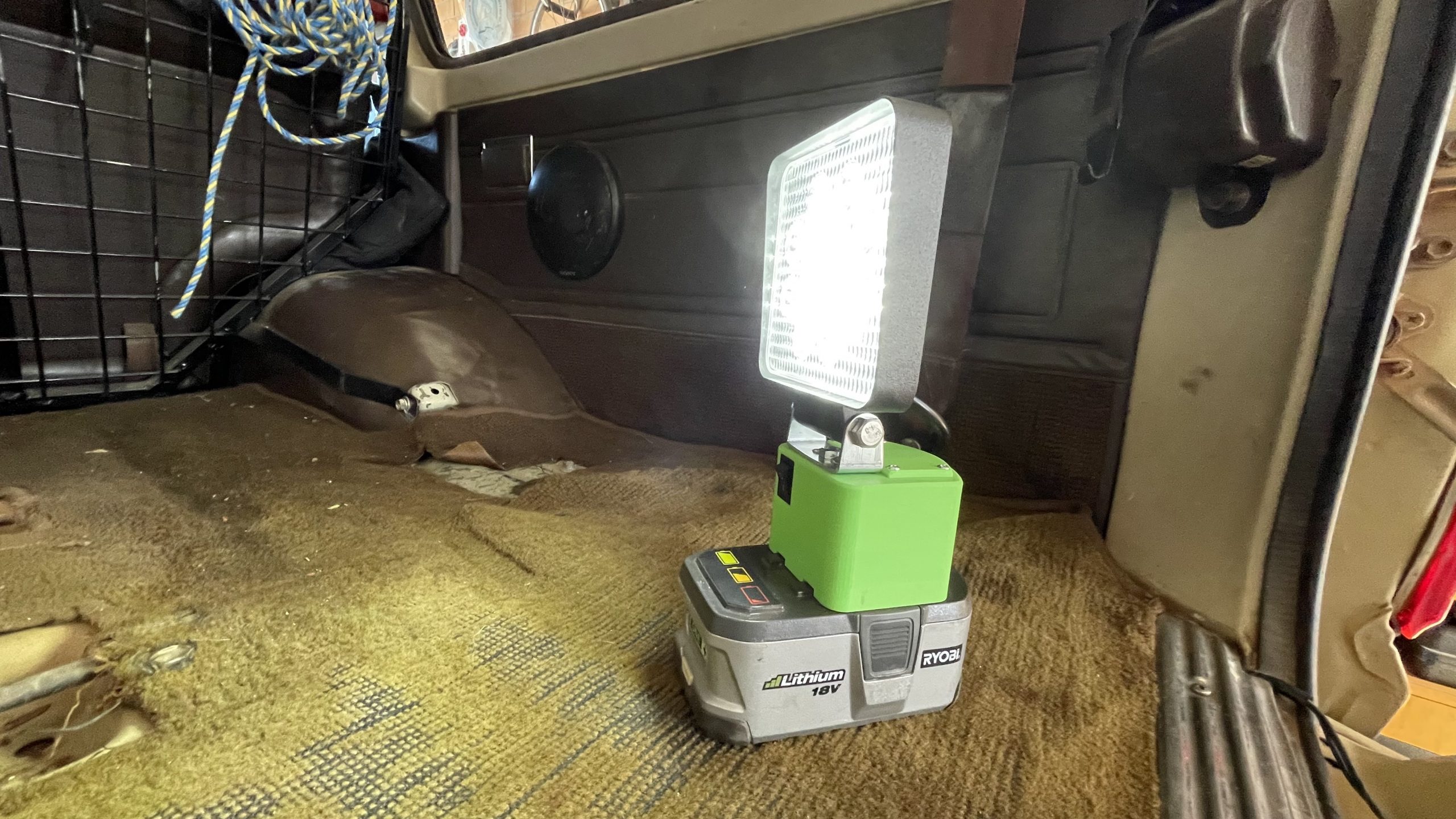 His mate, Ashley Slade, runs a small company called Slade International where he basically specialises in producing custom-designed accessories that utilise 18V battery power from common power tool brands including Ryobi One Plus. The work light is an incredibly simple design yet it has proved to be one of the most useful work lights I've ever used.
The main body is designed to fit over the power tool battery and use it as a base for the light. From there, a common 12v LED floodlight is secured and connected to a simple on-off switch. The LED light is hinged so it can be adjusted to the perfect angle for the task at hand. It's brilliant.
The LED light itself has been specifically chosen to get the maximum brightness from as low wattage as possible. This increases the runtime from a single battery charge. I've used the light for everything from working under the bonnet of my car, wiring up a reverse camera in another vehicle and checking underneath a caravan.
Other battery-powered devices
Ashley also makes battery-powered soldering irons to suit some brands of power tools. They feature a fast heat-up time, adjustable temperature setting with a digital display as well as a status LED. They have sufficient grunt to solder 6mm wire with the standard tip. When you look at the units themselves, you can see some thought has gone into the design. If you do a lot of remote area travel and you want to be able to make emergency repairs to your electrical gear, you need one of these in your tool kit.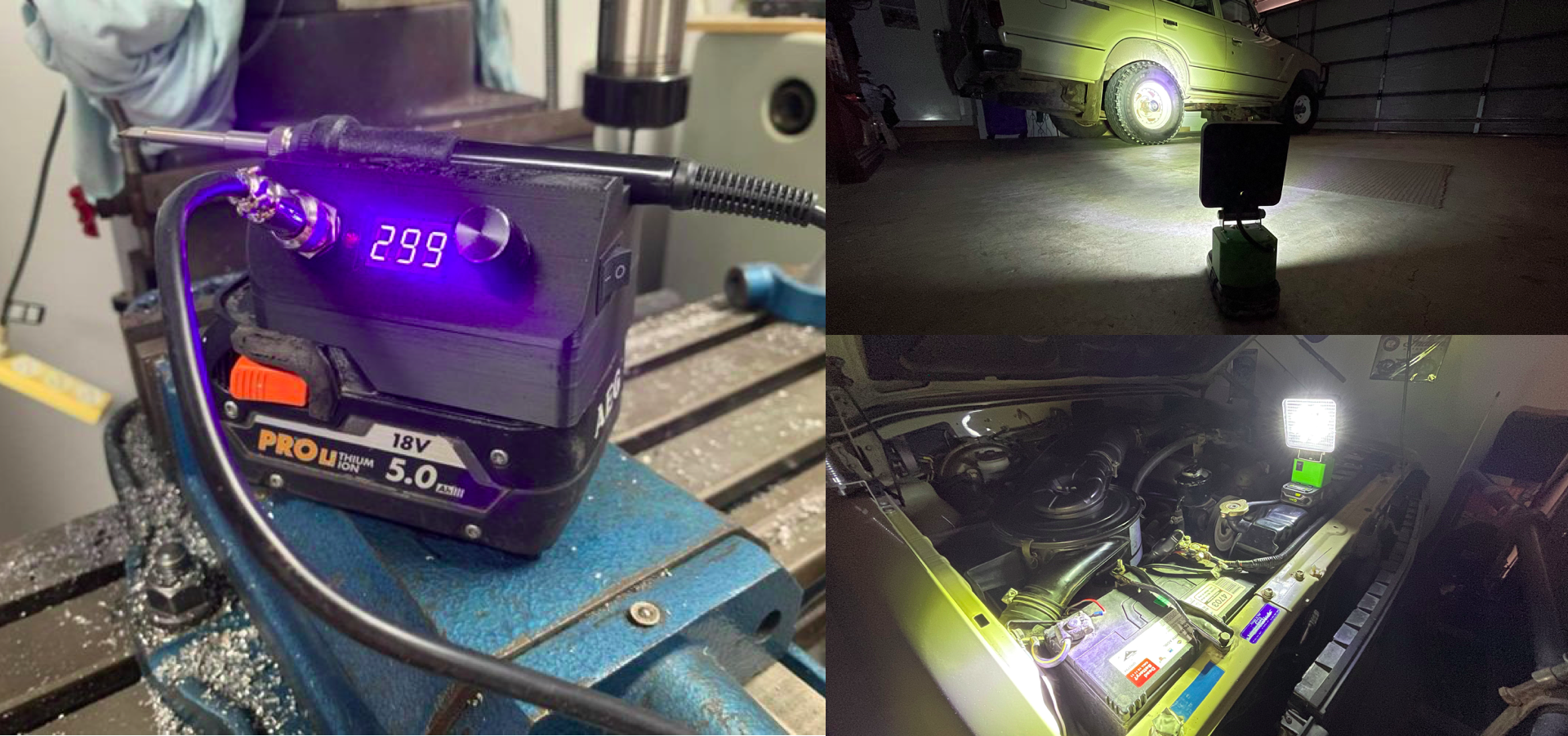 Ashley is also working on a range of 12-volt power supplies that can be used for powering a car fridge or similar device. The unit uses a small 10A DC-DC converter chip and an Anderson plug so it can be used to power almost any automotive accessory. Initial testing of a prototype unit using two Makita 5ah 18 volt batteries shows it can power a Waeco 50 litre fridge for around 22 hours. That would make it ideal to be used as a portable or temporary power supply.
Ashley is also willing to look at custom jobs for his customers. He recently modified his work lamp to be used as a high power bicycle lamp! Now that is cool.
Prices for the work lamps start at around $50 plus shipping.  Soldering irons start at $140 plus shipping.
To find out more, visit the Slade International Facebook page or email Ashley at sladeinternational.au@gmail.com