If you've got a favourite brand of battery-powered power tools you use at home or at work, you might want to see what other products they have that use the same battery system and are brilliant for caravanning.
Like most blokes, I had an assortment of power tools at home. They were the Ryobi One + 18-volt range.  I don't recall why I chose Ryobi tools specifically. Bunnings probably had a special on them one day. Whatever the reason, that was my choice and I had assembled quite a collection before we sold up everything and embarked on a life on the road. As it turns out, that choice was a good one. We have since discovered and purchased other tools in the Ryobi One + range that have turned out to be absolutely perfect for the caravanning lifestyle.
Here's what we purchased and what we use them for.
Ryobi Misting Fan
The Ryobi Misting Fan is a product we have mentioned on RV Daily before because it is a brilliant piece of kit. It is designed to sit on top of a standard 20-litre bucket and it has a pump that draws water from either the bucket or from a hose connection. It then sprays the water in a fine mist into the airflow from the fan, cooling the area down. The Ryobi Misting Fan is unbelievably effective and can cool the area under your awning even on the hottest day. You need to be aware that the mist will render any items sitting within range of the fan rather damp so you need to keep electrical equipment out of the area. Thankfully, you can opt to switch off the water pump so you can use it as an indoor fan if you wish and, in this respect, it moves huge volumes of air. It's not too noisy either, with sound levels not exceeding 60db on the highest fan speed. Depending on which battery you use and what speed you set it at, the Ryobi Misting fan can run for up to 16 hours. With a price tag of just $99 RRP, it's a bargain.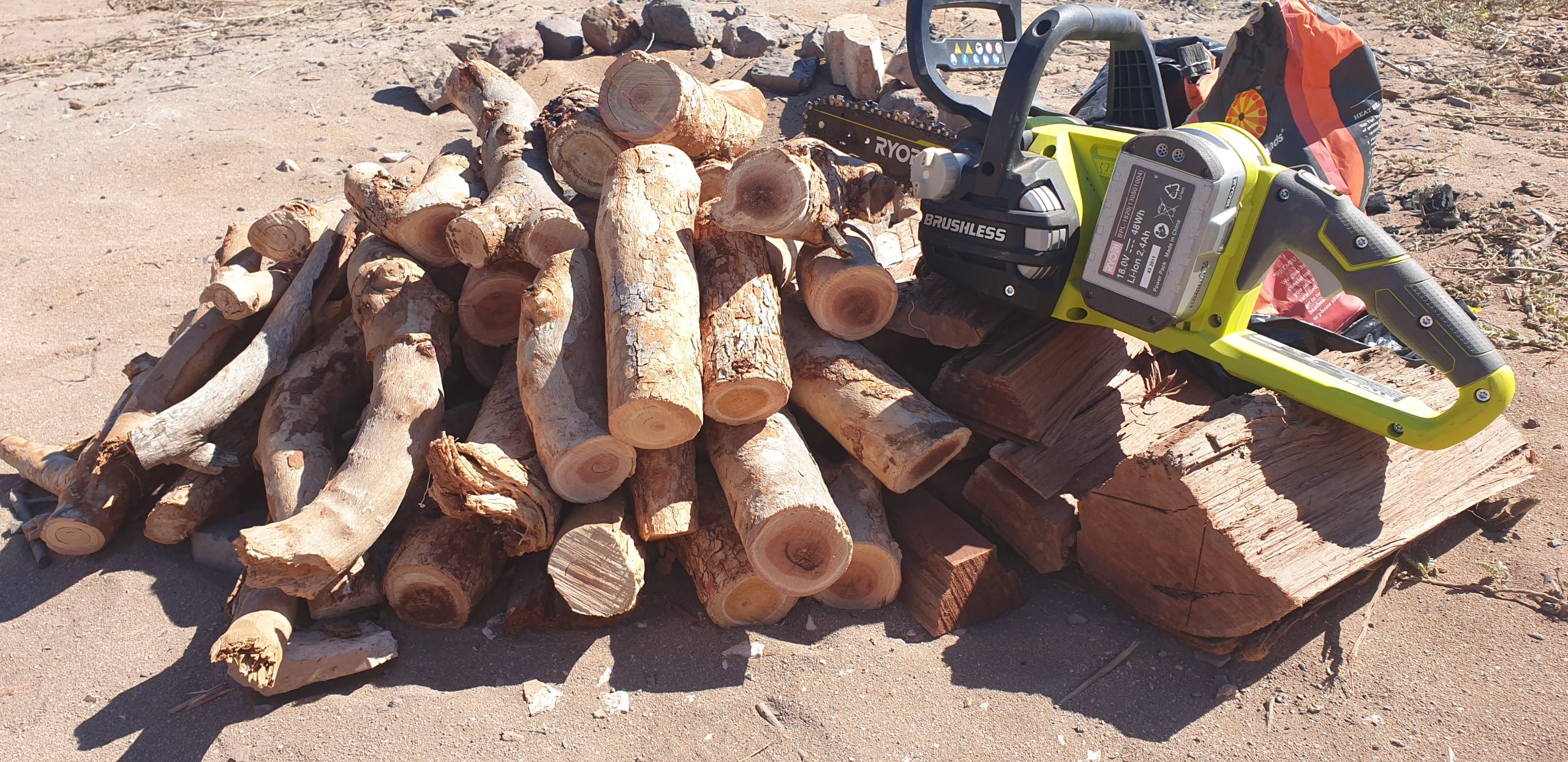 Ryobi 12″ Brushless Chainsaw
I spent 30 years in the State Emergency Service so I reckon I know a thing or two about chainsaws. At least I thought I did. You see all we ever used were petrol-powered chainsaws. For many years that was all that was available but a few years ago, we started to see battery-powered units hit the market. I never put too much faith in them but when we started our life on the road, we thought having a chainsaw would be a good idea especially when free-camping. My Wife, Kylie, wasn't keen on the idea of storing a petrol chainsaw in the car or the van so a battery-powered unit was the only alternative. We purchased the Ryobi 12″ Brushless Chainsaw and I have to say, it's performance is amazing. It has all the same power and safety features of the similar-sized petrol-powered units yet it is much lighter, much quieter, easier to start and there are no exhaust or petrol fumes to deal with. You do need to use bar oil just as you would with a petrol chainsaw and this will drip from the blade after use so its a good idea to keep the chainsaw in a box or wrapped in a tarpaulin. As far as actual cutting performance, you can't expect the small 12″blade to chop down a 100 ft gum tree but I have managed to cut several large fallen tree limbs into enough firewood to last 3 nights on a single charge of a 2.4ah battery. As far as I'm concerned, that's a decent performance for a chainsaw that costs just $249.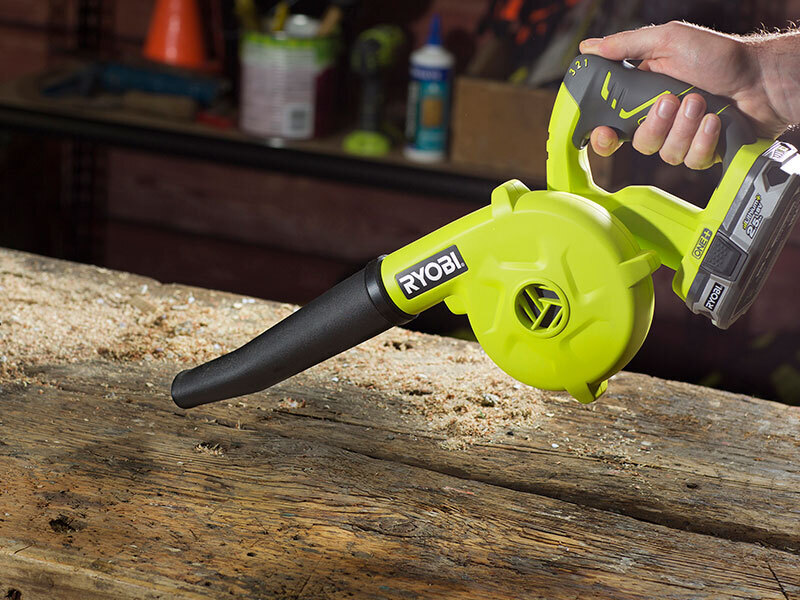 Ryobi Workshop Blower Tool
I used to laugh at other caravaners who used a blower tool to clean their sites. I thought they were being a bit precious. Well, I'm prepared to admit when I'm wrong and, on this topic, I was very wrong. We purchased the Ryobi Workshop Blower Tool and it has turned out to be a really handy piece of kit to have on our travels. We can clean away and dirt and debris from our site so it doesn't end up inside our caravan. It's great for cleaning the dust filters from the air conditioner and our small vacuum cleaner. We've used it to blow away leaves and debris off our root top solar panels. We've even used it to blow dry the dogs after they've had a bath! The Ryobi unit is very small and lightweight yet it is able to punch out a powerful rush of wind that defies its size and at just $90, it won't break the bank either.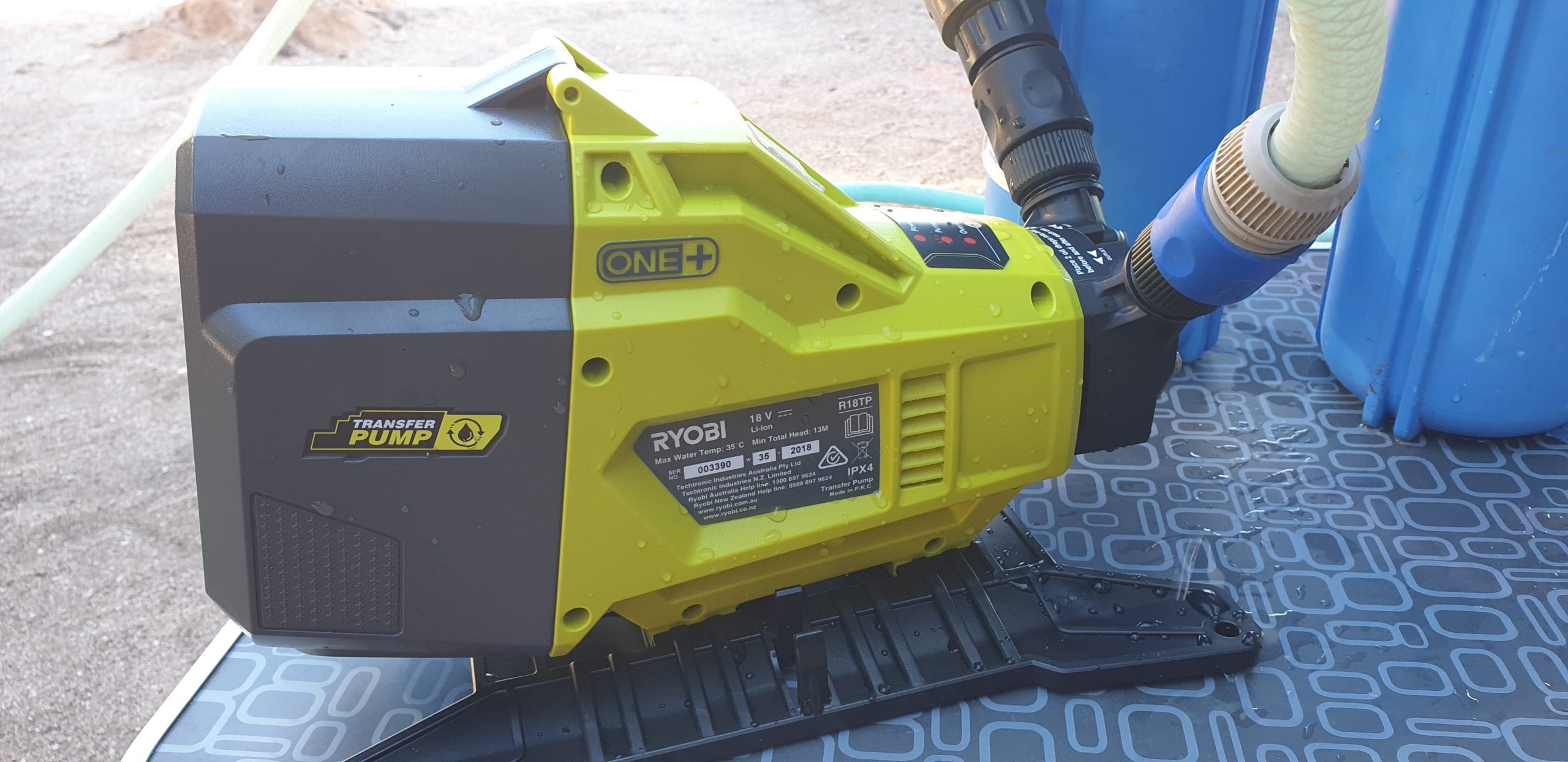 Ryobi Transfer Pump
It's a common question that gets asked on caravan and camping groups. How do I transfer water to my water tanks when free camping? Well, I've seen a myriad of different methods and contraptions used by caravanners over the years but none really seemed practical or easy to use. Then I came across the Ryobi Transfer Pump. This thing is a beast. It delivers 45 minutes of runtime on a 5.0Ah battery and can transfer up to 21.6L/min, so it's capable of pumping large volumes of water very quickly. With the addition of a few tap fittings, it's very easy to set it up to pump water from a creek or other natural water supply. We use it to transfer water from our water bladder, through our water filters and directly into the water tanks of our caravan. Our bladder holds up to 150l of water and the Ryobi Transfer Pump will empty that in around 7 or 8 minutes. If you have to pump the water from a long distance, the Ryobi pump is up to the task. It has a maximum suction lift of 2.4m and a maximum water lift of 14m. The pump is a little noisy to operate so I would avoid using it at night around your fellow campers but that's the only drawback. It weighs just 1.47kg so it's no trouble to carry it to where ever it is needed. Price is just $169.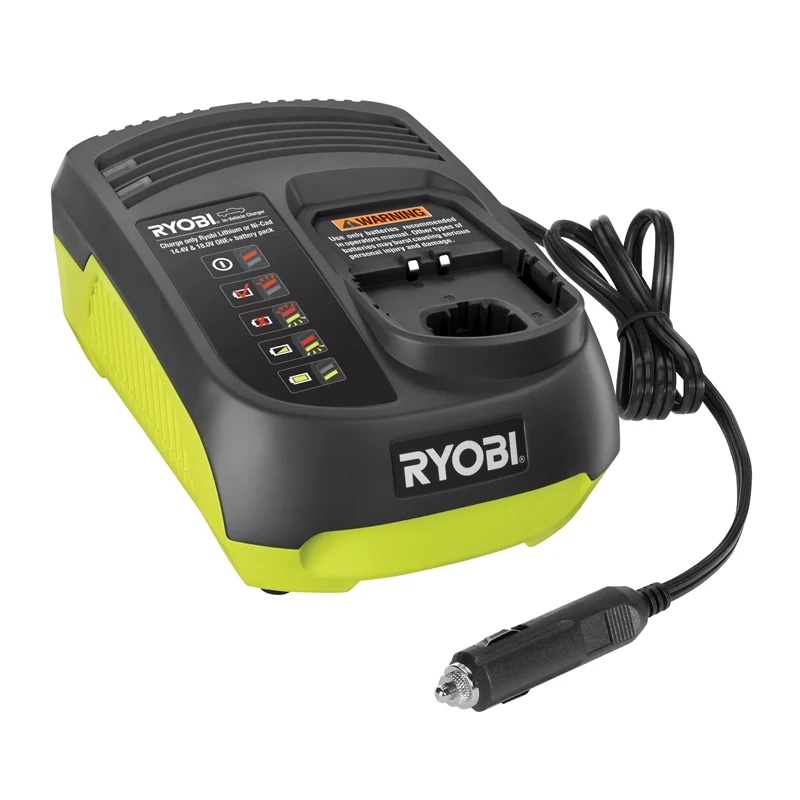 Recharging when fee-camping
Normally recharging power tool batteries would require 240-volt mains power. If you're away free-camping for an extended period of time, Ryobi sells an 18-volt Dual Chemistry 12-volt battery charger which retails for around $100. That said, we have used the standard 240-volt charger on both our inverter and from a small generator without any issues at all.
As I mentioned at the beginning of this article, we originally purchased Ryobi gear only because we already had their power tools and the associated batteries and chargers. If you have already purchased power tools from another brand, have a look and see what other tools they may have that are similar to the Ryobi gear shown here. You'll be surprised at just how useful and how well suited they are to the caravanning and camping lifestyle.
Safe travels.