A kit is more than a simple box of band-aids and some Disprin
When an accident happens, you'd naturally like to think you're prepared whether you're at home or travelling. So having a comprehensive first aid kit should be one of those essential accessories we have, but hope never to have to use. We've been travelling for a while with a kit that has been specifically designed with travelling in mind and it's by Australian business Survival Emergency Solutions. It's called the Survival Vehicle First Aid Kit.
WHAT'S IN THE KIT
This Australian-designed kit is made from a moisture-resistant and durable polyester material with large quality zips for easy grip. The front of the kit includes a number of features, including luminous piping for better illumination at night, and a large colour-coded legend which outlines how the kit's contents have been grouped together into either 'trauma', 'hygiene', 'information', or 'utility' sections.
The front of the kit also has three QR codes which are linked to the Survival Emergency Solution's website when scanned by a smartphone's QR reader. These codes are used as easy access to restock the kit, for access to a comprehensive first aid handbook, or to download the iFirstAid app to either an Android or iOS device. On the back of the kit there's a quick referral CPR card, and an extra card holder has been provided to record personal details.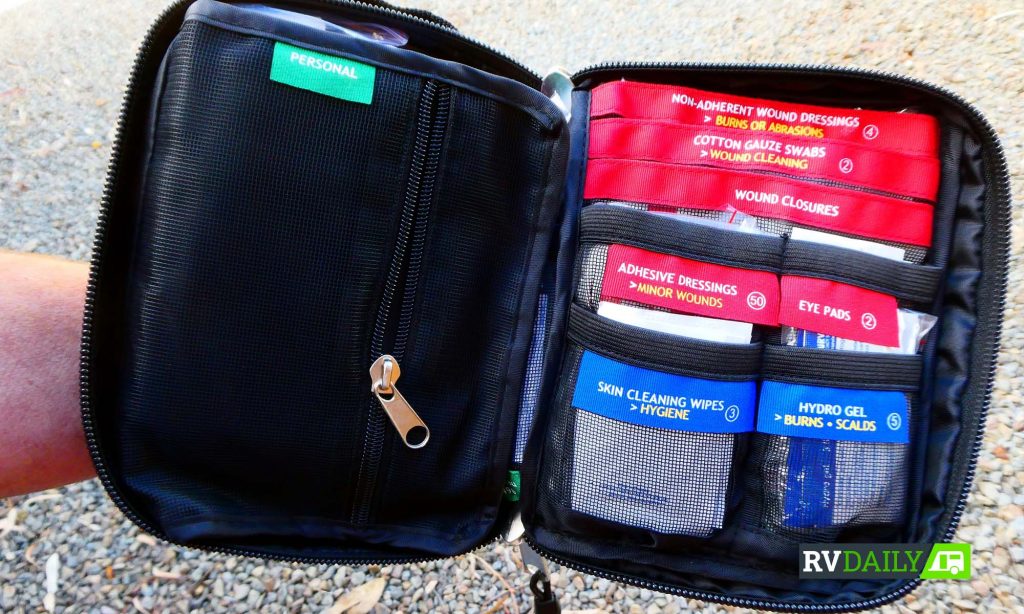 The kit opens into three sections once unzipped, with all contents labelled and colour-coded in either black, red, green, or blue. The labels also indicate what the item is used for. Where multiples of some items have been provided in the kit, these are shown with the applicable number displayed.
One section has been designated for utilities and first aid information, which also includes a zipped pocket for adding personal medications and other items. There's also some space here for adding insect repellent, sunscreen, and antiseptic, and a small quick referral guide booklet that covers various first aid procedures, and can also be used to record injuries, illnesses or for general note-keeping.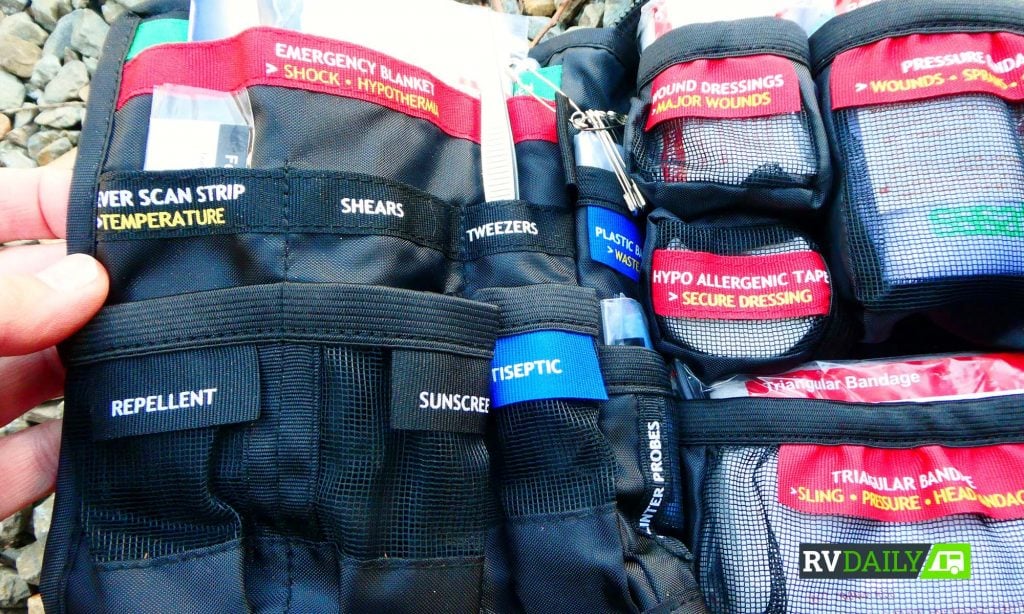 The middle section has been designed to accommodate incidents associated with trauma and hygiene, so this is where you'll find items such as gloves, saline, and a range of bandages including one for a snake bite. The third section is also a combination of trauma and hygiene items, but focuses on dressings, wipes, band aids, and burn treatments. The overall kit is comprehensive yet compact, weighing only 1kg with dimensions of 22cm H x 18cm W x 9cm D.
WHAT WE LIKED
While we'll be the first to admit there is no shortage of first aid kits on the market, there is a lot to like about this kit. For starters, this one has been designed for the Australian market by a family business that's been in the industry for more than 30 years, and so the kit contents are reflected accordingly unlike some others we've used in the past. We also liked the kit's compact size and internal layout, which is visually appealing; additionally, the colour-coding and clear labelling made items easy to locate. The quality stands well above others we've had, and having space to add our own medications has worked well. We found that having item quantities displayed meant we could easily know when we'd used items that needed to be replaced. But the difference with a kit from Survival Emergency Solutions is what you get in addition to the first aid kit itself. Having access to their comprehensive first aid handbook is a great feature, and the quick and easy method for ordering supplies when you need to restock was a real timesaver. Add their iFirstAid app into the mix, and you've got first aid support at your fingertips no matter where you are. Very impressive.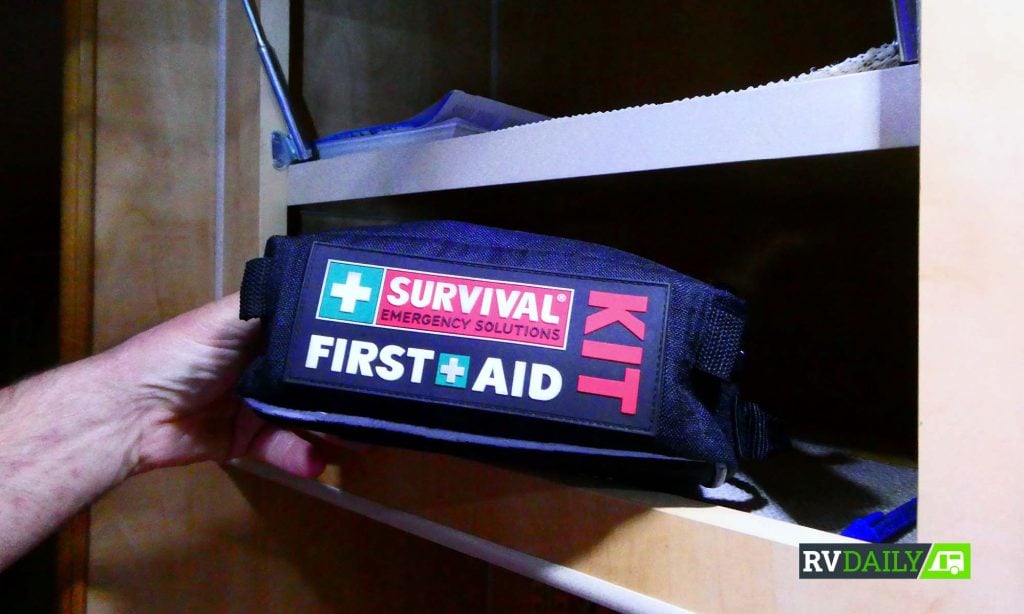 We've found the Survival Vehicle First Aid Kit to be a very good companion that we don't leave home without. In fact, it's so good that we've now got more than one kit so our other vehicles are covered as well.
RRP $79.95