The Therapeutic Goods Administration (TGA) is working with Philips on its global recall action for Continuous Positive Airway Pressure (CPAP) machines.
The recall, which also affects Philips Bi-Level Positive Airway Pressure (Bi-Level PAP) devices and mechanical ventilators, is due to risks posed by the polyester-based polyurethane (PE-PUR) sound abatement foam component in these devices. The majority of the affected devices are in the first-generation DreamStation product family.
A full risk assessment is underway including numbers supplied in Australia and on potential particulate and chemical exposure risks which will inform further advice to health professionals and consumers.
As a precautionary measure, pharmacies are advised to quarantine and remove from sale any unsold units of the affected devices.
The TGA will continue to work with Phillips to ensure that comprehensive information is made available as quickly as possible through formal published announcements on the TGA website and from Phillips directly to customers.
Information for consumers
For devices currently in use in critical or lifesaving situations, patients or caregivers should continue using the devices until an alternative becomes available.
Information for health professionals
Please be aware of the above issue and advise patients accordingly if they seek advice.
Reporting problems
Consumers and health professionals are encouraged to report problems with medical devices. Your report will contribute to the TGA's monitoring of these products.
The TGA cannot give advice about an individual's medical condition. You are strongly encouraged to talk with a health professional if you are concerned about a possible adverse event associated with a medical device.
List of affected CPAP and BiLevel PAP Devices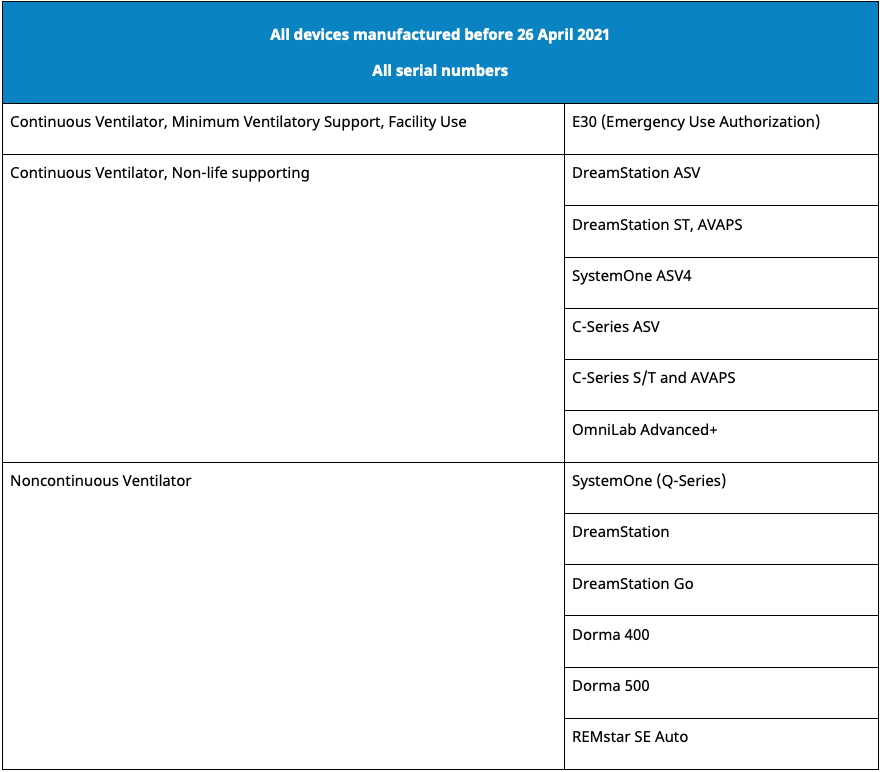 List of affected Mechanical Ventilators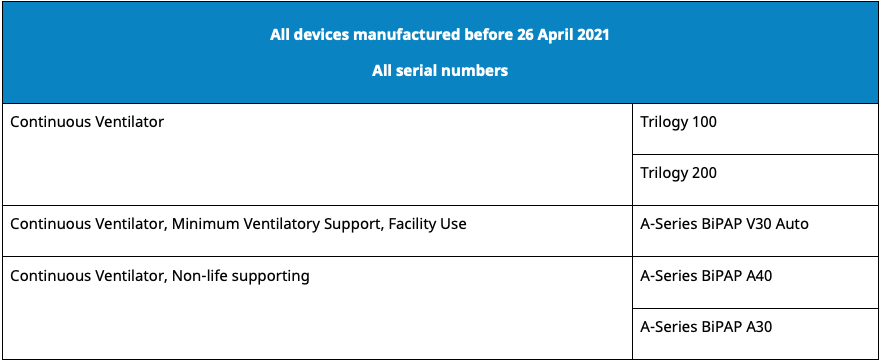 The TGA advises if your device is an affected mechanical ventilator, use of an inline filter will reduce the risk of inhaling particles of foam. Guidance on installation of the filter is found in the device's Instructions for Use document (or 'operating manual').
In critical or lifesaving situations, patients or caregivers should continue using the devices until an alternative becomes available. Patients should speak with their health professional prior to making any changes to their prescribed therapy.

Where possible, affected devices will have the sound abatement foam component replaced. Information on the timing of this correction is still being confirmed with Philips.
The TGA will publish further information as soon as it becomes available, including advice that the recall action has commenced in Australia and the outcomes of TGA's risk assessment.
For more information see the TGA Incident Reporting and Investigation Scheme (IRIS).
Related reading: Can you go caravanning and camping with sleep apnoea?