On the Road: 365 Days with a Lotus Freelander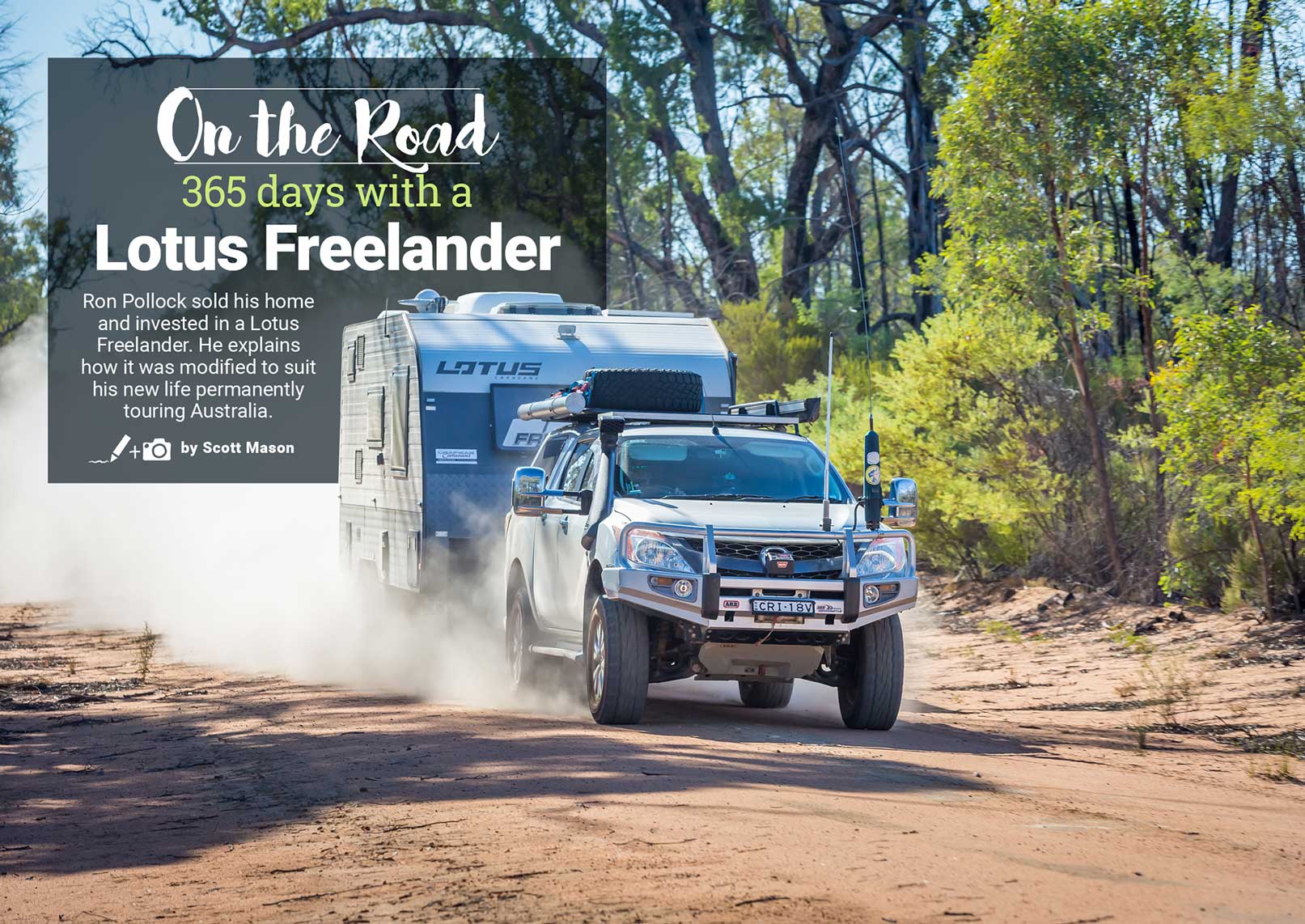 Ron Pollock sold his home and invested in a Lotus Freelander. He explains how it was modified to suit his new life permanently touring Australia.
Ron Pollock is a real bushie at heart, he lives for the outdoor life and enjoys nothing more than sitting around the campfire with a nice glass of red after a day out exploring. Starting out in a MGA sports car with nothing more than a tent and sleeping bag, then having graduated on to various offroaders with tents and a Kimberley Kamper, the culmination of the experience led him to buy the Freelander – the vehicle he now calls his 'Flash Swag'.
With plenty of tough offroad destinations in mind, Ron wanted a vehicle that had a proven track record when it came to reliability. The dual axles were a must, while the 19.5ft length, while still affording plenty of storage, space and features, was not too wieldy for weaving in and out of offroad singletrack.
Power on tap was a major consideration. An auxiliary 300Ah Lithium Ion battery was installed along with three 150W roof mounted solar panels, with provision for more. Anderson plugs feature throughout the chassis and storage bays. Additional power outlets and switches for managing just about every electrical device or appliance (antenna, pumps, heater or inverter) were also thrown in.
A diesel heater was chosen for chilly destinations and Ron had it installed under the bedspace; he reckons it runs as quiet as a mouse. The exhaust has been placed under the chassis and so far, no-one has inhaled any unwanted fumes. Sirocco ceiling fans complement the overhead hatches and entertainment is provided by a 32" LCD TV via a Saturn OMNI antennae. Another nice addition is the slide out pantry, not only saving space, but also providing easy access to food and condiments.
Ron elected for a 12V compressor fridge due to the abundance of incoming power from the solar, and his tow rig when connected. For long periods of cloud he chose a front mounted generator slide out box, housing a Honda 20.
Ron was also very selective about the vehicle's external components. He opted for a stud pattern to match his tow vehicle, in this case the BT-50 design. It was a smart move, as spare tyres can be installed on both the trailer and tow vehicle. Firewood collection is easy with a box installed on the rear bar and reversing has been made easy with a Polaris rear-view camera coupled to an in-car screen. Speaking of coupling, a DO35 V2 was chosen for improved articulation for when the going gets gnarly. Underneath the van remains largely standard factory spec (which is impressive in itself), but Ron decided a grey water tank would be very handy for most destinations, so that was added to the list too.
Having already spent the past six months touring in his brand new Lotus, Ron reports no major teething problems at all. In fact, the only niggle he discovered was a slight water leak due to the movement of the motorized TV antenna. It created a small break in the caulking, which was easily patched and no longer presented a problem.
Ron certainly has an enviable touring package for an equally enviable lifestyle. Chances are you may run into him somewhere in his travels.