NOVA's 16-ODD FOOT OF GRUNT THE TERRA SPORTZ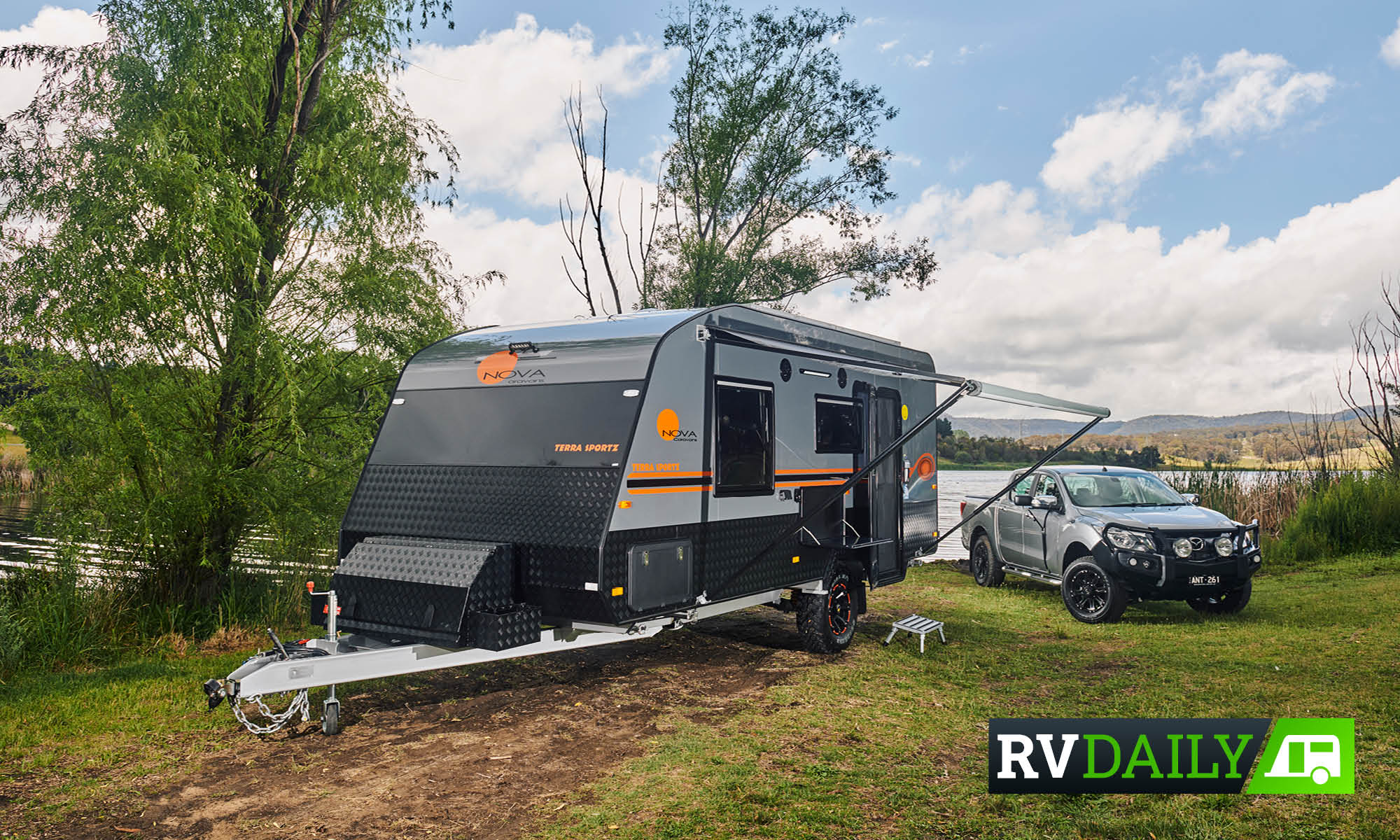 CLICK HERE TO READ THIS STORY IN OUR ONLINE MAGAZINE
WORDS JANIE MEDBURY  |  IMAGES BRETT HEMMINGS
So, here it is – my first caravan review. I'm not sure if I was so impressed with the Terra Sportz, a 16-foot off-roader from Nova, because it was the first time I had stepped into a caravan within the last decade and thus I didn't fully appreciate how spacious and modern they had become, or because this is actually a great van … both, perhaps.
While my experience with caravans so far is limited, I think I've read enough reviews now to have a basic understanding of how this works. So, bear with me while I give a shot.
Matters of Appearance
The Terra Sportz is impressive to look at it. The grey body and black checker plate looks sleek and modern, while the vivid orange stripes running along the sides give it a nice pop of a colour. The stripes tie in with the orange Nova logo, as well as the orange accent on the wheels … it gives the van a sporty edge.
There's a roll-out awning fitted to the van and two external speakers, so outdoor entertaining won't be a problem. The A-frame is fitted with a toolbox containing two 9kg gas cylinders. There are also two 95-litre water tanks and one spare wheel (though you can opt for two). Other options include a chassis raiser, bike rack, nudge bars and a larger toolbox to fit your generator. Nova offers buyers a custom approach with certain spec choices.
Moving up to the roof, there's a 150W solar panel (with the option of adding another), a wind-up TV antenna, and a roof-mounted air conditioner.
IT'S WHAT'S ON THE INSIDE…
Upon stepping inside, the van feels spacious and modern. The 166-1R is ideal for couples, but families with one kid would opt for a layout with an extra bed. This isn't a family van but there are larger models in the Terra Sportz range.
The kitchen is the first thing you see when you walk in, so let's start there. There's a black 190-litre Waeco compressor fridge, a black mirror-finish Sphere microwave and a Swift grill and stove top (3 gas, 1 electric) but no oven. There's a nice big square double-bowl sink and the Laminex lid over the stove means extra bench space to prep food. The soft-close drawers and cupboard under the sink are black to match the appliances, but the white overhead cupboard and light timber-finish benchtop and splashback means the space still feels quite light and bright … probably also thanks to the nice big double-glazed windows on either side of the bed, above the sink and next to the lounge, which are framed by (functional!) curtains. The skylight lets in fresh air and sunshine with a flyscreen to keep the bugs at bay.
Opposite the kitchen area is a café-style lounge in black vinyl with white stitching (two 100 amp hour batteries are underneath), and a light-coloured timber picnic table that matches the benchtop.  
To the right (as you walk in) is a decent-size bathroom, which contains a sink and bench space (there are small shelves underneath for all your toiletries), a shower, toilet and mirror. There's also space for a wall-mounted washing machine.
At the opposite end of the van is a comfy-looking queen-size island bed that has enough space on either side for you to move around without too much trouble. There are reading lights on either side and just enough room for you to put your book on the little bedside table – or a glass of wine (but maybe not both). The 24-inch Smart TV is just opposite the bed, so you can easily swivel it out whenever you get the urge to watch some late-night dramas.
In terms of storage space, there's lots: under the bed, plenty of decent-size drawers and cupboards, hanging closet space and a little cubby hole on either side of the bed where you can charge your phone overnight.
Technical stuff
Nova claims that the Terra Sportz is the ultimate off-road caravan, specifically designed and engineered to correct the weaknesses that are typical of other off-road caravans. It did indeed travel smoothly and steadily both on and off the blacktop when we took it up to Lithgow for this review. We didn't have the opportunity to test those claims because the van was destined to re-take its place on the lot at Sydney RV – for sale.
The Terra Sportz is built with a 42mm gusseted frame, a 6" perforated chassis and 6" A-frame – I guess this means that it's pretty solid. It also uses the Hitchmaster D035 Coupling – perfect for off-roading, thanks to its 360-degree articulation (thanks Google). With Control Rider suspension (or Cruisemaster suspension on the 16'6" models) as well as independent suspension options, you're guaranteed a smooth ride even on the most rugged terrain.
The van is also fitted with AL-KO ESC to help you out with tricky situations (think along the lines of caravan sway).