Nissan X-Trail. The little engine that can?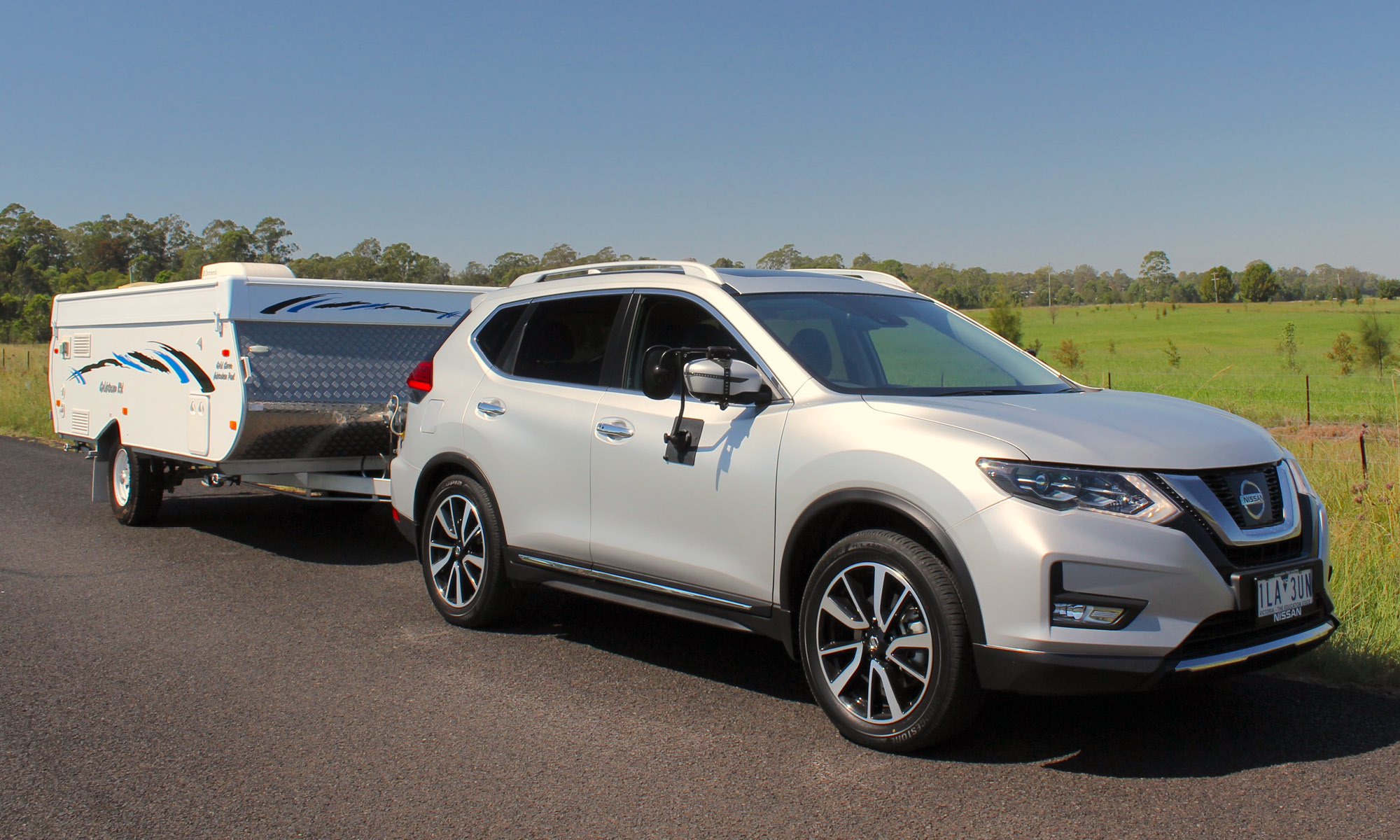 When you've only got a small caravan to tow, you don't need to think big when it comes to a tow vehicle
If you're only towing a small caravan or camper-trailer, who says you need a big 4WD to tow it with? There are plenty of fuel-efficient turbo-diesels that will tow a small caravan and are easier to drive around town and cost less to buy than a big 4WD wagon. One such vehicle is the Nissan X-Trail turbo-diesel.
As part of the X-Trail's 2018 model year update, Nissan replaced the 1.6-litre turbo-diesel with a more powerful 2.0-litre turbo-diesel (up 34kW and 60Nm). The 1.6 came with a manual transmission only; now it's the other way, with no manual but an Xtronic CVT transmission only. The X-Trail diesel has an on-demand 4WD system, with 2WD, Auto and Locked (50:50 torque split up to 40km/h) modes.
The old 1.6-litre turbo-diesel had a two-tonne towing capacity with a maximum of 200kg of that on the ball. Nissan has reduced towing capacity to 1650kg (of which 165kg maximum can go on the ball) with this 2.0-litre model.
Refreshed in May last year, the X-Trail came with an updated front and rear, minor interior revisions and new safety gear (AEB and forward collision warning).
Rear cross traffic alert, adaptive headlights and a motion-activated power tailgate were added to the Nissan X-Trail TL as part of that update, but it missed out on active cruise control and lane departure intervention, which are only available with the premium petrol model, the Ti.
The X-Trail TL costs $47,790 (plus on-road costs), without options. As tested, with the $1190 optional tow kit (including towbar, wiring harness, towball, D-shackles and fitting costs) and $575 optional paint, the X-Trail cost $49,555 (plus on-road costs). Not included in this price is an aftermarket electric brake controller, which costs between $500 to $800 including fitting.
The X-Trail's interior is well put together (although our test vehicle had developed an annoying tailgate rattle) and most of the materials are befitting of a $50k large SUV. Some of the plastics used did look a bit cheap, however, and the foot park brake is an antiquated way of saving space on the centre console (where a conventional handbrake is usually fitted).
There's plenty of room inside the X-Trail. Head, leg and shoulder room are all more than adequate – unless you rack up three burly blokes across the rear bench. The cargo area doesn't have any odd encroachments to its squared-off shape and cargo length can be increased slightly with the sliding rear seat moved forward.
The X-Trail grips the road well but otherwise doesn't have much appeal to those who like to make short work of a twisting road. It simply lacks handling finesse, but then again, the large SUV category as a whole isn't exactly known for sports car-like handling.
Perhaps more important to people who buy an X-Trail is its ride comfort. It's really good; this is an SUV that has a supple, well-contained ride. The X-Trail is very quiet too, without much wind, road or engine noise getting inside.
When you're motoring around in the X-Trail, particularly around town, you do notice how much turbo lag it has. Under 2000rpm there's not really much going on. The other thing too is even when just cruising on the freeway – without a caravan hooked up – it's difficult to get anywhere near the sort of fuel economy that Nissan claims you can get from this vehicle.
The CVT transmission allows the engine revs to increase quickly initially (although not quite enough to avoid turbo lag) but then behaves as if it's a conventional auto. That is, it allows the engine to rev towards redline and then steps revs down, as if changing gear. Overall, it works well.
We hitched up a Goldstream RV camper-trailer (which weighed 1320kg as tested, with 140kg on the towball) kindly loaned to us by Parravans in Windsor, NSW.
One way of telling that you have too much towball download is to measure how much the vehicle rises at the front or droops at the back when the van is coupled up. It's not an exact science, but anything more than a 20mm difference (especially at the front) can be an early sign of towing stability  problems. The Nissan's front rose 15mm and the back drooped 30mm with the camper hitched up. Those figures are not bad – yes, the back drooped slightly more than you'd want. There's just one way to see how stable this rig is, and that is to get out on the road with it.
The X-Trail shot up our test hill climb, easily maintaining 90km/h the whole way up. On the descent, speed crept up from the 70km/h start speed to 75km/h. Not bad, but the engine braking isn't among the best.
This X-Trail couldn't meet Nissan's combined 6.1L/100km fuel consumption figure (when driving one-up without a van behind). We averaged 8.3L/100km in urban/outer urban driving before hitching up, with a high of 10.6L/100km in inner-city traffic. The towing fuel consumption average was 11.3L/100km, which is not excessive and will get you about 500km before you'll be running on diesel fumes.
With some tow vehicles, ride quality turns to mush when towing. Either they wallow or stutter sharply over bumps, the engineers seemingly having never towed anything behind the vehicle during its development.
The Nissan is nothing like that – the ride is very composed, supple and well-contained.