LOOKING FOR AN ESCAPE VAN FOR THE FAMILY?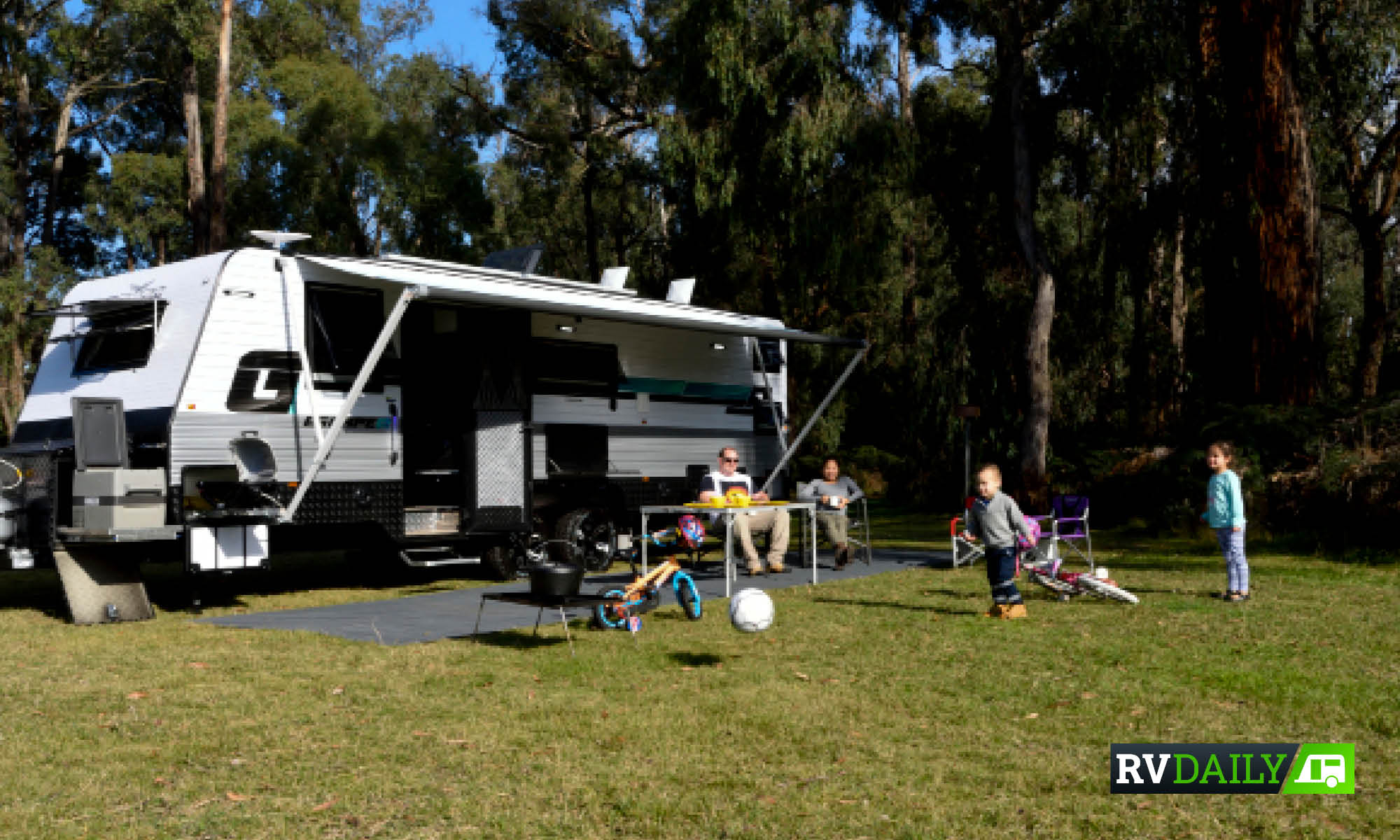 Regardless of which theme fits your family dynamics best, this van can certainly help with accommodating up to four kids for an adventure!
One of the greatest pleasures in my life has been travelling with my three cherubs around this great land; and one of the worst has been dealing with three devils after spending hours cooped up in a car and trying to set up a tent or trying to feed them in the rain! 
If I'd had a bunk van back then that catered for the kids like this one, I might have been tempted to go down the vanning route rather than off-road with tents and swags. This Canterbury Caravan Escape van manufactured by Eagle Caravans Australia is the first four-bunk van I have reviewed; and I have to admit I like it.
This van is going to make touring fun for families including grandparents who have the kids drop in for holidays. It's equally functional for each type of touring family, although I can see the price tag – which starts at 72 big ones – may be out of reach for many families with younger kids while still dealing with school fees, mortgages and the like.
With that said, let's take a closer inspection of the Escape four-bunk touring van.
OUTSIDE
The body of the Escape features plenty of contrasting colours that make it more than just a white box on wheels. The combo of whites, greys, blacks and green allows the fully-insulated aluminium cladding and chequer plate body to stand out.
Standard gear around the body includes a roof-mounted Houghton Belair HB3200 aircon unit, four-seasons hatches, a couple of Ranger hatches complete with LED lighting plus an HV Sensor TV antenna, double-glazed windows and a Dometic
8500 roll-out awning. 
Storage-wise there is a full-width boot at the front plus access lockers to the storage under the bunks, which is quite handy. One thing I wasn't keen on was the access to the hot water service via the hatch on the driver's side wall, and also through a hatch on the inside of the van. I think this unit could be better protected from the ravages of packing and unpacking, especially with kids.
Other body bits include twin external speakers, an awning light, several grab handles, a barbecue point; plus a tap on the A-frame and a spare tyre on the rear bumper.
Mechanically speaking, an FP supagal painted chassis features a six-inch A-frame with mesh insert, four-inch main rails and a two-inch raiser to offer some underbody clearance. A tandem load-sharing leaf-spring suspension handles the road conditions while 10-inch electric brakes with Dexter stability control manage the braking and are ably supported by 15-inch alloy rims shod with A/T rubber. Twin 9kg gas bottles handle the gas supply to the hot water, fridge and cooker so there's ample gas for touring.
Under the chassis are twin 100Ah deep-cycle batteries in boxes for protection. I didn't like the messy wiring and reckon that could be tidied up easily with a little care and time. There are two 95-litre water tanks to keep everyone clean plus the usual drop-down stabilising legs. All up, the underneath of this van was tidy and functional.
The list of external options that have been added by Canterbury caravans includes an Omni Step, extended A-frame, Dexter braking system, an external shower, Weber barbecue, a second Anderson plug, grey water tank and twin 150W solar panels that are controlled by a Projecta 30A unit; while a Projecta 25A battery charger is also used in the electrical system. A reversing camera is a great idea; as is an external TV box. There's a large front storage box over the A-frame which includes twin slides (one for the generator and one for a fridge) plus a shallow storage area at the top, which I think could come in handy for thinner items. 
Overall, I liked the look of the body and its functionality. I think at 9.6m in overall length it's a big unit to haul around; yet the body is only 24 feet (or just over 7m). The ATM, at 3120kg, isn't too bad for such a big-looking unit. This van has been set up to have a 600kg payload so with loaded water tanks there's still several hundred kilos for food and kids' gear – which is very handy for up to six travellers.
INSIDE
This Escape is working with only 24 feet internally, which means there needs to be some careful planning to get it right – and I reckon it's pretty darn close. The front door is mounted towards the front of the van, allowing entry between the parents' island bed on the front wall and the kitchen dining area.
A queen-size bed has wardrobes on either side, including good hanging space behind mirrored doors and storage via slide-out drawers and cupboards; plus there's extra storage above the bed in the overhead cupboards. There is also under-bed storage which is quite practical.
In the middle section of the van on the passenger side is an L-shaped lounge seating area which
will cater for up to two adults and four smaller
kids quite well. There's storage under the seats
and in overhead cupboards, and overall it's neat and practical.
Opposite the dinette is the kitchen, which will prove a slight challenge for feeding six with bench space; however, the dining room table is right there. There is a small slide-out pantry, lots of cupboards and a Thetford Caprice full cook top, grill and stove plus a rangehood. A good-sized sink and draining board is handy for dish washing and with six people there will always be plenty of dishes to do… trust me, I know! 
Above the kitchen bench with its rolled benchtops is a Sphere microwave unit, stereo system and some cupboards for storage. The kitchen is quite practical for the space available and the flashy black and white contrast of the cupboards and walls is a groovy-looking theme throughout. Between the kitchen and the bunk room is a large two-door 184-litre fridge, which is ample for a crowd.
Options in this kitchen and the van's interior include a water filter system plumbed into the sink, the full-size stove, soft-close drawers, piano hinges on all doors (throughout the van), four TV brackets, a 24-inch Firetale LED TV and a Cloud 9
inner-spring mattress.
Move aside the curtain that separates the kitchen/dining area from the kids' room and you will see two L-shaped bunks (an upper and a lower) running along the driver's side wall and across the back wall to the passenger side – effectively creating four lengthy sleeping spaces. The bunks feature high-density foam mattresses and each head area has a power point, a TV plug, a light and a window. I can see kids really enjoying this space.
Between the bunks and the kitchen wall is a wardrobe and storage area including drawers. This offers a good amount of space for clothing, blankets and the like. 
On the opposite wall is the bathroom area with a ceramic swivel toilet, spacious vanity unit with storage and a good-sized mirror… and a really generous shower. This is a great space for the ensuite and certainly big enough for even the largest adult.
Overall, the interior offers good space for the van body size. Having a large ensuite is a bonus and there are enough features to make this interior practical and comfortable. Aside from some trimming issues around the place, including a kitchen cupboard shelf, I think this van is pretty well put together. Of course, most of these trim issues are easy to fix, too.
VERDICT
The Escape is very well specced for the nearly 84G price tag; and the ability to take four kids or a couple of adults and still have room for some luggage is what this van is designed for. I liked the overall space and, aside from the trimming issues, I think the Escape stacks up well for a family touring van.
I can still see plenty of feuds on the road, having travelled with three kids for quite some time… but mostly that's due to a lack of space in the car. I think there's a good amount of space to play on these bunks when inclement weather is an issue, although I can see the kids being outside pretty much the whole time when it isn't and that life is a good one for them (and their parents' sanity).  
THANKS
I'd like to thank Ian Sadler, his wife Kedty Cooper and two of the kids (Kedty was heavily pregnant on the shoot with only a couple of weeks to go and has since given birth to Eveleyn Shay – congratulations guys!). 
Thanks also to Macayla and Brooklyn for their help on the day – who said kids are hard to work with?