Written by Glenys Gelzinis and Amy Fraser
Tumby Bay, located in South Australia, is a slice of paradise on the Eyre Peninsula. From cultural artwork to beautiful beachside camping and aquamarine ocean, its vibe draws visitors back to the town's laid-back lifestyle each year. Here's why we love Tumby Bay.
Beachside camping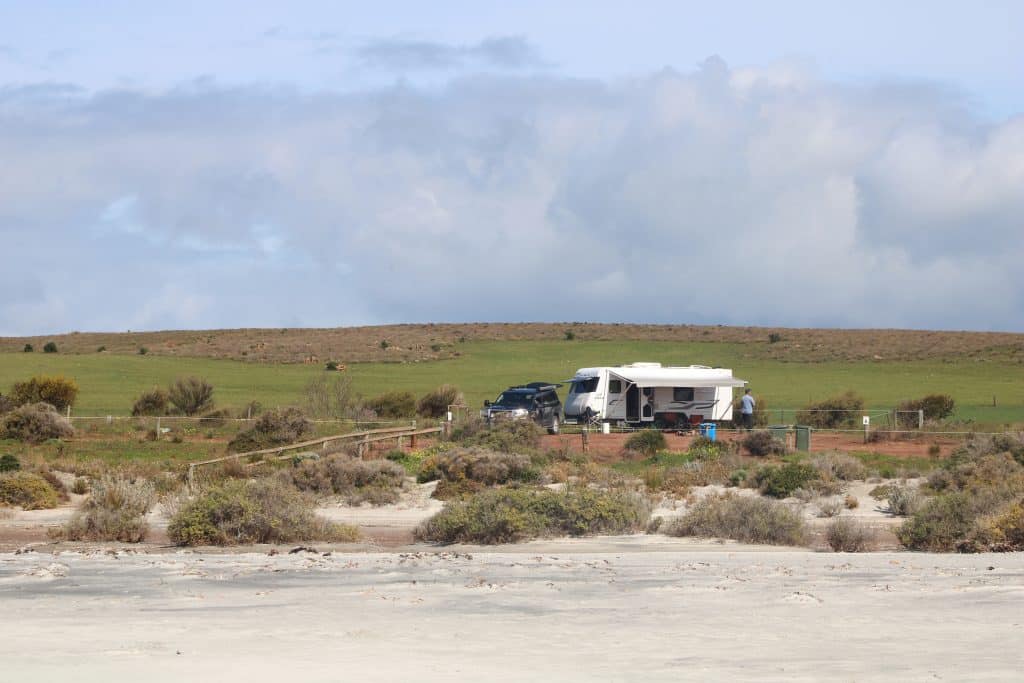 My favourite place to stay in town is Tumby Bay Caravan Park, which sits at one end of the foreshore. Its location is perfect. Take the easy one-kilometre walking trail and you'll soon be in the heart of town. Or if the ocean's calling, walk a couple of metres from your caravan to reach the water's edge. A few more powered caravan sites are available on the grounds of the CWA cottage on the northern side of town. There's also an RV Park, where self-contained vans can stay for a small fee.
If you prefer the seclusion of off-grid camping, there are plenty of options a little further out of town where you can stay for little or no cost. Red Cliff Beach, around 14 kilometres south of Tumby Bay, has a free campground suitable for all vehicles and tents. The site is just a stone's throw from the beach which is dog-friendly and safe for swimming. For a small fee per night, Louth Bay Campground, 29 kilometres south of Tumby Bay, is a great fishing spot for remote campers. Lipson Cove, 23 kilometres north of town, is another top spot with toilet facilities and spectacular beach views.
It's one big ocean playground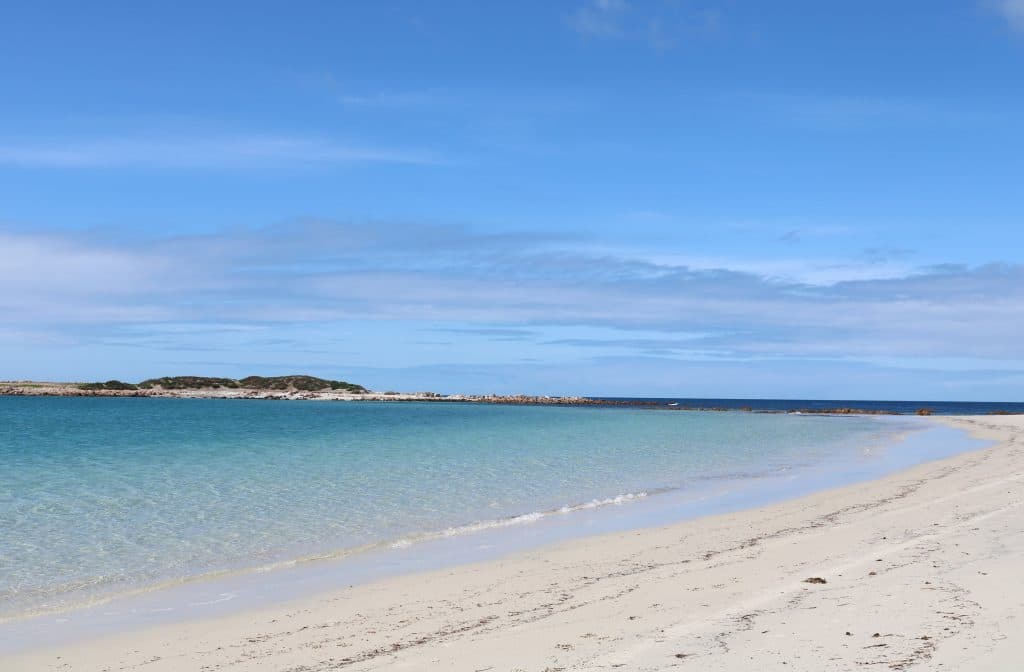 The spectacular white sand and calm turquoise water of Tumby Bay are perfect for those seeking an ocean-side holiday. Beach playgrounds and barbecues are easy to find and the calm water is ideal for kayaks and paddle boarding.
You can try your hand at fishing from the town jetty, or venture out to Sir Joseph Banks Group of Islands – a marine conservation park that's teeming with fish, birdlife and marine life including dolphins and sea lions.
Another incredible marine animal that calls Tumby Bay home is the unique leafy sea dragon. While you can look for them yourself, the best way to spot them is by diving. Leafy sea dragons won't be the only impressive species you see!
Back on land, you can soak in the ocean views along the foreshore walking trail. While you're walking, look out for information boards that display fun facts about the local marine life, fauna and flora.
Impressive silo art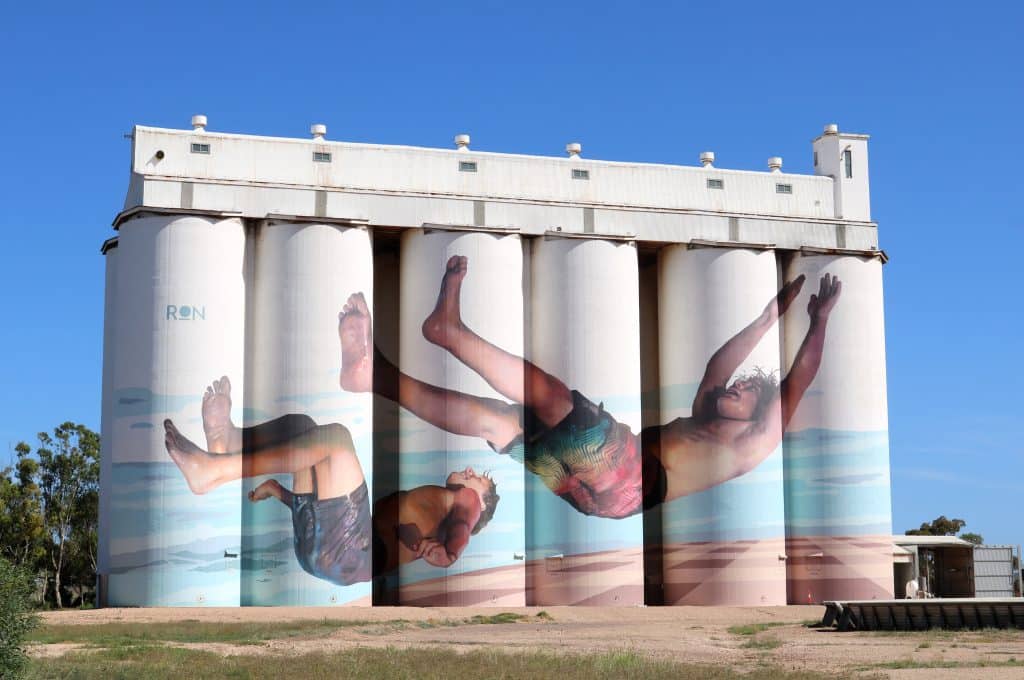 As you enter Tumby Bay, stop to marvel at the grand scale silo art at the town's entrance. Here, you can take in the full-scale image of two local boys jumping from the town jetty. This is just a taste of what awaits you in this small community; a town that clearly values culture and a healthy dose of the outdoor lifestyle.
The Colour Tumby Festival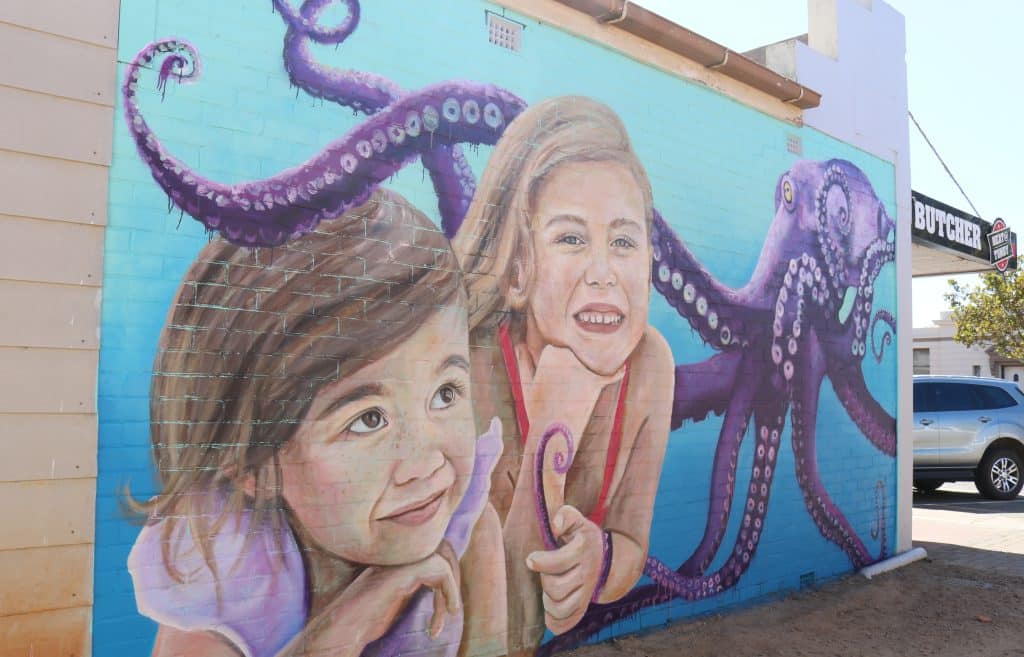 The Colour Tumby festival is a big attraction each year in Tumby Bay which sees well-known street artists descend on the town to paint wall murals with local themes. The festival is held over the long weekend in March each year and the town comes alive with markets, food trucks, musical entertainment and retro car displays in a weekend of family fun.
Celebrations also include fireworks from the jetty and children's entertainment, with a lot of the activities free to enjoy. Stop by the mural paintings and chat to the artists, who are typically happy to introduce their work.