Jurgens Australia has released a statement announcing the relocation of their manufacturing facility following a dispute with the landlord.
The announcement, that appeared on the Jurgens Australia website and social media pages today, goes to great lengths to explain the circumstances of the dispute that culminated in Monday's lockout and the proposed relocation.
According to Mr Paul Kyriacou, owner of Jurgens Caravans Australia, the dispute has resulted in the company being 7 months in arrears in rent and as a result, "…we are basically closed".
The factory in Pakenham Victoria is owned by 13 SHARNET CIRCUIT PAKENHAM PROPERTIES PTY LTD, formally known as JURGENS AUSTRALIA PROPERTIES PTY LTD.
The announcement seems to indicate Jurgens was hit hard by the financial effects of Melbourne's COVID-19 shutdown. An attempt to negotiate a discounted rent with the landlord failed. According to Mr Kyriacou, "The landlord, in writing, agreed to a discount on rent which Jurgens never received".
In the announcement, Mr Kyriacou apologised to Jurgens' customers for any inconvenience caused. He said the company will defend Jurgens' staff, customers and brand. "In the meantime, we will service existing customer's needs remotely and through our network wherever possible."
As for the future, Mr Kyriacou said: "We have significant component stock arriving in Australia in February from our affiliate company in South Africa to enable us to crank up production".
"We are committed to continue manufacturing in Australia and will be moving to new premises to support this endeavour"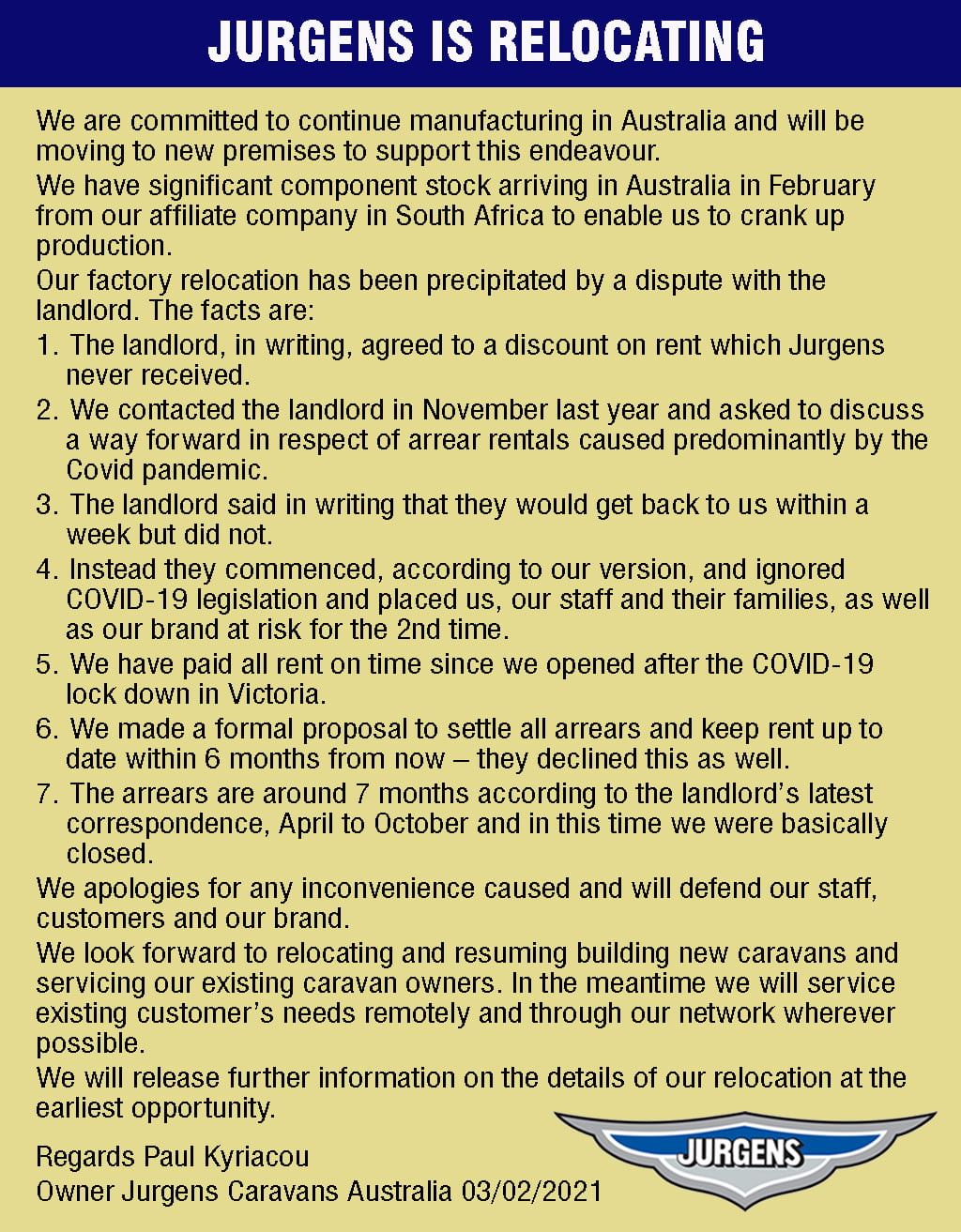 What isn't clear from the announcement is exactly how this relocation will eventuate.
Jurgens will need to get access to their current factory in order to recover any tooling and existing production stock required to "ramp up production" at a new facility. With the lock-out still in effect and with no sign of a resolution to the dispute in sight, it would be a difficult undertaking, to say the least.
In response to RV Daily's enquiries, a Mr John Hughes replied "We don't have a lot more information for you at this stage. If you refer back to the statement, apart from moving the factory, the plans are to continue manufacturing in Australia, crank up production utilising significant component stock arriving in Australia and continue to service our existing caravan owners"
Mr Huges conveyed a further message supposedly from Mr Kyriacou advising they have "permission to collect our assets from the factory".