Jeep Wrangler JL rates 1-star for safety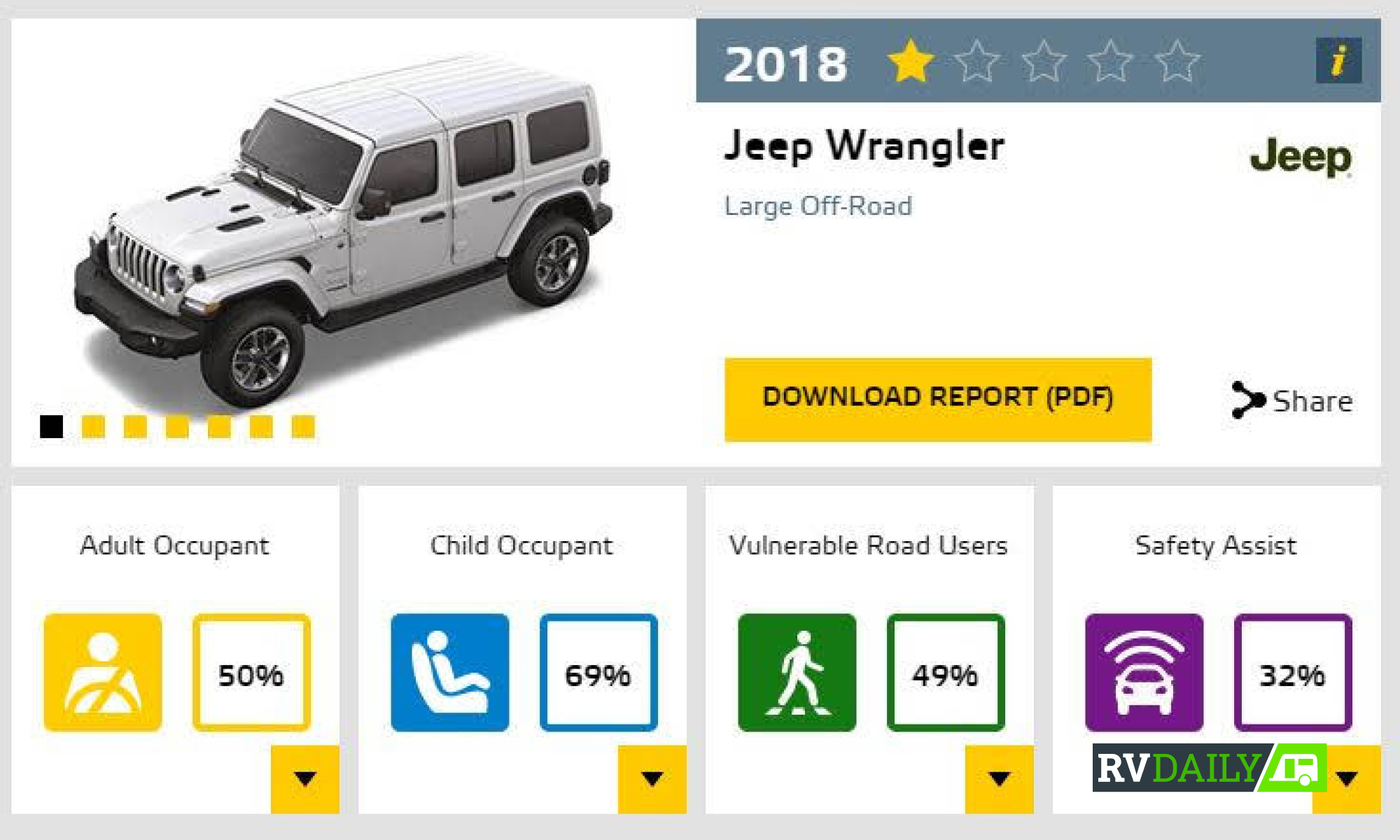 Every time ANCAP or one of the equivalents test a bunch of cars for safety they send us journos the results, and usually it's pretty boring as another set of cars are awarded 5-star ratings.
Actually, allow me a little rant on that subject before we continue. As time goes on, car safety improves. Sensibly, ANCAP and the like continually lift the bar, so a 5-star car in say 2005 is nowhere near as safe as a 5-star car in 2019. Yet both are rated '5-star'. And there's not even equivalence in a year. I tested a Suzuki Swift Sport against a Mercedes-Benz AMG A45, and both were 5-star rated. Yet, as you'd expect, the $80k+ AMG had a plethora of active and proactive safety features the $23k Swift lacked, even if the basic crashworthiness was the same which led to the same rating.
In my view, ANCAP and friends need to do some serious overhauling of their ratings system to properly and visibly reflect safety improvements over the years, and acknowledge the substantial active safety found on more expensive vehicles.
Thank you, and back to the Wrangler JL which, to everyone's surprise, scored 1-star in EuroNCAP. Yes, one. Now the ANCAP testing is pretty much the same as Euro NCAP, and indeed ANCAP often just more or less use their ratings, on the way to further harmonisation over time. So while a local Wrangler hasn't been tested, it is unlikely to do much better over here.
What did Jeep's newest and best Wrangler fail on? More or less everything is the short answer. I thought perhaps it was because it didn't have things like an active bonnet, AEB, or lane keep assist. Well, that didn't help, but the basic problem is that the crashworthiness is poor, scoring 50 percent for an adult occupant, and 69 percent for a child occupant. In contrast, the 2016 HiLux – also a separate chassis vehicle – scored 93 percent and 83% on its way to a 5-star rating, albeit with a safety pack. Without that, it scored 3-star rating, but still 85 percent and 82 percent. The 2015 Triton and Navara managed 4 stars too.
The new Suzuki Jimny rated 3 stars, and it has a similar separate-chassis and live-axle design. Interestingly, the previous model Wrangler JK scored a 4-star ANCAP result, so looks like this one is headed for a worse rating than its ancestor, a pretty rare event in car development history.
Jeep have attempted to defend the result, but to be honest there's nothing they can say. It's miserable at a fundamental, crashworthy level, and no amount of spin will change that, and nor will tacking on active safety features such as AEB and lane keep assist.
It's such a shame, because the Wrangler is a unique vehicle with a very special place in the market. Let's hope that our local variants do indeed score better so we can all start to enjoy the legend that is the Wrangler.