JB DIRT ROAD EXTREME, LOOKING FOR A ROCK AND HARD PLACE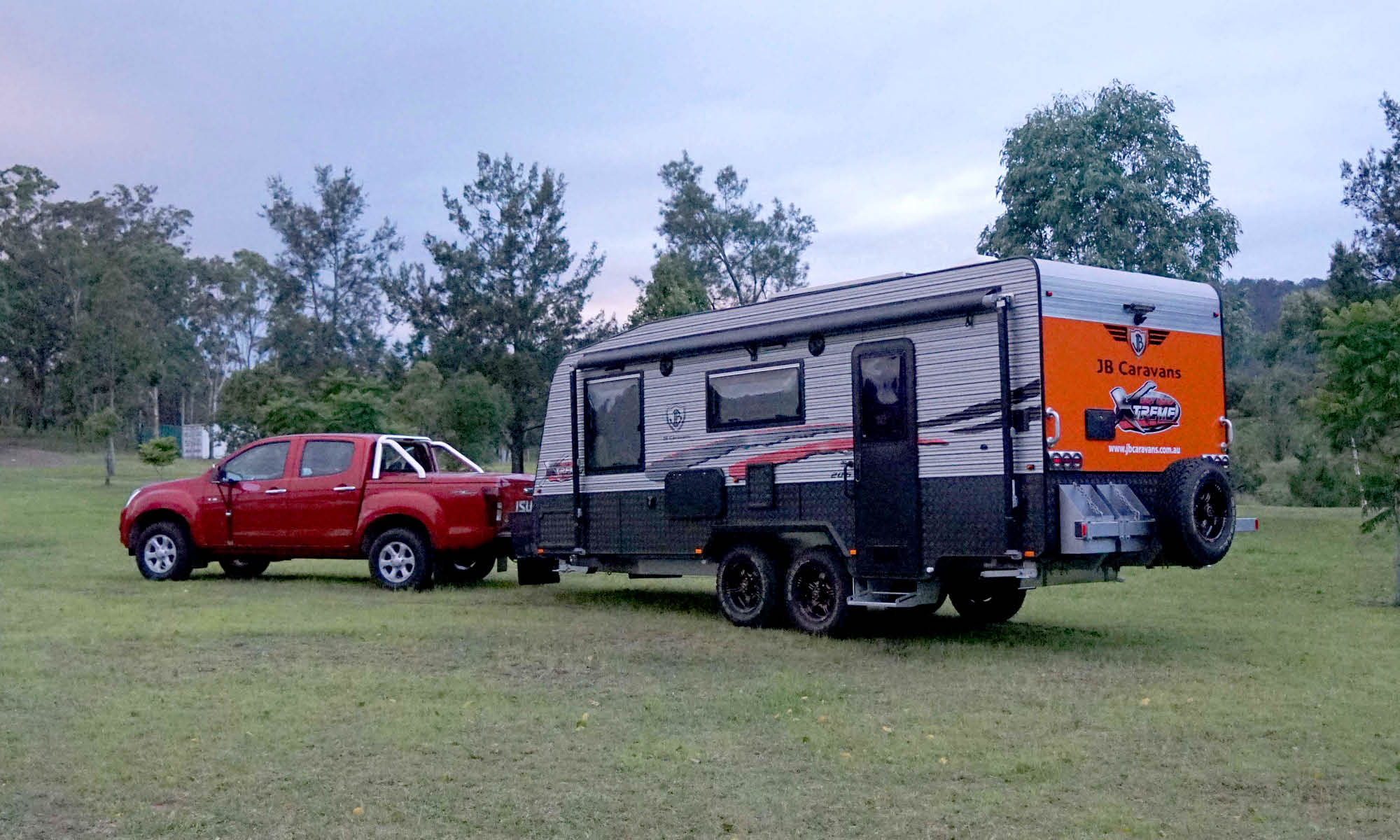 JB revealed the Dirt Road Xtreme at the Melbourne show early this year, adding to a range that is expanding as rapidly and broadly as its dealer network. Right from the company's inception, JB has stated a desire to be able to support its customers not only at purchase time but more importantly, post purchase. As caravanners wish to roam further afield this is to be recommended but of course to get to these hard to reach locations the caravans need to be fit for purpose in the first place. 
For images, videos and the full RV Daily experience, read this in our online magazine.
JB already produced the Dirt Roader so the Xtreme variant is designed with adventures in mind that are a little further down the unbeaten track. Many of today's caravan designs follow a theme and this JB model is certainly humming the same tune; checker plate cladding, high ride height, ribbed external panels, strong chassis and the big rubber. So that's the tough visuals ticked off, but as is becoming all the more apparent in terms of caravan design it's the quality of the construction that's the key to success. 
There are versions of the van ranging from the 20-foot 6-inch (6.3m) model we have here up to 22-foot, 3-inch (6.8m) and a choice of layouts and décor styles within each of those models. All but the 21" 6' (6.6m) variant are rear-door caravans which takes the direct entry traffic away from your bedroom if you like to leave it untidy! Not that it can be sectioned off in this model but the caravan reveals generous living space when you do climb in via the folding metal step. But let's take a step back to the outside.
Right from the hitch, a VC DO35 fully articulating off-road unit, the purpose of the van is clear. A stoneguard atop the hot-dip galvanised chassis' drawbar – in 3.2mm steel – aims to deflect the worst of the loose surfaces from marking either the front of the van or taking the paint off the black checker plate tool box or the protective cladding on the caravan. As JB's Matt Aleksoski told us: "The frame is meranti timber, with high-profile stucco external cladding and Alucomp cladding on the front and back. Insulation is precisley cut within the exterior cladding. We also use an acoustic-grade, fire-retardant wool insulation in the roof. Our chassis are manufactured in Australia at our purpose-built facility, and our steel is supplied by One Steel."
The front window is covered by an external visor, and there's a handy work light over the tool box area that will assist with after dark hitch activity (the jockey wheel lives in the box when not in use) or managing your gas supplies with the twin 9kg tanks here. A side-to-side tunnel boot runs across the nose of the van and is aluminium faced inside, and is LED lit. 
Under the full-length manually-operated awning you can enjoy outdoor eating, or relaxing with TV/DVD or tunes under the exterior speakers that link up to the entertainment system with all the usual play functions, including a Wi-Fi router.
Features on the outside rear wall include the all-important reversing camera with the benefit of another LED work light above it, a single spare wheel and tyre and twin jerry can holders that have incredibly sturdy chains to retain your cans of precious fluid. With some cool circular LED tail light clusters, there are also grab handles (and two at the front) to assist when human intervention is required for manoeuvring the caravan. 
Back here is also a good vantage point to check out the undercarriage. There is plenty of ground clearance under there. The dominant feature, colour-coded orange in this case, is the AL-KO twin-shock, twin arm independent Cross-Country suspension. AL-KO is one of the few companies known for its proven products in this area and used in conjunction with the DuraGal Plus chassis – and the AL-KO ESC technology – the van should be very capable of returning a safe and secure performance for a long time. The Xtreme rolls on 16-inch alloys with General Grabber AT3 all-terrains, a pattern that will satisfy most in terms of where they will head with this van. 
And of course, when you get to wherever that might be you want to leave as little trace as possible of your visit, so there are well protected tanks underneath to supply you with fresh and capture your grey water. While we're on more remote travel, there's a 150W solar panel on the roof to feed in to a Projecta charge system and a reverse-cycle air-conditioner to change your personal climate when you're on mains power.

A generator box will hold your portable mains when away from the national grid. With a water filter to bring a taste of Evian to Geraldton Bore, and a gas/electric hot water system for the shower, etc. then you can forgo the disposable wet-wipes baths to remove the 'outback orange' dusty spray tan and keep your party very comfortable indeed. 
The measure of comfort of any van is the interior.
The Xtreme moves from its hard-edged exterior to a well-dressed living area with everything you'd expect, and its laid out in a style that's familiar and practical. There's no shortage of storage. Look around, overheads, corner units, twin wardrobes in the bedroom and a kitchen with drawers and sliding pantry are all present and correct, and with mini-struts and sturdy hinges everywhere practicable. 
The café dining/lounge area is well dressed in leather (of course, with colours to choose from) around a fold-out table and with leg rests to look after your own lower extensions. Under the table are power points and under the seats are drawers. Opposite is a full kitchen that includes an oven and a microwave, and a rangehood looks down on a standard size prep area. A kitchen window frames the view that hopefully will take the edge off the mundane tasks that remain even on holiday. Personally, I've never understood a solid wall in this area on some RVs.
The lift-up innerspring bed at the front of the van is well served by storage, and for light via the roof and windows which, of course, are all screened for privacy and winged pests. At the opposite end of the van is the ensuite, with the essentials all present in nicely finished form and complimented with the inclusion of a washing machine.
Verdict:
With the intention of the Dirt Road Xtreme being off-road travel there's a certain practicality to the van in design terms. Underneath, there are tested components, not no-name unknowns. So you have some certainty in reliability on your travels. The interior is not ground-breaking nor gimmicky but that's what you want, isn't it? Nothing flimsy or flashy that's going to break or simply irritate after a few runs out. With good chassis design, effective weight distribution down low with the water tanks and a single spare on the back you've the base for a stable platform. 
So apparently, while Xtreme in name this JB caravan is straightforward in nature. Probably the right way to go.
Specifications
Model: Dirt Road Xtreme
Body length: 20', 6" (6.3m)
Tare weight: 2571kg
ATM: 3021kg
Price as tested: RRP $78,490
PROS
Chassis/suspension

Internal storage

Model range
CONS
Some will prefer more

front-door models 

None surfaced on this test