JB Caravans Launch a New Factory and Marlin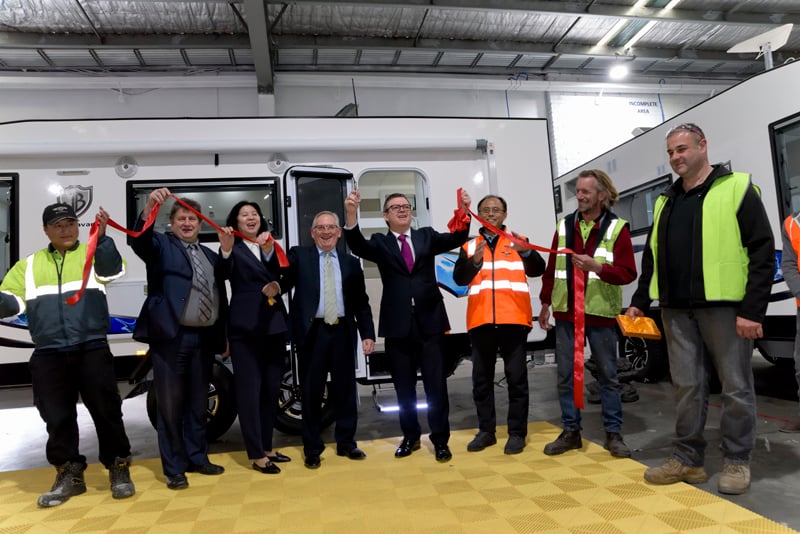 In 2010 JB Caravans was launched into the Aussie caravan market by Alex and Sharon Bi. They had a dream to create a massive company to rival any of the big caravan manufacturers in Australia. Today, 7th September 2018, JB unveiled their new factory and released the new range of on-road luxury vans including the Marlin pictured.
This launch also announced a State Government partnership with JB in the form of a grant that has helped JB employ 55 people into the caravan industry many from the automotive manufacturing arena with its closing down here in Victoria. This has been a huge undertaking by JB to get off the ground.
Alex Bi opened the speeches and was followed by Rob Lucas CEO of CIA Vic. He was followed by the Mayor of Hume, Councillor Geoff Porter. MP for Broadmeadows, Frank McGuire, ALP Secretary for Small Business and Innovation and Parliamentary Secretary for Medical Research rounded out the speeches.
The launch was celebrated by the Government officials, CIA and CIAA members, industry leaders, suppliers, customers and pretty much the entire staff of JB, some 100 plus workers! The new showroom factory is located at 2040 – 2060 Sydney Rd Campbellfield Victoria.