Issue 40: New Vehicle News
Words Robert Pepper
JL WRANGLER RUBICON LAUNCHED IN AUSTRALIA
It's taken a while after the global release, but Jeep has finally held the Australian press launch for the new Wrangler JL Rubicon, in Tasmania. It's an overall upgrade on the JK Wrangler in terms of all-round capability, refinement, efficiency and features but not safety as somehow Jeep engineered a 95% new vehicle to score just one star in the EuroNCAP testing, and I wouldn't expect ANCAP to be any higher. Jeep is keen to trumpet the improvement to a braked tow limit of 2495kg, but realistically once the numbers are crunched, I'd say you're looking at 1500kg. Another big change is an all-wheel-drive option, confusing called 4H-Auto.
Lots of improvements but it's not cheap at over $68,000 for the range-topping Rubicon specialist off-road model, and even the Sport S two-door starts at $53,000, with both prices are exclusive of on-road costs, with the slightly spec-improved Overland another $9500. The diesel is only available in Rubicon trim and is another $5000; not worth it in my view. But if you want a fun, charismatic off-roader then the Wrangler should be high on your list. The Sport S and Overland models are here in dealers now with Rubicons to follow shortly.
LIMITED EDITION MERCEDES-BENZ X-CLASS
Whenever a ute is slow selling carmakers release an "exclusive" special edition to anyone who'll buy it. Here we have the X 350 d and it has "black design features and accessory parts" which apparently "push the boundaries" of the classic dual cab even further. Aside from various cosmetic flourishes you get a tub liner and hard tonneau cover plus floormats. Priced at $87,500 plus on roads, and based on the X 350 d POWER which has a 190kW / 550Nm all-wheel drive system with low range.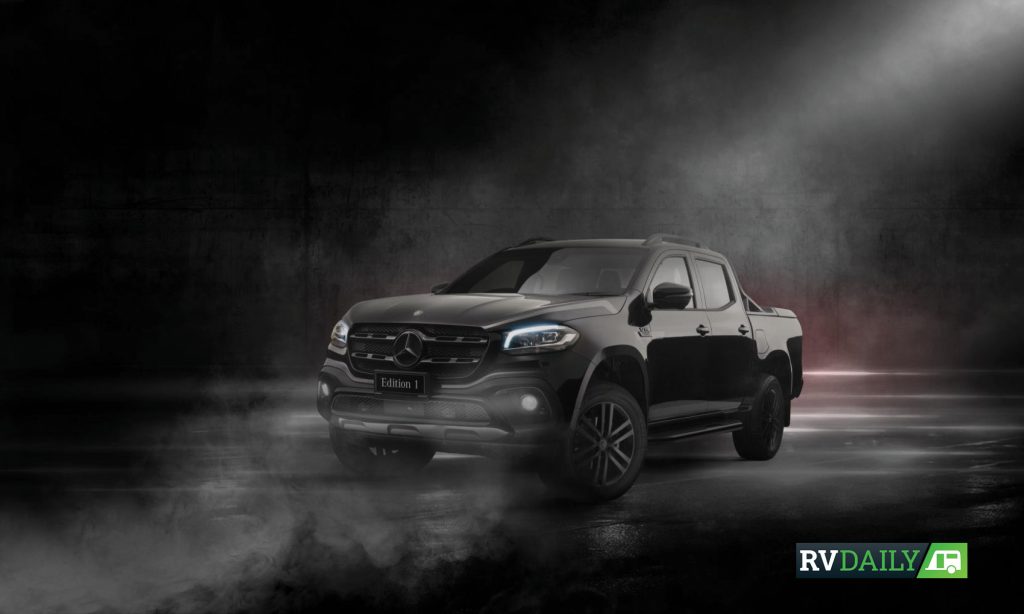 REFRESHED MY19 D-MAX AND MU-X, SAFETY RETROFITS POSSIBLE FOR MY17 MODELS, NEW WARRANTY/SERVICING
Isuzu's reliably popular workhorse 4X4s have been given a minor refresh and ownership improvement. The D-MAX ute got a new engine in 2017 along with a 6-speed auto, then some updates in 2018, and now there's more updates but they're mostly cosmetic. The tyres are however 255/60/18 Toyo Open Country, so not all-terrains but quite decently suited to towing and gravel work. The other significant change is PESS, or Passive Entry and Start System – what we'd call keyless entry and push button starting.
The MU-X 4X4 seven-seater gets a range of cosmetic flourishes and now has standard 18-inch wheels, 255/60/18 Bridgestone Dueler Highway Terrains, but on the LS-T there is new ambient interior lighting which "basks occupants in a soothing, warm, ambient glow at night". And the steering has been tuned with Australian customer feedback in mind, less effort required at low speeds.
Safety is improved as there's also an option for Blind Spot Monitoring (BSM) and Rear Cross Traffic Alert (RCTA). The BSM works off sensors in the rear bumper, as does the RCTA which detects vehicles approaching as you reverse. In a rare move, the BSM and RCTA can be retrofitted to older MU-Xs for $995. There's also a front park radar assist for both D-MAX and MU-X now, and again this can be retrofitted for MY17 models for $545.
The other big news is an improved warranty and servicing programme, the 6-6-7 model. This is six years/150,000km warranty, six years roadside assist and seven years capped price servicing. Isuzu says the capped price servicing totals $3600 for seven years, although readers of this publication can expect to spend more as they are likely to do more kilometres, tow, and drive off-road with the consequent increase in service costs. Nevertheless, an improved warranty will certainly help Isuzu's image of dependable reliability, and six years is better than the now-standard five.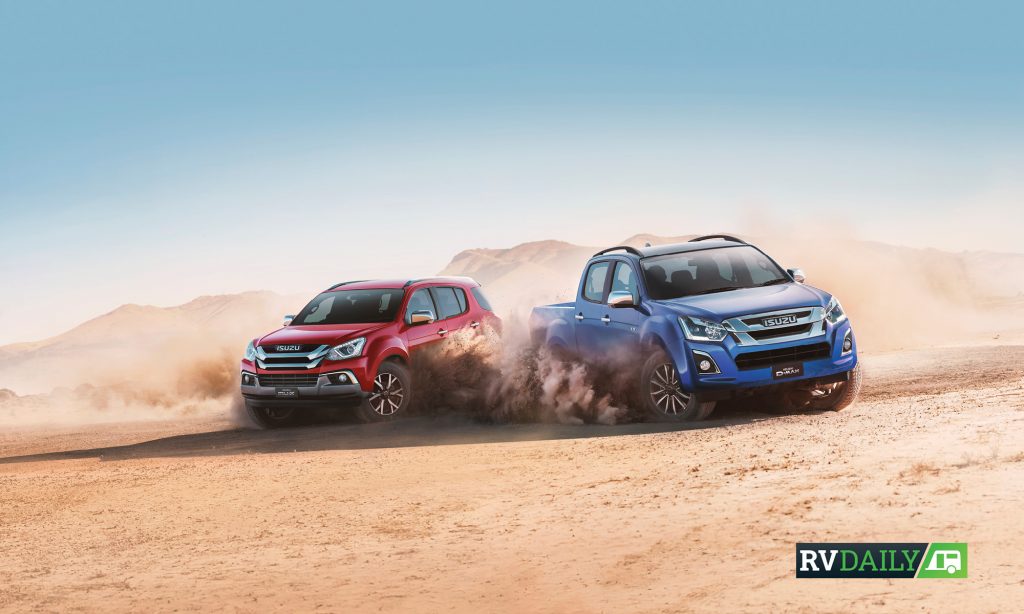 ISUZU D-MAX SPECIAL EDITON – X-RUNNER
Another special edition, this time from Isuzu who want us to know about the X-RUNNER, based on the LS-T trim model. The differences are mostly cosmetic, but you do get a satin black sports bar, under rail tub liner and rear park assist, plus the 6-6-7 program (see notes above on the new MY19 models).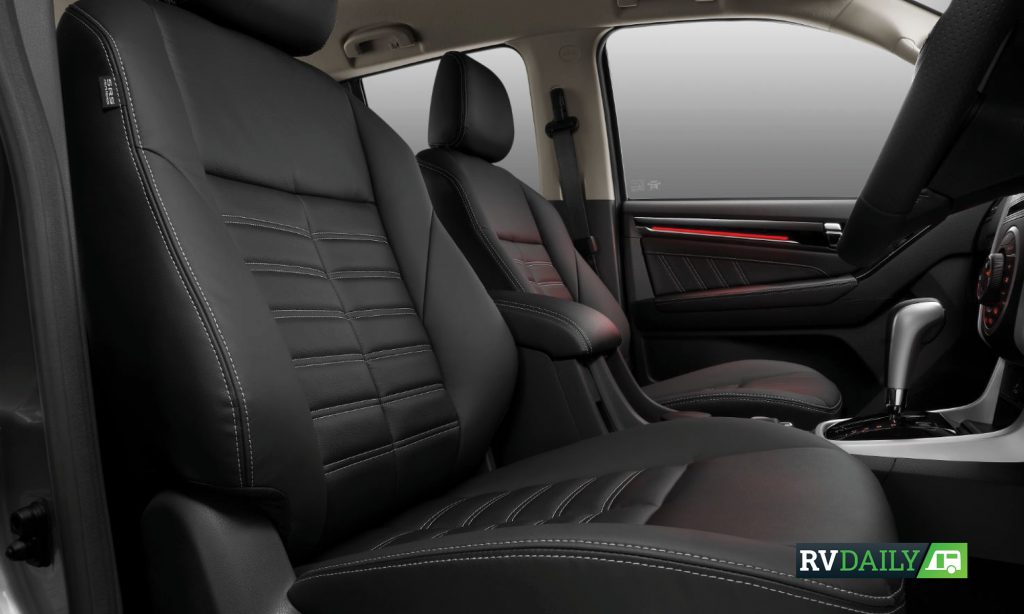 NEW ENGINE FOR RANGE ROVER
The original Range Rover (the "full fat" model as it's now known to differentiate from all other lesser Range Rovers) has been given a new engine, a 3.0 six-cylinder petrol Ingenium with an electric supercharger and twin-scroll turbo, plus a mild hybrid system, so the battery isn't externally rechargeable. The towing is the same at 3500kg. The result is 0-100km/h in 6.3 seconds and a top speed of 225km/h, and a fuel consumption figure of 9.3L/100km. Who needs diesels?
NEW DISCOVERY SPORT
Land Rover's small Discovery has been updated. Land Rover still calls it a 5+2, as opposed to the full seven-seat Discovery, but now the second row has a 40/20/40 split, which is rare for the class, hybrid-electric power including a PHEV, more interior space, Terrain Response 2 tech, improved safety with Adaptive Cruise Control, Apple Carplay and Android Auto, and updated interior. Prices start from $60,500 plus on roads. Towing is 2200kg braked.
QUICK NEWS
• Another image released of the new Defender.
• Mercedes says that by 2025 all its fleet will be electrified, and it will produce no diesel or petrol cars by 2039. That's just 20 years away.
• Jaguar-Land Rover lost $6.7b in the last financial year, but if you exclude one-off write downs then it was only $667m. However, the company is expected to return to profit after some redundancies. Rumour continues to swirl around a sale.
• Ranger and BT-50 recalls – the 2016-18 BT-50 and Ranger have recalls out for brake issues.