IS THIS AUSTRALIA'S BEST VALUE TOW RIG?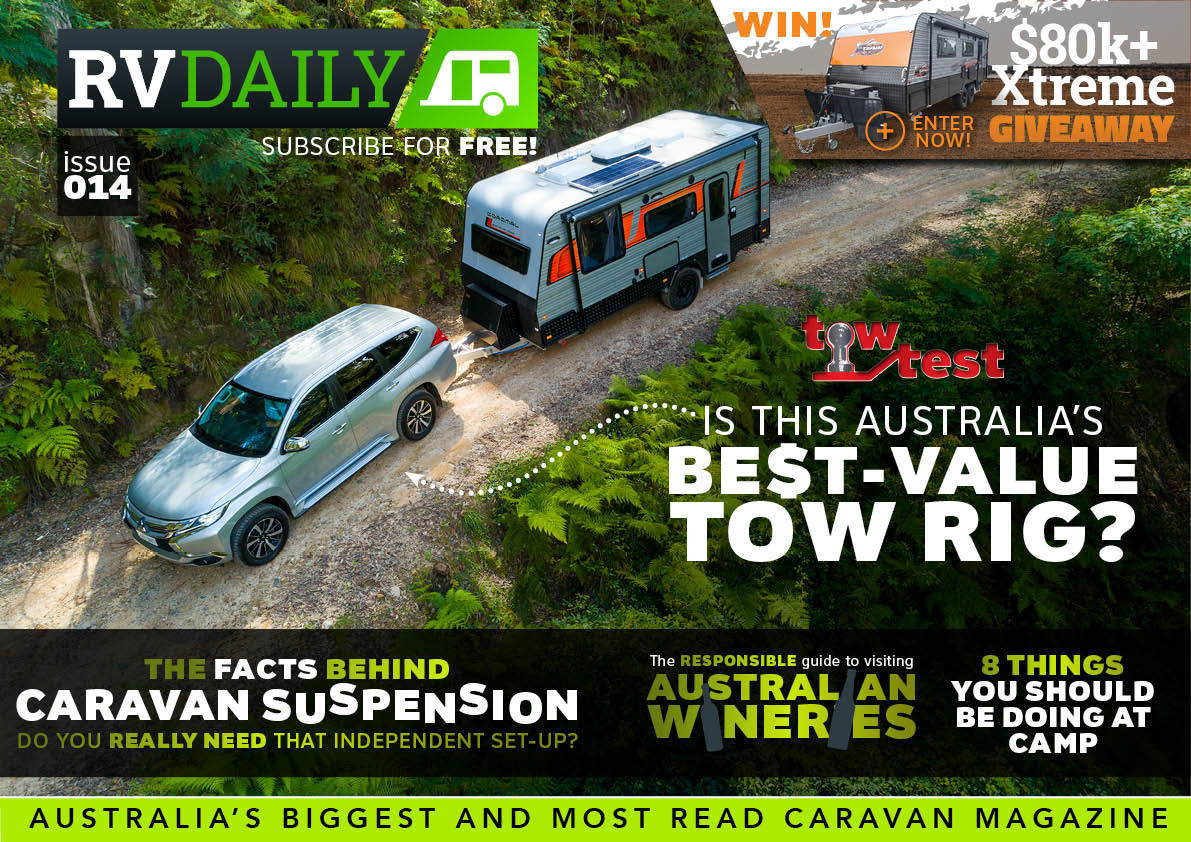 Putting the $48,500 Pajero Sport to the tow test
WORDS Sam Purcell  images Anthony Warry
A one-time staple of the tow-rig scene, Mitsubishi's venerable Pajero is getting knocked on the head. Caught up in a tough cycle of a fast-moving car scene and being caught fudging fuel economy figures, Mitsubishi has told the press that it's simply not worth trying to recycle the ageing platform into something clean and efficient enough to meet current rules. 
For images, videos and the full RV Daily experience, read this in our online magazine.
Now that Toyota has brought the 4.5-litre V8 diesel into line with a DPF and injectors, I find such excuses hard to fathom. Sure, the LandCruiser is far and away not efficient – but it still sells well. 
Anyhow, there is no point crying over spilt milk (or killed cars). More than just a successor in terms of name, it's important to see the Pajero Sport as a replacement for the Pajero we once knew. Something like Ford's Ranger-based Everest taking on the seven-seat Prado and Grand Cherokee, the Pajero Sport is offering a seven-seat diesel-powered wagon based on the 4X4 ute. But Mitsubishi is doing it a little different. The cheap entry point works well for the strong-selling Triton, so they have continued that across on the wagon.
The end product is a pretty sharp-looking vehicle, from the front at least. It's a big redesign over the Triton and that runs to the interior as well. It's really well specced and nicely finished but does feel a bit pokey with that big centre console that feels like it takes up way too much space. It's hard to knock though… because of that impressive buy-in price.
This is a GLS model which sits between a top-spec Exceed and a five-seat GLS. Prices start at $45,000, and then go up to $48,500 and $53,000. 
The Engine
The Pajero Sport has the 2.4-litre, four-cylinder, turbo-diesel motor in the same guise as the Triton. This is a new diesel engine for Mitsubishi, taking over from the long-serving 4D56 2.5-litre turbo-diesel. The new unit is the 4N15, and uses Mitsubishi's MIVEC valve timing for the first time on a diesel engine. It has lots of other new technology smarts as well – like piezo injectors and an offset crank to make it as efficient as possible. 
It's also one of the few diesel engines with an alloy block and crank, made possible through a lower compression ratio than other diesels (15.5:1). This makes the whole deal much lighter overall, meaning there is less inertia to overcome (meaning it becomes more efficient). So, you've got 133kW @ 3500rpm, and 430Nm @ 2500rpm. 
The engine is a good one. It's impressively
efficient, a segment leader for both the Pajero Sport and Triton. Daily driving in good conditions can see you in the seven-and-eight litres per hundred range without too much worry, but that obviously quickly goes out the window when you start towing.
Peak torque comes in at a relatively high 2500rpm for this motor, making it having to spin fairly hard for good progress. This is the main difference compared to something like Ford's 3.2-litre, or Holden's 2.8-litre; this motor simply needs more revs to make similar progress, which means it doesn't feel as relaxed. Otherwise, it's hard to fault the engine as a towing unit. What it lacks in outright capacity and kilowatts, it makes up for in willingness and urgency. 
We used roughly 15L/100km on our test,
but it's worth noting here that this included a
lot of hill climbs and low-speed off-road work,
which definitely didn't do the figure any favours.
Gearbox
Another big difference between the Triton and the Pajero Sport (other than the body, duh) is the gearbox. Instead of a six-speed manual or five-speed auto, you have the exclusive choice of an eight-speed automatic gearbox. Extra ratios are always grand, especially when you have a hard-working diesel without wholesale displacement to rely on. This Aisin gearbox is a pretty slick unit and does a good job of eking out the best from the motor. 
Towing, it's much the same story. You can feel the engine working to keep the pace up, but the gearbox stays quite resolute and decisive. It lets the revs run out to that 4000rpm mark – giving you as much performance as possible. 
Suspension
Being based on the MQ Triton, the Pajero Sport has an independent front end and live-axle rear end. In place of leaf springs in the bum, the Paj gains a three-link coil-sprung set-up. It runs on a slightly shorter wheelbase, down to 2800mm
(or 110 inches, in the old money) which is 200mm less.
This makes the Pajero Sport quite nimble, with an impressive turning circle. The springs and shocks are fairly soft off the bat, negating any bouncing in the ride. Steering input is light and easy. 
Load up the van, and that plush ride does get knocked around by the increased weight. The back end sat down a little with the Coromal Element hanging off the back, and the ride was noticeably affected. Steering got a bit lighter, and you could feel the factory shockies not keeping up with the extra work. If you're thinking about using this as a tow rig for any extended period of time, it will serve you well to fit (at least) some aftermarket shocks, and think about some upgraded springs. 
Coromal Element 553
To test the Pajero's capacity as a tow vehicle we borrowed the Element 553 from Coromal, the 553 is part of a range that extends to 10 models. Check out the slideshow for a look around. Thanks to the Acton Lifestyle Centre in Penrith, NSW for the loan of the caravan.
Specifications
Overall Length: 7.36m 
Interior Length: 5.03m 
Overall external Height: 2.88m 
Exterior Body Width: 2.49m
Tare Weight: 1850kg
ATM: 2145kg
Price: RRP$53,490
Verdict  
As a tow vehicle, the Pajero Sport is good but not great. The engine does a fine job, but it can't help being outgunned by larger engines in the Trailblazer, MU-X and Everest. The kicker here is that you can get better economy out of the Paj when you want it, but you have to drive accordingly. The suspension and steering don't really stand up that well in my eyes, but could be easily fixed with some aftermarket mods. 
Which is great… because you'll probably have some spare change if you buy one of these units. The Pajero Sport is easily the most cost-effective way to get into a seven-seater diesel wagon with a decent tow rating, which makes it hard to go past. It's a reasonably good car – and for the price, it's great.  
Specifications
Model: Mitsubishi Pajero
Sport GLS
Engine: 2.4-litre four-cylinder turbo-diesel
Power: 133kW @ 3500rpm
Torque: 430Nm @ 2500rpm
Gearbox: Eight-speed automatic
Length: 4785mm
Weights: 2100kg kerb, 2710kg GVM, 610kg payload
Towing: 3100kg towing capacity, 5400kg GCM
Tyres: 265/60R18
Fuel used on test: 15.2L/100km
RRP: $48,500
PROS
Probably the best value




for money seven-seater




wagon on the market
CONS
Towing does impact




the suspension and engine




performance