BIG RIG COMBO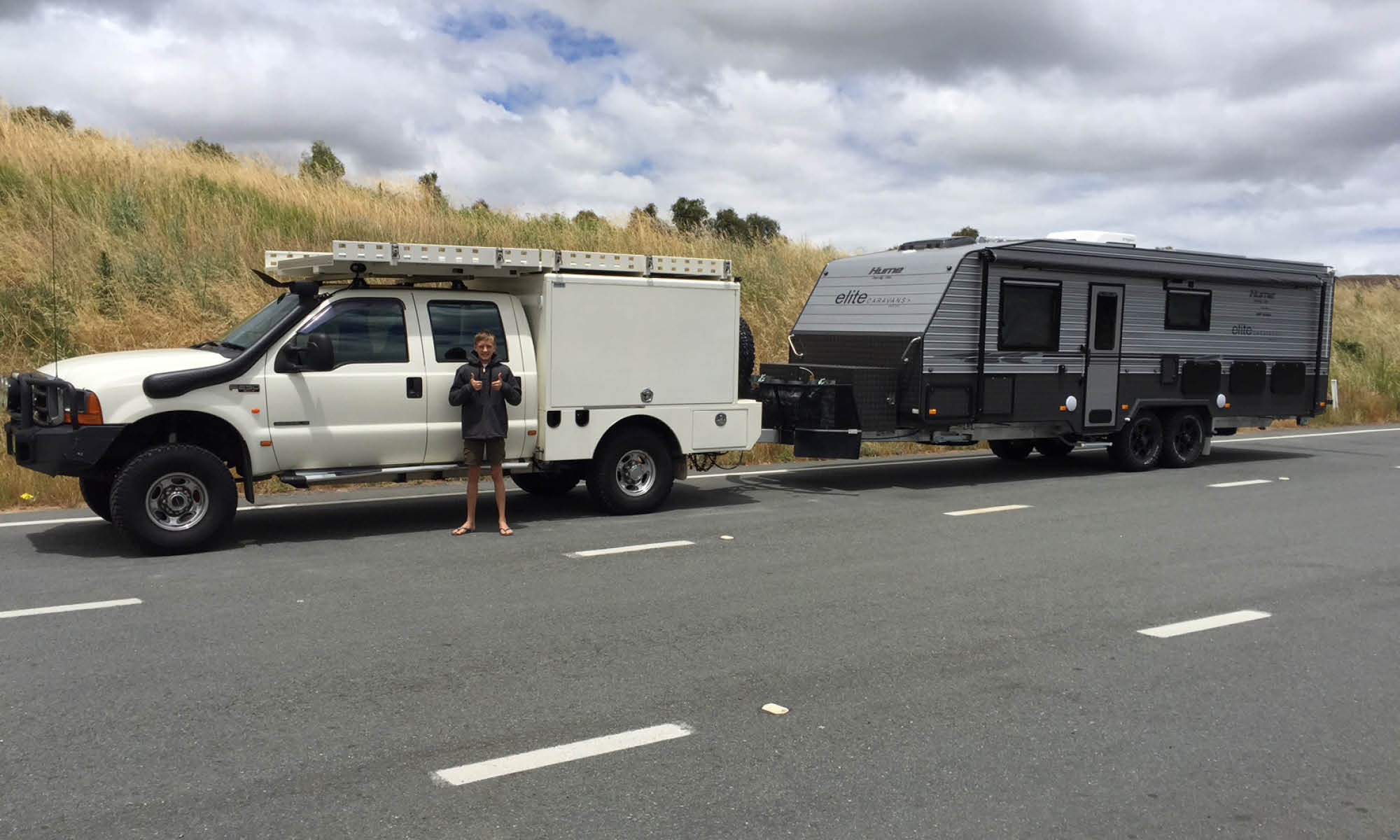 Ex-truckie, Matt Thomas has ensured his family travels in comfort and style
To your average Joe, hooking up a 26-foot off-road van from Elite to a 2003 F250 might seem like a big task, but it is a walk in the park compared to what Matt has towed as a truck driver. Upgrading from a LandCruiser to the F250 was a move Matt did to ensure his family was safe on their travels. And travel they certainly do! Having taken his wife and three kids all over Australia, from Darwin to Adelaide, Melbourne to Cairns, the Thomas family were looking to travel in comfort. Matt said: 
For images, videos and the full RV Daily experience, read this in our online magazine.
"We've worked out that over the past 10 years, we have spent around 100 weeks on the road – an average of 10 weeks per year. I'd say that when I'm fully loaded with wife and kids safely buckled up, I need every bit of that training/experience to keep things in line and safe."
Having held his MR license for 23 years, Matt believes it makes sense to undergo training and licensing when your rig is over a certain weight or length. "I've seen too many poor drivers out there towing big vans just because they can afford it. There should be more sensible criteria." 
Not only do we love your rig Matt, we also love your outlook. See you on the road! 
caravan and camping from a
mum's perspective
"Mummy blogger" Bec and her young family live on the road, travelling Australia. Bec has started a video blog to show other families what life is really like living in a caravan with her husband, Justin, and three little kids – Jack (4), Billy (3) and little sister Charlie (2). It's usually fun and games (but not always) and she is happy for others to learn from
her experiences. 
The Necessities
When they were looking for the right caravan for a young family of five, Bec says she had a few non-negotiable items that she considered necessities. First up, she says you'll want a bed for each kid without having to fold it out or make it up every day. So, for them, they needed a van with a triple bunk bed. Next up, Bec says she wasn't going anywhere without a toilet, a shower and a washing machine on board. Solid advice for a home with three kiddies under four!
Surviving Car Travel
With three car seats across the back seat, Bec says that as the passenger, all she does during car travel is respond to the word "Mum". Mum, can I have some water? Mum, I need to go to the toilet. Mum, Charlie is pinching me. You get the picture! 
Bec says to keep travel to a few hundred kilometres a day if you can. Take stops at playgrounds so the kids can have a run around and most importantly, time your car travel in with the kids'
sleep times. Keep the kids involved in the trip: where you are going and what you'll do when you get there. And never forget the snacks and iPads!
Feeding the Kids
Bec says nothing much has changed in the way they eat on the road to what they used to eat at home. They like to eat pretty healthy and Bec says that's easy in a caravan when you have all the creature comforts and appliances you need. Her advice is to make sure you have a good-size fridge with a freezer so you can pre-prepare some meals. A microwave is super handy with little ones and she also recommends an oven, for yummy things like quiche, roasts and slices.
Couple time! 
Bec and Justin still manage plenty of time to themselves after 7pm is their time without the kids. They like to sit outside and have a wine by the fire or watch a movie or whatever. She says the secret is to maintain a strict bedtime routine. 
Bec is full of tips and advice and real-life experiences when it comes to travelling in a caravan with a young family. 
Check out her Mummy Blog and if you have questions of your own, you can leave them in the comments.