Brand-new or barn-find the 79 hasn't changed much in years. Are old-timer talents still valuable because they surely cost
Cars are changing more rapidly than ever. A model arriving today will be long gone in six years' time, replaced with something faster, more efficient, safer and, of course, more fashionable. The 4WD market is a bit slower to change; a new 4WD SUV or ute arriving today will continue on – with updates – for maybe 10 years.
So even among long-lived utes, the Toyota LandCruiser 70 Series has been around for an awfully long time. Arriving in 1985, the humble 70 has been in production long enough to go out of fashion and come back in again.
In 1985 the LandCruiser was only available as a single-cab ute and Troop Carrier (although around then there were more offshoots overseas, such as the Prado 70, the precursor to the Prado 90, which arrived in Oz in 1996).
It's not like Toyota forgot all about the LandCruiser 70 – it has been refreshed several times. Key changes arrived in 2007, with a new front end, a new 76 Series wagon variant and a 4.5-litre V8 replacing the 1HZ inline six. In 2009 (more than  10 years after just about every other Toyota 4WD got them), the 70 received dual front airbags and ABS brakes at no cost, completely standard. In 2014, the dual-cab ute version we're reviewing here turned up and in 2016, all 70 Series variants got stability control, traction control, hill-start assist, brake assist and electronic brake-force distribution as well as taller second and fifth-gear ratios, a DPF filter and piezo-electric injectors. The 70 has become, at least partly, as modern as any 2010 ute.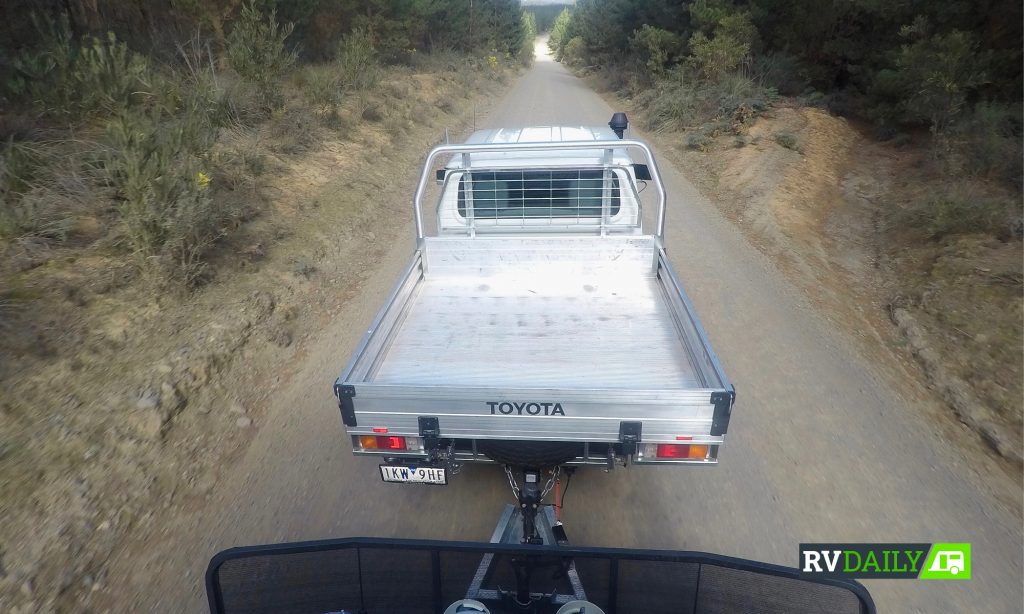 The 79 Series is expensive for what it is: it costs $71,740 (plus on-road costs) plus $2580 for the optional heavy-duty alloy tray and $887 for the tow bar and wiring kit (prices include fitting) you see fitted here. Once you throw in an aftermarket electric brake controller (about $500), you're looking at $75,707 (plus on-roads).
The LandCruiser's body is very similar to the one that came out in 1985. Even though the nose is from the naughtys, the overall look is very retro. You'll either love it or hate it. The interior is very utilitarian for an $80k ute – there's no sat nav, no heated seats or even power adjustment for side mirrors. What about a rear-view camera? No, it doesn't have one of those either.
The dash – updated 11 years ago, so fairly 'modern' – covers the basics and no more. The only adjustments the driver can make is seat fore-aft and steering height. Even so, there's enough there for most people to get into a comfy driving position and those front buckets – new for the GXL 70 Series in around 2002 – are actually pretty comfortable. The view out from the driver's seat is very good to the front and sides (although, like most utes without a rear camera or sensors, reverse parking is not easy in tight spots).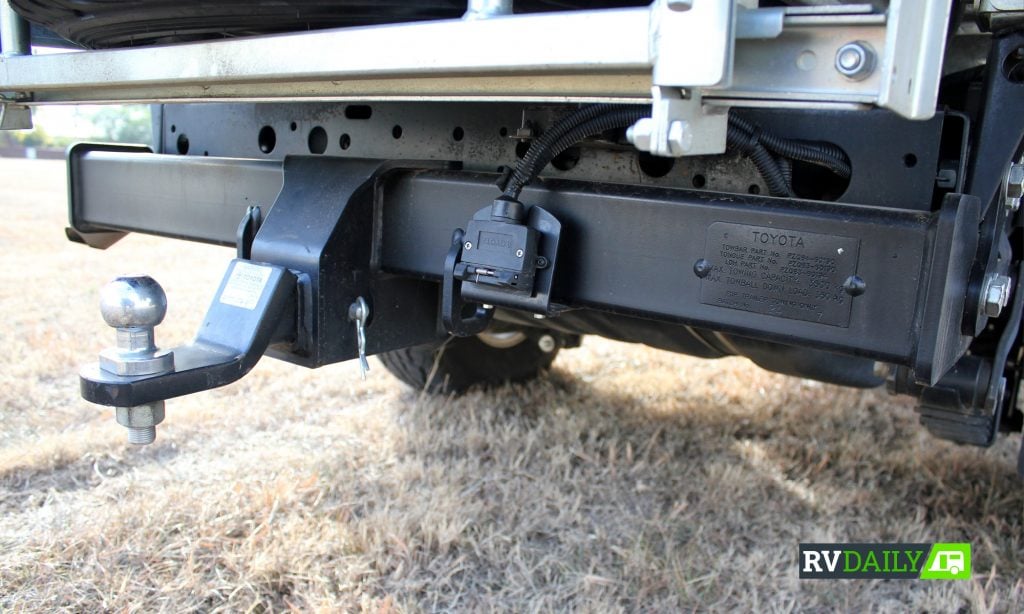 Even though it has the typical ute upright backrest, the back seat has enough head and leg room to not feel cramped. The 79 Series doesn't just seem old to look at and to sit in but also driving it reminds you of a time gone by. You have to allow for its huge turning circle (14.4 metres) though – a three-point turn in a city street might end up being a seven-point turn. With the tray fitted to the test vehicle, the Toyota was 2.2 metres tall – making some multi-story carparks a no-go zone.
The LandCruiser's truck-like demeanour when manoeuvring in the city is amplified by its ride quality. It's a bit abrupt, but then with the live axles front and rear and leaf-spring rear suspension designed for load-carrying, that shouldn't come as a surprise.
The turbo-diesel V8 engine delivers a heap of torque from low rpm – there's next to no turbo lag. While second and fifth gears have taller ratios than before, first gear still seems ridiculously short. When unladen (and not pointing uphill) you can easily take off in second. The gearshift itself is notchy and a bit slow.
Turbo-diesels these days can be very smooth and free-revving, almost like a good petrol engine, but this particular engine is not one of them. Even though peak power arrives at 3400rpm, the engine becomes strained and noisy beyond about 3000rpm. Redline begins at 4500rpm, but there is no point going anywhere near it.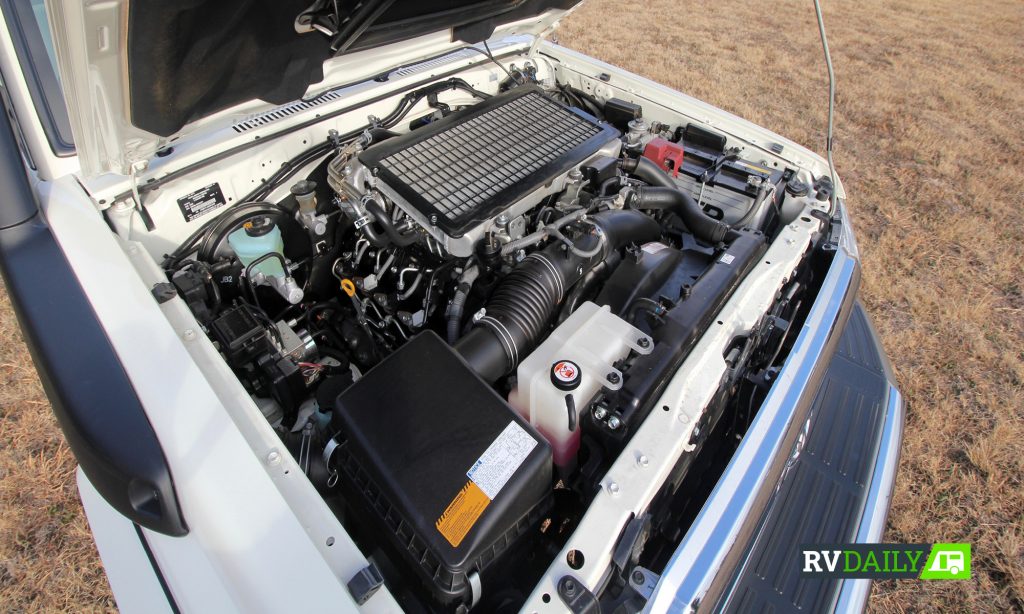 It's not just engine noise that seeps into the cabin; wind noise (especially around the offside A-pillar) is bothersome at highway speeds too. The (standard) snorkel seems to be the main culprit. Speaking of the snorkel, the 79 is one truck you wouldn't be shy sending out bush straight out of the box. Sure, like many 4WDs it would benefit from better tyres for off-road work but otherwise there's not a lot you'd need to do. It is a really solid, capable off-roader.
Despite all of these shortcomings, the 79 is fun to drive; it has character. It's one of the few vehicles left where you don't feel like you're removed from the actual process of moving the vehicle along the road. You're involved with it. It feels a bit like an old truck to drive, because it is. Only it's still available brand new.
The LandCruiser 79 Series has a 3500kg maximum braked towing capacity (with a maximum 350kg on the tow ball). Toyota's 6800kg GCM allows you to put a caravan weighing 3500kg behind it while the ute is loaded to its maximum GVM. We took a 3000kg tandem- axle Avida Rock off-road tandem van to give the LandCruiser a proper workout.
The Toyota dropped just 20mm at the rear and rose just 10mm at the front with the 300kg of ball weight plopped onto its tow ball. The Toyota's towing performance was similar to how it coped without a load. At speeds below about 80km/h, it responded well, but beyond that it was sluggish. Just a slight hill would see the 'Cruiser began to lose steam very quickly when in fifth gear. You probably should not lug along in fifth when towing as you'll likely cause gearbox damage, but slot it into fourth and the engine gets really busy, sitting at about 2600rpm at 100km/h.
Being an engine that's unhappy revving much worked in its favour with engine braking – it was very good, pegging speed downhill well. Fuel consumption towing the Avida just under 300km at mostly 100km/h on the freeway averaged 18.4L/100km. That's not a bad average at all for towing such a heavy van. With its 130-litre fuel tank, you'll get around 650km before needing to refuel, based on our average consumption.
The 'Cruiser felt planted with the big van behind it – there was no hint of sway and minimal pitching. The only downside to its towing behaviour was poor ride quality – it became quite jittery – on some freeway surfaces.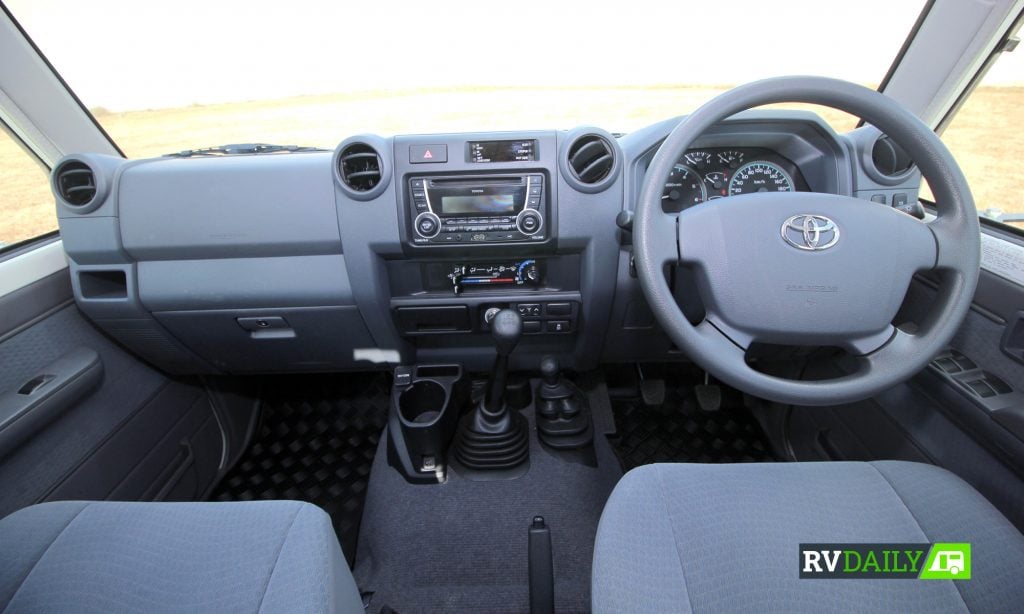 VERDICT
The LandCruiser 79 isn't quick (especially up the hills), it's old-fashioned, some won't find it comfortable and it's certainly up there in price for what you get. But if you want a good, solid, stable tow vehicle – and one that's really good off-road, then the old 79 still has some life left in it yet.
PROS:
• Low-rpm torque
• Towing stability
• Light on fuel when towing
CONS:
• Lacks power when towing
• Poor ride on some surfaces when towing
• Slow gearshift
SPECIFICATIONS 
Model: Toyota LandCruiser 79 Series GXL Double-Cab
Engine: 4.5-litre turbo-diesel
Power: 151kW@ 3400rpm
Torque: 430Nm@ 1200rpm
Gearbox: Five-speed manual
Kerb weight: 2175kg
GVM: 3300kg
Length: 5220mm
Towing capacity: 750/3500kg
GCM: 6800kg
Tow ball: 350kg
RRP: $71,740 (plus on-road costs)
Click here to visit the Toyota website.