Need a change of scenery? Leave suburbia behind and escape to the bush for a weekend
PARK 1: Middle Creek Camping Area, Qld
If you like the idea of exploring unspoiled sandy beaches and eucalypt forests, check out Eurimbula National Park, which is around 112km north-west of Bundaberg on the central Queensland coast. At the north-east side of the park, you will find a quiet spot to set up camp at Middle Creek camping area. Bring the fishing gear and perhaps a small boat if you have one on hand, as there are some decent fishing areas around here.
The camping area is ideal for vehicle-based camping, or you can pitch a tent in the sand. You need a high-clearance 4WD to access this area – an off-road camper-trailer and boat trailer is also fine. There are composting toilets, but you will need to be self-sufficient here, so bring rubbish bags, clean-milled firewood (fire rings provided), gas or fuel stove, food and drinking water, and sat phone, as there isn't much reception. Genies are allowed between 8am-9pm, but they must have a sound rating of less than 65 decibels.
Cost: $6.55 pp p/night
Address: Eurimbula National Park, Qld
GPS: -24.20266, 151.728579
Toilets: Composting toilets
Showers: No
Campfires: Yes
Max Stay: TBC
Road Access: High-clearance 4WD
Water: BYO
Number of Sites: Open area
Power Available: No
Dog-Friendly: No
Big Rigs?: No
PARK 2: Bummaroo Ford, NSW
The easily accessible Bummaroo Ford campground makes for an ideal family getaway. Nestled within the Abercrombie River National Park, there's plenty of fun to be had near this camping spot, including swimming, canoeing or kayaking in the Abercrombie River, or hiking alongside it. Conveniently, the roads are sealed so you can bring along the caravan or camper-trailer with no problems. Spring is a great time to visit, as the water will be warm enough to swim in, the birds will be chirping, and lovely golden wattles and red and yellow bottlebrushes will be blooming.
You're bound to see at least one or two roos or wallabies meandering around the area, and you may even glimpse a platypus if you sit quietly by the waterholes at dusk. There are non-flush toilets at the campground, but you will need to sort everything else. You can purchase supplies from the nearby towns of Taralga and Oberon.
Cost: FREE
Address: Abercrombie Road, Paling Yards NSW 2580
GPS: -34.192579, 149.743841
Toilets: Yes, non-flush
Showers: No
Campfires: Yes
Max Stay: TBC
Road Access: 2WD
Water: No
Number of Sites: 15
Power Available: No
Dog-Friendly: No
Big Rigs?: No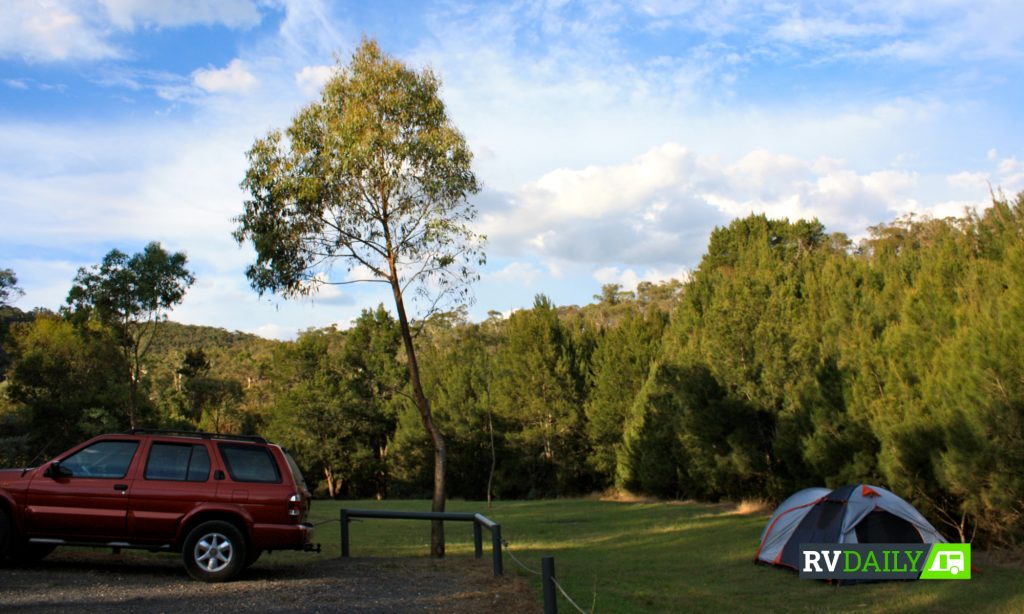 PARK 3: Sheepyard Flat, Vic
In Central Vic, nuzzled among the mountains of Mount Timbertop and Red Hill, is a wonderful patch of open woodland that makes for an ideal camping spot, known as Sheepyard Flat. Here, you'll be surrounded by the forested foothills of the alps and near to the Howqua River. The flat, grassy area makes setting up camp a breeze, and the non-flush toilets, on-site info and picnic table make life in the bush a little easier.
Take in the natural scenery on the Howqua Hills Historic Walk, an easy self-guided 1.5-hour return walk that starts at the campground and ends at Fry's Flat. Bushwalking, mountain biking, four-wheel driving and swimming are also great activities to enjoy in this area. Camping is on a first in, first served basis. Fur-kids are welcome, but must be kept on a leash.
Cost: FREE
Address: Brocks Rd, Howqua Hills Vic 3723
GPS: -37.194043, 146.346391
Toilets: Yes, non-flush
Showers: No
Campfires: Yes
Max Stay: TBC
Road Access: 2WD
Water: BYO
Number of Sites: 60
Power Available: No
Dog-Friendly: Yes
Big Rigs?: Yes, in good weather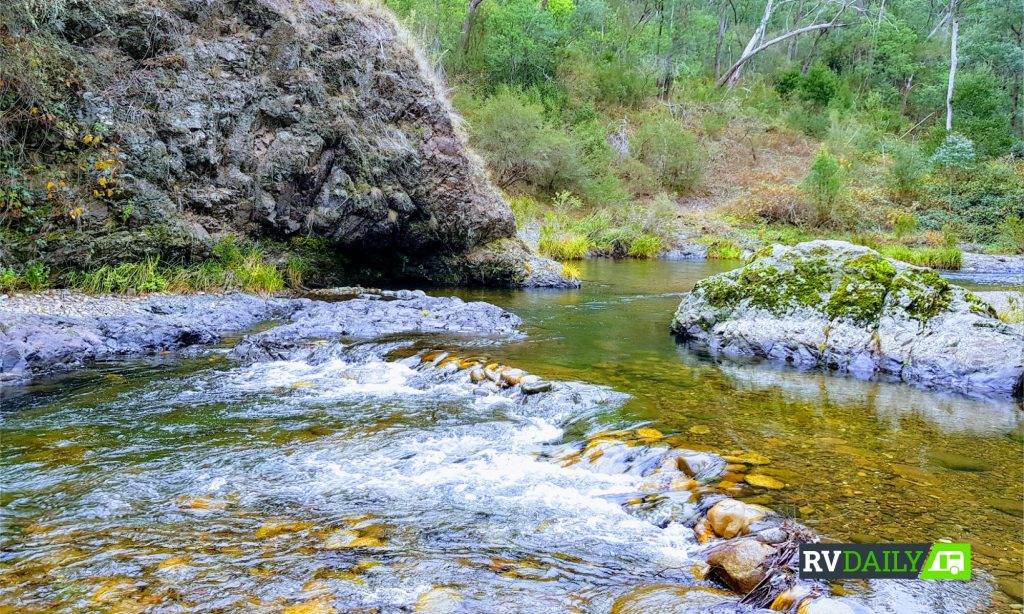 PARK 4: Frank Potts Reserve, SA
Frank Potts Reserve is the place to go if you're looking for somewhere to rest and re-energise while you explore the Langhorne Creek wine region, which, for those of you who don't know, is a beautiful part of the Fleurieu Peninsula and a mere hour's drive south from Adelaide. Pull up the van or trailer in a shady spot next to the Bremer River; you will be close to the centre of town, and have flushing toilets (including disabled facilities) and bench seating at your disposal.
You will be right next to some fantastic wineries, and just 1km away from a general store, where you can stock up on food and supplies. There is also a popular pub within walking distance. Good phone reception and the fact that pets are allowed here makes this an especially convenient spot to stay for a night or two as you travel through the area.
Cost: FREE
Address: Wellington Road, Langhorne Creek SA 5255
GPS: -35.298635, 139.042578
Toilets: Yes
Showers: No
Campfires: No
Max Stay: 72 hours
Road Access: 2WD
Water: Must be boiled
Number of Sites: 10
Power Available: No
Dog-Friendly: Yes
Big Rigs?: Yes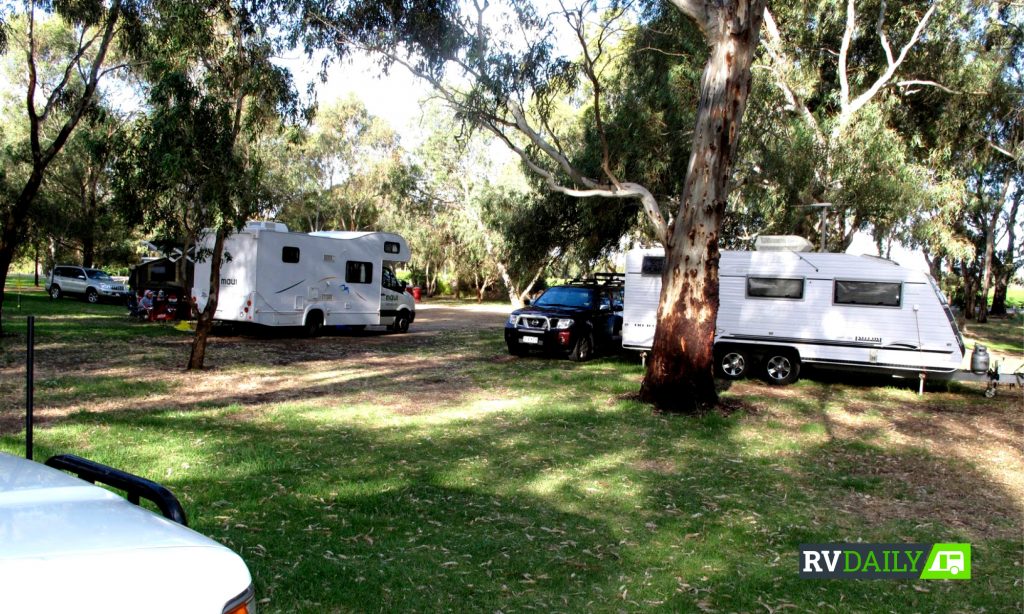 PARK 5: Big Horse Creek Campground, NT
Big Horse Creek Campground is an awesome camping spot right alongside the Victoria River, and near Timber Creek. It's located along the Victoria Highway, around 174km east of the WA/NT border. There's plenty of shade here and enough room for large vans; there's also composting pit toilets with solar-powered lights, drinking water (best to boil first) and fireplaces (BYO wood).
Soak in the view of the green-tree-lined waterway from the lookout bridge; you might even spot a croc making its way upstream. It's best to avoid swimming for obvious reasons. There are some great 4WD roads and picnic areas around, though. Note that the Escarpment Lookout (just east of the campground) has been tipped as the perfect sunset-viewing spot. The only downside to this campground (apart from the crocodiles…) is that it's near a main highway, so there will be some road noise.
Cost: $3.30 p/p p/night
Address: Victoria Hwy, Gregory NT 0852
GPS: 15.6124, 130.4021
Toilets: Pit toilets
Showers: No
Campfires: Yes
Max Stay: TBC
Road Access: 2WD
Water: Limited
Number of Sites: Plenty
Power Available: No
Dog-Friendly: No
Big Rigs?: Yes