How One Traveller Pays It Forward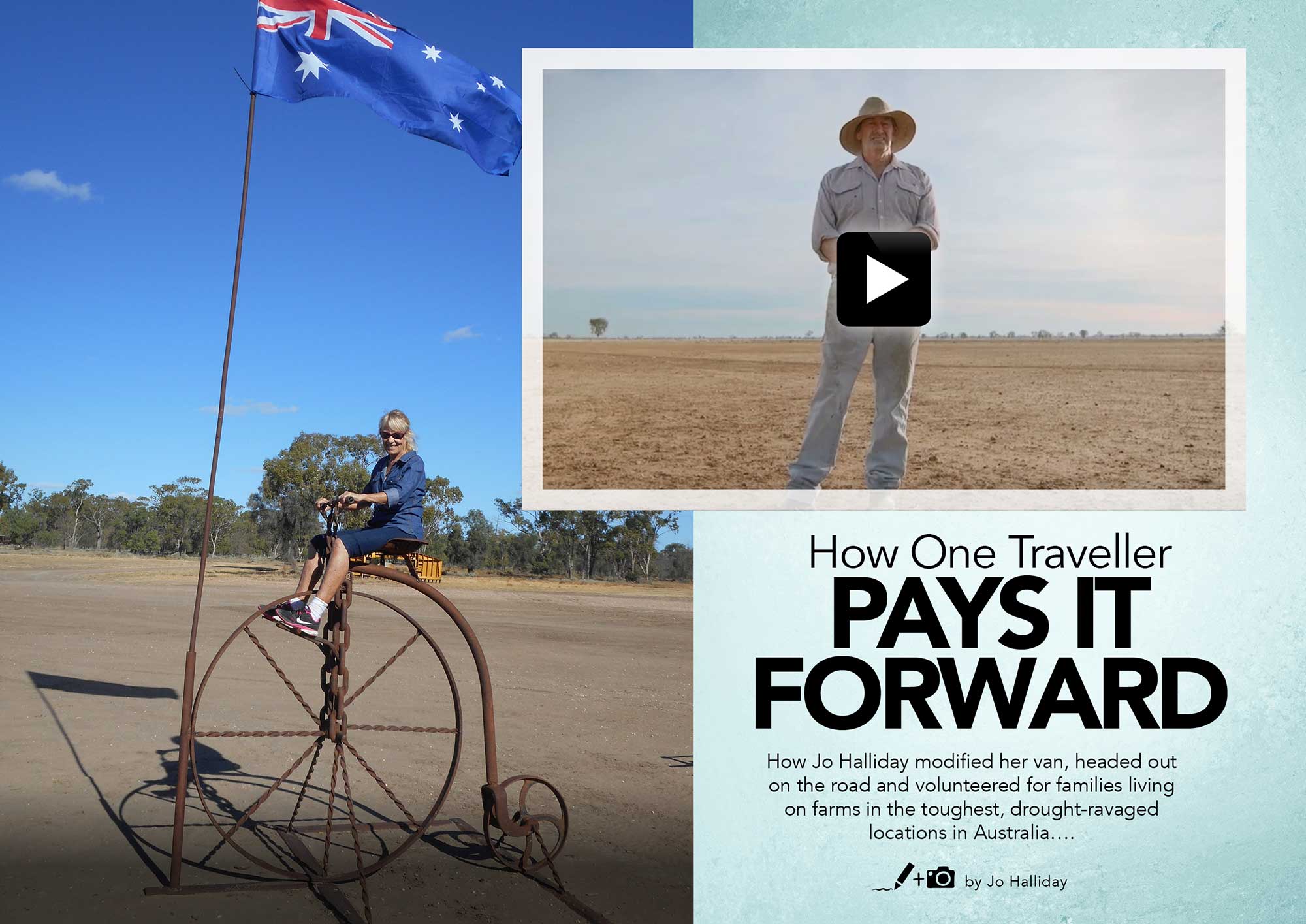 Jo Halliday is in her mid-60s and retired three years ago.  She worked for the NT government and spent 17 years living in Darwin. Then things changed: in 2013 Jo bought a Toyota HiAce with only 2000km on the clock and had it "partially fitted out"; she says it's "still a work in progress". But this doesn't hold her back. Jo volunteers for farms which have, in some cases, suffered up to five years of drought, via an organisation called Frontier Services. Jo has so far been out on five postings: St Lawrence, St George, Lightning Ridge, Longreach and Capella. "My daughter and her family are very used to my being a nomad, and think it's great that I am so independent, doing something useful and being active," she says, "as long as I check in they don't worry".
For images and the full RV Daily experience, read this in our online magazine.
Jo's Story….
"In every situation the farm families are welcoming and caring, incredibly grateful for our assistance and blown away by the fact that volunteers give time and energy for nothing. Generally they feel left out and forgotten by government and people who live on the coast and in the cities.
All properties have great moments of fellowship, and from each place I take home warm memories and friendships. The recent posting at Bando station at Lightning Ridge was probably the funniest, as the owner Robert and his wife Therese were amazing. Robert is a bush poet, recounting tall tales and funny stories, and had us in stitches every night; such a funny man, despite the drought which has them almost on their knees.
The jobs I do range from helping inside with cleaning, food preparation, washing walls ready for painting, cleaning out cupboards and, then, outside with gardening, painting, fencing, checking bores and waters, looking after animals, and any other general farm hand jobs that I see or am asked to do – learning on the job is the way to go.
I don't like to name a favourite place as all are amazing, but I would have to say Bando station was different. Robert, during the tough times of drought, and in order to save his sanity, set up the most incredible museum of everything you could think of from times past. He welded a helicopter and a penny farthing bicycle, which sit proudly out the front. We are hoping tours can be arranged in future from the town to bring people out to see the museum. I have seen many, many rustic museums throughout NT and Qld, but this one at Bando is definitely the best one of all.
My future plan is to keep doing this for as long as I am able. There is a never-ending list of volunteer opportunities with Frontier Services. I will stay home and catch up with friends and family for a few weeks now as I have been away seven weeks, but I am sure by August I will be ready to go again."