5 Ripper Bush Camps: #002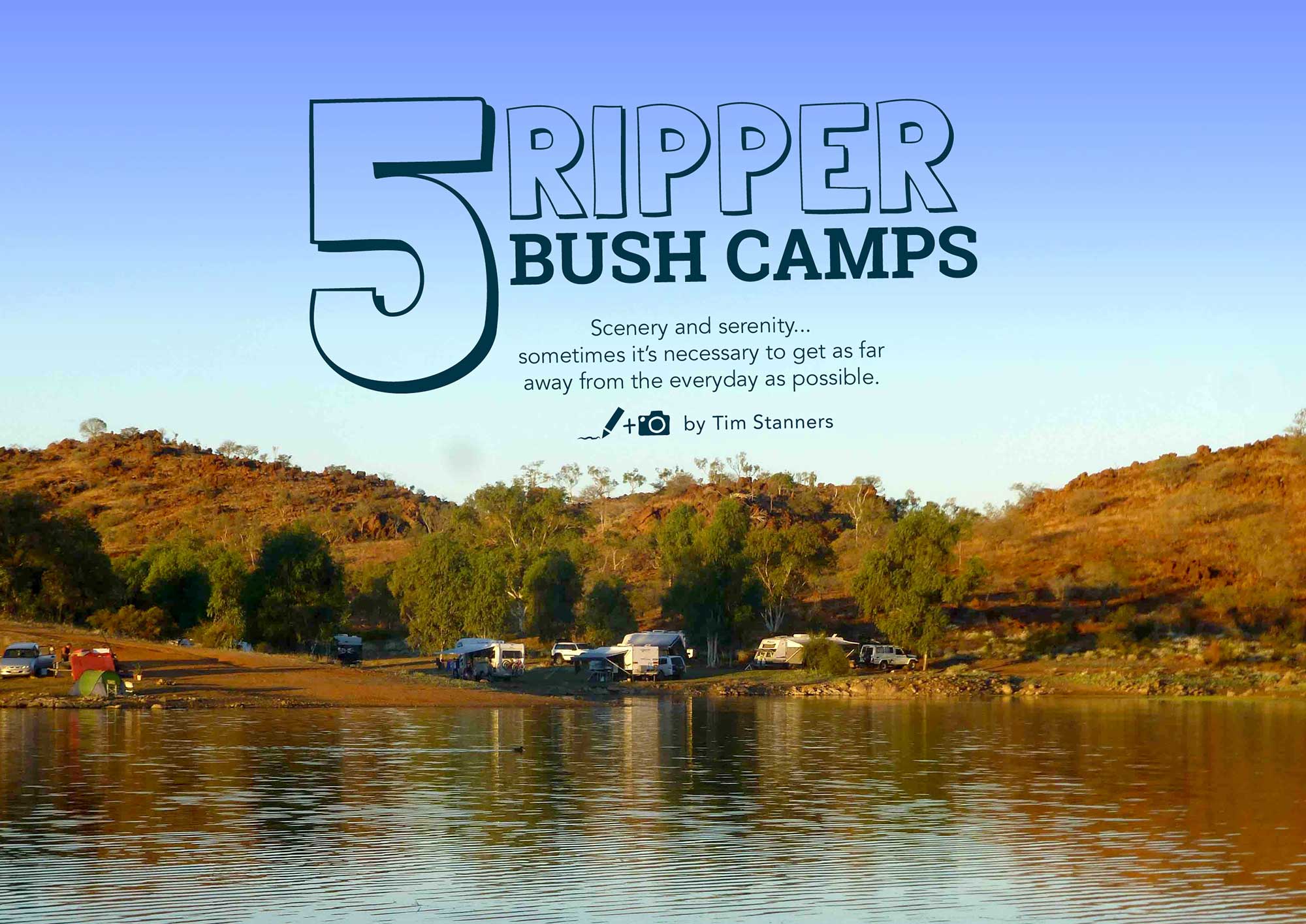 Scenery and serenity… sometimes it's necessary to get as far away from the everyday as possible.
For images and the full RV Daily experience, read this in our online magazine.
Corella Dam & Clem Walton Park, Qld
Situated almost halfway between Mt Isa and Cloncurry along the Barkly Highway is one of the best secret camps in Queensland: birdlife, freshwater crocodiles and redclaw crayfish abound in this picturesque man-made lake.
Lake Corella, or Corella Dam as it's more commonly known, was built in 1959 to service the town of Mary Kathleen and is now an abandoned, open pit uranium mine. Entry is on the southern side of the Barkly Highway through a gate, which is always closed and locked during high water events.
There's two options when it comes to setting up camp for a few days: pull up alongside the banks of the dam itself, or head around to Clem Walton Park and onto the Corella River where there's some very pretty spots under the shade of the gums. A perfect spot to sit and relax for days on end.
Muloorina Station, SA
The Frome River in South Australia runs from the Northern Flinders Ranges all the way into Lake Eyre. As it meanders its way down from over 700 metres, at its highest point to below sea level, the Frome River runs through Muloorina Station where the station owners allow camping around Muloorina Station Bore and its surrounding wetland.
This is actually one of my favourite bush camps in the country. The birdlife is prolific and it also provides access to Lake Eyre via the Level Post Bay Track (strictly 4X4 access only). The Muloorina camping area is large with numerous gums surrounding the wetland providing protection from the sun, as well as the common desert winds. There's plenty of big, open sites to choose from in the main camping area and various along the river wetland. There's even a hot spring fed from the nearby bore if you're adventurous enough to give it a try.
The entrance to Muloorina Station is situated just west of Maree along the Oodnadatta Track. The campground is approximately 50km from the turn off and Lake Eyre is another 20km further on along the Level Post Bay Track.
Tamala Station to Shark Bay, WA
Discover the wild, most western point of mainland Australia via the Useless Loop Road to Tamala Station. Located in the southern region of the World Heritage-Listed Shark Bay Marine Park, the Useless Loop Road originally serviced (and still does) solar salt operations, but now also provides access to the spectacular Zuytdorp Cliffs of Steep Point – arguably one of the best land-based game fishing spots in the country.
Along the shores of Shark Bay, there's beach-style camping via Tamala Station with kilometres of pristine waterfront campsites. This whole area really is a marine lover's paradise, offering fishing, boating, kayaking, bike riding, exploring or simply just relaxing. It has it all on offer – with no-one else around.
There's two sections of camping at Tamala: Boorabuggatta and Prickly Point. Approximately half of these sections are suitable for vans. One of my favourite spots is Shell Beach in the larger Boorabuggatta section.
Explore Steep Point or Dirk Hartog island (4X4 only) or day trip into Denham and Monkey Mia for a dugong and dolphin tour that will have you intrigued for hours. Alternatively, if you're keen to see one of only three 'living fossil' sites in the world, head to Hamelin Pool Stromatolites.
Rainbow Valley, NT
Rainbow Valley really lives up to its name early in the morning and late in the afternoon when the setting sun creates striking colours against the 'feature' rock formation, situated only a couple of hundred meters from the main camping area.
If you're a geology nut like me, the striking sandstone bluffs and cliffs are formed from the very soft Hermannsburg sandstone, with oxidised iron deposits staining the white sandstone, creating rainbow-like seams which almost glow as they change colour under the setting sun.
There's a couple of short, pretty walks around the main rock formation towards the small but amazing 'Mushroom Rock' and a guided cultural tour from the local Southern Arrernte Aboriginal descendants is well worth it. The turn-off to Rainbow Valley is approximately 75km south of Alice Springs, with a further 22km into the reserve along a well-formed, but corrugated dirt road which passes through some stunning desert oak and mulga woodlands on the way in. Two camping areas now exist which are suitable for vans and campers in separated and formed campsites with individual firepits. Bring your camera and a bottle of champagne and relax in splendour!
Boyd River, NSW
The Northern Rivers region of NSW certainly has a wide selection of bush camps to choose from, with Old Glen Innes Grafton Road providing many options. Heading in from the township of Glen Innes along the Gwydir Hwy, the Mann River Nature Reserve and Dalmorton campgrounds offer large open camping areas with firepits and basic facilities.
However, the Boyd River area to the east of Dalmorton through to the Nymboida River itself has two or three large grassy and flat areas which offer picturesque riverside camping, fishing, kayaking, birdwatching and relaxing. The warmer months also offer the opportunity to cool off in the water, but watch the slippery rock bottom, or else you may end up on yours.
Exploring the local area is fascinating with the old town of Dalmorton, once a thriving place with more than 5000 inhabitants and 13 pubs and now a shadow of its former self, with little more than a prominent war memorial standing in its place.
Just past the old town of Newton Boyd is a tunnel hewn through the rock that purports to be built by convicts. It's definitely worth a look but the authenticity of the convict element seems to be a hotly-disputed subject locally.