When RV Daily organised a review with Wonderland RV, it was a great surprise to find out the new owner wanted to get involved on the shoot
I rocked up at the Wonderland RV factory in Campbellfield to meet Ana Pepa, the company director who handles customer service, and Harmony Chynoweth, the new owner of an Adventus 1506 custom off-road van.
I was then able to share a very special moment and see the look on Harmony's face when she stepped inside her new van for the first time, never having seen it completed – it was an expression of joy and excitement!
Harmony is a young woman who is preparing to set off around Oz with no real plans and no schedule, other than to head up the east coast first – she loves the beach life. It's an inspiring tale of a workaholic who meets bad builder, loses her house and burns out in the process. Harmony has never towed before, although she has done a lot of caravan camping with family and friends since childhood and knows what she wants from a van. This caravanning adventure is something she is looking forward to more than anything else in the world – well, at the moment at least!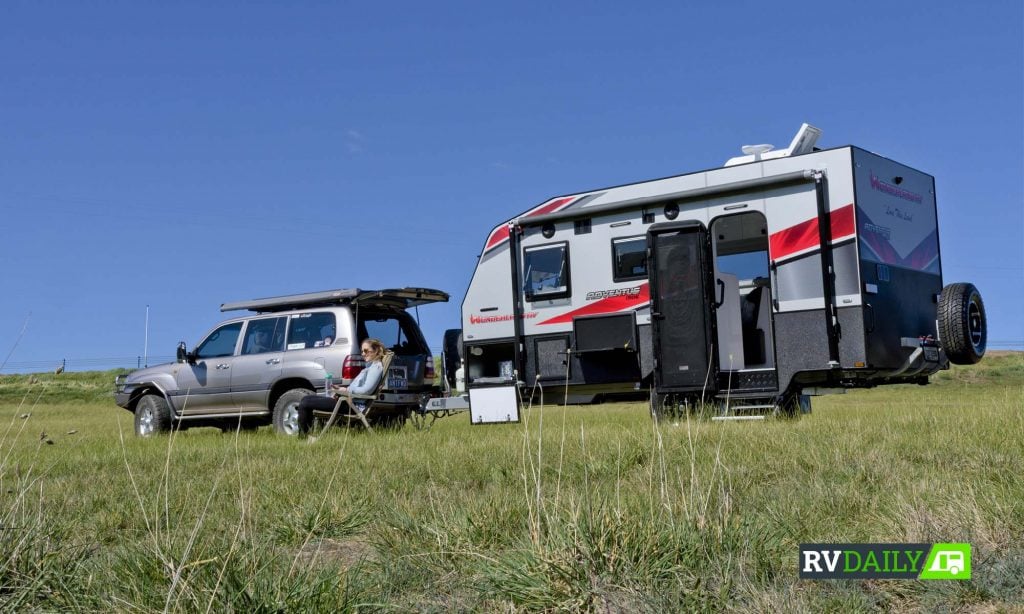 While we usually cover a lot of detail in reviews, this one has a different slant as we check out why Harmony chose the products she has and why her custom-built Wonderland RV is so meticulously planned.
Exterior
When Harmony started looking for a van she quickly dismissed getting a pre-fab van off the floor as it would be nigh on impossible to get everything she wanted. The volume of research that went into working out what was going to best suit her needs led to the Wonderland RV stand at the Newcastle Caravan Show, and a salesman who treated Harmony like a person. She was so impressed she contacted the Melbourne factory and then the real work started.
Harmony's criteria was to have a single-axle van that was small enough for her to tow easily, yet capable enough to get off-road if the occasion demanded it. The van had to be set up for free camping and outdoor living. Harmony loves being outdoors and this van had to match her desires.
Wonderland RV started with an all gal six-inch A-frame with a four-inch main frame and two-inch riser. To this a 2.7-tonne, AL-KO Outback suspension system was added along with 12-inch brakes and 16-inch alloy rims shod with 245/65R16 Adventure A/T tyres. Adding to the safety side of things is a Tuson sway control system.
Under the body are twin 95-litre water tanks and a 100-litre grey water tank that are well shielded. Mudflaps and drop-down legs are all pretty standard fare.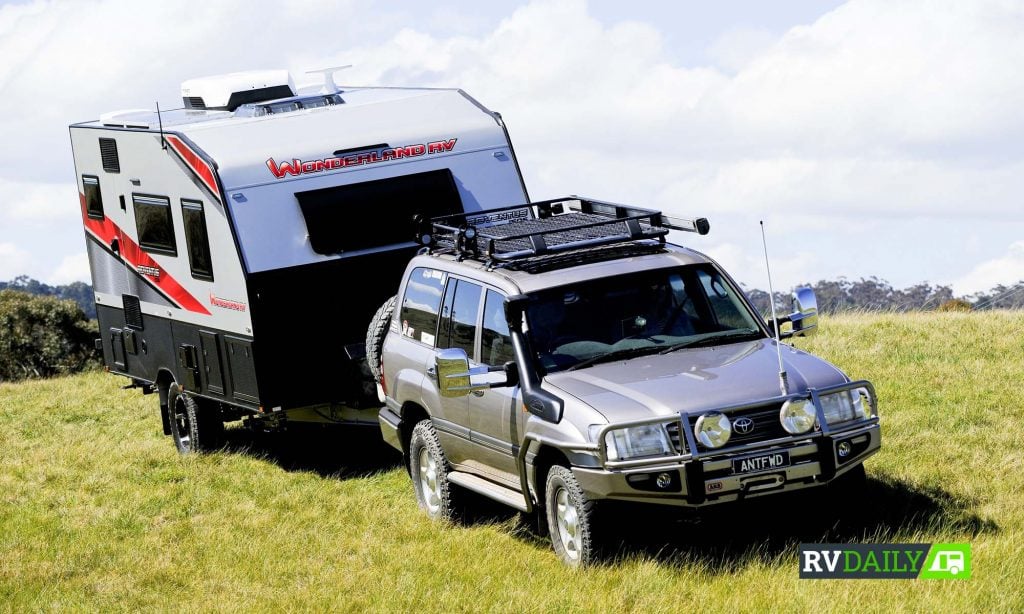 A-frame features include a recessed AL-KO coupling and eight-inch jockey wheel, twin 9kg gas bottles, the connection for a reversing camera, a large toolbox, shielded tap and a breakaway switch. The spare wheel and a single jerry can holder are housed on the rear bumper.
Body-wise, the Adventus features a one-piece fibreglass roof and a solid one-piece floor with a jigsaw structural plywood frame which is clad with a 3mm aluminium composite panel and is fully insulated. This is a robust body that also features black X-plate around the front, back and sides in sections which contrasts well with the silver and black finish and some striking red graphics.
The black theme carries through with Ranger double-glazed windows, black hatches for the external shower, the front boot and hatches on each side of the van that are quite large and house a slide-out system for a barbecue on the passenger side. Two more hatches, again one on each side of the van, allow access to the area under the bed. Altogether it's a great use of space for storage.
Of course, there's a black Camec door, Ranger picnic table and Dometic awning adding to the look. Up on the roof is an NCE aerial, Voltech 170W solar panel that helps charge the twin 120Ah batteries and a Dometic Harrier air con system.
There's so much more we could mention, however, suffice to say this compact off-road van is jam-packed with goodies to make Harmony's life on the road very comfortable.
Interior
I walked through the interior with Harmony and she explained that the design was based on a lot of research and what she wanted personally, which is why it's a custom build.
Stepping up into the van via a drop step at the rear, the bright interior is not large. Harmony wanted an east-west bed at the front of the van, as an island style wasn't needed with her single status. Take away the wardrobes either side of that style of bed and there's a lot more room to play with. This meant full-width overhead cupboards and in a quirky twist, two cupboards with lift-up lids have been fitted at the foot of the bed for extra storage.
There are power points to plug in chargers and the cupboard is right there to stow all the gear away neatly. Wonderland RV also designed a good-size slide-out drawer in the middle of the bed base. Doing this allowed for more storage in the middle of the van, under the bed. This space is also accessed through the hatches on the exterior walls, as we've mentioned.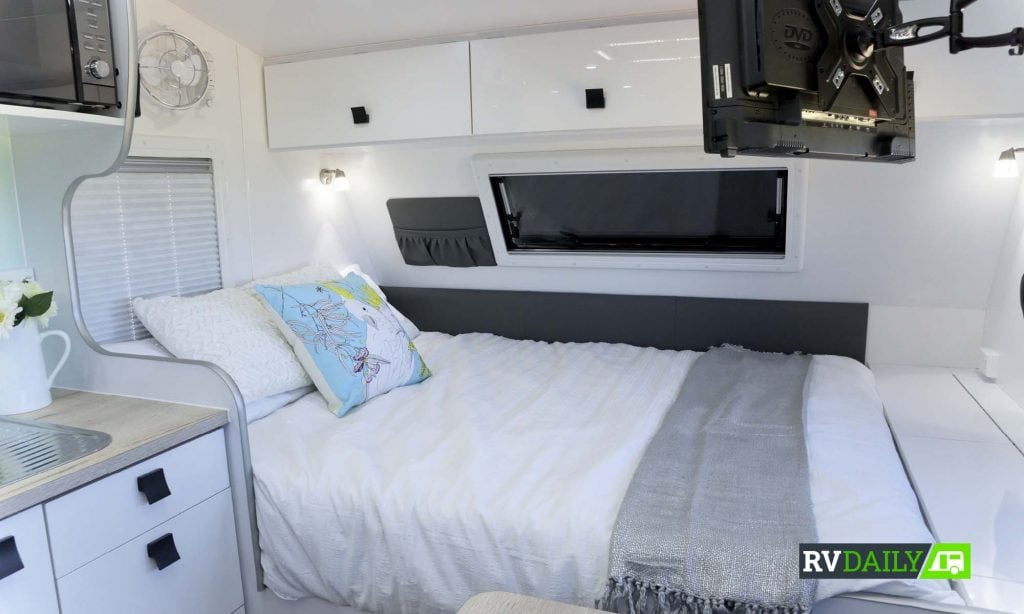 Also in the bedroom is a Sirocco fan to move some air about. The 24-inch combo TV has two swivel mounts, one on each side wall in the kitchen and the dinette so that Harmony can catch up on her fave shows in bed or on the couch.
In the middle of the van on the driver's side is an L-shaped dinette with a swivelling drop-down table that also converts to a bed. This was a feature Harmony wanted in case friends dropped in. The lift-up foot rest is also a comfortable feature.
Opposite the dinette is the kitchen with its pastel green splashback, black tapware and cupboard latches and a timber-look benchtop to match the dinette table. Add to that the white finish of the cupboards and drawers and the van interior is light and bright and on trend. Having come from the retail fashion industry, this interior has been set up by Harmony to really stand out and, dare I say it, it's very feminine and beachy!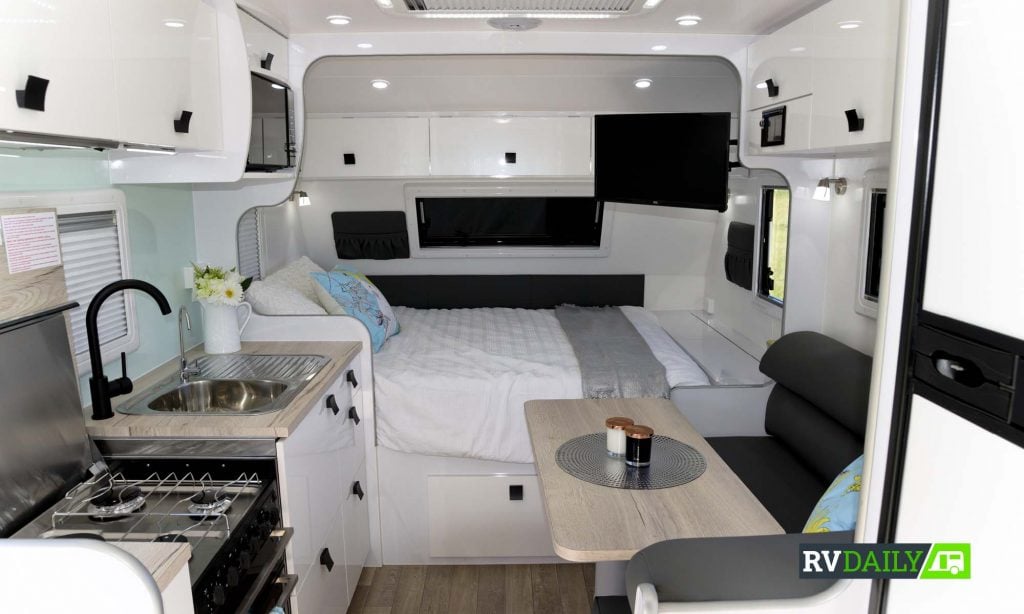 Harmony loves cooking, so of course the kitchen had to include a Swift full oven and cooker and a Sphere microwave even though the barbecue is likely to be used more than the stove. Other kitchen features include a water filtration system, deep sink and Wonderland RV has created as much storage space in the kitchen and dining room as possible including a slide-out pantry.
Between the dinette and the ensuite installed across the rear of the van is a Thetford two-door, three-way fridge, which is more than big enough for a solo traveller.
The ensuite is trimmed-out to match the kitchen and is very neat for a small space. A fibreglass shower is standard but Harmony added the Daewoo mini washing machine for practical cleaning while free camping. The Thetford swivel toilet is also standard but I liked the built-in clothes drawer and the storage shelves. This is a great, practical space.