MITSUBISHI'S TRITON UPDATED
Mitsubishi has updated its popular Triton ute, changing the way it looks, replacing the five-speed automatic with a six-speed, adding off-road modes and revising the interior.
The new Triton will be in Australia in 2019 and follows the looks pioneered by the Pajero Sport, with seemingly all body panels changed for what Mitsubishi says is a "more powerful and imposing front face". The interior has been restyled a little – the basic layout of controls and location of things like the storage compartments seem to be the same as the current MQ model, but there are now "soft pad materials and stitching on the floor console, armrests and parking brake".
The basic mechanical design is as before – independent front suspension, rear live-axle leaves, and the Super Select 4WD system offering 2WD, AWD, 4WD and 4WD low range. The change to the drivetrain is that Mitsu's adaptive terrain system is fitted, which has modes for GRAVEL, MUD/SNOW, SAND and ROCK (in 4LLc only).
Having used it in the Pajero Sport, it's not up to the design of, say, Land Rover, but it is a useful addition nevertheless. Some Tritons will have the simpler Easy-Select system, which doesn't offer an AWD mode, but I would take a guess and say we won't see them on the Australian market, or if so, only on the very basic models.
The AWD mode on the Triton is a definite plus as it is one of the few utes to offer it and low range – as an example, the Amarok automatic is all-wheel drive but lacks low range, and utes like the Ranger and D-Max are part-time 4WD so drive only the rear wheels on-road.
The wheelbase looks to be the same, so it's still got that crazy-long Triton rear overhang, but hopefully they've got rid of that low-hanging mass balancer on the auto's rear diff during the transmission upgrade.
One differentiator is the safety spec. We can expect another five-star rating, but Triton looks to set a new standard for safety gear for utes at its likely price point. There's Forward Collision Mitigation (FCM), normally known as AEB or Autonomous Emergency Braking, Blind Spot Warning, and Rear Cross Traffic Alert (RCTA), which helps avoid collisions when reversing. Parking sensors are available, and there's Ultrasonic Misacceleration Mitigation System (UMS), which "reduces accidents resulting from improper use of the accelerator when moving off or reversing in carparks and other confined spaces". And if you want to see where you're going, there's Multi Around Monitor, which generates a "bird's-eye" view image of the area around the vehicle. That lot beats even the Ranger Wildtrak. However, there are no details yet on specifications such as towing capability, or what models and features we will see on the Australian market.
The Triton has always been a worthy ute, it's smaller and cheaper than most of the others but you can certainly kit it out. Reliability has been a positive and many people love them. With the new safety features, it offers a strong reason for purchase, and we look forward to our first drive.
BMW'S BIGGEST SAV IS COMING OUR WAY
BMW has long had a hit on its hands with its X series of SUVs…sorry, SAV. That's Sports Activity Vehicle. I'd like to tell you what it can tow, but sadly BMW wanted to talk about how the "new head of the X family" has a design that "intensifies the car's authoritative aura", and its "undeniable sense of presence". I'll spare you the rest of it and get onto what useful facts we do know, starting with the size, which is 5151mm for length, which makes it longer than the LC200 at 4990 and even longer than the Y62 Patrol at 5141mm, and a lot bigger than the current X5, which is 4886mm.
The Australian specs haven't been finalised, but BMW has announced that the third row has full-size seats, and unusually offers the middle row as a compact two-seat option. There is all the usual luxury, driving and safety aids you'd expect on a big BMW, including electric adjustments on all seats.
Engines range from a 340kW V8 petrol (yes, really!), a six-cylinder 250kW petrol, and two six-cylinder diesels with 195kW for one and in the high-performance M50d you get 294kW. No torque figures, but I wouldn't expect to be disappointed. All transmissions are eight-speed automatics, the excellent BMW xDrive all-drive system is standard, and the M50d has a rear differential that can automatically lock – it's an option for the 50i and 40i. There is an off-road package for all vehicles other than the M50d, and the suspension for the range is height-adjustable air springs.
We'll have to wait until around March next year to see what models we're offered in Australia, but if you want a big, luxurious, nicely handling SUV (SAV) then the X7 could be worth a look.
MAZDA OFFERS ANDROID AUTO AND APPLE CARPLAY TO 370,000 CUSTOMERS
Last month we reported that Nissan, Mitsubishi and Renault will be fitting Google technology into their cars, and now it's Mazda's turn.
It has confirmed that all new Mazdas launched in Australia will support both Android Auto and Apple Carplay, the two technology systems that extend your phone into your car for navigation, maps, apps and more.
However, all Mazda owners with an MZD Connect infotainment system can upgrade for $494.98, a recommended fitted price. The job takes "several hours" according to Mazda, at any of its dealerships.
Is it worth it? That's your call, and I would check out a new Mazda that has it fitted before you decide. One major factor is that the control of your phone is largely done via the car's screen and steering wheel controls, which is legal, whereas touching the phone while driving is not.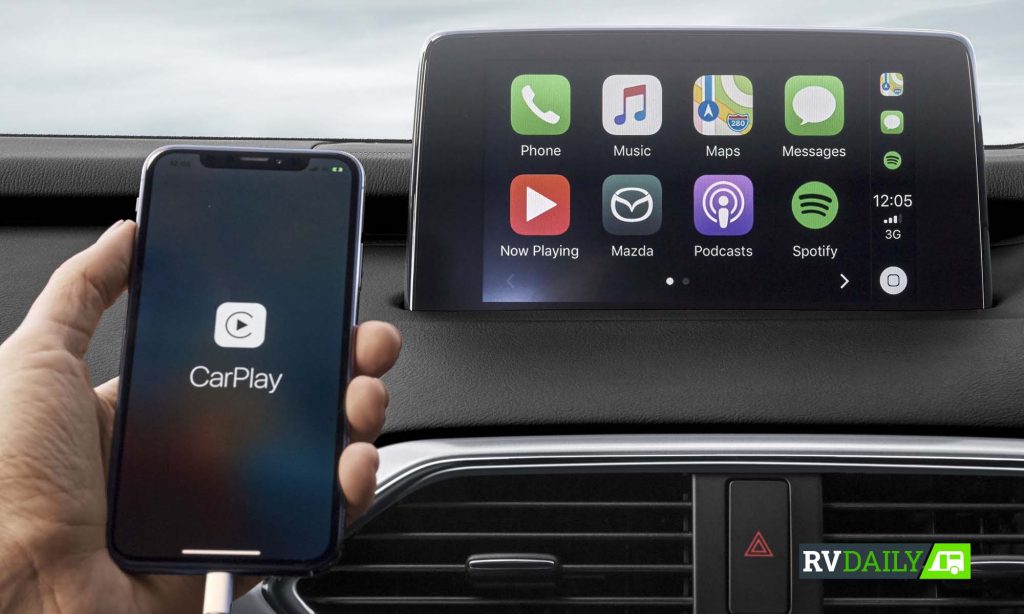 NEW JIMNY & VITARA
In January next year, Australia will welcome a vehicle with twin live axles onto the market. Yes, that's a real rarity these days, and it is the updated Suzuki Jimny which also retains its separate chassis and low range.
Being a Jimny, it isn't going to be a towcar but you do see them being towed behind large motorhomes. You can expect improved safety, efficiency and mod-cons while retaining all the excellent Suzuki off-road capability, but if you were thinking that a Jimny is a 4WD equivalent of, say, a Yaris … it's not. It won't drive that nicely on the road, but it definitely won't be stopped off it and will be a whole lot more fun.
Also launching in January will be the updated Vitara Series II, with no diesel option this time, revised looks and new technology for safety and convenience. RV Daily will be at the launch to give you our initial impressions.