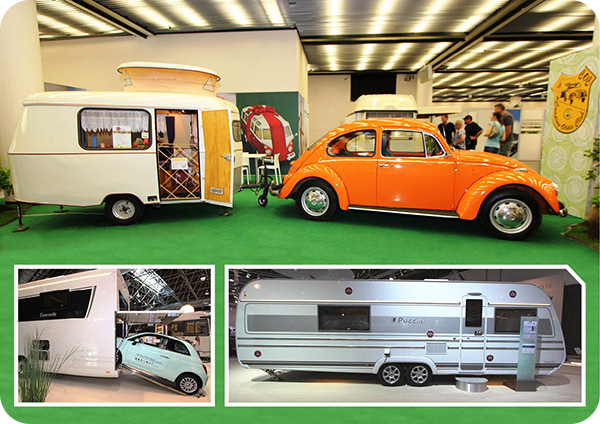 The Caravan Salon held in Düsseldorf is the biggest RV show in Europe. Our European correspondent and veteran RVer Graham Fischer is our guide to this year's exhibition
By Graham Fischer 
With 2100 different RVs on show the Caravan Salon is the place to head to if you are considering a new model or are just interested in keeping up to speed.
For images, videos and the full RV Daily experience, read this in our online magazine.
The vast exhibition spreads over so many halls, you'll need days rather than hours and a good pair of walking shoes to do it justice; which is why 70,000 RVs will be joining ours and staying on the adjacent temporary campground during the exhibition's 10-day run. With so much to see we wandered around and have collected a snapshot of the days highlights.
We've included a guide price but this is for those purchasing in mainland Europe at German tax rates and we've used a 'ball park' conversion figure of 1.48 AUD to 1 Euro. In addition these are 'as exhibited' prices and include the costs of the upgrades included on the show models.
Smove Moover 
This Smove First Edition 6.9B from Niesmann + Bischoff, is one of Germany's largest builders of integral (A-class) motorhomes. It's actually a very cleverly integrated overcab coachbuilt and is much more manoeuvrable than their usual fare.
Length: 6.93m/22' 9"
Chassis: Fiat Ducato 96kW
Guide price: 106,349 AUD
Impressive Alkoven
Though the major league purchasers favour 'Liner-class' RVs (think of a coach with a lot of leather), upmarket alkoven (overcab) coachbuilts are also gaining traction. This German Phoenix 8300G is built to last on the as-tough-as old-boots Iveco. Length: 8.3m /27' 3"
Chassis: Iveco Eurocargo 132kW Guide price: 349,863 AUD
Clever Kabe 
Those watching Scandinavian dramas on the telly know that the Swedish are very good at 'atmospheric'. They are also very good at making mid-market integrals (A-class) that punch above their weight, such as this Travel Master 740 LGB. Similar model RVs are gaining market share in Mainland Europe and in the UK.
Length: 7.4m/24' 3"
Chassis: Fiat Ducato 111kW
Guide price: 163,933 AUD
Attractive Atego 
STX is a high-end Belgian manufacturer that has designed and (superbly constructed) an interior of pure and refined elegance rather one full of the 'show-off swank' of many of their competitors. Shame the body looks so functional but at least it's never going to be called over-stylised or too streamlined.
Length: 12.0m/39' 4" Chassis: Mercedes Actros 12.0-litre V8 460bhp, 16-speed automatic transmission. Weight: 26,000kg (57,320 lbs) Guide price: 836,570 AUD. If you need to ask the price, then you can't afford it.
Cruising on the Liner 
Mine's bigger than your's! Concorde 1136 G-max has caused a lot cows to lose their hides. Undeniably luxurious – but in a nouveau-riche Germanic kind of way. You'll need a heavy vehicle licence to drive it in Europe as it weighs a not-inconsiderable 15,000kg
(33,069 lbs).
Length: 11.53m/37' 10"
Chassis: Mercedes Atego 220kW. They make even longer ones if this is a bit cramped for you.
Guide price: 615,583 AUD … not including the car in the garage.
Tough But Tender
Whatever you want from a dismountable, Bi-Mobil will be able to help you. Everything from a basic residential unit for the family ute to something for the go-anywhere traveller on any expedition chassis. Interior vibe shows that you don't have to put up with basic accommodation when RVing off the beaten track.
Chassis on model pictured: Unimog T U4023, 231bhp.
Guide price: 525,282 AUD for the 7.0m/23' box body on a new base, though you can save a fortune by using a pre-owned base vehicle. After all Unimogs are (almost) impossible to break.
Hot to Trot: Standout Exhibit
Our choice is this built-to-order Dutch Bliss Mobil on the superb all-wheel drive Steyer 12M18. Serious kit for serious adventure RVing. Epic specification with everything chosen for functionality rather than on eye-candy quotient, on supposed 'spec' or 'value-for-money'. This doesn't just looks strong… it is. An RV without compromise and with a payload of 6800kg/14,991 lbs you won't have to compromise on the kit you carry either. Price is 'on application' as it can be built on any vehicle you want – within reason – obviously. Bliss Mobil reckons that adventurous Australian RVers are a perfect fit for their go-anywhere vehicles. At least you'll never be cold in one, they are guaranteed to provide comfy accommodation when the outdoor temperature is as low as a continuous minus 40°Celsius.
On to touring (trailer) caravans now
I know that mainland European and UK manufacturers are starting to sell affordable caravans capable of being towed by family cars already in Australia and New Zealand, so here are a couple of new biggies for you to dream of owning – you'll need a decent-sized tug though. In addition, be aware that European caravans purchased in Europe have over-run mechanical brakes as standard, not electric ones.
Top-Tackle Tabbert
Luxury touring caravan manufacturer Tabbert has just added the HTD layout to their Puccini 750 series. Curvaceous body and an interior that is opulence-on-wheels.
Length: 9.4m/30' 10…so not what you'd really call compact.
Guide price: 73,191 AUD
Our Hobby
If your hobby is trailer caravanning why not buy a Hobby to facilitate it? They major on European style. We reckon they are better suited to full-timers or to larger families who have a summer season pitch, than for the 'get-away' couple going somewhere different each weekend.
Length: 8.865m /29' 1"
Guide price: 47,514 AUD
WHAT ABOUT A?.. 
Trailer tent?
Still popular, especially in the UK.
A couple of old timers?
Exhibited by the German COC (Camping Oldie Club). 1973 VW Beetle 1200 and a 1962 Eriba Puck Export caravan. Both still in regular use
Sealander amphibious cara-boat?
Never be caught out on a flooded campground again
SMV Space Extender motorbike trailer?
An easy-to-reverse 'trailer' as the wheels pivot as it goes backwards. You see the Swiss don't just make cuckoo clocks