Motorhome review: Adria Coral a five-berth gem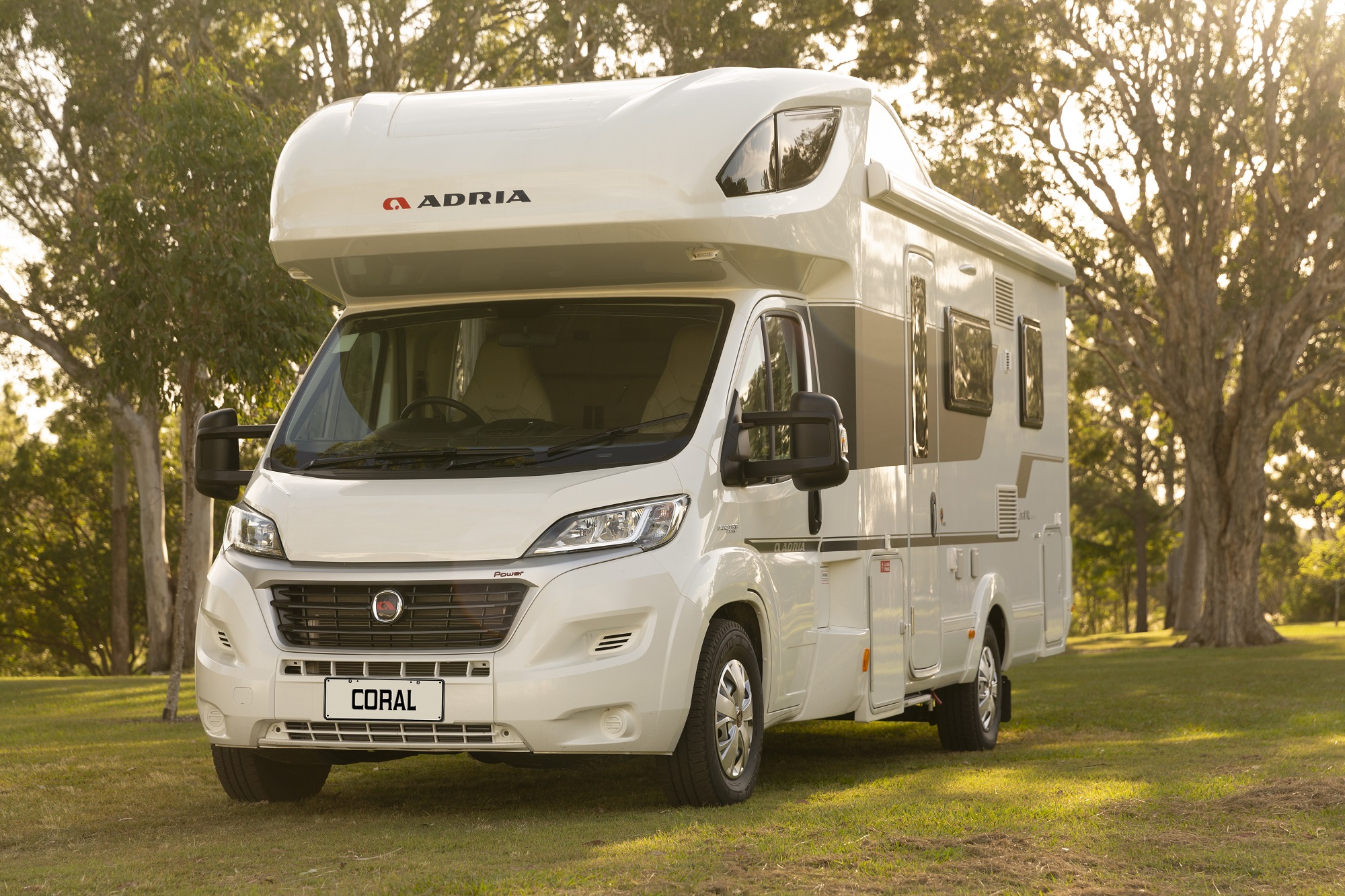 Adria's Coral is a surprise find and a left-field look worth taking. It's rare to find a five-berth motorhome, so if the Adria Coral a gem why don't we know more about it?
Fully imported European motorhomes are still something of a novelty in Australia. A combination of strict but increasingly irrelevant Australian design rules, plus serious government lobbying by the local industry, has done much to prevent Australian consumers from having wider choices at more affordable price points.
Adria Mobil is a Slovenian brand established in 1965 when the country was part of Czechoslovakia and behind the Iron Curtain. It gained autonomy in 1990 and is now a well-regarded European manufacturer with a modern and innovative product range.
Adria motorhomes and caravans first appeared in Australia a few years ago, imported by now-ASX listed Apollo RV Sales. Apollo is also the Australian licensee of the Winnebago brand in Australia and New Zealand, and as such has been concentrating on establishing it, rather to the detriment of Adria's excellent product range. Given the ADR hoops they must have jumped through and the quality and price point of the Adria range, it's mystifying, to say the least as to why there hasn't been an all-out push to market the brand locally.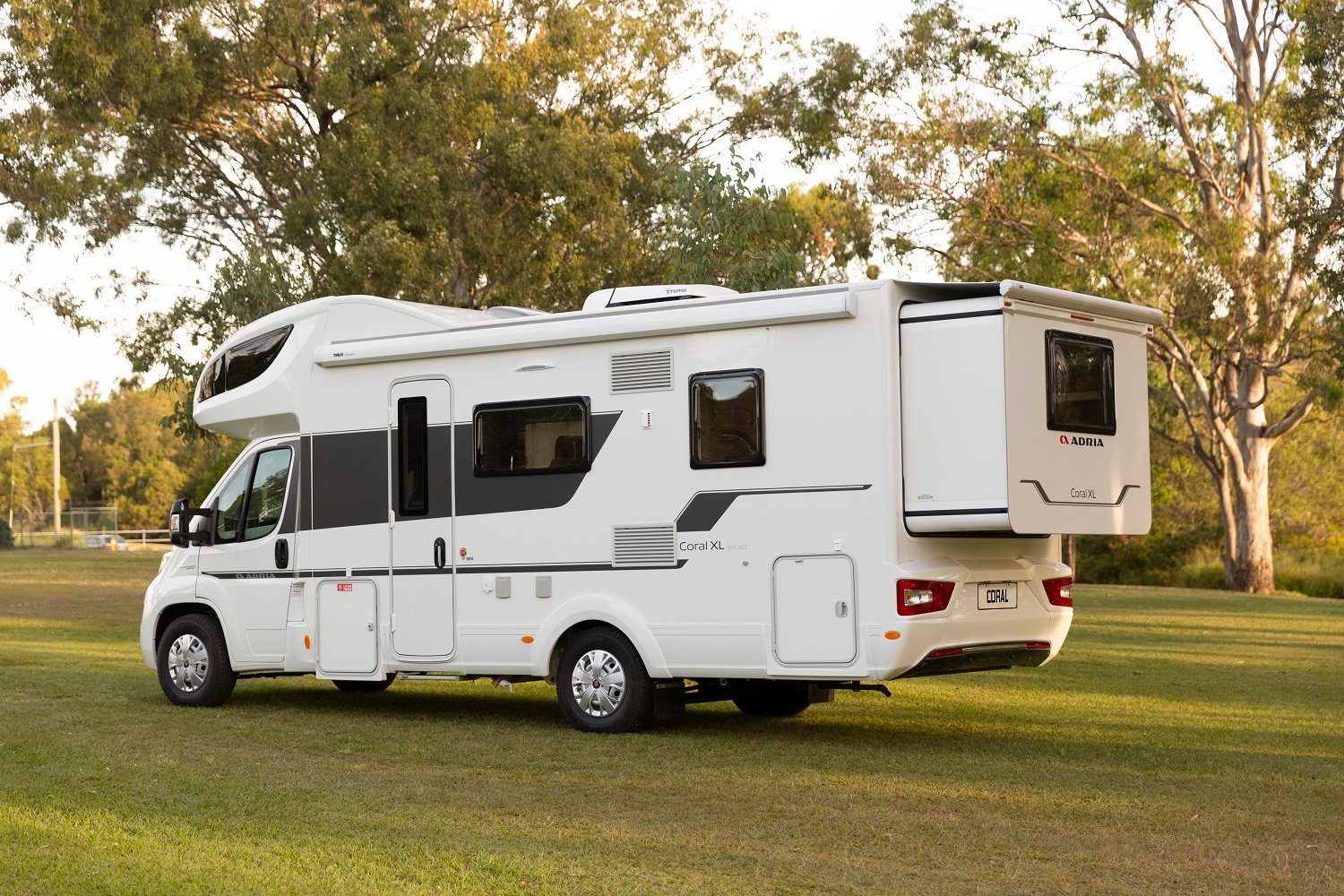 Five is Alive….
The Coral 660 XL SCS is a C-class motorhome (meaning it has an over-cab bed) that seats and sleeps five – an unusual number to be sure. Also unusual for a European design, it features a slide-out that houses the bed and even more unusually, the slide-out is in the rear wall.
Finally, Adria must be serious about its Australian ambitions as they build the Coral with its body entry door on the correct side for local use and include central locking – something most of the rest of the industry needs to catch up to.
Well-equipped and well-priced – from $134,990 driveaway – it's a versatile machine equally suited to a couple looking for a bit more space as it is a family.
Motive Power
No surprises in the chassis department; the Coral has Fiat's popular Ducato as its base vehicle and comes with the new 2.3-litre Euro 6 turbo-diesel that replaces the old three-litre unit. The smaller engine's output matches the bigger one, with 130kW of power and 400Nm of torque, making the Coral easy and pleasant to drive. With a gross vehicle mass (GVM) of 4400kg and a tare weight of 3490kg, it has a load capacity of 910kg, which is more than enough for most travellers. Even the 150-litre fresh water capacity isn't going to make much of a dent.
On the road the Coral rides smoothly, no doubt enhanced by airbags fitted to the rear suspension, another unusual (and welcome) feature usually only found on more upmarket motorhomes. They are easily adjusted because the controls are located on the base of the passenger seat. Undoubtedly the real beneficiaries of the airbags are going to be any passengers travelling in the rear.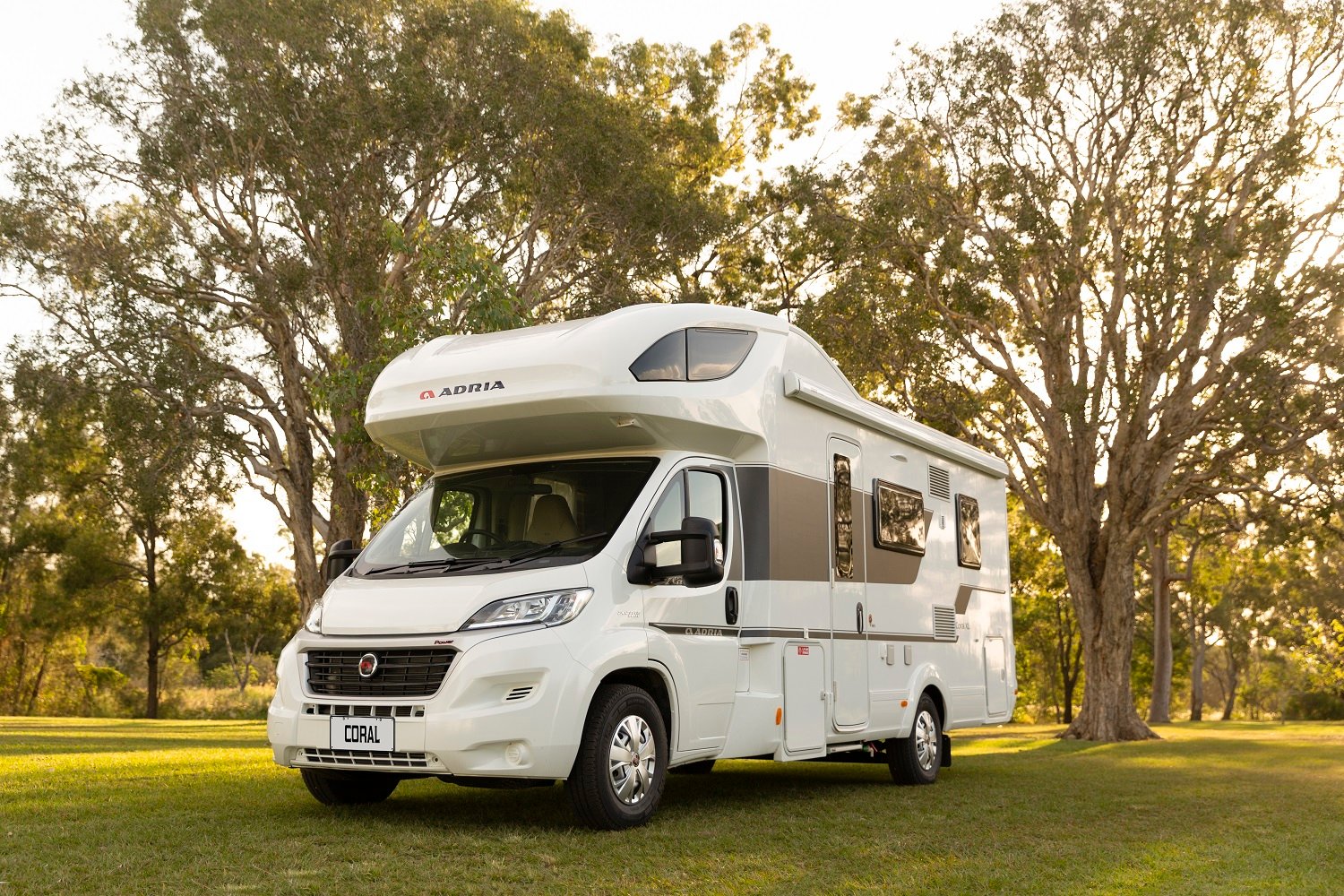 Body beautiful?
Despite the nosecone housing the over-cab bed, Adria's designers have done a great job of streamlining and integrating it with the rest of the design. The body consists of polyurethane/polyester sandwich roof and walls, plus fibreglass mouldings for the rear wall. The windows are the familiar Euro-style acrylic that are tinted, double-glazed and come with built-in insect and privacy screens. Down the back of the vehicle, the tunnel boot should accommodate your golf clubs and fishing gear, plus the usual outdoor chairs, table, et cetera. Handily, it also includes tie-down rings for larger items for secure transport.

Inside
Stepping inside the Coral the layout comprises three areas. Upfront is the lounge/dining/second-bed area. Conventionally, the mid area contains both a kerb-side kitchen and a street-side bathroom, leaving the rear for the main sleeping area and its north-south bed.
Décor is dominated by timber-look cabinetry, mostly because the bathroom dominates the middle of the motorhome, but the bathroom also neatly splits the living and main bedroom areas. Natural light levels are good and aided by multiple semi-concealed and recessed LEDs.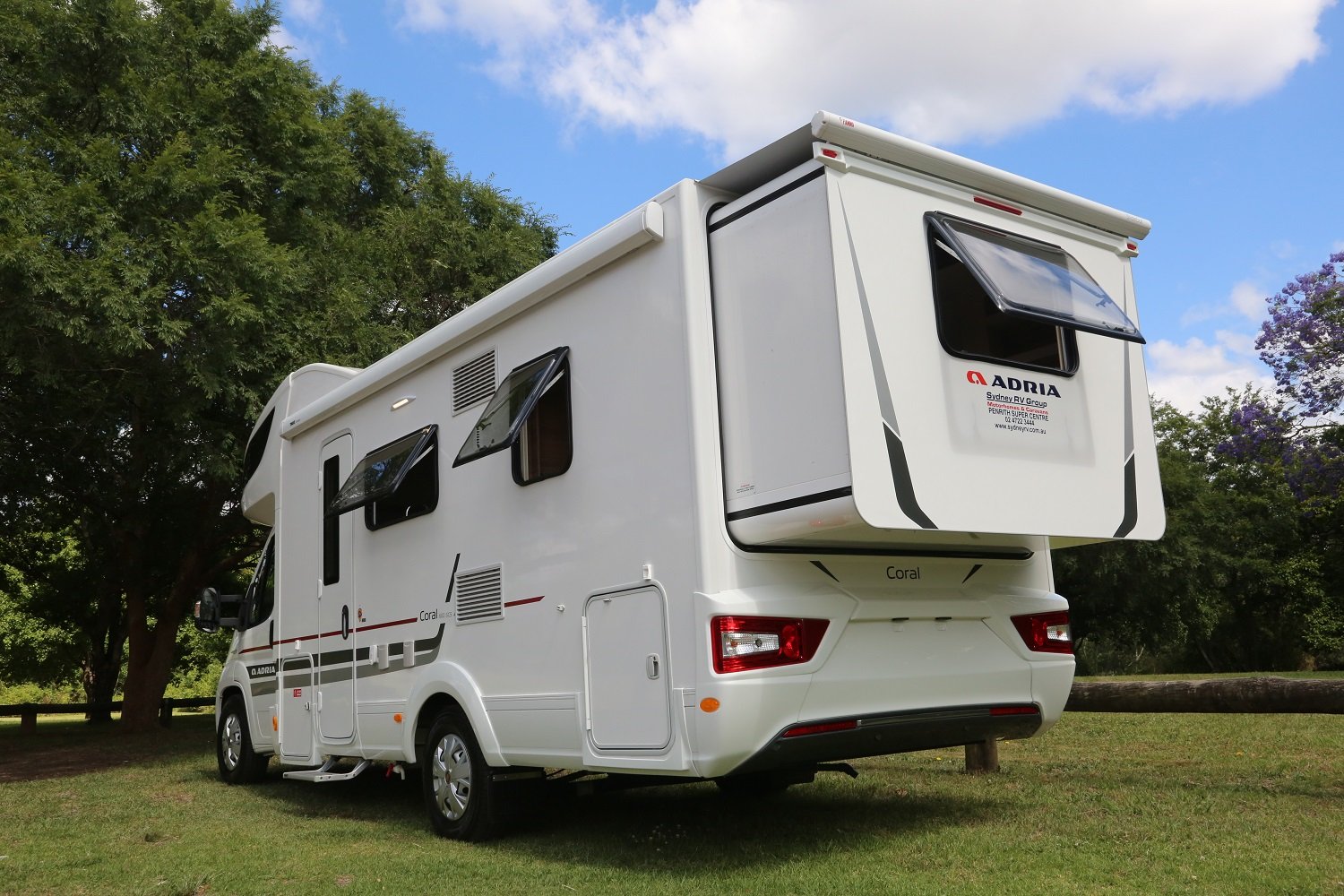 Sliding into Bed
Operated by a switch by the kerb-side bedroom window, the rear slide-out moves very smoothly. It's actually a dual operation because as the slide-out extends, the mattress lowers into position. It's not the quickest I've come across but it's certainly the smoothest and operates flawlessly.
The main bed is essentially a queen and measures 1.92m x 1.5m (6' 4" x 4' 11"). Unusually, the bedside cabinetry is arranged asymmetrically. The street-side occupant gets a good set of shelves while the other person has both a wardrobe and a smaller set of shelves.
A clever feature of this design is that when the slide-out is fully extended, the pillow-end of the bed can be moved up and down, thus forming a comfortable backrest for day use! While the bedroom does have a slightly closed-in feeling, it's a set-up that works well.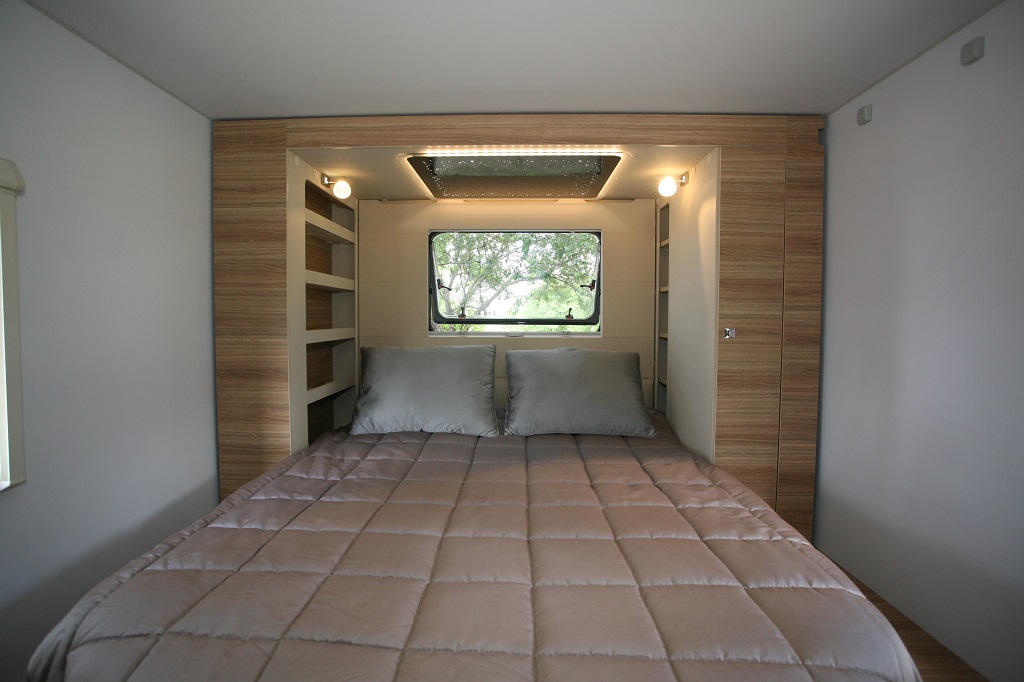 There are of course two more beds in the Coral; one over the cab measuring 1.96m x 1.36m (6' 5" x 4' 6") and the other a large single at 2.1m x 0.74m (6'11" x 2' 5") formed by a bit of fiddling with the front seating. I say fiddling, but it's a typical Euro set-up: more than one function for everything!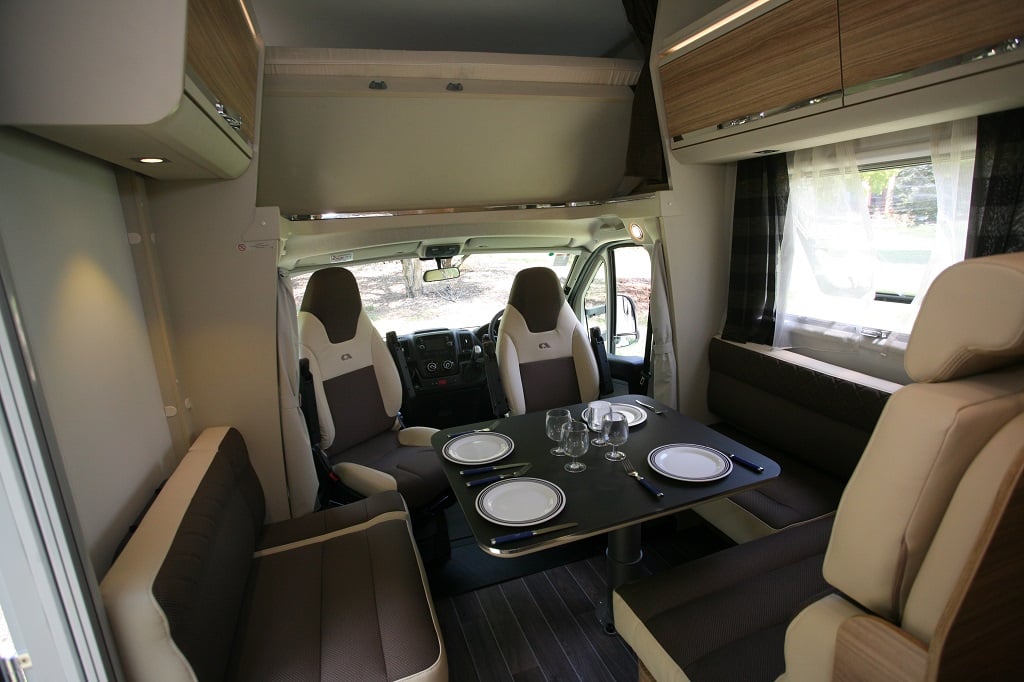 Meal Time
Typically Euro-compact, the kitchen comes with the expected items like a three-burner hob, stainless-steel sink and a grill/oven below benchtop level. To create a bit of bench space, Adria has fitted its neat L-shaped hob/sink combo that is simple but clever. Between the kitchen bench and bedroom is the generous 185-litre two-door fridge that runs on 12V/240V or LPG, while above it is where the standard microwave lives. There aren't any cupboards in the kitchen bench, just drawers and compartmented shelves by the entry door.
Lounging, Dining and Travelling
The lounge/dining area has swivelling cab seats, a driver's side forward-facing dinette seat and a sideways-facing seat for two on the kerb-side, all in matching upholstery. A good-size table on an every-which-way mount sits in front of the forward-facing seat. I did a bit of moving around and figured the table was good for four adults, but five would only really suit a family with smaller kids.
The observant might note that although the motorhome is rated to transport five, there doesn't appear to be a fifth seat. It's there, however, in the sideways-facing lounge, but not facing sideways! Part of the split seat base has to be removed and an A-frame installed, along with a seat back and headrest (stored in a cupboard) and hey presto – you get a rear-facing belted seat!
Okay, so it's rear-facing, but why not? Again, more Euro trickery with space and using something for more than one function.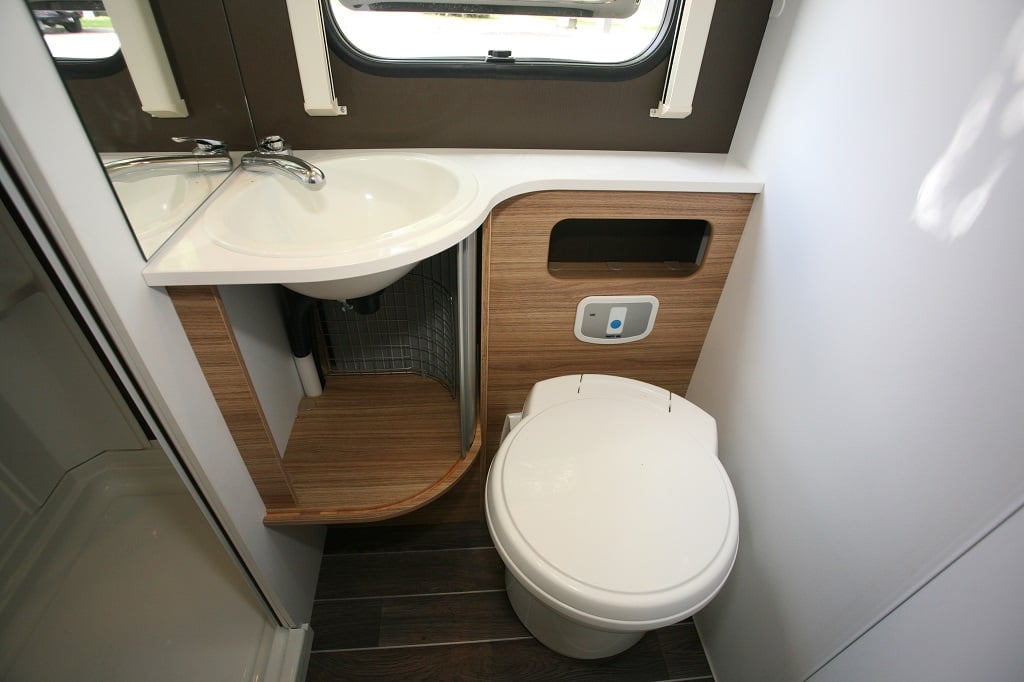 Keeping Clean
The bathroom, which dominates the centre of the Coral, has all the required features including cupboards, cassette toilet, vanity cabinet, washbasin and a separate shower cubicle. Outside, the wardrobe does have some hanging space but it's not really family-sized, so there's no taking the dinner suit along just in case. Electrical connections for a TV are to be found there, presumably for one mounted on the outside of the wardrobe cabinet.
Self-containment?
While there's no pretence at being a vehicle that can stay off-grid for days on end, the Coral does have the basics like a 100AH deep-cycle house battery, three-way fridge and 150 litres of fresh water. Solar panels are an option, but one I'd be signing up for.
Verdict
Adria's Coral XL 660 SCS has a lot going for it – everything from equipment to design and price – but it feels like Apollo is hiding its light under a bushel. That's a pity because this motorhome deserves more attention. If you're looking for a value package backed by a major industry player, it's worth digging around to find out more about this motorhome. It's a gem, and one that needs little polishing.
Pros
Rear slide-out design and function
Multi-function front lounge/dining area
Payload
Rear airbags
Rear storage
Lighting
Water capacity
Cons
Screw/bolt hole plastic plug covers a bit too obvious in some places
Setting up fifth seat a bit fiddly
Don't know about the 'infinity light' above the main bed
Small kitchen
Solar optional
Brief Specs
Base Vehicle: Fiat Ducato
Length: 7379mm
Width: 2375mm
Height: 3130mm
Tare: 3490 kg
GVM: 4400kg
Payload: 910kg
Price: $134,990 drive away
Warranty:  2 years on chassis, 2 years on parts/manufacture & 7 years water ingress
For more information click here
Words and images Richard Robertson.