If Dr Who was ever to build a camper trailer, I reckon it would look a bit like this. Steve Leone's home built rooftop tent and camper trailer are very unique and designed to go anywhere.
At a time when camper trailers and caravans are getting more and more complicated and full of all the comforts of home, it is refreshing to see someone who has forgone all these luxuries in an effort to build a bespoke rooftop tent and off-road camper trailer. Such is the case with RV Daily reader Steve Leone who contacted us to share his creation.
An upholsterer and cabinet maker by trade, Steve fabricated his own rooftop tent which he then mounted to the top of a retired army trailer and, I think you'll agree, the result is something very unique.
Steve told RV Daily, "Originally I was looking at the possibility of purchasing a commercial rooftop tent but there were a lot of limitations and restrictions on what was available. Load limits for the top to start with"
"I built my own rooftop tent because I couldn't find anything with a hard shell that I could load any extra weight on the top. I'm also a little bit patriotic and couldn't find anything that was Australian-made that suited my needs. There's no load limit on the top of my tent when it is in the collapsed position."
Steve was also looking for something a bit more streamlined than other rooftop tents available on the market.
"My tent pack's down to just 90mm in height, so when it's on the roof of the car, I can still fit in the garage. I can easily transfer my tent between the car roof and my trailer, where it mostly lives and works as a great waterproof hard lid for the trailer"
Now you may be thinking it doesn't look like there's much room in that tent but Steve explained it is actually very roomy inside at 2000mm in length x 1650mm wide and has an internal head height of 1000mm.
"There's more than enough room for two big blokes to get a good night's sleep without rubbing shoulders."
As a master upholsterer and cabinet maker by trade, Steve was able to combine two skill sets to come up with what he believes is the ultimate Australian-made rooftop tent.
"I'm really proud that I was able to make my rooftop tent using 100% Australian-made materials. I chose premium quality products that I had not seen in anything available in the market at the moment. I sourced high-quality Australian-made canvas and other materials for the build. There is also a lot of technical trade skill in what I've made to achieve this level of detail, quality, and finish."
When we asked Steve if he had any modifications planned for his creation, he said, "I really wanted to keep this build as simple as possible. That said, there's a couple of minor additional improvements I'm planning. One is a couple of internal roof nets to store personal items. The other is an integrated canvas weatherstrip to go around the outside edge and keep the tent independently tied down and keep out the bulldust when traveling off-road.
Steve has had some interest from others campers wanting him to build a similar product and we reckon he could be onto a winner here.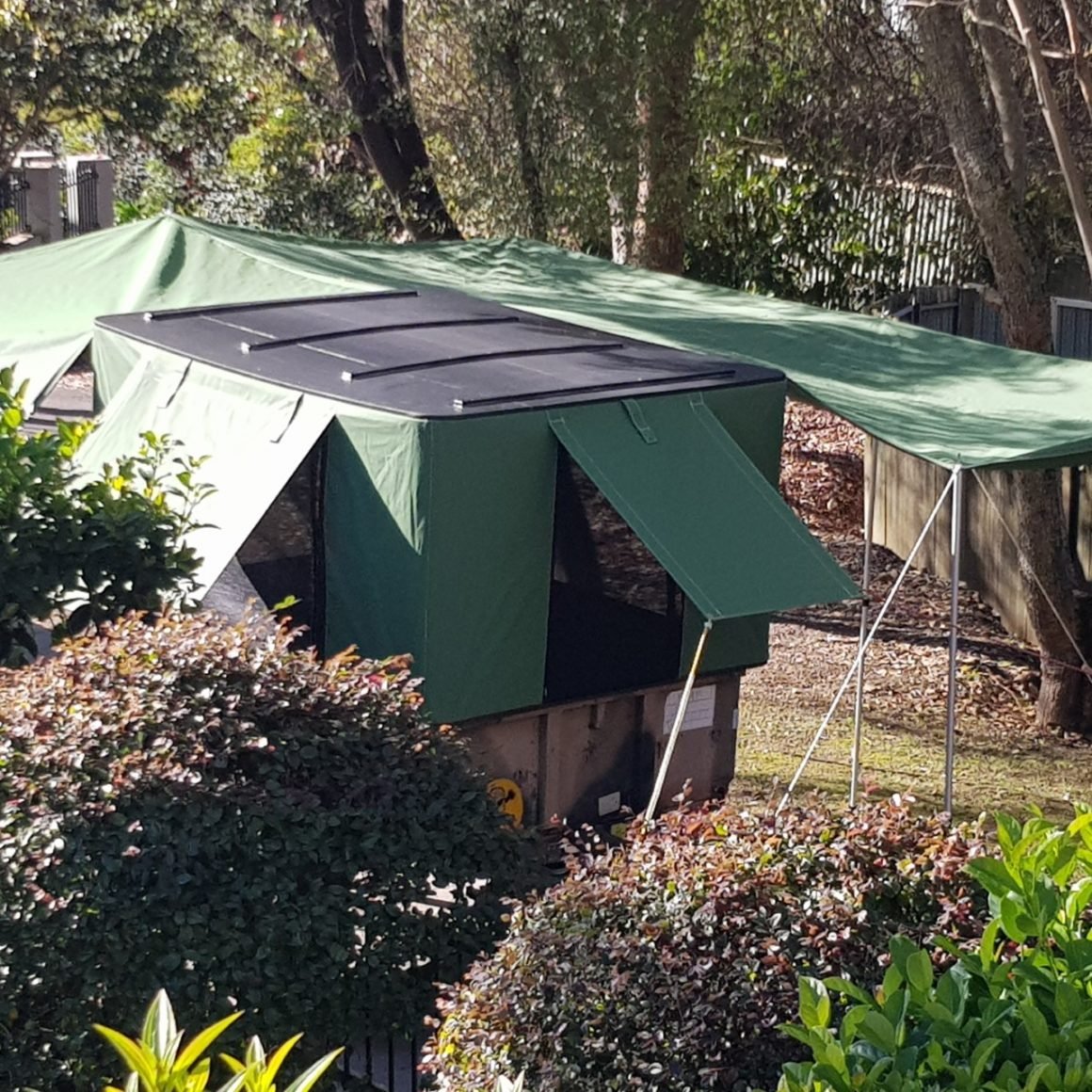 "I love camping, four-wheel driving, fishing, and being outdoors. I'm secretly hoping that this idea could be my foray into the industry. I could make these rooftop tents to any custom dimensions to fit anything from a single bed right up to a king-size. I'd be happy to hear from anyone who might like one for themselves."
If you like what you see and want to touch base with Steve, you can send him an email at stevenleone036@gmail.com
Safe travels.