Hey True Blue – Utes, swags 'n' dust bowls of fun
There is nothing more Aussie than a ute … well, there is also beer, blue singlets, live music, bull riding for the brave, wood chopping, cracking a stock whip, circle work for kickin' up the dust, and hangin' out with ya mates around the campfire. All that goes hand-in-hand with a ute muster, which makes the perfect, albeit temporary, distraction for these drought-stricken farming communities.
Given the Deniliquin … hell let's drop the formalities and call it – the Deni Ute Muster is the largest ute muster in the world, then that simply has to be one of the most Aussie things ever to lay your Akubra on.
As media partners, RV Daily camped with the 20,000 strong masses during the celebrations for 20 years of the Muster, to soak up the atmosphere (and the dust), don our Akubra and oilskins, drink with new mates, pretend we were brave enough to ride a wild bull and now plan on buying our own racing lawn mower after being blown away at the fun the drivers were having.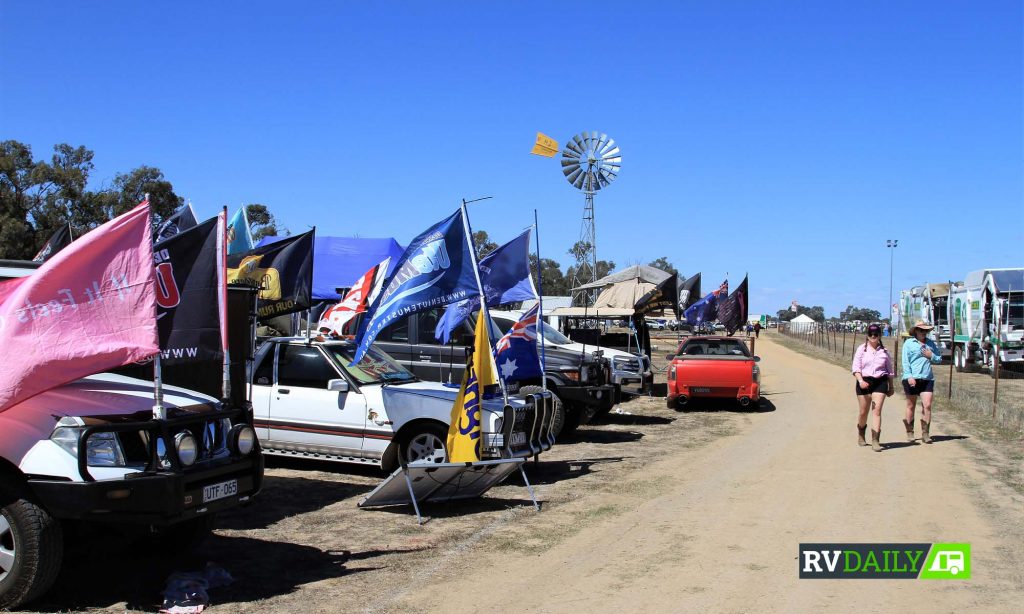 The sheer size of the venue, just on the outskirts of town, rivals the combined events of the Royal Easter Show, Sydney footy fields and the cricket ground – blows them to smithereens. Taking on 150 hectares, that's 1.5-million square metres in case you weren't sure, the site plays host to broad acre camping, which is split up into pre-booked areas; family camping for those hoping to get some sleep at night, plus, the well-documented feral section of general camping.
Long row after long dusty row of flag-adorned utes with all manner of camping set-ups of tents, caravans, motorhomes and swags host the almost 18,000 or so folk who had travelled from far and wide to help break records for the Guinness Book.
Yep, there are two counts on each year: To log the greatest number of (legally-registered) utes at any one place/time – cracking 7093 this year – as well as the most people wearing blue singlets (Blueys) – 2993, neither of which broke records this time.
Big name bands hit the stage each year; 2018's line-up didn't disappoint with Thirsty Merc, Carrie Underwood, Amber Lawrence, Troy Cassar-Daley, Travis Collins, Kasey Chambers and more.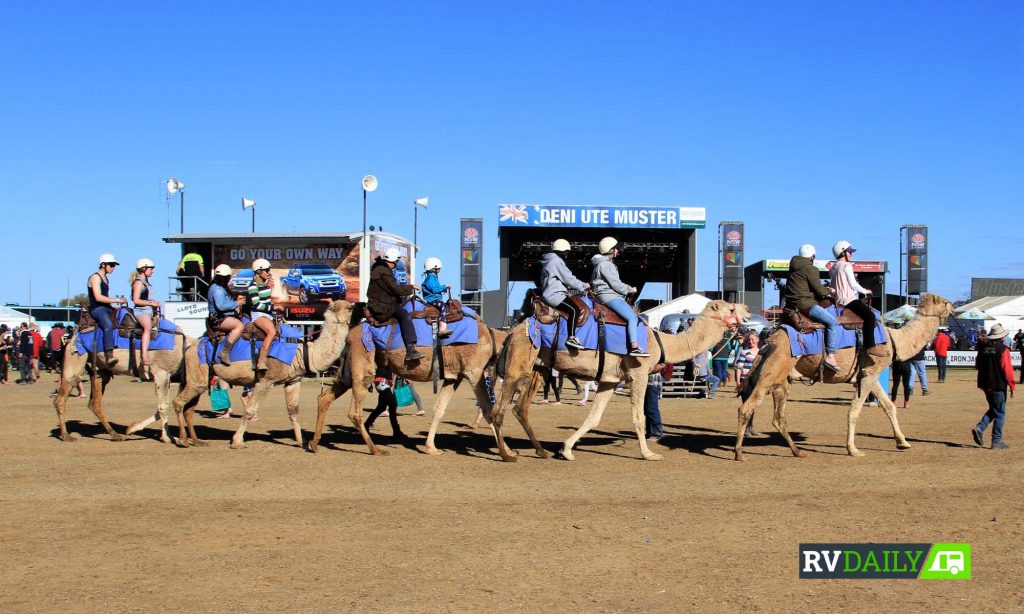 STUFF TO DO; DANGEROUS OR OTHERWISE
There is a host of entertainment to either watch, indulge or compete in over the two-day event ranging from whip cracking, wood chopping, chain sawing, butcher demonstrations, lawn mower racing, circle work and other driving events, plus a few amusement rides and a circus for the little kids. Big kids are well catered for with a couple of bars and plenty of food and music. Bull rides see most folk in awe as mere men try their might against angry bulls intent on bucking their nemesis free with little care for resultant injuries. Whoever thought it might be fun to dangle their legs on a beast weighing as much as a ute with just a rope to hang onto must have been, well, plain ol' stupid, or brave or … nah, just stupid, I reckon.
If you're contemplating going to the 2019 Deni Ute Muster, but don't have a ute, don't let that put you off as more and more folk are checking in with caravans and camper-trailers in tow, as well as motorhomes. While you may not be the "real deal" with ute 'n' swag, it's still a blast.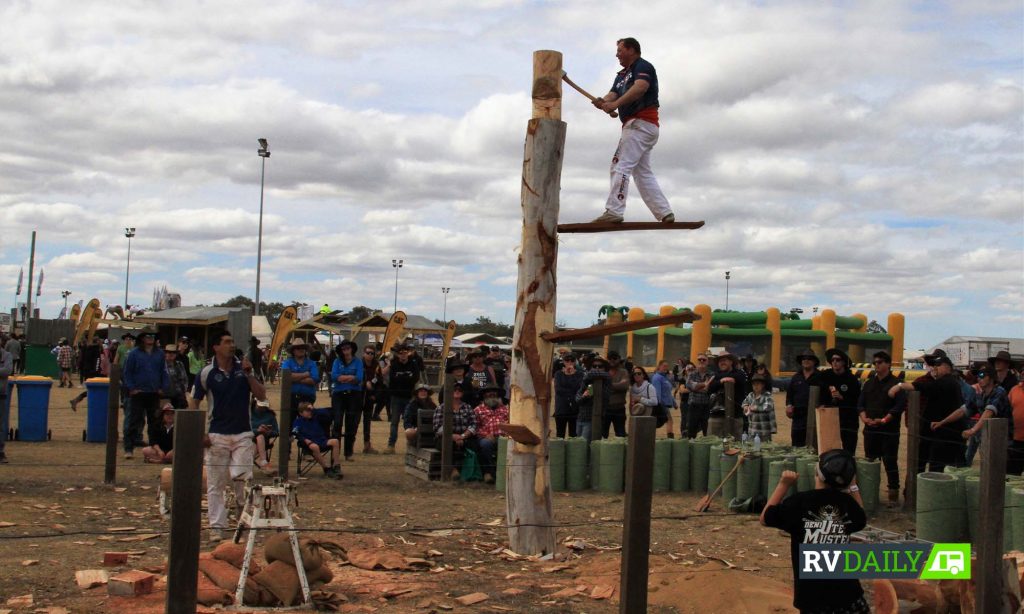 WHERE IS DENILIQUIN?
"All roads lead to Deni" is a common saying around the area at Muster time. If you're anywhere within cooee of Deni leading up to the Muster, simply following everyone else is a fair bet you'll end up at the iconic Muster's front gates.
To get close: Deni is in southern New South Wales in the Riverina region, close to the Victorian border, about 3.5 hours north of Melbourne and 5.5 hours west of Canberra.
Camping is all onsite: there are hot showers, dunnies and plenty of food and drinks on sale. If you are wanting to deck yourself out in western, bush, country or farming clobber, you'll be able to go nuts with the credit card and walk out looking the part with everything from duds 'n' boots to hats 'n' shirts.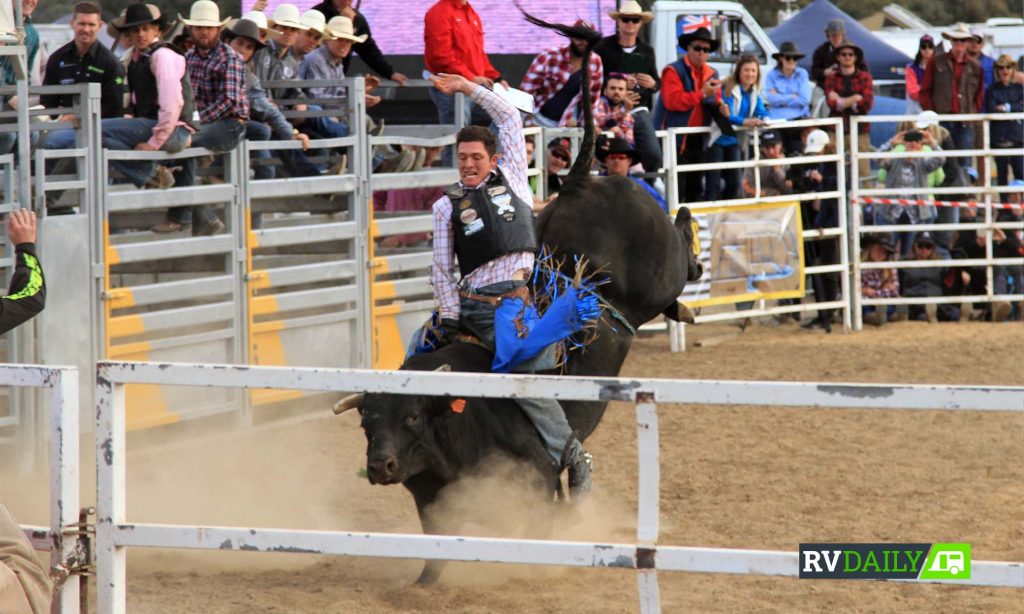 DENI HISTORY
Aussies have a real tendency to dig deep during a crisis. In 1999, with the region gripped by an all-too-common drought, a handful of locals devised a plan to bring the tourist masses to help supplement the traditional farming incomes of most locals. Given the area boasts broad, flat landscape, that, along with the all-Aussie ute, gelled to form the initial Deni Play on the Plains Festival, catering to a wide demographic. It took just that one year for Deni to be recognised as the Ute Capital of the World, paving way for the Deni Ute Muster.
The now-well-known Ute on the Pole was erected in celebration of the first year's success, followed by a mosaic of a vintage utes and later the now-famous Deni Ute Muster Entrance gates at which many a selfie has been taken.
Initially, Deni, like most other ute musters in Australia, catered for the younger ute-lovin' set that were hell-bent on "playin' hard" for the weekend with plenty of coverage given to the feral behaviour by (a minority) of lads cuttin' loose.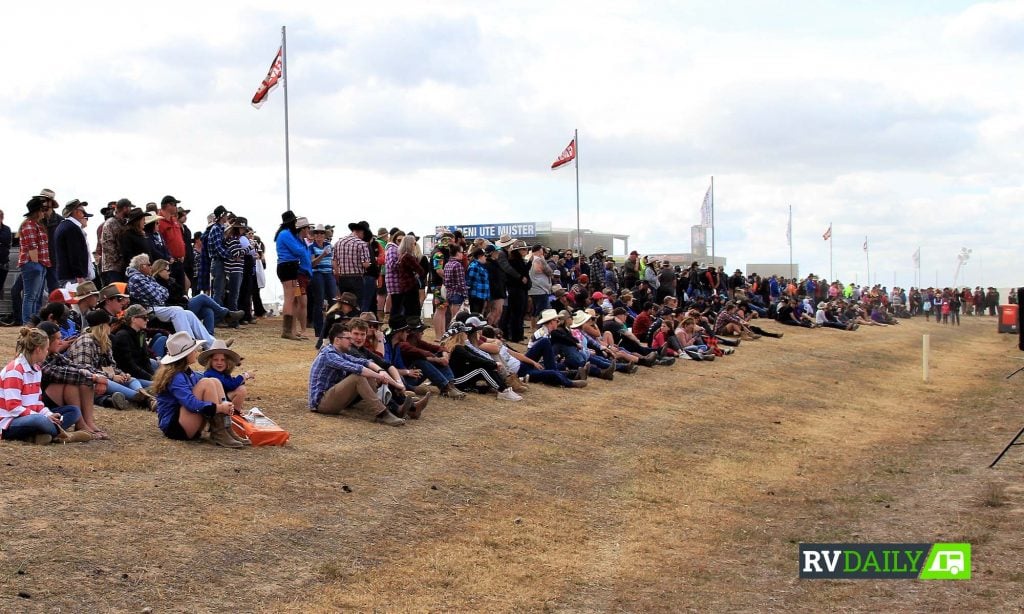 In later years, the event has catered more and more for families, caravanners and general campers while trying to encourage the ever-popular ute muster crowd. Regardless of which camp you sit in, the Deni Ute Muster should be on your bucket list at least once in your life. Plenty of family and kids' entertainment was on hand this year, making for a great weekend of memories.