Cub Camper Trailer: The Explorer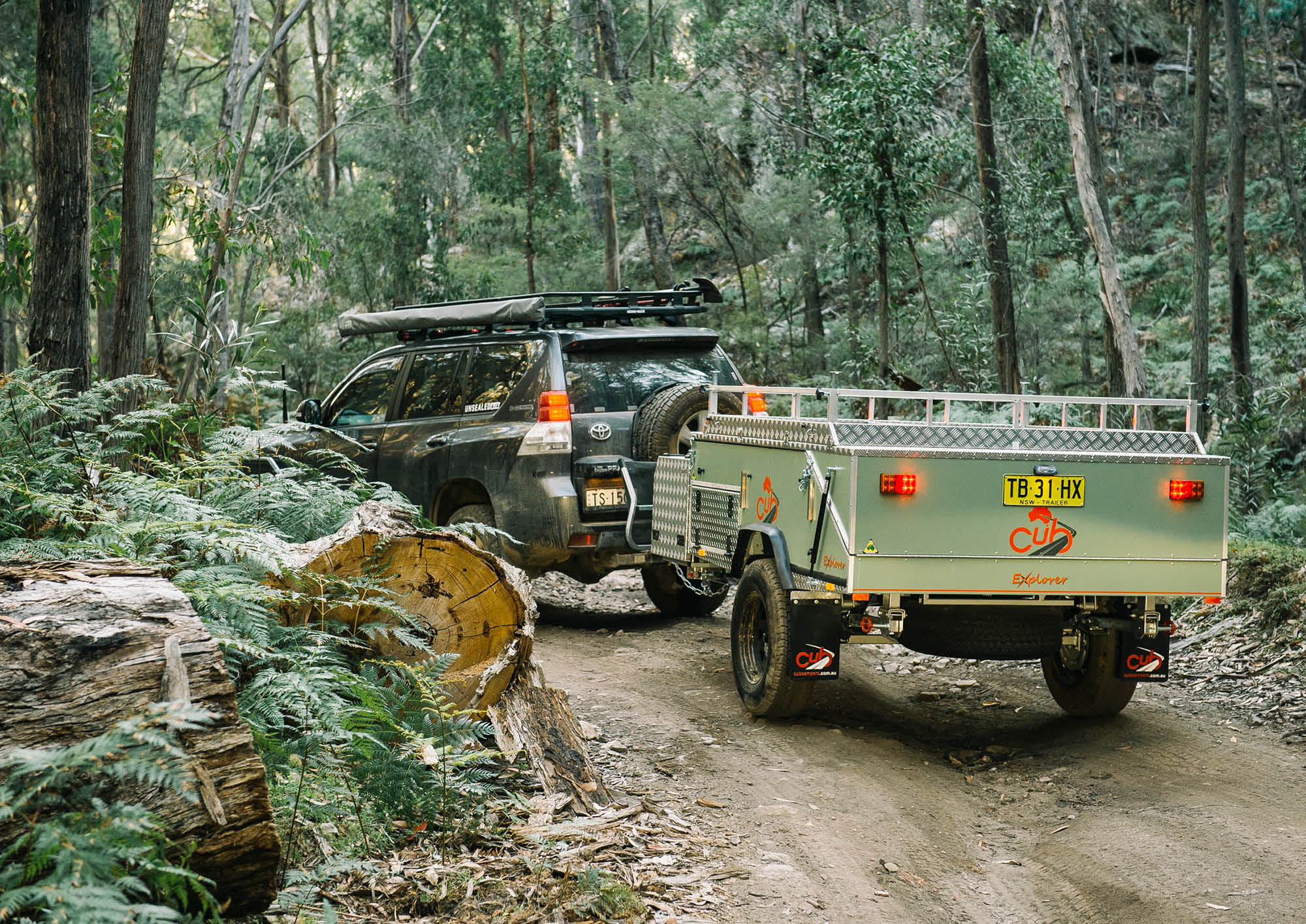 Now is the time to start planning your summer time adventures and as much you want to take everything plus the kitchen sink, it can make setting up camp rather tedious and the load extremely heavy.
This little camper from Cub has everything you need to get on the road and being compact and complete its simple set up means things are fast, easy and uncomplicated, so you have more time to enjoy the outdoors.
Introducing Cub's most affordable and smallest off-road camper trailer, the Explorer, and it costs only $18,900!
For images and the full RV Daily experience, read this in our online magazine.
SETUP AND PACK DOWN
With its revolutionary Ezy-Wind set up system, the cub camper set up is simple and effective. There are two latches down each side of the camper, releasing the lid to flip over with the ratchet-driven belt mechanism. Sounds a bit back to front but the roof becomes the floor, then you attach a few poles and it's all done. In terms of fast setup and pack down, this whole arrangement really is one of the best around.
For an extended stay and need for space the extra awning zips onto the main tent, you do need the poles and guy ropes to stabilise it which gives you the extra coverage over the kitchen and outside, plus protection from inclement weather.
Unlike many confusing tents, poles and awning configurations the Cub Explore system is pretty straightforward. With three different types of poles that slot in relatively easily, a few guy ropes and pegs to secure and it's up!
You probably don't need the awning for overnighters or fine weather, but it's nice to have.
INTERNAL FEATURES
While the Cub Explorer is quite basic overall, it has everything that you need, and nothing over the top, there are no unnecessary bells and whistles.
There is an LED strip light mounted on the camper's ceiling, and there are two 12V outlets inside. Flip the bed up, and you've uncovered your main internal storage space. The 100Ah battery and Redarc BCDC is mounted off to the side, and you can see where the kitchen slides out further up.
The Explorer's interior design follows conventional rear-fold solid floor principles with a double bed over the camper body and a room at ground level suitable for kid's bunks or as a wet weather retreat with a small table and chairs.
EXTERNAL FEATURES
Once again, the list of standard inclusions and options on the Explorer is far from extensive, it is  without doubt limited to the basic essentials. A fridge box (to suit an Evakool 47L unit) sits on the port side, next to a kitchen that slides out of the body. This slide out kitchen is very handy making it easy to stop for a quick cuppa on the road!
Zips open the canvas flaps to allow natural light and ventilation and they all have permanently fixed flyscreens, except for the front door which you can roll up and secure.
The handy slide out pantry parallel to the kitchen and small storage space below the stove for the knives and kitchen basics make it all compact and everything close to hand.
The other side has a nifty little toolbox, which also has a cradle for your firewood. Everything about the Explore is practical and to the point.
TOWING
Owing largely to its minimal weight and size, you hardly even notice the Explorer behind your 4X4. Being only 1.7m wide and 4.4m long, the Explorer is really manoeuvrable, and doesn't tend to cut into corners as much as other, longer, trailers do. All of your dual-cab utes, or anything this side of a 1985 HiLux, would tow this unit like it isn't even there.
For long-range touring, being a smaller unit is a bit of a conundrum. You've got space for one jerry can; you can option up for more if you want. A 750kg tare and 1,200kg ATM means you can load 450kg of goodies into this unit, and it's nice to know the suspension is over-engineered (with a 1,500kg rating). But obviously, storage space (although good) is less than the bigger models. The Explorer takes care of your water, clothing and gear storage; and gives you a comfortable, easy to set up bed at the end of the day.
This little Explorer does make a compelling choice. It's arguably the best value locally-built hard-floor camper trailer in Australia, costing just shy of $19,000. Yes, it's simple, its basic, but it does the job. And the rewards are a tiny tare weight of only 750kg, and one of the easiest towing footprints around.
The main things you're missing out on in this model are an integrated stove, a galvanised chassis and extra storage space. But you're saving money. Lightweight means capable, and with Cubs three generations of building efficient campers you cannot go past an Explorer which is fitted with all the basics needed for a pleasurable life outdoors.