In the final instalment of Caravanners vs. Truckies part three on RVDaily, we look at doing the right thing, and how to be truck friendly!
10 TIPS FOR BEING TRUCK FRIENDLY
1. Don't park in truck parking areas. It's as simple as that. Even if you find the caravan parking areas are taken up with cars, it's best to move onto another location rather than infuriating truck drivers by using their bays. If you are feeling fatigued and a truck parking area is the only immediate option for you to rest, try to park in such a way as to leave as much space as possible for trucks to park. Refresh yourself and move on. Do not camp overnight in truck parking areas.
2. If you're travelling in convoy with other caravanners, keep your distance from each other in order to allow trucks and other vehicles room to overtake one of you at a time. By bunching in too close together, you make it almost impossible for overtaking traffic to get past safely.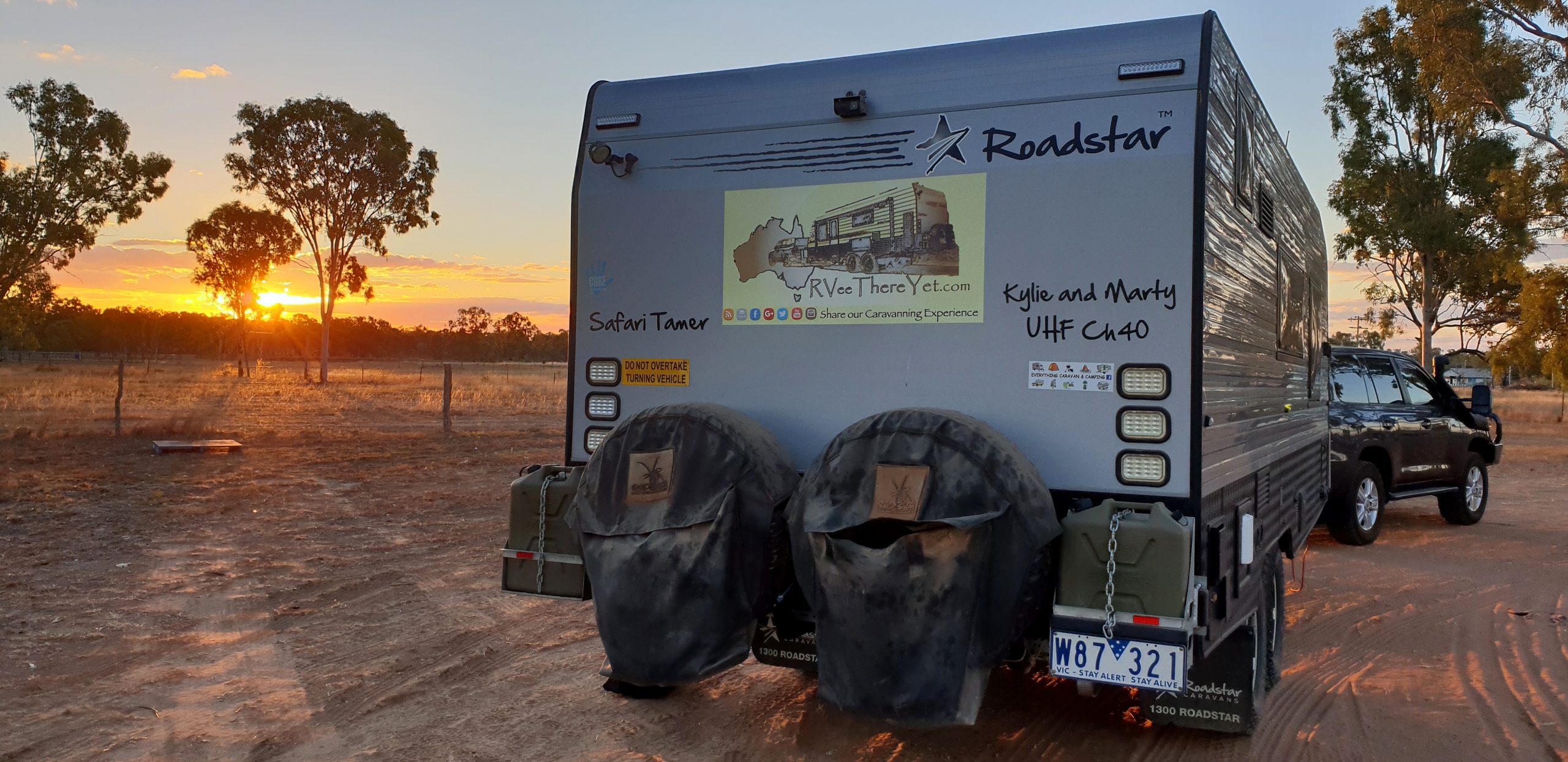 3. If you're driving on a major freeway or highway, pick a speed to travel at that allows other motorists to pass you safely. You may as well accept the fact that everyone wants to overtake the caravan regardless of what speed you're doing. We have found that driving at 95 in a 100km/h zone means we are not unnecessarily holding up traffic but we are also making it safer for other vehicles to overtake us.
4. If you're about to be passed by a truck, do not panic. Maintain your speed until he has pulled out from behind you and is halfway through passing you. Then back off your speed slightly until the rear of the trailer has passed the front of your car. Signal to him that he is clear by flashing your high beams or advising he is clear over the CB radio.
5. On the subject of UHF radios, if you have one fitted to your tow vehicle, turn it on and have it monitor channel 40. Granted, you may have to put up with some colourful language from time to time, but at least you can be informed of what's happening around you and truckies can contact you if needed. It's good to advertise you're listening to channel 40 by putting a sticker on the back of your van advising so. If you do have this sticker, make sure your radio is on. Nothing is more frustrating than trying to contact someone and not getting a reply.
6. If you're travelling along a single lane road and you come to an overtaking section, keep left and slow down. This will allow as many vehicles behind you to get past you safely. Stay in the left-hand lane right up to the merge. Indicate that you are merging early to give motorists behind you warning that their passing opportunity is closing. Be prepared for other motorists to wait until the very last second to get past you and drive accordingly.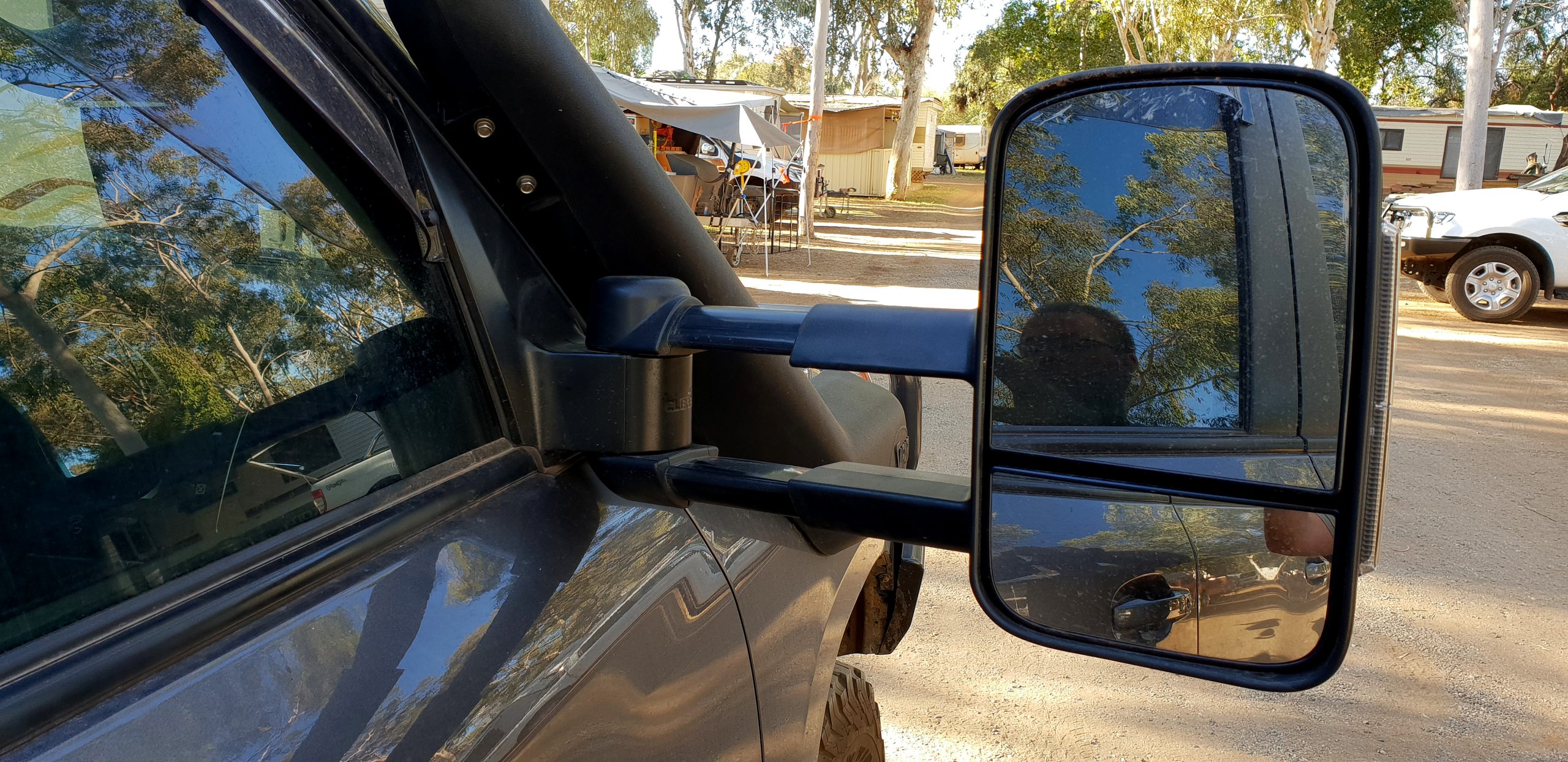 7. You must have an adequate vision behind your rig. For heaven's sake, fit extension mirrors. You may think you can see behind you but remember, if a driver behind you can't see your face in your side mirror, then you cannot see them. Consider fitting a rearview camera to your caravan. These can provide additional vision behind your rig where even extension mirrors can't access. Remember, rearview cameras are no substitute for extension mirrors.
8. All trucks will display 'do not overtake turning vehicle signs on the rear of their rigs. It is the law to obey these signs. If you are approaching a roundabout at the same time as a long vehicle, do not try to get past them on the roundabout. Pull in behind them and go around in turn.
9. Before you head off each day, check to make sure all your trailer lights are working properly. Trailer plugs are notoriously unreliable. One day they may work perfectly and the next day the indicators stop working. There is nothing more frustrating than sitting behind a vehicle and not knowing what their intentions are as far as turning and stopping are concerned.
10. Keep an eye on what is happening behind you, especially if you are driving on a single carriageway road. If you start to notice a number of vehicles queuing behind you, look for a safe opportunity to pull over and allow the faster traffic to pass.
CONCLUSION
This war may be played out between caravanners and truckies but to only point the finger at these two motorist groups would be a failure to recognise the bigger issue. Our nation's roads are becoming busier with a lot more motorists of all persuasions using them and the infrastructure that supports them. Truck drivers are trying to earn a living on these busy roads but they also have to contend with rising costs of fuel and maintenance combined with increased time pressures. It's no wonder they feel they are being treated unfairly compared to other road users. Unfortunately, caravanners are an easy target for their frustrations at times and that is something that has to stop.
Rather than being a part of the problem, we are calling upon all caravanners and other RV motorists to be the first part of the solution. By being more considerate of the needs of other motorists and by adopting a few simple behaviours, we can improve the situation, not just for other road users, but for ourselves as well.
That said, we also call upon the general motoring community to show more respect and courtesy towards all other road users. Everyone that has paid their registration has a current driver's licence and is driving within the rules has as much right to use the roads as anyone else.
Poor driver behaviour is not restricted to any one particular group. It transcends drivers of all types of vehicles. It's about time we all came to terms with this fact and started to look at our own faults before pointing the finger at others.
So that's us for caravanners vs. truckies part three, we hope you've learned a thing or two, done away with the social media rubbishing of each side, and can take some of this to heart, and do the right thing for both sides of this, and sharing our roads!
THANKS
We acknowledge the support of Trucking Nation (https://www.truckingnation.com.au/) and Share the Road (www.sharethreroad.net.au) and their continued efforts to improve the awareness of truck driver's responsibilities and harmony between all road users. These videos have been used with permission and you can find lots more at the website address.
Thanks also to Whiteline Television.