Caravan Parks: Three We Love, Three We Long For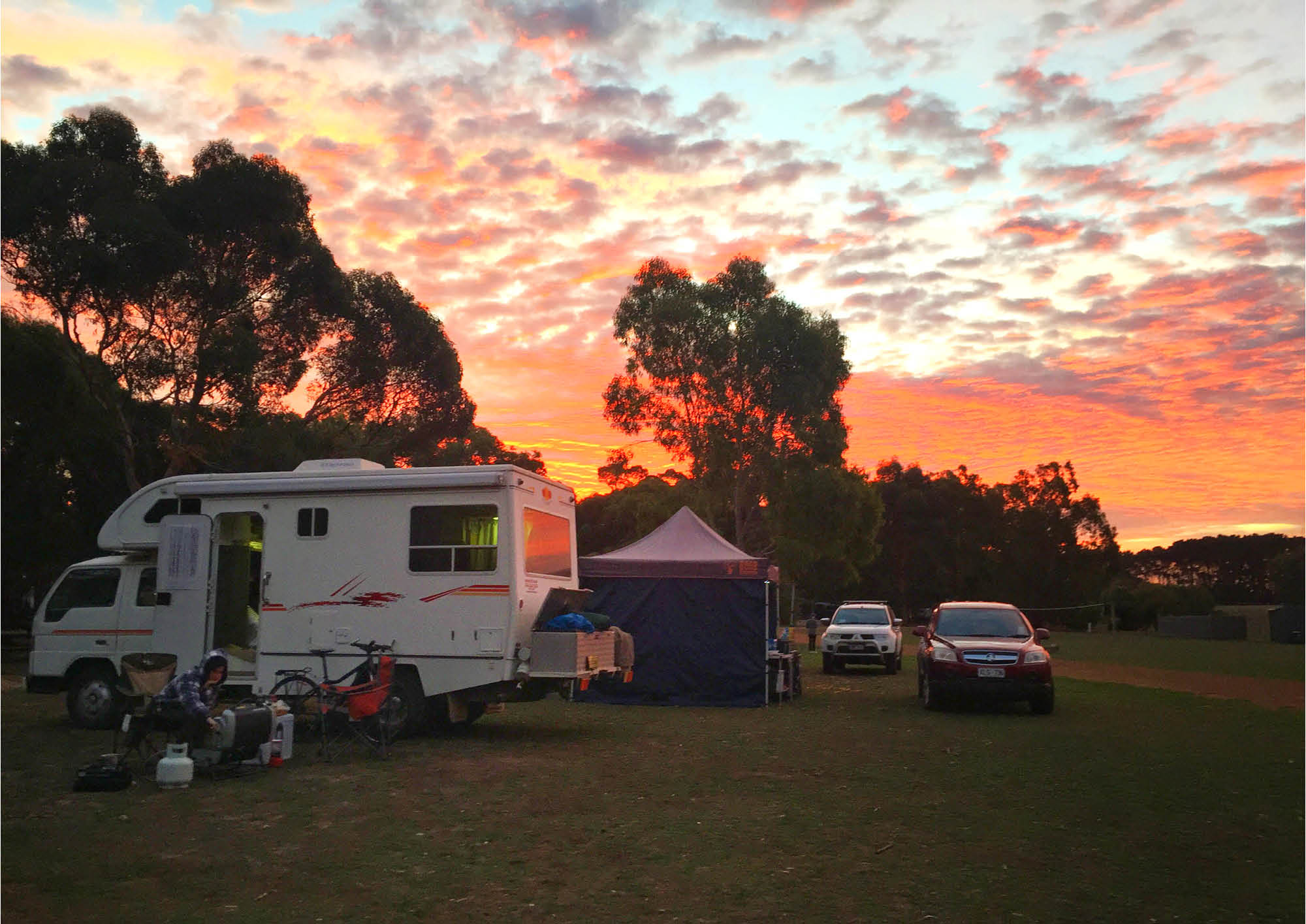 For images and the full RV Daily experience, read this in our online magazine.
THREE WE LOVE:
1. Lake Victoria Holiday Park
Shepparton, Vic
We spent a month at the Lake Victoria Holiday Park while we were working in the area. This park was perfect for us and had a beautiful lake right on our doorstep… literally! The park is filled with bucketloads of birdlife. Walking around the lake at that pre-dusk magic hour was an extremely relaxing way to wind down after a busy day.
The park is situated within walking distance to the local shops, yet far away enough so you don't get caught up in the shopping overflow. An old, but a very clean and well maintained caravan park. Oh yes, the shower's water pressure is incredible. It's also a pet-friendly park.
2. Halls Gap – Lakeside Tourist Park
Halls Gap, Vic
Kangaroos bounce around the campsite and sit in front of your van, so close you have to dodge them as you head off for your shower! They are as abundant as cockatoos and so comfortable among people. A mob of wild emus strut around the boundaries of the park; the wildlife here is abundant.
This park has been under new management for a few years and it shows. They are doing a wonderful job, the park is so clean and well maintained; it's the perfect spot to stop and climb some mountains.
There is so much to do here, from walking around the dam to spending a day hiking. We arrived at the tail-end of summer and it was the perfect time to go for a long hike, come back to camp, jump into the heated pool, then huddle around a drum fire (that you can hire from the park). Very relaxing place to visit.
3. Western KI Caravan Park
Kangaroo Island, SA
Tucked away on the west coast of Kangaroo Island is the Western KI Caravan Park. What a little gem, with koalas and wallabies wandering around at dusk.
This park is in such a good spot to explore the Remarkable Rocks and Admiral Arch. We landed on the island and drove straight across to the campsite, then set up camp and used it as our base for walks and exploration around the west coast.
There is very limited lighting at this campground, so make sure you take a torch if you need to wander after sunset! 1  three we long for
THREE WE LONG FOR:
1. Katherine River Manbulloo Homestead
Katherine, NT
The Northern Territory was on our route but circumstances paused our travels for a while. This area is remote without being unobtainable. We are animal lovers and avid walkers, and love exploring our environment, so finding a working station that has accommodation for travellers is a bonus for us. At this stage we were travelling with our cat – so we researched campsites that could accommodate all of us.
Sitting on the banks of the Katherine River, Manbulloo Homestead and Caravan Park is a unique hideaway in the Northern Territory. There was very little that was not appealing about this campsite!
2. Kojonup Caravan Park
Western Australia
The elusive WA, a place we all want to explore. When we allocated this park to our dream list of places to visit, it really appealed to us. It is close enough to Perth to do a road trip, yet it would give us a place to just relax and catch up on things before we departed to head up to Exmouth. An interesting bit of the area's history intrigued us… as three women on the road and we wanted to explore the Rose Maze and follow the story of three women from Kojonup's early settlement and learn about their experiences. I cannot tell a lie… the local wineries were a bit of a drawcard as well!
3. Lions Den Caravan Park
Far North Qld
Now who doesn't want to go to Far North Queensland? A place so remote and wild it stirs everyone's imagination, and with a name like Lions Den… it is surely the spot to place a map pin. Just 28km south of Cooktown it is accessible all year round by all sized vehicles, 4km off the main road between Cairns and Cooktown (Mulligan Hwy) on the northern end of the beautiful and well maintained Bloomfield Track. From what I hear, the river is a croc-free spot to swim in, and the camping grounds have many locations to find a little corner of isolated paradise. And if you don't feel like cooking, the 'hotel' on the campground does a wicked pizza!