CARAVAN PARKS: 3 WE LOVE, 3 WE LONG FOR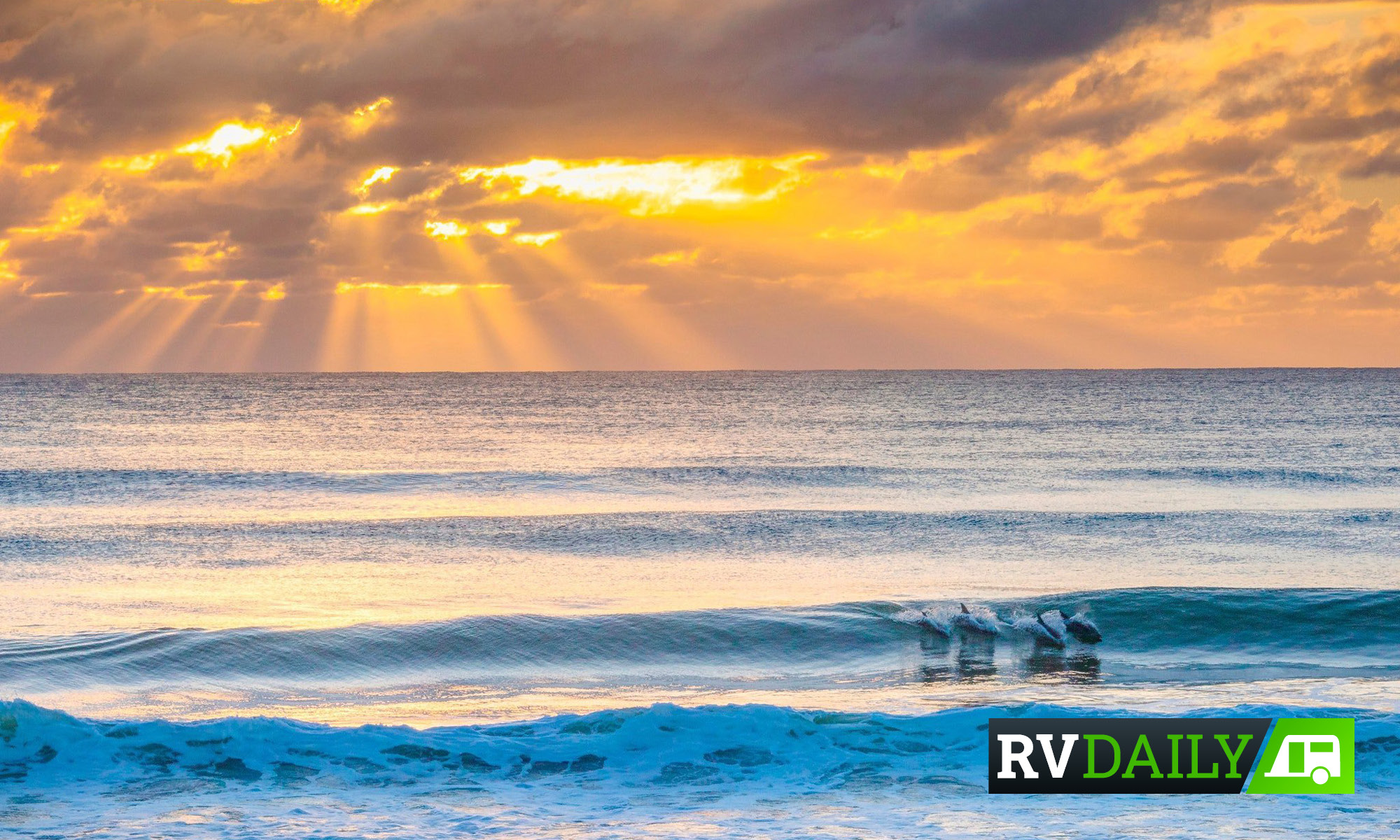 Dreaming of your next holiday? Add these destinations to your list
WE LOVE 1
Grampians Edge Caravan Park, Vic
This caravan park is located on the edge of the Grampians, roughly halfway between Melbourne and Adelaide, so it's the perfect place to stay if you're travelling between the two cities. The park is set among bush, with large shady sites that offer good views. Unpowered sites cost $10-$12 per person, while powered sites will set you back $26-$30 per couple. That gets you access to the full camp kitchen, gas and wood barbecues, kiosk and clean amenities. Pets are welcome. There's plenty to do while you're here, including local 4WD tracks, lovely bushwalks like the Mt William Creek Nature Trail, and rock climbing at some of the best rock-climbing locations in Australia, located just 15 minutes from the park. After a day of adventuring, return to the comforts of the park and unwind by a campfire in one of the built-in fire pits or go for a dip in the pool. If you still have energy to burn, venture over to the game room for a match of table tennis.
WE LOVE 2
Seven Mile Beach Caravan Park, Tas
Located 15 minutes from Hobart CBD, Seven Mile Beach Cabin & Caravan Park is a relaxing place to stay after a day of exploring this wonderful city and its surrounds. It's only a stone's throw away from one of Tassie's favourite beaches, and within pleasant strolling distance to an assortment of golf clubs, restaurants, fishing spots and the airport. Make sure you visit Salamanca markets while you're here, as well as Port Arthur, Richmond, the Mona Art Gallery and Zoo Doo Zoo – all unmissable attractions.
The park is level and grassy with plenty of trees, and has powered and unpowered sites (pet friendly) to suit tents and caravans, as well as self-contained units and cabins. There's the usual amenities, a camp kitchen, laundry, undercover eating areas and free WiFi. Plus, Tassie Motor Shacks Motorhomes and Campervan Rentals is located in the park – perfect if you've flown in and need to rent a motorhome or campervan for your holiday.
WE LOVE 3
The Lodge of Dundee, NT
Missing summer? Why not escape to a tropical holiday in Dundee, NT, where the average winter temperature is still a beach-appropriate 30 degrees. The Lodge of Dundee has a range of accommodation options. It's only 140km from Darwin city, all sealed roads, but we reckon you won't want to leave Dundee … not when the sunsets are this good!
The beachfront Lodge is pet friendly and has powered and unpowered sites (or you could stay in a lovely bungalow), basic facilities, hot showers, drinking water, wood fireplaces, a pool, and it's mere metres from one of NT's newest public boat ramps, giving you easy access to the most pristine fishing areas in the Top End. There's a seven-day menu that has all the pub-favourites on offer, from mouth-watering steaks and handmade schnitzels to freshly caught local seafood. Plus, a bistro and a bar. What more could you ask for?
WE LONG FOR 1
Cape Hillsborough Nature Resort, Qld Located less than hour from Mackay, in itself a fantastic tourist destination, this resort is truly a haven amid the beautiful, rugged landscape of Cape Hillsborough National Park, which encompasses beaches, rainforests, rocky headlands and volcanic rock formations. So whether you'd rather laze around on the sand and play in the water, or go adventuring through the bushland, you're in a prime location to do both. If you get up early enough, you might even see the kangaroos on their morning beach hop. You may even see turtles and whales if you visit during migration season! You'll have your pick of more than 50 large, spacious sites and beachfront campsites, plus huts and cabins. Unpowered sites start from $29 per night for two people, while powered sites start at $34. You can enjoy the on-site mini-golf, swimming pool, café, and TV lounge. There are three amenities blocks, barbecues, a camp kitchen and laundry.
WE LONG FOR 2
Browns Rocks Caravan Park, NSW
Only 8km off the highway, this park is right on the bank of Clarence River and close to town. It's a great place to rest and relax while you take a break from the road. If you're staying longer though, you can take advantage of the great fishing that the river offers, or visit some of the many local attractions, like Bundjalung National Park, Harwood Sugar Mill and the Iluka Sea Wall, to name just a few. There are plenty of gorgeous beaches and rainforest walking tracks around, as well as lovely picnic areas, so be sure to get out and explore.
This quiet park has powered sites only, with concrete slabs and clean, older-style amenities and laundry facilities. You will also have use of an undercover barbecue area. Pets are welcome. Alternatively, you can stay in one of their on-site caravans, which contain a fridge, microwave, linen and a flat-screen TV, plus cutlery, crockery and cooking utensils.
WE LONG FOR 3
Mount Augustus Tourist Park, WA
If you want your holiday to be an outback adventure, this one's for you. Mount Augustus Tourist Park is right across the road from the national park and faces Mt Augustus, the world's biggest rock. Pretty neat, right? You will be perfectly positioned to capture amazing photographs of Mt Augustus, particularly during sunrise and sunset, when the colourful sky provides a brilliant backdrop. You can go for a bushwalk or, when your legs get too tired to carry you, try a scenic drive like the Mt Augustus Loop Road/Drive, a 49km trail suitable for two-wheel drives. Stop and take in the scenery at Emu or Yalaweerie Lookout.
If you can do without power, a site will only cost you $11 per person per night. Powered sites are $33 per couple. You will be able to access hot showers, laundry and a campers' kitchen. Supplies and souvenirs can be purchased at the onsite shop.