Caravan Industry Careers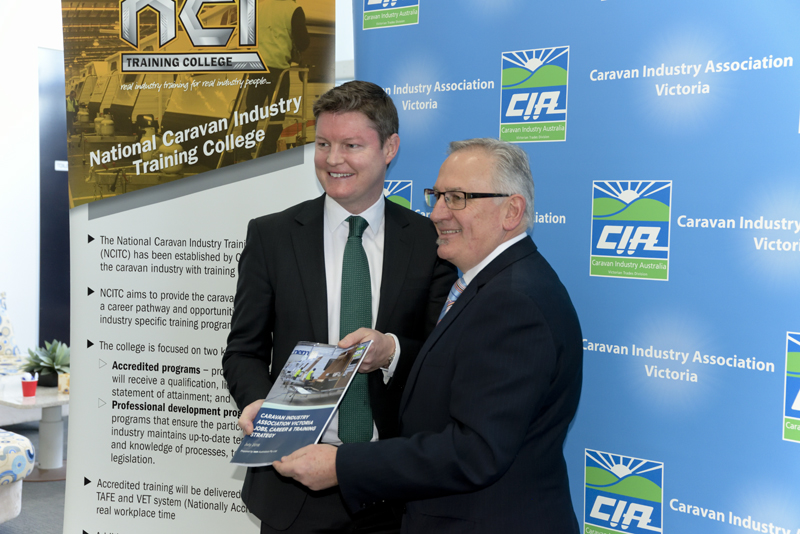 RV Daily attended the launch of the Caravan Industry Association Victoria's (CIA Vic) Jobs, Career & Training Strategy at the Avan Super Centre in Campbellfield. The Launch was opened by CIA Vic's CEO, Rob Lucas, followed by The Hon. Ben Carroll, Minister for Industry and Employment.
Both men talked enthusiastically about their roles and the roles of the industry here in Victoria and the partnerships that are being forged in previously unchartered waters.
Based on information gathered at the CIA members Summit in 2017, the report highlighted long term concerns within the industry about attracting people into jobs from caravan building through to marketing and sales. There was concern raised over skill sets and training, apprenticeships and keeping people in the caravan industry.
From this Summit, the CIA employed NEM Australasia (the team responsible for the National Blueprint for the industry) to research and create the strategy, action plan and timelines. There are four main strategies: Jobs, Training, Leadership and Career with approximately 24 initiatives to get things seriously moving.
According to the CIA, This Jobs, Career and Training Strategy will strengthen the Victorian Caravan and Camping Industry's ability to attract and retain a motivated, innovative and rewarded workforce, at a time of many challenges…
The research was helped along by some amazing companies and organisations that include Federal, Victorian and local governments, training organisations like Melbourne Polytechnic, community groups such as Spectrum, recruitment firms, Vic Police and more, that have all been involved in detailed discussions about what each group can do to help implement the strategy.
There are lots of facts and figures being touted about the industry here in Victoria and Australia as a whole. In simple terms this strategy is about helping people, especially our youth, find a path forward in life through apprenticeships and training and gaining specialised skill sets to match the needs of the caravan industry as a whole. This should generate jobs, it should mean the industry standard of work should shift up a gear, individual skill sets will be raised and it should see the industry continue to evolve into the future.
This Caravan Industry Association Victoria's Jobs, Career & Training Strategy looks a winner on paper and come to the fore in reality due to the commitment of so many partners in the program! More information can be obtained through the CIA's website www.gomakesomememories.com.au