You can buy coffee in pods. Why not a caravan?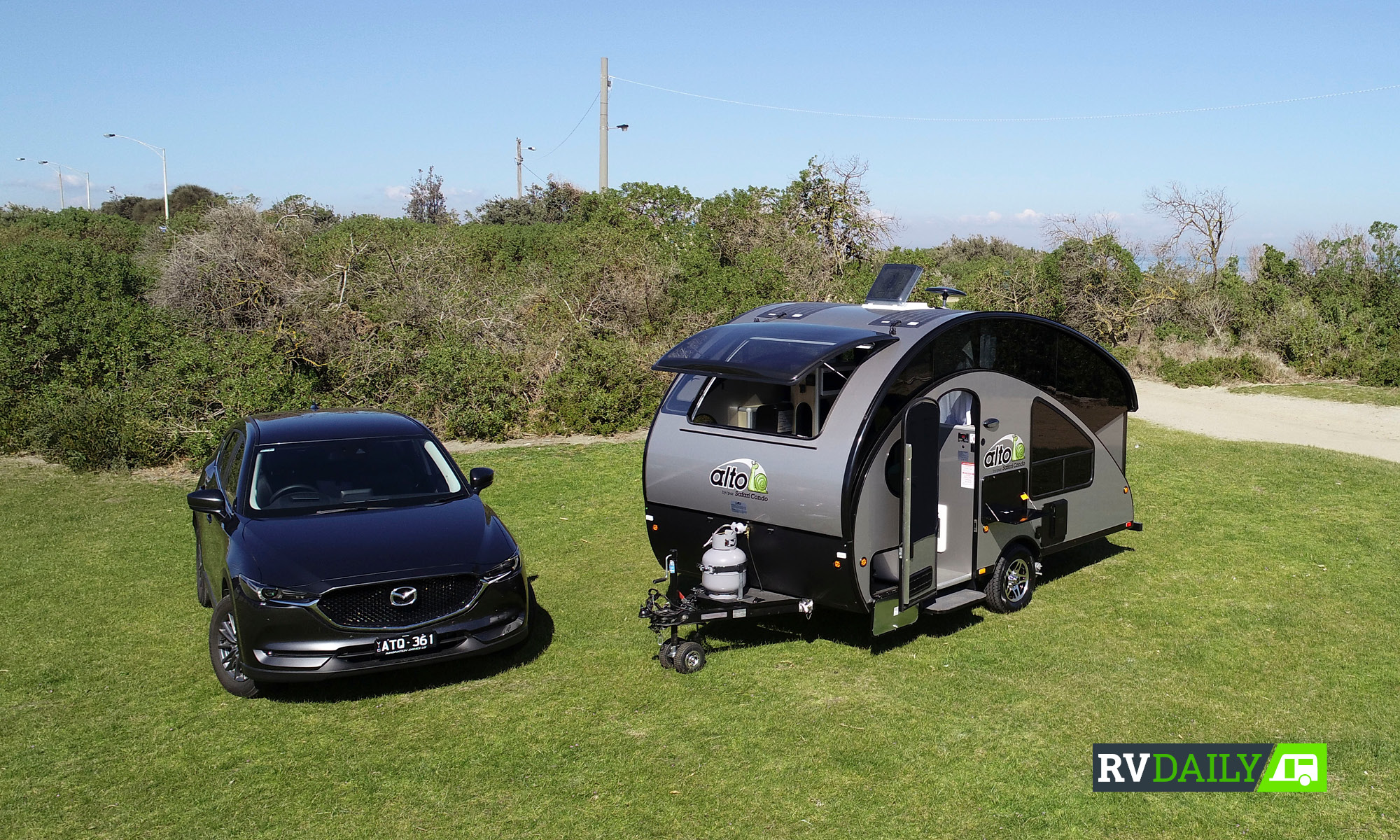 The all-new Alto will have you turning heads and setting trends – but is it practical for touring?
Alto vans are designed and built in Canada before being spec'd to Australian standards and sold exclusively through Roma RV in Melbourne. Teamed up with a Mazda CX-5, it could be the perfect dynamic duo for trendy town-dwellers.
The Alto is lightweight and small enough to store in the small garages that come with most new homes these days, and you won't need a big diesel donk to tow it. It's ideal for solo travellers or couples who like to drive a smaller, more economical vehicle, and want a small but functional camper-trailer or caravan to match.
Exterior
Alto has created a special aluminium frame and floor, designed for lightweight durability, to form the basis of the van. The sandwich panel walls are also made with aluminium, while the retractable electric roof is a seamless AluFibre/aluminium panel that has been curved to create the unique shape. The roof's glass is tinted and tempered for durability. It's a very striking feature.
Not only is the van eye-catching, it's also aerodynamic. Testing results by Alto conclude the drag coefficient is 75 percent lower than that of a traditional 16-foot caravan, or 'travel-trailer', as Alto calls it.
Flexiride suspension is combined with 10-inch electric brakes and a breakaway system, plus 13-inch alloy wheels. The spare is mounted under the van, which could be a little awkward to access with a flat tyre.
Around the body is a 9kg gas bottle, 30amp charger, twin 120W solar panels, and a Roadstar aerial. There's a 60-litre fresh and a 60-litre grey water tank with a bilge system to drain the grey water safely, plus a silage hose holder. You will find an external shower on the driver-side wall.
You also get a van cover for storage protection, LED lighting, sliding step, dual-wheel jockey wheel and a remote-controlled Purple Line eco-mover system, which is awesome.
A raft of optional extras are available, ranging from awnings to bike racks, that will help make this Alto a cool little tourer.
Interior
With the lid raised, there's plenty of headroom inside the Alto –although I did manage to hit my noggin' on the doorframe getting out.
To the left of the door is the dinette, with a removable table that can be taken outside if you fancy a lunch al fresco, or used as a single bed. This is right under the huge front window that brings lots of light and airflow into the van. There's an option for a bunk bed system as well, although it'd mean missing out on the front window.
Under the passenger-side seat is a 120Ah battery plus storage space. There were exposed terminals for the 12V cut-off switch that could have been covered with a simple rubber boot; Roma RV is addressing this point as we speak. In the footwell is the fuse box system for the electricals, as well as a carbon monoxide detector, 12V point and TV aerial connection.
To the right of the door is a toilet/shower combo with a wet screen that wraps around the space. This isn't as private as some people may like, but it's a clever use of space and it means you get an internal shower. I can't speak for its practicality as I didn't get to try the shower.
Within easy reach right by the door on the shower/toilet wall are the switches and visuals for the Suburban hot water system, battery, and water tank gauges, including the grey water tank. On the opposite wall is a fire extinguisher and 240V circuit breaker.
Opposite the shower/toilet combo is the kitchen, complete with a deep sink and flick mixer. A frame above the sink houses a Sharp microwave, next to a Dometic two-burner stove and some bench space (although not much). A handy storage box sits behind the cooker for herbs and spices or even keys and other small items.
Under the cooktop is an 80-litre Nova Kool compressor fridge, perfect for two people. There's reasonable storage space under the kitchen bench, with slide-out shelves.
At the rear of the Alto is another living area which, in normal guise, offers two seats to fit four or more people. Grab the pillow backs and place them in the frame and hey presto, there's a huge bed space. There is a privacy curtain screen available as an option to divide the bedroom from the living area.
There is storage under the seats, as well as the plumbing from the hot water unit and 12V pump. Personally, I'd like to see the plumbing better covered to avoid damage from bags and other stored items.