BRISBANE TO THE BIG RED BASH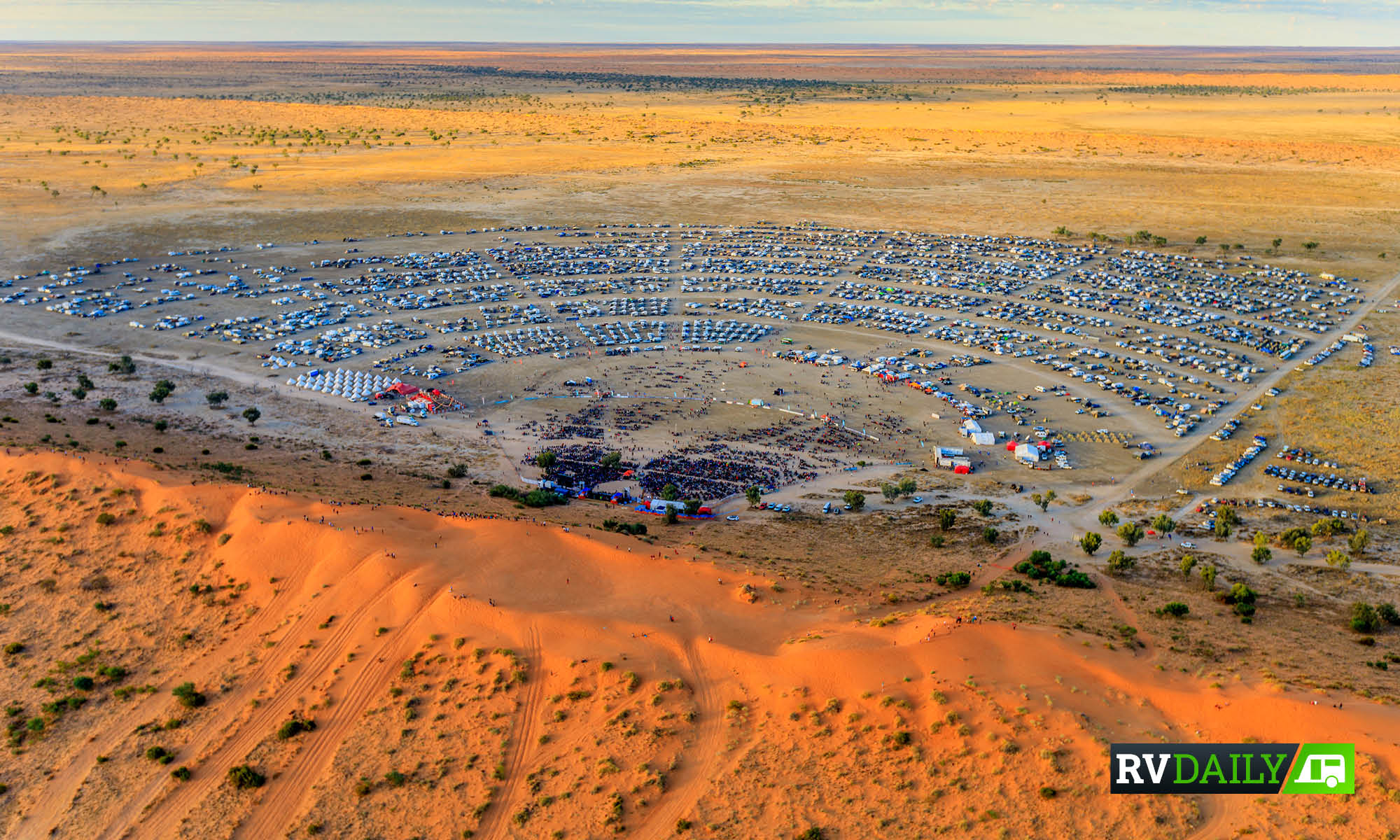 An unmissable experience at the most unique outdoor concert in the world
The Big Red Bash … remote, hot, dirty and dusty, with no running water or showers, and that's only a few things that make it a great camping experience!
What can only be described as the most unique outdoor concert in the world, The Big Red Bash takes place in front of the biggest sand dune of the Simpson Desert, Big Red. 
The event was well organised; we all knew what to expect, the administration and particularly the volunteers excelled in their allocated duties, the artists and music were great, the sound system and video crew for the big screen worked well, and the crowd behaved. It was definitely an experience not to be missed.
You've probably heard the saying 'it's not the destination that matters, it's the journey' – well, with the Big Red Bash, you get a great experience of both. People travelled from all over Australia – in fact, there were more than 6000 people, approximately 2000 caravans and all sorts of campers, tents and swags. Weather was a worry for folks coming from the south,
but the roads opened in time to get through. 
The RV Daily crew had limited time to get to Big Red with some wet weather hindering our filming and photography. Oh yeah, I should mention … I wasn't alone, I'm not Bear Grylls, believe it or not. I had a great team on board: Shawn and Adele on camera, Dan helping out on stills, with Scott joining us in Birdsville. 
Our trip started in Brisbane, where we picked up a new V6 Amarok and another Amarok crew car before heading up to Caloundra to pick up the Australian Off Road Odyssey II Camper. We then did some shopping and off we went! The vehicles, the camper, some of the accessories and the roads were all new experiences for me. 
The best part of caravanning, particularly in the amazing state of Queensland, is discovering new destinations, the ever-changing landscapes, and meeting new people. I don't think I've ever seen so many caravans on the road. Obviously, the warmer weather at this time of year is a massive drawcard;
I was continually getting reports from my wife about how wet and cold it was in South Australia – 'sorry love, hard job, someone has to do it!' 
Our first big stopover was in Longreach, the Australian Stockman's Hall of Fame and the Qantas Founders Outback Museum, both of which were on my bucket list; tick, tick! An absolute credit to the people running and working in these tourism hot spots, you can't help but feel some good old Aussie pride as you visit. The official name of the hall of fame is The Australian Stockman's Hall of Fame and Outback Heritage Centre, and it's regarded as Australia's premier institution in its field. There are five themed galleries, displaying the history behind some of Australia's greatest and bravest explorers, stock workers, pastoralists, and Aborigines, as well as the Royal Flying Doctor Service story including an original RFDS aircraft, a Queen Air built in 1977.
Allow plenty of time for your visit, you will need it.
Then across the road to The Qantas Founders Outback Museum – yep, more Aussie pride. Tom Harwood, the curator and our guide, shared his passion and love for the museum, telling us the story of Qantas from the early days in Outback Queensland to the present day. There's more brilliant audio-visual displays, exhibitions and aircraft, from a Catalina to an Avro 504K replica of the first Qantas aircraft. Then there's the Boeing 747, and get this, I got to sit in the pilot's seat of what is also the highest public structure in Longreach. This is about community spirit, about honouring the achievements of remarkable folks that established this iconic airline. 
We discovered some amazing Queensland destinations and met some great people on our journey. There was one fella that we didn't expect to come across – a bloke and his dog travelling in a home-made RV. It was a Recovery Vehicle, set up with a solar panel, batteries, radios, and everything needed to walk from Brisbane to Broome. Andrew Jeffery and his dog, Bella, are raising awareness for depression through the Black Dog Institute. This is a hard endeavour – a tough walk through weather extremes and personal and physical challenges, but Andrew is giving it a damn good crack. You can follow (and donate, if you like) his walk on Facebook  via the link above.
Even though I was prepared for our next destination, The Australian Age of Dinosaurs, I was somewhat overwhelmed when I had the chance to touch a real dinosaur toe – this thing was massive and one of many exhibits on display. The drive up the hill, the building and views, the exhibits and the preparation areas were all amazing. George Sinapius was kind enough to have a chat to us; he's a bit of a character, just living the dream with a contagious passion for dinosaurs and the local area. George oversees a section where you can join in and help out by cleaning up the dinosaur bone fossils that have been found in the Winton area. It's history in the making, and you can be a part of it.
Winton was our overnight stop. I'd like to give you a wonderful report on a caravan park that we stayed in, even a motel where we might have grabbed a room or two for the night, but alas I can't. As we drove down from visiting the dinosaurs, I made some calls (it's okay, I wasn't driving), only to discover that the Winton Film Festival was just finishing up and everything was booked out. Classic and contemporary Australian films, special events and even masterclasses with filmmakers, directors, actors and actresses …
my lucky break, and I missed out! But thankfully we didn't miss out on a place to stay. We found that the Racetrack was opened up to caravanners and campers, so we headed in and had a top night.
From Winton through Boulia and Bedourie onto Birdsville, we caught up with Mike Cowan and his lovely wife Lynn, from Clearview. We had a chance to stop and chat to Mike, not only about his great mirrors and easy-slide products, but about himself. You can catch up with that conversation in the video. Mike and Lynn have certainly done some travelling and it was nice to get some insight to the man behind Clearview.
At last the Big Red Bash is in sight, but first, Birdsville beckoned. We stopped for an obligatory beer in the iconic pub and the famous curried camel pie from the bakery; a taste sensation. There is only one road in from Birdsville, and you are sure to be stuck behind fellow Bashers at some stage. So be prepared, take your time and get ready for the experience of a lifetime – it's well worth the wait. I was lucky enough to have pride of place with other Australian Off Road (AOR) campers, parked right next to a huge open area that gave us a good view of the stage, the big screen, and of course, Big Red. I should have received commission from AOR – the interest in these trailers was amazing; I'm sure I sold at least a few. 
We managed to grab Missy Higgins for a quick interview and spoke to Greg Donovan, the founder and event organiser. He was extremely happy with the turnout, the artists, his team and particularly the volunteers, who he all praised for doing an amazing job. This wouldn't be a simple event to plan: toilets to supply and maintain, food vendors to organise, first aid, flights, drivers and general logistics for the artists, the stage and all the crew involved to run the lights and sound system. My 'Big Red' hat goes off to all of these folks, and looking around, there were plenty of happy faces that had a top time as well.
It was a family event with camel rides, helicopter flights and activities for the kids (plus a few for the adults). You could slide down the dune, participate in drag races (and I don't mean fast cars), and, if you were early enough on the first night, even watch a movie on the big screen. Hosted by the CrackUp Sisters and artists like Missy Higgins, Ray Ryder, Russell Morris, Kate Ceberano, Ian Moss, James Reyne, Mark Seymour, James Blundell, Christie Lamb, Tania Kernaghan, The Wolfe Brothers, The McClymonts, Troy Cassar-Daley and, of course, Lee Kernaghan, the music had the crowd up (or sitting comfortably in a camping chair) and stamping their feet.
I simply love Outback Queensland, so the chance to head to Birdsville and Big Red for the Bash was the trip of a lifetime, although I reckon I'll be bringing my wife back to enjoy what I have experienced sooner rather than later.