With the hopeful re-opening of Tasmania to certain visitors, we thought it tempting (fate?) to revisit the Ed's adventure in Tasmania: how the best plan can be to have no plan at all.
Tasmania emerged from the early morning mist as I trundled along the coastal Bass Highway from Devonport to Ulverstone. I was surprised, not long after leaving the port, to see a sign for Cradle Mountain. For some reason, I'd imagined it to be (many) miles away in 'the ínterior', which only served to highlight my lack of research. Through the open driver's window, a fresh and sharp sea breeze slapped my face in admonishment.
Bass Strait had thankfully failed to live up to its fearsome reputation during the crossing and now, in a half-light, I was right flanked by a flat grey expanse. Low scrub bordered the highway, and beyond, slim beaches lay hidden. I noticed numerous opportunities, but none contained campers. I found an old-school council seafront caravan park called Buttons Creek just outside Ulverstone, but it was definitely closed; essentially a grassed area with power stalks and protected by a grassy knoll from the sea, it paled in facilities compared to the nearby Big4 … that apparently uses the council site as an overflow during peak periods. The rest of the time it's closed.
I swung the Winnebago into the visitors centre car park in Ulverstone. I'd popped into Woolies and done a big shop for my two weeks, and now I needed coffee. Still no idea where I was actually going in the bigger scheme of things. A trip like that is a bit liberating.
Overlooking the River Leven's last run to the sea, the Lancaster Coffee House fit the bill perfectly. WiFi, eggs Benedict and a bucket of flat white (with another to go); if I'd been any more charged I would have been advised not to go near water. But that's where I was going.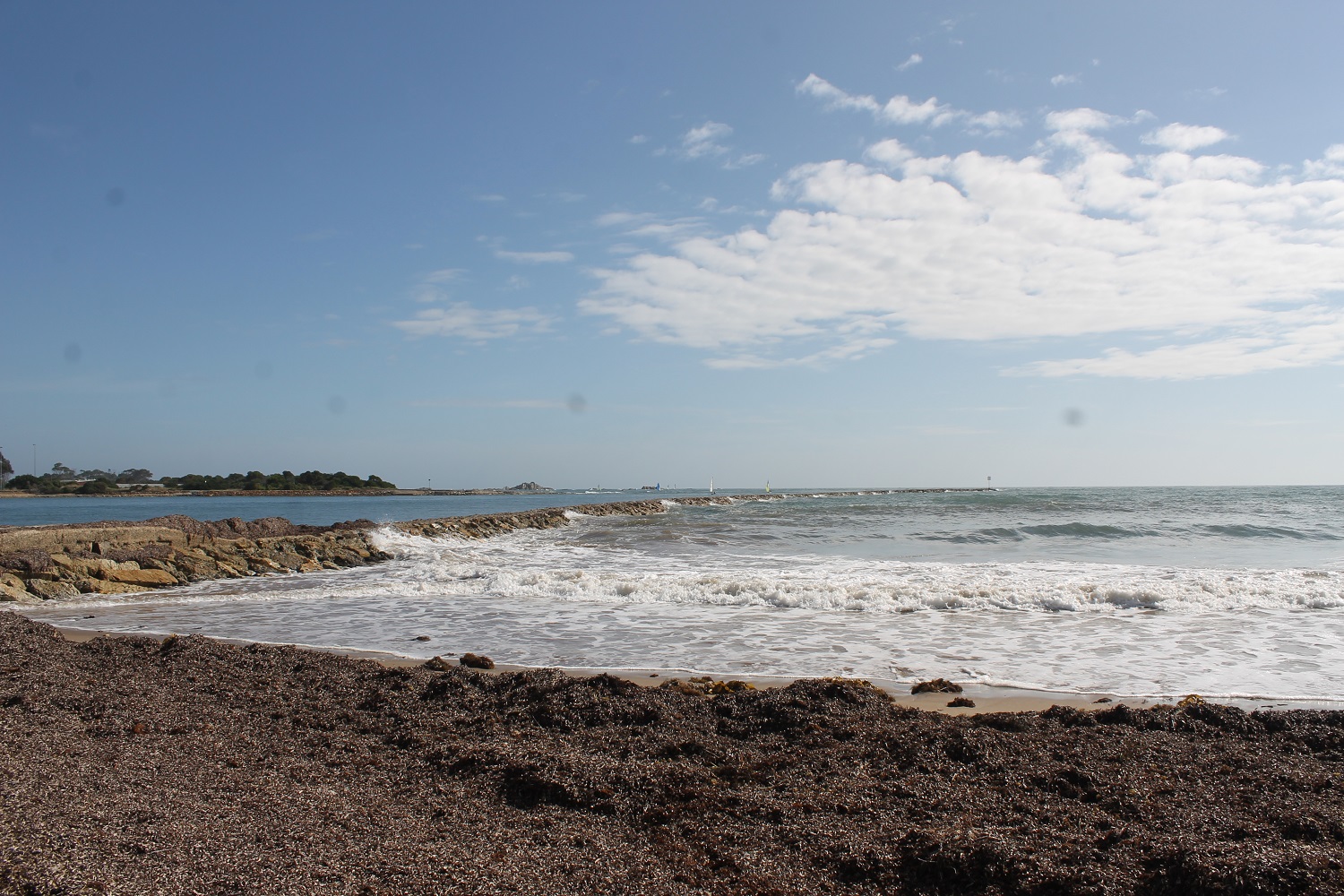 A splendid walkway leads down to the river. It was startlingly clear and myriad little fish darted about the keels of moored vessels. After spending time down on the breakwater watching dogs and youngsters enjoy themselves amid masses of spongy seaweed, I walked back through Anzac Park. A young couple were making breakfast in a park shelter, drying off the overnight rain from their tent so they'd obviously camped locally. I said good morning. They smiled, and looked a bit tired.
The Zig Zag Gardens is an odd little spot. In a suburban street, they sit between residences and provide a pleasant place to enjoy someone's hard work in horticulture and your hard work in the zig-zag path up the hill. There is a bench. If you're staying at the Apex Caravan Park then you'll be able to look down on your 'house'.
As rough as they were, my plans had been to check out Boat Harbour and Stanley before taking off for the west coast. Now a new player had joined the game: Penguin. I'd seen the signs and thought 'I have to go there', but I had also seen the signs for Gunns Plains Caves. So I went there instead. The drive is very nice. Open farmland offers great views and pleasant hamlets come and go until you arrive in a broad valley and a signpost indicates your destination. I had no problem parking the 7m camper but more than a few vans might cause a bottleneck. There are picnic facilities in the grounds and a toilet so you can enjoy your underground tour in comfort but make sure you're sensibly dressed (warm) and physically mobile because there are steps and ladders to negotiate. Our small group enjoyed a tour with custodian Trish, and it was very interesting to learn about what we were looking at – and when you're warned to mind your head, take heed.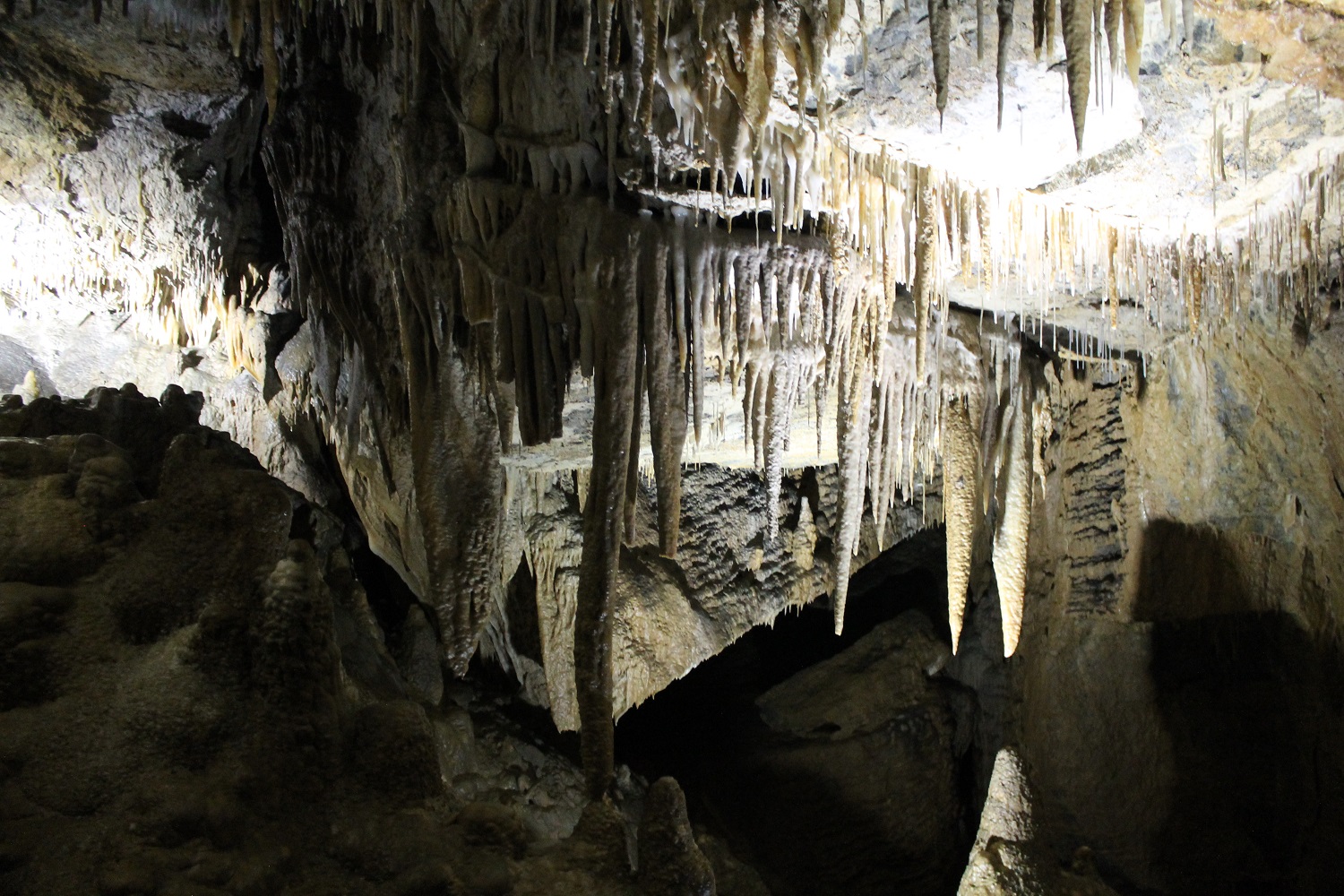 Now the word canyon, for me anyway, conjures up impressive images in my head. So the sign for Leven Canyon indicating a 30-kay detour was a no brainer in terms of whether I was going to go!

And I was not disappointed. You should go. There are a few curves to negotiate but it's all easy enough, just bear in mind the presence of logging trucks (kinda the default setting for much of Tassie) and you'll be fine. At the time of writing, Leven Canyon offers free camping and that is beyond a bargain. Full facilities (not power) and neat campsites are spread out under great tree cover with open grass areas near the toilet block and shelter hut – which has a big fireplace. When I cruised in, there was one small campervan and two motorhomes set up. The youngsters in the van (from Adelaide I discovered) were, I can say, chillin'. He was playing a guitar by the van and she was reading a book, perched atop a boulder about 30 feet away.
The two motorhomers were less than chilled, in fact, one was positively frosty, though not directly to me. Not wanting to camp on top of anyone, I'd leaned out of the window to talk to the couple seated enjoying their happy hour and mentioned this. And the chap indicated that I might plot on a spot further up the hill, on grass, not the hard surface they were levelled on. I thought this was ideal – I like my seclusion too. And off I went.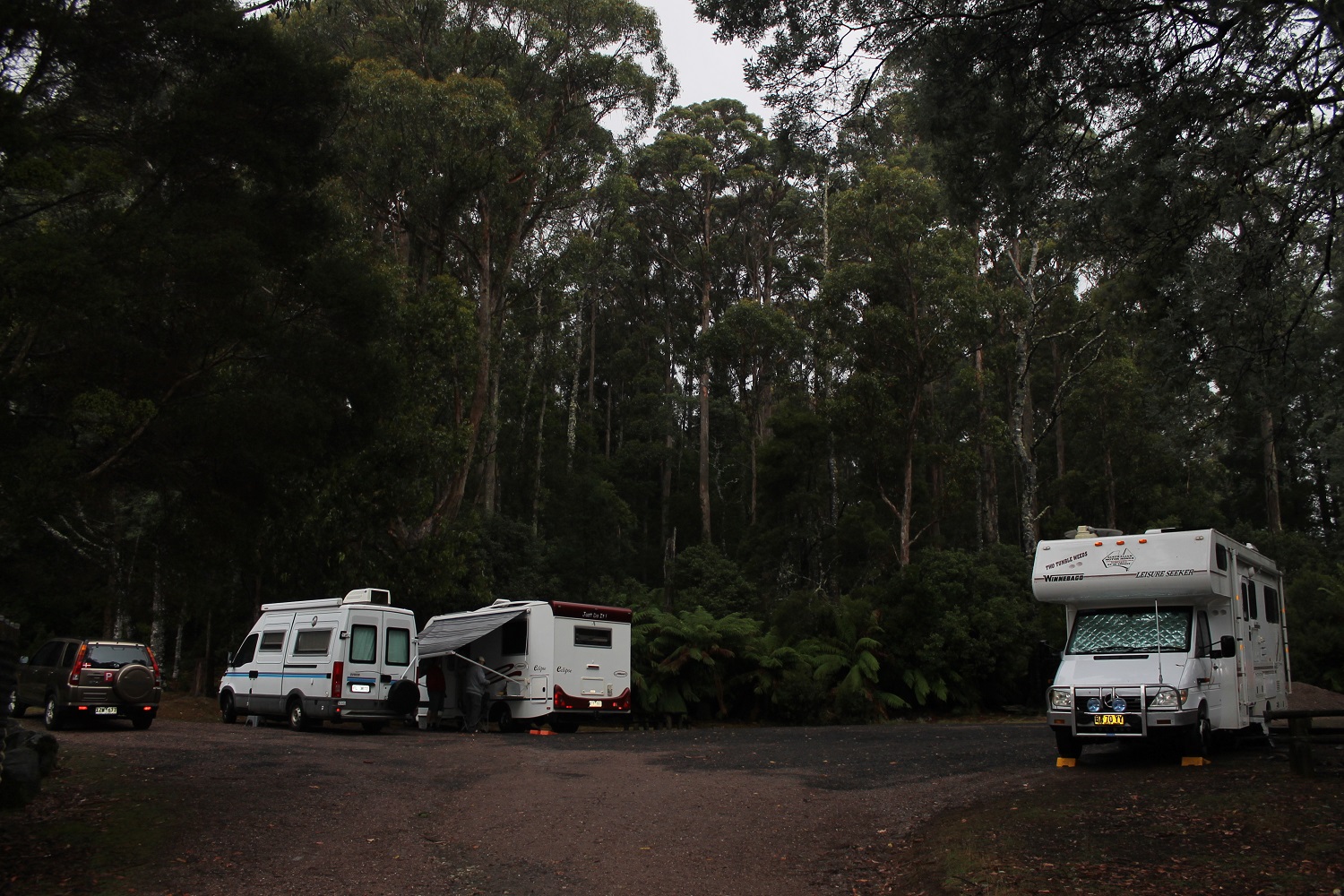 This didn't sit well with Elsa (see Frozen) who berated the seated couple for being self-imposed park managers! A bit unnecessary although I think something had already happened between these two. I headed off to enjoy a walk down to the lookout but wasn't totally settled; I felt a bit piggy-in-the-middle now. The lookout was splendid though – and I amused myself making videos to post on Facebook for you lot. Way up above me I could see Cruikshank's lookout and decided to tackle the imposing staircase to reach it. I believe the youth say OMG. Or in this case OMFG. That's it. I'd no breath left to utter another word.
A second, flatter track leads from the campground and unless you've the lung capacity of a cyclist ox I'd suggest you take it. I did, later on, to revisit with my camera for sunset. I lost my breath again but for much better reasons.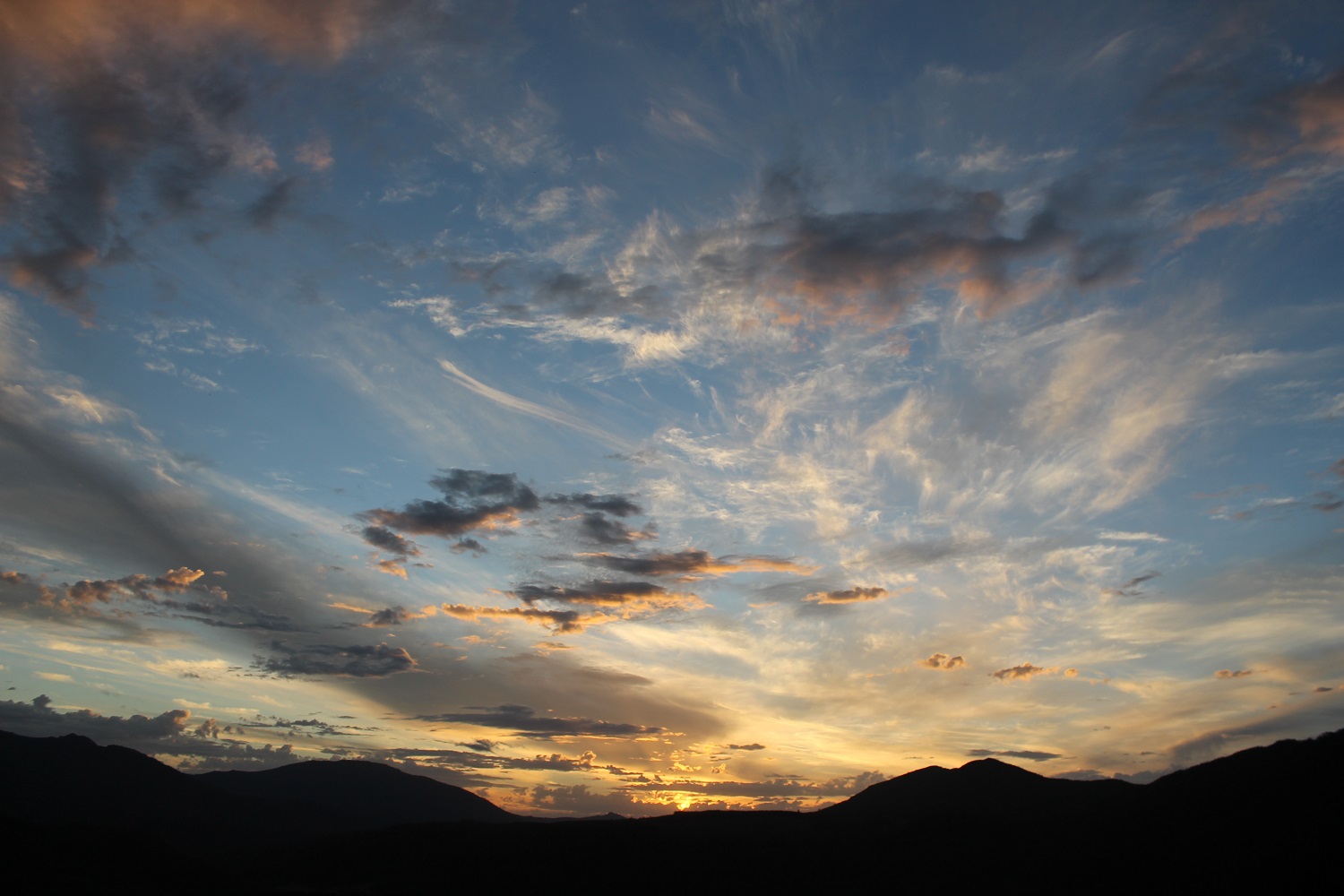 Now, I mentioned my camping spot and seclusion but bugger me if a tent hadn't popped up damn close to the Winnebago. As I closed in with my best scowl, I said hello, again, to the young campers from Ulverstone (from Melbourne and Canada, I discovered). We both smiled. They looked less tired. That night a huge storm rolled through. I thought of them, keeping themselves warm. Lucky buggers. I doubt they thought of me; that would be weird.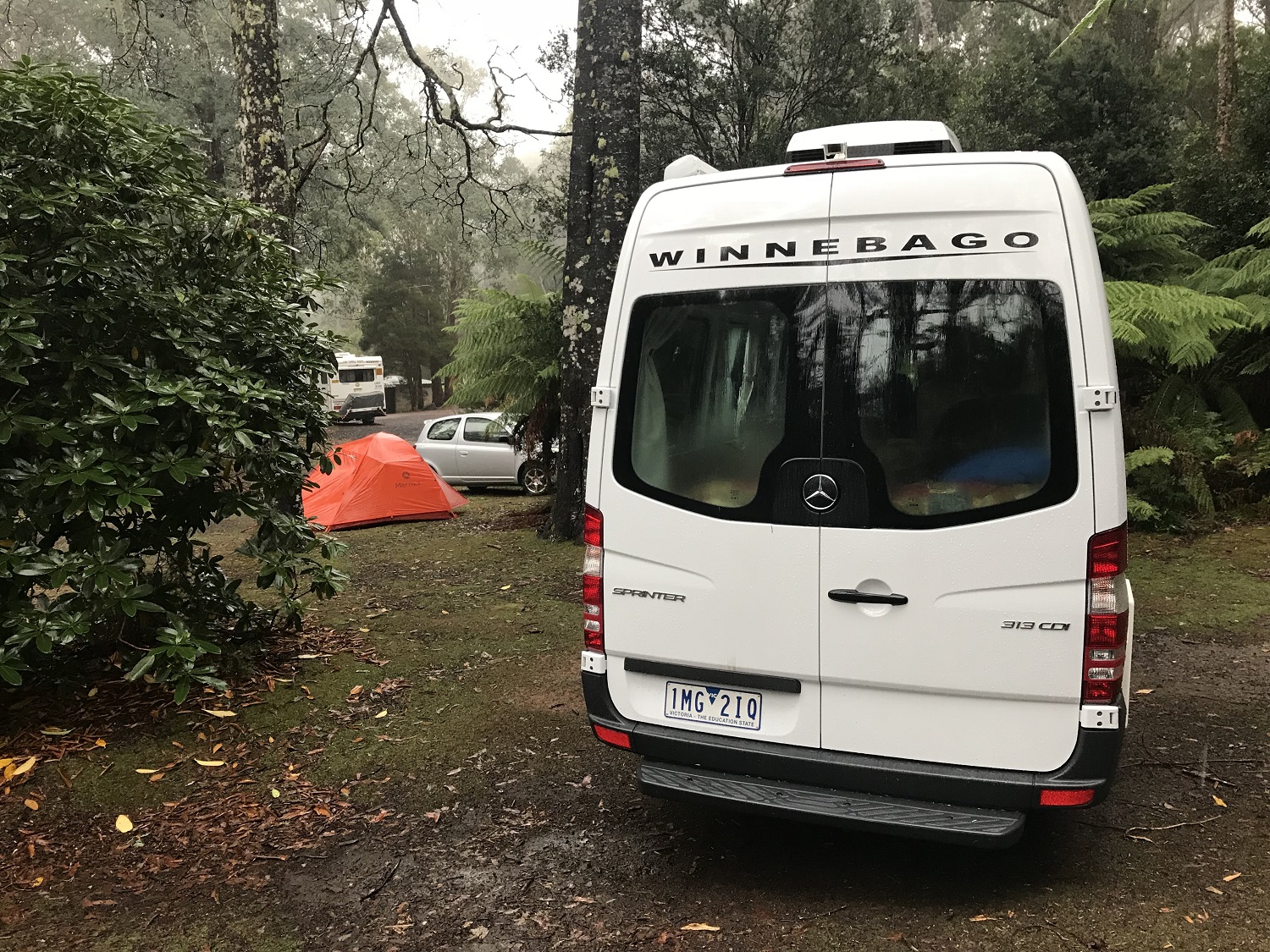 The morning brought intermittent rain and following a walk beside the headwaters of the Leven River, I drove back toward the sea via the B17 though Riana and South Riana to the new destination du jour: Penguin! A coffee and a piece of cake sitting on a bench overlooking the sea was the best way to enjoy Penguin, before tackling the famed markets. This being a Sunday, there was easy parking for the van right on the seafront, and I noticed many RVs dotted all over town. If you're just in a car coming for the markets then there's a big car park.
Originally a timber town, Penguin takes its name from the presence of a nearby rookery of the lovable black and white bird. During September to March, you can see the penguins cross the beach to nest each night. While you can visit the rookery in the evenings generally, if none of this fits with your schedule then there's a 10-foot penguin on the promenade to grab a selfie with. According to its website, the black and white minstrels visit the Penguin Caravan Park each night too – so there's an interesting option.
My lack of planning meant that night's stopover was undecided, but the weather was not playing ball. Squally showers, winds and chilly temps meant the afternoon was spent cruising the Bass Highway westward. Having free camped the first night, I did have a plan to alternate so I turned off onto the Old Bass Highway before Wynyard and under leaden skies meandered into the Beach Retreat Tourist Park. It was a small, independent caravan park right on the beach with access to the boardwalk beyond the windbreak hedges, that you could follow to town. So I did. Sunday night not much happens in Wynyard. But that suited me. Like Ulverstone, the river sweeps into town and offers nice walks along its banks and moorings. And a shipping container motel called The Waterfront. Guess where that was.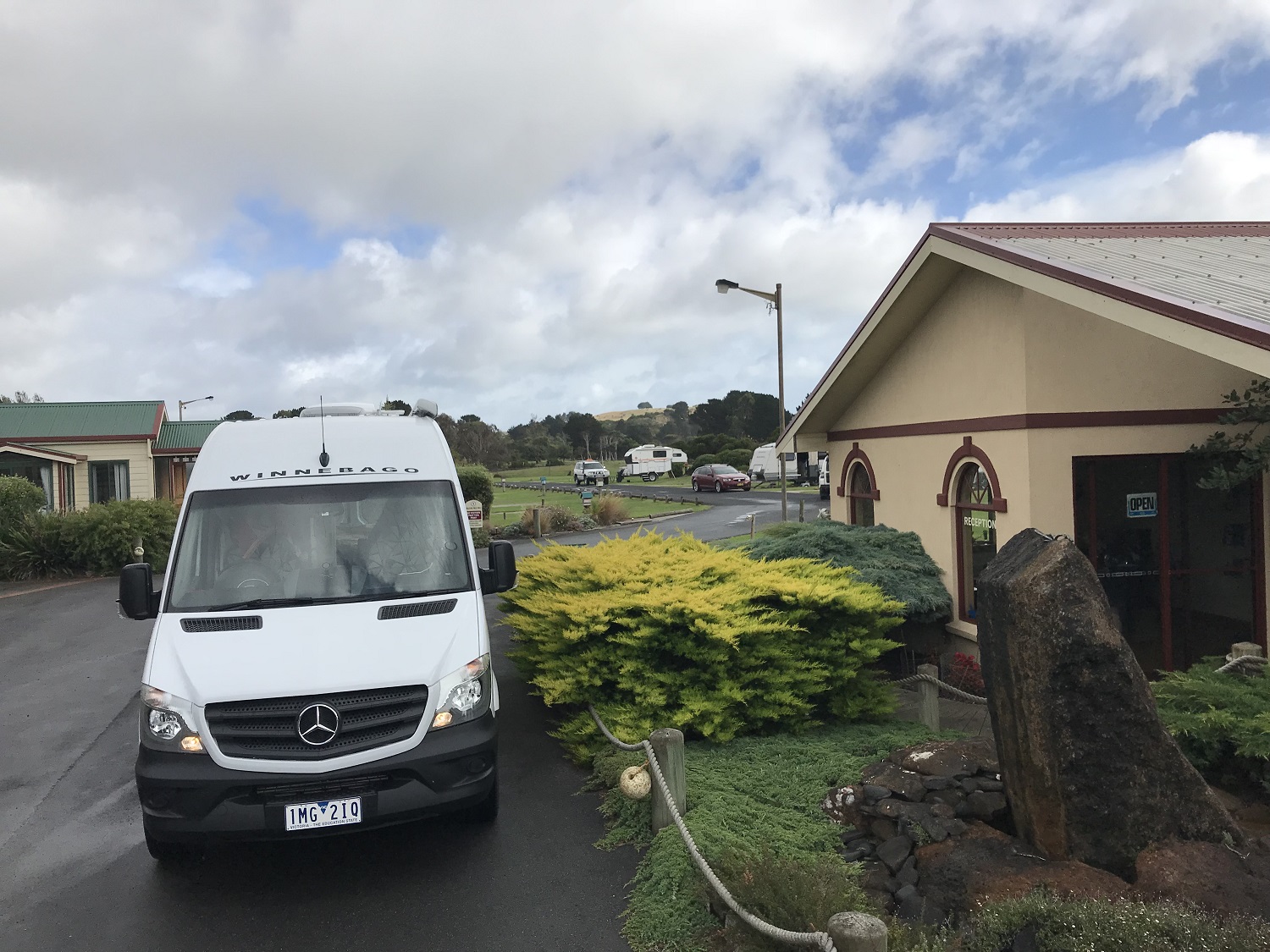 I needed an adaptor to connect the van/pipe to town water, and Woolies didn't have one, neither did the hardware store I discovered in the morning. I filled my tanks and persevered. I met a camper in a VW Crafter motorhome who told me my plans to head down the west coast via the Western Explorer would be fine. He'd just come back, and had negotiated a heap of fallen trees on the tracks thanks to the storm the night before. It would be days before I got there. But only two before I'd be back in Wynyard!
Why? Well I will tell you all about that next time.