There's nothing better than eating a delicious meal surrounded by great views and nature but how do you actually cook in the great outdoors?
One of the questions I often get asked by friends who are camping for the first time is, "What should I eat?" Whether you're living on the road, heading out for a camping weekend with friends, or simply making the most of summer weather and cooking in your backyard, there are plenty of ways to cook all sorts of yummy food outdoors.
Keep reading to learn the four main ways to cook outdoors and some meal ideas to go with them.
Cook outdoors on an open fire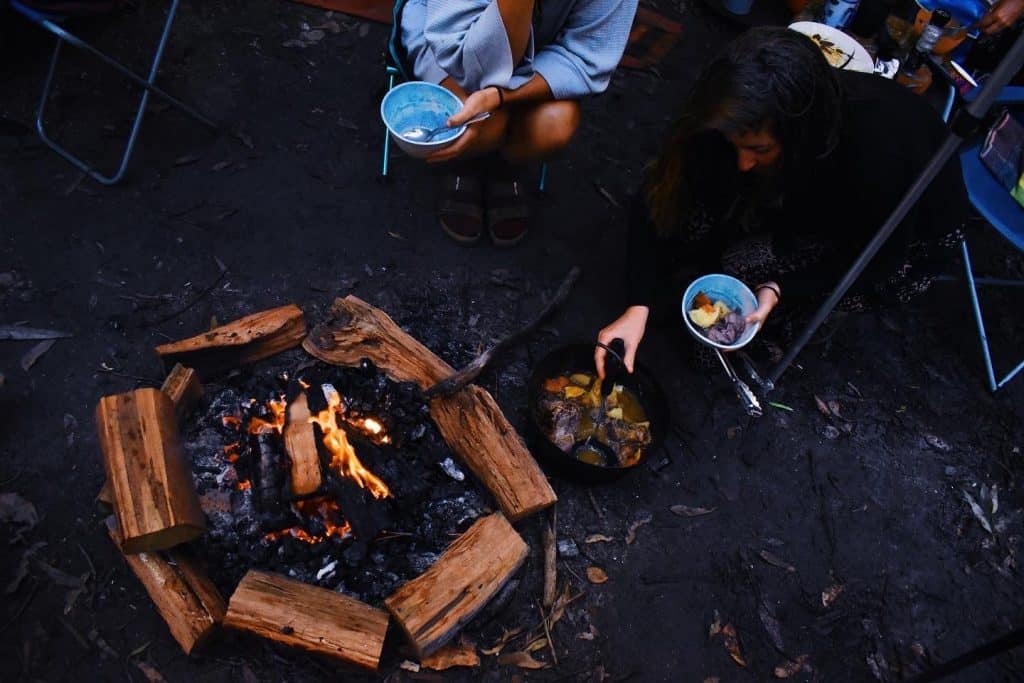 If you ask me, this is the ultimate way to cook outdoors.  It's a satisfying and primal feeling to build your own fire, let it simmer down to coals and then whip up a delicious meal while basking in the warm glow. The advantage of cooking on fire is that you can use it in lots of different ways. You can sear things on the flames with a grill, slow cook or bake in a camp oven, hang meat over it to smoke and of course wack stuff straight on the hot coals. It's like a stove, an oven and a bbq all in one.
The downside of cooking on a fire is that it's not always practical. It may be pouring with rain, there could be fire bans in place or you may be camping where fires aren't allowed.  It's also more time-consuming than some of the other options and it takes a bit of practice to get both the temperature and technique right. However, when it all lines up you get a fabulous fire-cooked meal. You'll never want to cook inside again!
Meal ideas:
Slow-cooked stews
Curried sausages
Mexican hot pot
Marshmallows
Smores
Jaffles
Damper
Potatoes
Grilled fish
Crabs
Smoked lamb
Whip up a meal on the barbecue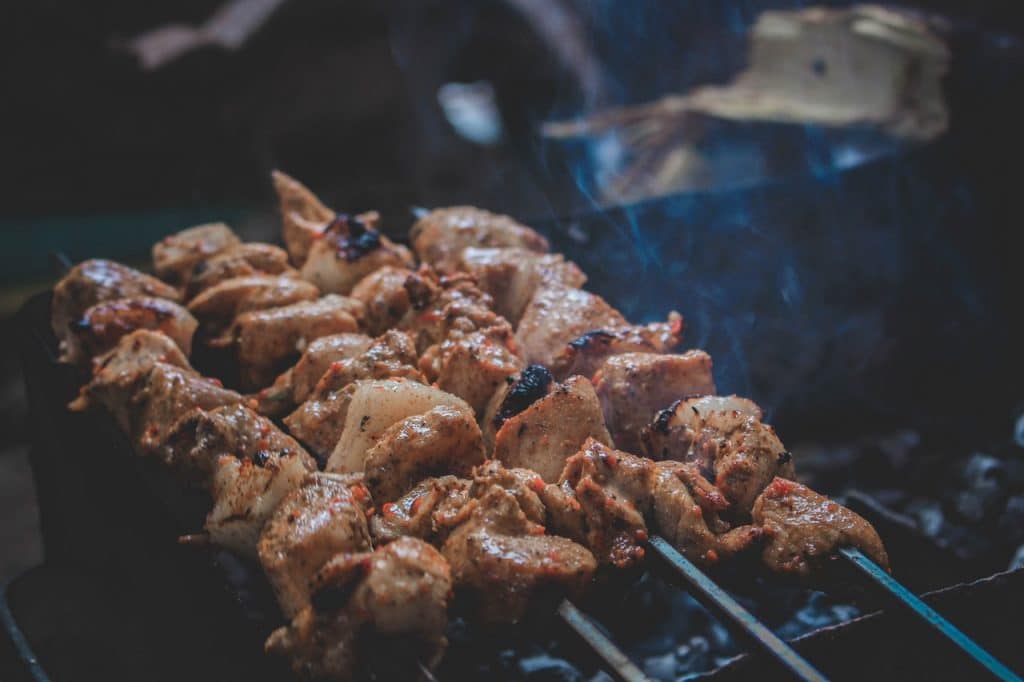 Who says you can't take a barbecue camping? From your backyard to the campground, barbecues are a versatile and easy way to cook outdoors for lots of people. Although they can take up a bit of space, they're no fuss to use and are easy to clean, which is great for camping. I've never met anyone who has taken their barbecue on a camping holiday and regretted it. Just remember to keep an eye on your gas levels so you don't run out.
Meal ideas:
Meat skewers
Sausages and steaks
Grilled vegetables
Bacon and eggs
Roast chicken
Lasagne
Grab a gas cooker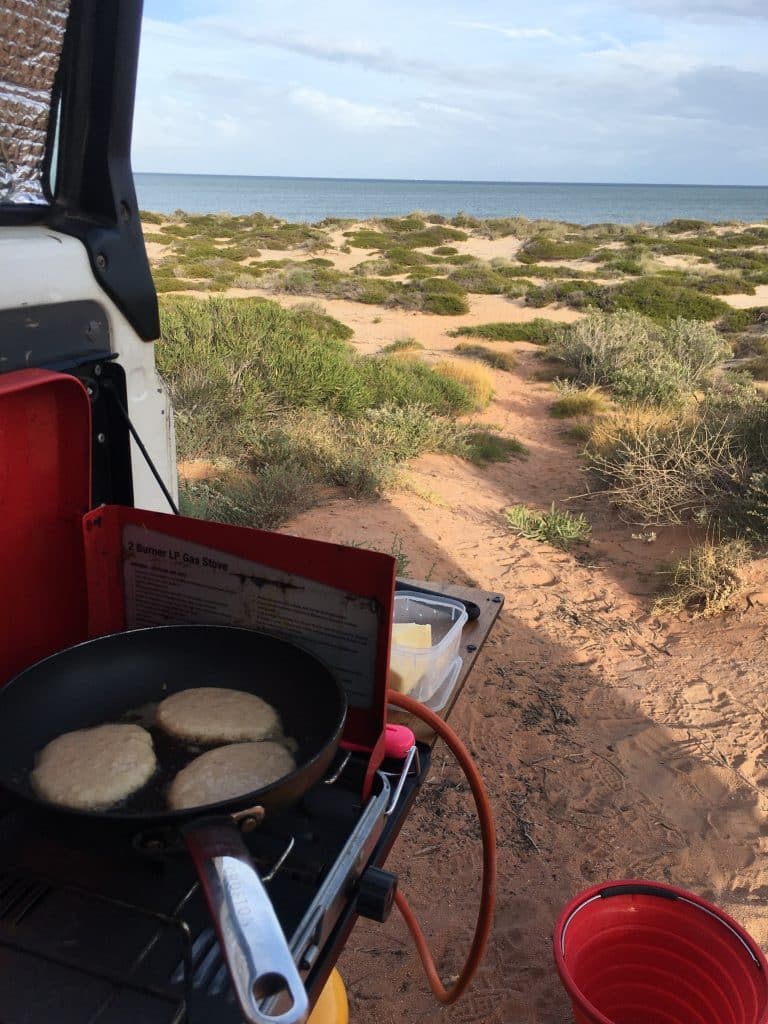 Gas cookers are the easiest way to make sure you have reliable access to hot food and drinks no matter where or how you camp. They function basically the same as your gas stove at home and you have plenty of control over heat.
The two main styles available are a single gas burner that uses a one-time use gas cylinder or a double gas burner that connects to a refillable or swap-and-go gas bottle. The single cylinder burners are smaller, easy to use and cheaper but they tend to run out of gas quickly so they aren't great for long-term use.
The dual burners connected to a gas bottle are longer lasting and function closer to what your stovetop would. Make sure you have a secure place on the outside of the vehicle to transport your gas bottle.
Either way, gas cookers are a great, basic set up to cook outdoors.
Meal ideas:
Pasta
Sauces
Rice
Pancakes
Porridge
Curry
Pack light with a backpacking stove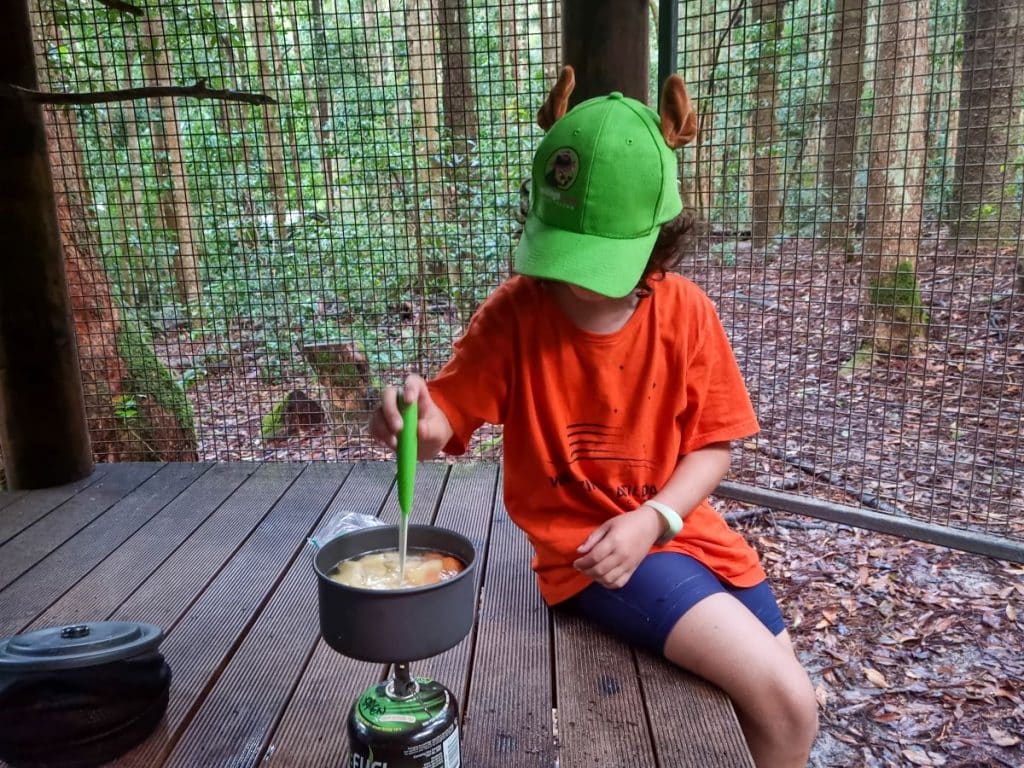 If you need a more compact way to cook, a backpacking stove could be your solution.
Backpacking stoves are lightweight with a small footprint and as a result, are great for hiking trips. They consist of a single element that acts as a burner stove when screwed onto a butane canister. Some designs, like the Jetboil, heat up water incredibly fast but aren't suitable for simmering or cooking. Others have more flexibility in what you can cook but can lose heat easily in windy conditions.
Be aware that the butane gas in these can run out quickly so they're best for overnight hiking, emergencies, or day trips when you want to make a cuppa on the road or trail.
Meal ideas:
Noodles
Pre-packaged meal sachets
Soups
Tea and coffee
Hot tip for cooking outdoors
The most difficult thing about cooking outdoors is the wind. Before you set up your cooking station, position it so it's protected from any wind gusts. Wind can blow the heat away from your cooking source and sometimes even blow out a gas flame completely. Likewise, if you're cooking on an open fire it could get out of control quickly.
This article contains affiliate links to products. We may receive a commission for purchases made through these links.