Aura has moved to include on-road vans in its fully custom-built range
Aura Caravans has come a long way from when I reviewed one of the first serious, and I mean serious, off-road vans in 2015. These days the company is pushing into the on-road scene with the Titanium range. The emphasis is on full custom specification and so to maintain quality control and a high level of finish Aura only builds about two vans a week.
Outside
The Titanium sat well on the back of the Cruiser. It looks the goods and for an on-road van, having some extra clearance meant we could get off the blacktop to a nice camp by a lake. The Titanium uses a Preston chassis and a tandem load-sharing, leaf-spring suspension system with straight axles and 10-inch electric brakes. Fifteen-inch alloy rims are shod with L235/75R15 Trazano tyres.
Other features on the chassis include the usual drop-down stabilising legs, twin 80-litre water tanks with shields and an interior gauge. A 100 amp/hour battery is mounted on the chassis in a tidy chequer plate box. The A-frame features a mesh floor, shielded tap, twin 9kg gas bottles with a shield to protect the regulator, AL-KO 50mm ball coupling and a jockey wheel to complete the package.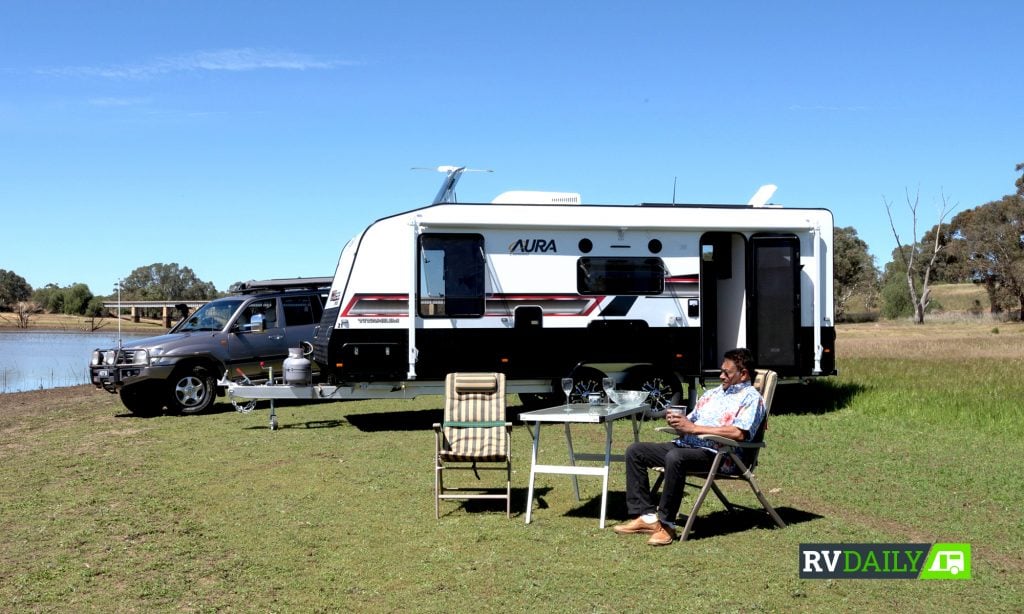 Body wise, the Titanium is built around a Meranti timber frame with full insulation. Silver high-profile aluminium cladding is used on the body with a one-piece fibreglass roof and plenty of black chequer plate around the body and black trimming to offset the silver look. Double-glazed windows are also black. Up on the roof is a mini skylight with blind and flyscreen, Houghton AC system, digital TV aerial and a 150W solar panel running through a 30-amp regulator. A hatch for the shower and toilet is also fitted.
Extras around the body include a galvanised front tunnel boot with large access doors, triple-lock security door, drop step, black picnic table and entertainment hatch and twin external speakers. A reversing camera kit is a part of the package as well. There are grab handles, wheel spats, Aussie Traveller awning, LED lighting and a gas bayonet to round out the solid package.
Inside
The interior is very much a standard look with the ensuite across the rear, dinette on the passenger side of the van, kitchen opposite and the bedroom at the front. To make this standard plan look catchy Aura has gone with gloss black cabinetry, white walls and roof and grey trimming. The ensuite features a Thetford swivel toilet, ceramic basin and an array of drawers and cupboards to hold towels and other gear. Between the basin and the shower is a neatly plumbed Nce washing machine. The shower is a good size – add a full-size mirror and a hand towel holder and the ensuite is very practical.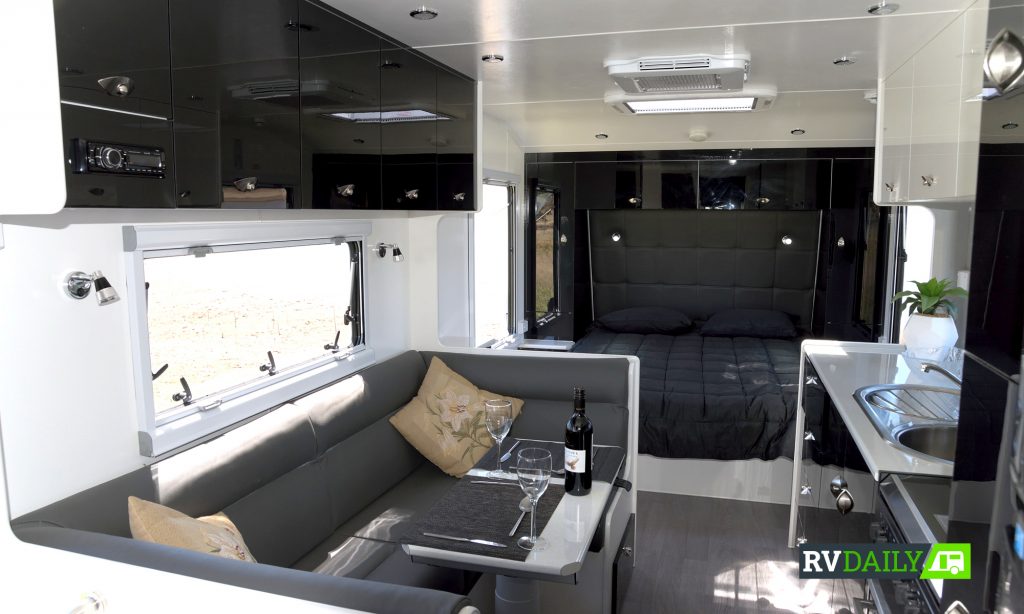 There is very generous storage space in the kitchen with large overhead cupboards with dividers, big drawers under the benchtop and cupboards under the large round sink that has a flick mixer and water filter. A pantry system slides out between the Swift full oven and grill and the large two-door Thetford 177-litre fridge freezer. An Nce microwave and rangehood take upper locations in the kitchen. In the cupboard above the rangehood all the electrical switches and controllers are mounted neatly to the wall.
The dinette is comfy for four or so people and there's plenty of storage in the overhead cupboards here as well. The bedroom stands out with a padded headboard on the bed and is trimmed out with black and grey. There's plenty of storage under the bed and in the wardrobes to house more than just a few pairs of shorts and singlets. Entertainment is handled via a 21-inch flat-screen wall-mounted telly and a DVD/CD/Radio Player with twin roof-mounted speakers. Of course LED lights feature throughout too. The interior is neat and the layout very practical. I could easily see people liking this design.
VERDICT
There was very little wrong with this Titanium van from a look, fit and finish perspective. While I'd never choose a black interior, I still liked this one; it looks good. However, what wasn't great was the ball weight. It's too light and caused the van to behave poorly on-road. This was disconcerting and was being addressed when we got back to the factory. It was the one big disappointment on this van. Still, for less than 65k there's a lot of van on offer. The fact that it has some reasonable ground clearance and is very well spec'd makes it even more attractive.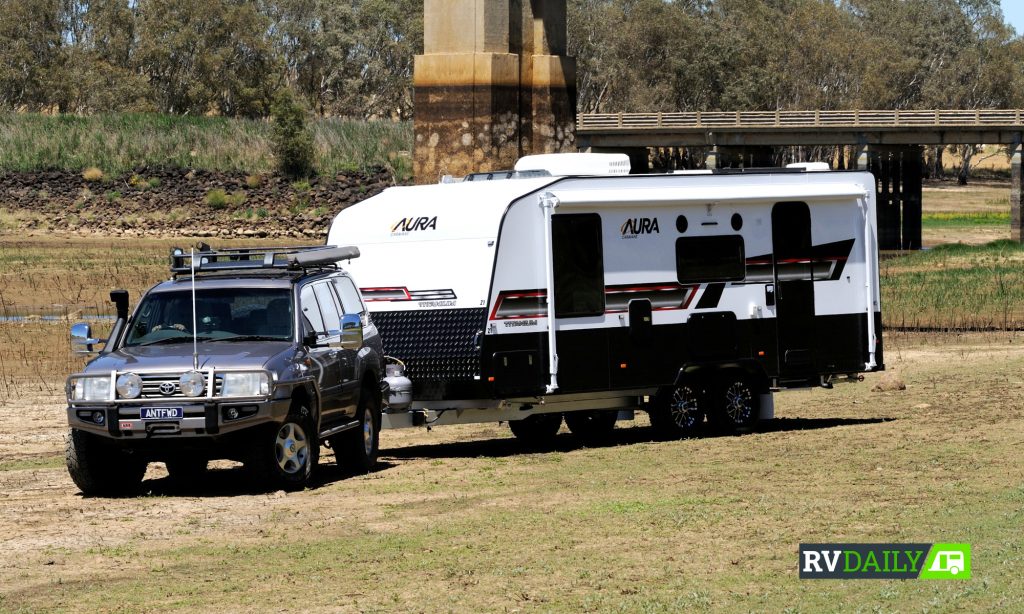 SPECIFICATIONS
External body length: 6500mm
External body width: 2310mm
Tare Weight: 2400kg
ATM Weight: 2850kg
GTM Weight: 2705kg
Ball Weight: 145kg
Price (as tested): $62,500
PROS
• Well spec'd interior
• Classy interior look
• Great storage space
CONS
• On-road manners
Click here to visit the Aura Caravans website.