Aura Caravans Earth Series Off-Roader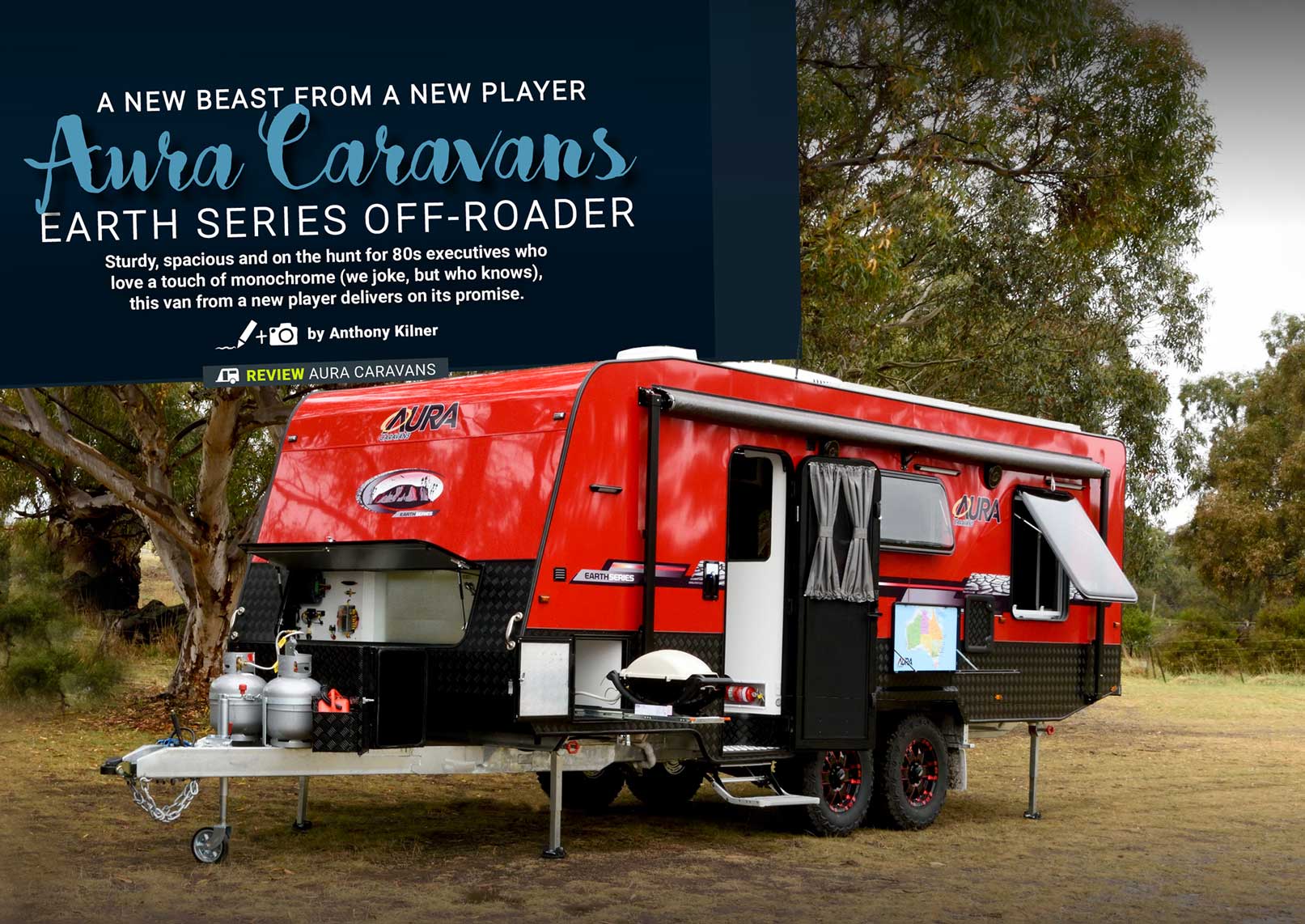 Sturdy, spacious and on the hunt for 80s executives who love a touch of monochrome (we joke, but who knows), this van from a new player delivers on its promise.
Aura Caravans is a new player in the Melbourne caravan market, firing up in September 2015. While Aura might have a team with collective experience of more than 50 years, does that automatically provide the edge required to manufacture any kind of van…especially an off-roader?
Well, I can categorically say that after spending a day with the new Earth Series off-roader: I reckon Aura's experience does!  This small team is punching out one van a week only months after starting up. Orders are coming in Australia-wide, speaking volumes for the build quality and range available (which can be modified from base plans to suit an individual's needs).
Nuts 'n' Bolts
The Aura Earth Series is based on a hot-dipped gal chassis complete with mesh in the A-frame and incorporating a 3.5 tonne independent coil and shocker suspension system that will see this van leave dirt roads for dust.
It's one thing to be able to run on the blacktop or the dirt, but stopping the beast is also important. Electric 12in brakes handle this necessity while spunky 16in red and black rims, shod with tough off-road rubber, keep the van connected to the road while also looking good.
Added safety while touring is offered via an AL-KO stability control system. Keeping the van connected to the vehicle is a capable DO35 off-road coupling.
Features under the van include shielded twin 80-litre water tanks and a 90-litre grey water tank. Full chequerplate shielding is used under the van for serious off-road protection. Other standard gear includes drop-down stabilising legs, AL-KO jockey wheel and cable handbrake.
The A-frame sports plenty of gear such as twin 9kg gas bottles, a large storage box and a jerry can holder. Something that got me (that I hadn't seen before) was hot and cold water plumbed to separate taps on the side of the A-frame; what a great idea if you want hot water outside that doesn't come from an external shower head.
Building a tough van starts with some serious timber work. The Earth Series features a Meranti timber frame with 300mm centres. Glued and screwed, the frame supports a one-piece fibreglass roof that can be walked on (if you aren't a big bloke like myself… anyone under 80kgs could do it safely). The deep red composite walls and one-piece floor go together neatly and the package is finished off in contrasting black chequerplate. Aura is serious about quality and is putting its reputation on the line to ensure this off-roader is as tough as it looks.
There are lots of extras fitted to the exterior of the Earth Series to make this van pretty capable. These start with a slide-out BBQ frame, complete with a Weber Q, plus a picnic table that drops down to reveal a map of Australia. I can see this map getting used to track every journey and create a great talking point in camp. A full-width boot houses all the van's electrical components and there's also an external shower, entertainment cabinet, double-glazed windows throughout and an awning. Up on the roof are twin 150-watt solar panels and a pressure hatch for off-road use. It's a neat and tough-looking van.
With such a flashy exterior, I was pleased to see the interior looking equally impressive. Access is via a door mounted towards the front of the van. Stepping up into the van, anybody is going to say "wow"! This van exudes class and the contrasting black and white – Go 'pies! – colour scheme really works well, although some grey does mix it up a bit.
The first room you see is the dining and kitchen area which dominates the middle of the van.
A club-style lounge – trimmed in RV Travel Support upholstery – is classy, neat and mounted on the passenger side of the van.
The practical kitchen opposite the dinette features plenty of cupboard space, a Thetford cooktop and grill complete with rangehood, a microwave and a deep sink with flick mixer and separate water filter outlet. A large Thetford fridge is mounted towards the rear of the van next to the bedroom.
A queen-sized bed mounted 'island style' off the back wall dominates this room. Aura has really thought about utilising every piece of space available with cupboards and shelves, and it's been done in a tasteful way.
Rounding off the interior is the full-width ensuite which runs across the front of the van. This space features an amazing amount of storage space, a good-sized shower, Thetford toilet, ceramic basin and a washing machine.
Extras in the interior include an entertainment system, LED lighting throughout and air-con. With plenty of windows and hatches in the roof there's no shortage of light and ventilation.
I reckon this interior is cleverly designed and quite practical. A little more bench space for food preparation would be nice… however it's not a deal-breaking issue.
Verdict
Overall this van looks tough, stands out in a crowd and the layout is well-designed. There's a lot more to see in this van and it's worth a look at for around 90 big ones!
Potential owners will like the three-year all-inclusive warranty that comes with this van as it means the Aura team is prepared to stand by their product. This offers great peace of mind for getting out in the bush – hassle free!
For more info and full specs, go to:
auracaravans.com.au