Ahhhh escaping into the unknown with a few comforts is the best, right? Anyone who enjoys getting off the track has looked at off-road camper trailers at some point. Small enough to be towed into most places and with enough comforts to make camping enjoyable for that family member that doesn't like roughing it. You can't go wrong with an off-road camper trailer.
If you've researched off-road campers recently, you will have noticed that some camper trailers now cost as much as a brand new 4WD. I know, it's gotten a bit ridiculous. However, camper trailers really have come a long way in the last decade. Hybrid caravan styles are now the norm as are luxury features and quality off-road extras, which of course are reflected in the price. Now, I'm not dissing the more expensive off-road camper trailers, many of them are downright amazing and I would love to own one. But the reality is that most people will balk at the idea of dropping over $70k on a camper trailer.
Don't worry though, there are still plenty of fantastic off-road options out there for well under $40k. Here's the pick of the bunch!
Austrack Plenty X Double Fold Camper Trailer – $26,990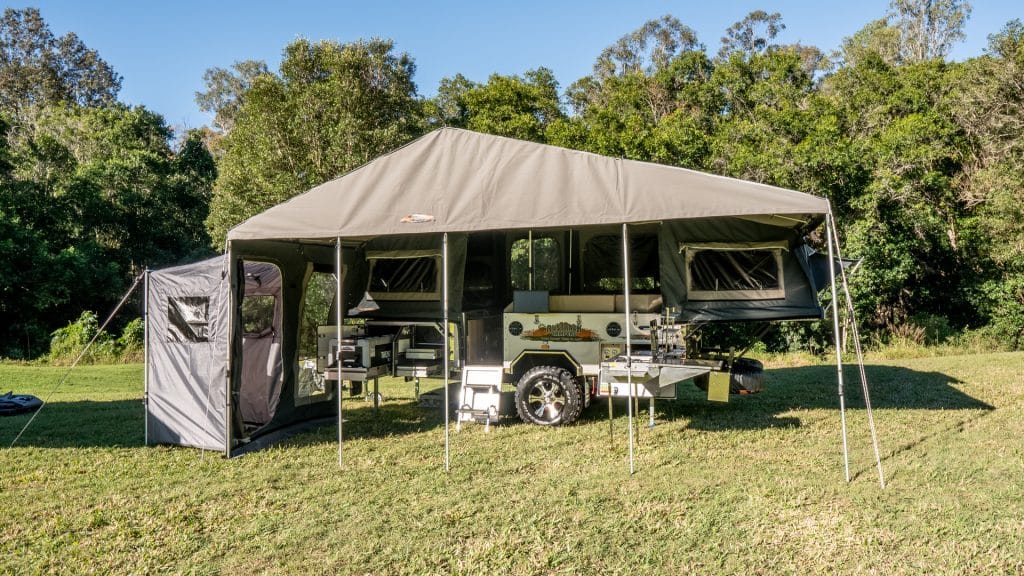 Austrack's Plenty X double folding camper is a hard floor off-road camper that will fit the whole family. Featuring the largest living space out of all Austrack's camper trailers, it has quite a few features and luxuries that make it feel like a home away from home. In addition, the Plenty-X has full off-road ability so you don't need to be shy about taking it to your favourite off-the-beaten-track spots.
Key features
Measures: 6.1m x 2.32m x 1.7m.
Tare weight (inc tent): Approx. 1,880kg.
Registered: 2,500kg trailer.
Sleeps six (two adults + four kids) in two x double beds and a six-seater dining area that converts to a third bed.
Gas plumbed slide-out stainless steel kitchen with drawers, tap, large sink, multi-burner stove and large preparation bench.
Two x poly water tanks for up to 210L water with 12v pump.
Two x 120ah deep cycle batteries, Projecta 12V 25A battery charger, REDARC 1kW Pure Sinewave inverter and a 20W folding solar panel.
Ensuite privacy room with port-a-loo.
Bluetooth stereo and HD TV.
95L dual-zone fridge/freezer on a slide.
Portable gas hot water system.
Full annex (including roof, wall, skirt and floor) measuring 6.32m x 2.32m.
Heavy-duty independent coil spring suspension with twin shock absorbers.
Baked enamel metallic finish with fully welded drawbar and chassis.
Gas strut assisted opening and closing lid.
Why we rate it
The Austrack Plenty-X is great for families, easily sleeping two adults and four children and featuring the largest living area of Austrack's camper range. The inclusion of the ensuite room and portable gas hot water system makes it easier to keep everyone happy with both being important features for those that don't enjoy roughing it.
Black Series Dominator – from $21,990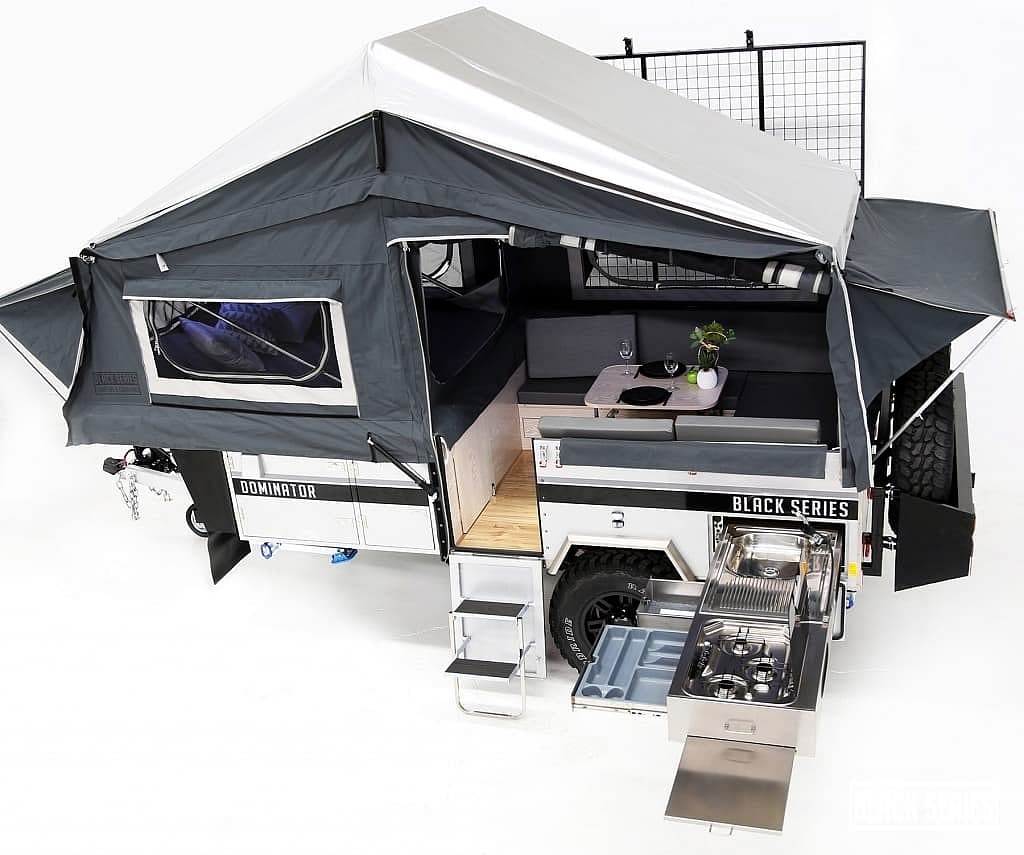 Dominator by Black Series is a great looking forward fold off-road camper with a bunch of features usually reserved for higher price tags. With a slide-out kitchen, large annexe and internal dining area (for when the weather is bad), it has plenty of home comforts without the unnecessary extras that jack up the price into the unaffordable territory.
Key features
Measures: 5.3m x 1.88m x 1.6m.
Tare weight: Approx. 1,690kg.
ATM weight: 2,400kg.
Sleeps four when the table and sofa are converted into a second bedroom.
Stainless kitchen with large sink, tap, electric pump and light.
Annex with roof, walls and floor.
Two x 20L jerry can holders and two x 9kg gas bottle holders.
Adjustable independent suspension with dual shock absorbers per independent arm and coil springs.
Deep cycle AGM battery 100AH with 12V sockets and USB ports.
One-piece drawbar and chassis.
Sofa and table that converts to a second bedroom.
Huge toolbox with large drawers for generator, esky or fridge.
Easy set up with two winches and gas strut assistance.
Why we rate it
The converting sofa is great for growing families and as a whole, it's not bogged down with extras that you don't really need for spending time in the great outdoors.
Hardkorr Campers Bushmaster 4200 TE – $36,990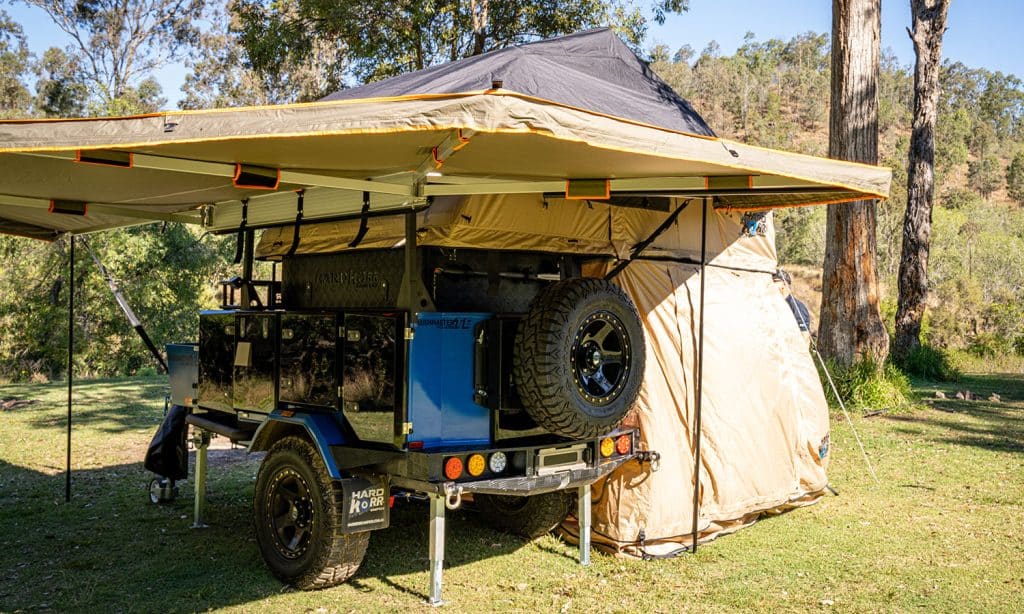 The Bushmaster 4200 TE is for adventurous couples and small families with a rooftop tent set-up and plenty of that toughness that Hardkorr Campers are known for. It's a nice compromise between their larger Overlander GT and their compact Bushmaster 4000-X and as such, features a quick set-up with heaps of storage space.
Key features
Measures: 4.2m x 1.83m x 2.15m.
Tare weight: 1,290kg.
ATM weight: 1,800kg.
Sleeps four (two adults + two kids) in a king-sized rooftop tent with an optional fully enclosed room underneath.
Stainless steel sink, two-burner Dometic stove, 12v water pump, extension bench, hot water to tap and fridge slide.
180L water capacity.
Multipe 12V cig points, 8 x USB ports, 1x 100AGM battery, Hardkorr solar controller and LED lights.
Swing out shower at the front.
Darche Eclipse 270° awning.
Space for 2 x 20L jerry cans, 1 x 9kg gas, generator, Weber BBQ and wood.
Full-length galvanised steel chassis and heavy-duty independent dual big-bore gas shocks.
Why we rate it
Hardkorr Campers' Bushmaster 4200 TE is designed for extra off-road capability making it ideal for adventurous couples or families. Despite its compact size, it has over 2,600L of storage space including enough room for a 110L fridge. The best part? You can access the storage without setting up your camper trailer.
MDC Robson XTT – $34,990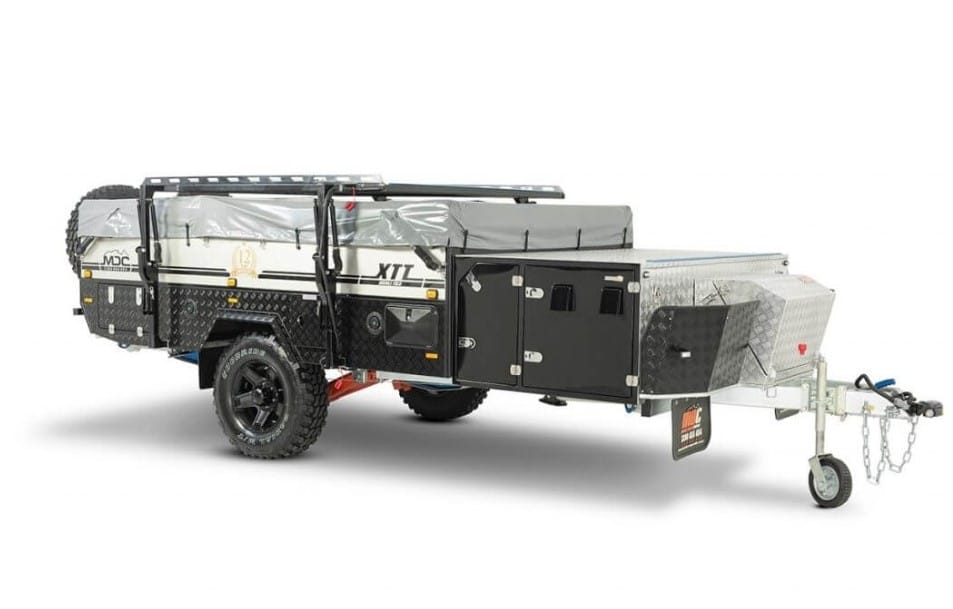 The Robson XTT is ideal for those who want a lot of space in their off-road camper. The tent has full headroom for taller folks and the central lounge area, (which converts to a king-size bed), easily accommodates six people at meal times. Onboard hot water means you don't have to miss out on comforts from home when it comes to having a shower and washing up.
Key features
Measures (closed): 5.8m x 2.3m x 1.68m.
Tare weight: Approx. 1,748kg.
ATM weight: 2,400kg.
Sleeps six when the lounge is converted to a bed.
Stainless steel kitchen with 3 burner gas cooktop, fridge slide and stainless sink with hot and cold water.
Two x 20L jerry can holders and two x 9kg gas cylinder holders
Up to 200L of water with both an 80L and 120L poly water tank and a Truma UltraRapid Boiler gas hot water system.
External ensuite and 20L portable toilet.
Two x 100amp 12V deep cycle AGM batteries, Projecta 240V charger, Projecta DC/Solar charger, Projecta inverter and various powerpoints, 12V and USB outlets.
Tough Trax independent suspension with dual shock absorbers, trailing arm and coil springs.
Diesel heater with 10L diesel tank.
Why we rate it
Taller people will appreciate the full headroom and larger families will love that the centre lounge easily fits six. The diesel heater is a nice comfort accessory for when the weather turns cold.
Opus OP2 – from $33,990
The Opus OP2 has a pretty cool feature in that it basically sets itself up. Using the latest air beam technology, both the camper canopy and annexe fully inflate at the touch of a button so you don't need to stuff around with metal poles. I've seen it in person and can vouch that it sets up in under five minutes! Its off-road performance is pretty good with a decent rear departure angle, heavy-duty coil springs, dual shock absorbers, off-road tyres and a fully galvanised chassis.
Key features
Measures (closed): 5.69m x 2.02m x 1.73m.
Tare weight: 1,415kg.
ATM weight: 1,990kg.
Features a king-sized bed but can sleep up to eight when you make use of the convertible sofa and adjoining air annexe.
Stainless steel slide-out kitchen with four-burner stove, sink, electric tap and fridge slide.
Ensuite shower room out the back and portable toilet.
Two x water tanks – 35L/75L.
Stereo system with two x speakers, radio, USB inputs, CD and DVD player.
Two x 20L jerry can holders and 2 x 4.5kg gas bottle holders.
12V and 240V electricity, 1 x 105Ah lithium battery with 240V charger.
Durable suspension with heavy-duty coil springs and dual shock absorbers.
Why we rate it
A camper that virtually sets itself up? Need I say more? The faux-leather sofa feels quite luxurious to sit on and the kitchen is fab with a four-burner stove and everything in easy reach under the awning. All up, it feels a little more luxurious when you're in it than some of the other off-road campers.
Swag Campers King Kimberley Generation 6 – from $34,990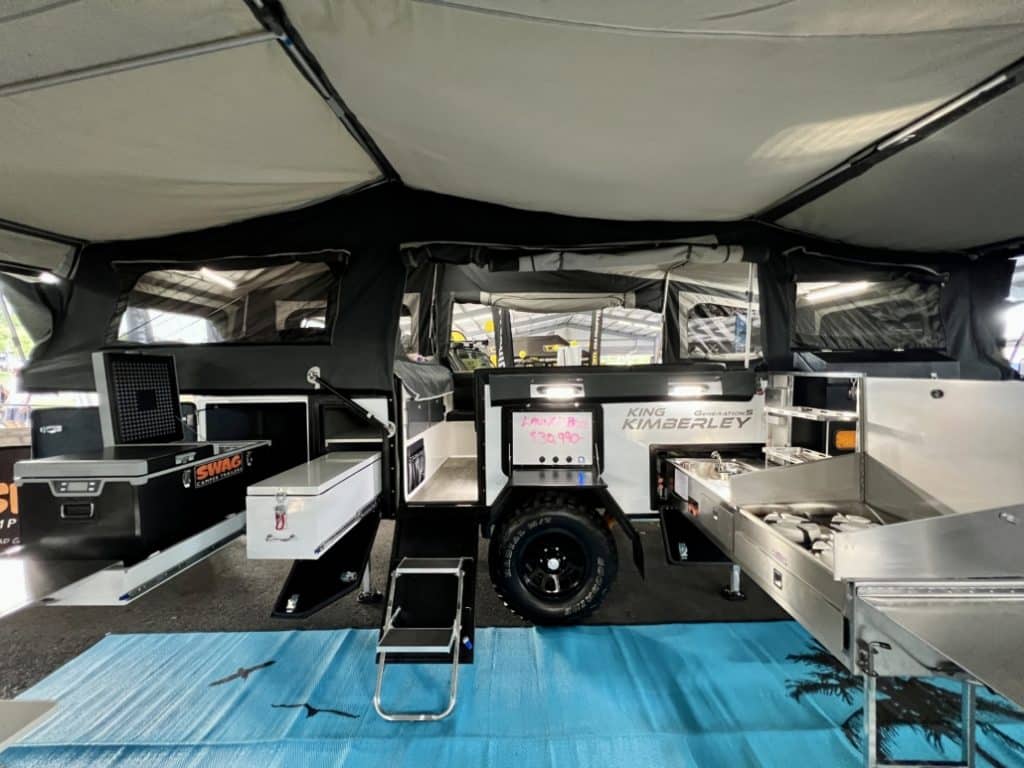 The King Kimberley off-road camper trailer is Swag Campers' premium family camper, chock full of everything you've been looking for in a hard-floor camper. With a fantastic-sized kitchen and a surprising amount of storage space, King Kimberley is ideal for the growing or larger family.
Key features
Measures (closed): 5.5m x 2.15m x 1.65m.
Tare weight: 1,690kg.
ATM weight: 2,250kg.
Full stainless steel kitchen, gas plumbed 4-burner cooktop and large high-sided sealed pantry box.
Gas strut assisted pole system that's quick to set up.
Sleeps six with a king-sized master bed, slide-out kids bed and lounge converting bed.
Ample storage under bench seats.
170L fresh water tank with 12v water pump.
Portable gas hot water system.
SCT heavy duty independent suspension and dual SCT off-road shocks.
Why we rate it
Quite a few six-berth campers don't have a larger kitchen to match. Well, this one does! Cooking for six hungry bellies is much easier when you have a four-burner stove, decent-sized sink and room for a large fridge. The internal storage area can be accessed when closed, making it heaps easier to grab what you need in a hurry.
---