5 RIPPER BUSH CAMPS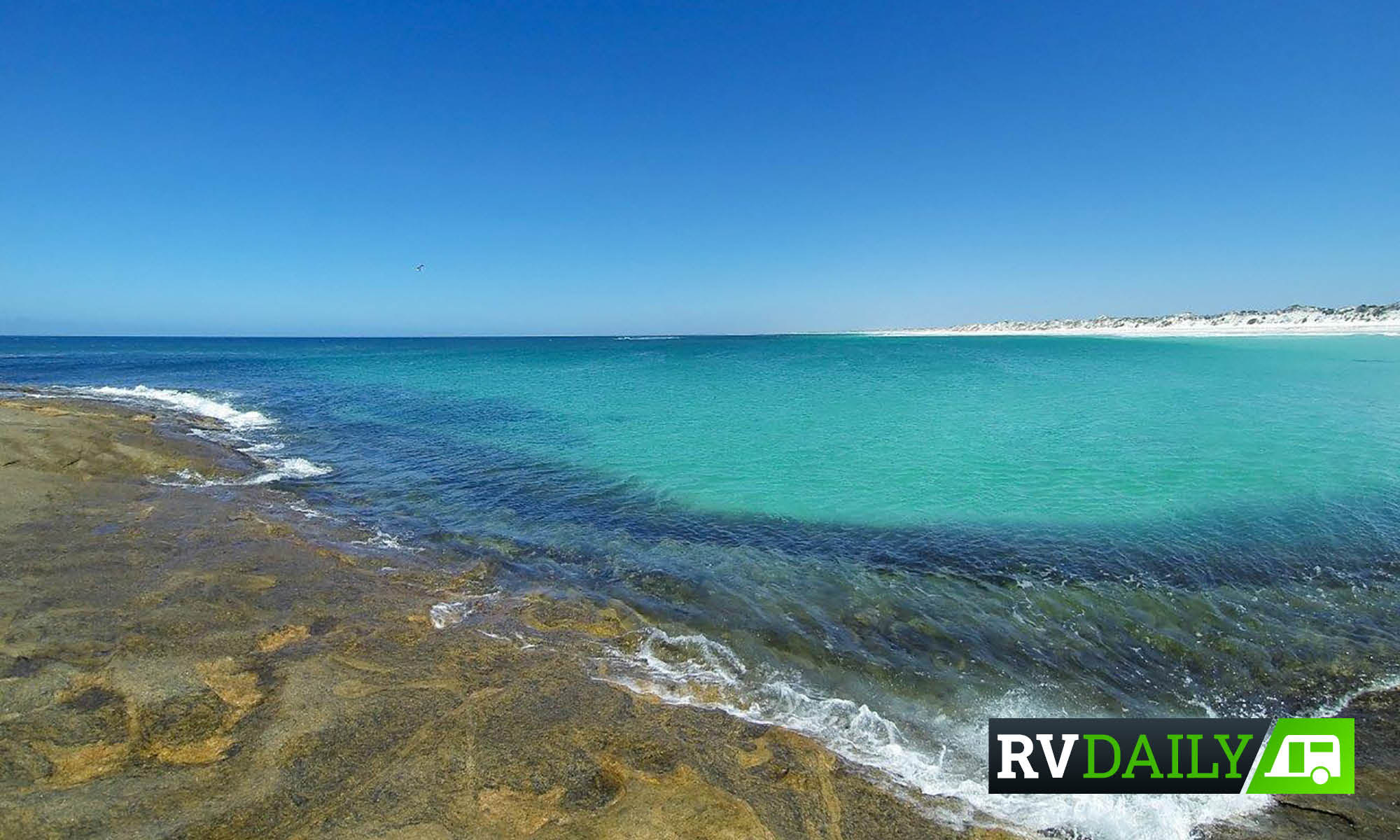 WORDS SAM REES-jONES
If your New Year's resolution is to get out and explore this amazing continent we live on, here are some bush camps to get your started
Newey Reservoir
RV Camping Ground, Vic
The secret is out… this little-known free camp just outside Cobar is beautiful and tranquil, and with all the sites offering a view of the water it's the perfect spot to 'recharge' the human batteries. With clean flushing toilets, barbecues and Cobar town centre around the corner, it's so easy to pop into town and stock up for the next leg of your journey. The campground is run by the council and the town is extremely RV friendly. This spot can fill up quickly so make sure you get in early. Big rigs will need to take care turning around at the end of the camp spot as it can be a bit tight.
Cost: Free
Address: 2 Knight Dr,
Cobar, NSW
GPS: -31.50971, 145.830771
Toilets: Yes
Showers: No
Campfires: No
Max Stay: 24 hours
Road Access: Easy
Water: Yes
Number of Sites: Limited
Power Available: No
Dog-Friendly: Yes
Suitable for Big Rigs: Yes, but take care
Boort Park, Vic
About 255km north west of Melbourne you can stop off at the little town of Boort with a population of around 900. It is here you will find the famous Spanner Man, John Piccoli, who welds giant sculptures out of spanners. His garden is littered with amazing sculptures and is open to the public for viewing. Boort is the Aboriginal word for 'Smoke from the Hill' and you can explore Bald Hill from where the Dja Dja Wurrung people used to send smoke signals. Sailing, fishing, water skiing, canoeing and bird watching… Boort makes for a perfect weekend water wonderland escape. There have been reports that Boort had closed its showground to campers but we have checked and it is open. It is a wonderful stop for a weekend away from the city or the start of a long trek around our giant backyard.
Cost: Donation
Address: 53-83 Malone Street, Boort VIC
GPS: -36.110019, 143.729033
Toilets: Yes
Showers: Yes
Campfires: Yes
Max Stay: None
Road Access: Easy
Water: Yes
Number of Sites: Lots
Power Available: Limited
Dog-Friendly: Yes
Suitable for Big Rigs: Yes
Carrow Wells, SA
This is a great little spot with wonderful ocean views where you will get lulled to sleep by the pounding of the waves on the shore. It has a dirt road entrance with some corrugations, so you will need to take it easy. They say this is one of the best fishing destinations in South Australia with plenty of opportunities to catch fish from the natural harbour or you can go crab hunting instead. At the campsite there is one long-drop toilet and from reports that we have, you might be sharing it with the resident blue-tongued lizard, but it is harmless and will simply ignore you. From the campsite you can walk to the beach, go swimming or do some exploring around the windmill where you will find an old bullock cart, which makes for some great photo opportunities. There is limited shelter so keep that in mind if the wind is blowing, but the glorious sunsets over the ocean make up for the windy days.
Cost: Free
Address: Coast Road,
Port Neill, SA
GPS: -34.143453, 136.33345
Toilets: Yes
Showers: No
Campfires: Yes
Max Stay: Unknown
Road Access: Dirt road (rough)
Water: No
Number of Sites: Plenty
Power Available: No
Dog-Friendly: Yes
Suitable for Big Rigs: Yes
Israelite Bay, WA
If you thrive on remote bush camping and you want to get away from it all then set your GPS to Israelite Bay. It is recommended that you don't arrive in the dark as it can be a bit of a maze to find a site. The scenery is beautiful and when you are not fishing there are lots of little spots to explore. There are numerous ruins in the area and you will be surrounded by emus, kangaroos, seals and stingrays. It is 4WD access only and the road is slow going. This really is a campsite to get right off the grid and you have to be totally self-sufficient, so make sure you take plenty of food and water, as well as your fully charged camera to capture some great photos of the ancient ruins and skeletal jetties in the bay.
Cost: Free
Address: Israelite Bay, WA
GPS: -33.620326, 123.863976
Toilets: No
Showers: No
Campfires: Yes
Max Stay: Unlimited
Road Access: 4WD only
Water: No
Number of Sites: Unknown
Power Available: No
Dog-Friendly: Yes
Suitable for Big Rigs: No
Funny Dunny, Qld
While this site is technically a free camp spot they do ask for a $5 donation per night to help with the maintenance of the camp and for the council that trucks in drinking water to ensure the water tanks are full. The campsite got its name after the council put in an ECO toilet and the locals decided it was an appropriate name for their campsite. Access to the campsite can be deceiving as it looks a bit like you are turning into a private road over the cattle grid and gravel road, but 12km down and you will arrive at a spacious site where you only have to walk 100m down to an endless beach. Funny Dunny is a delightful spot for happy hour campfires and Milky Way spotting. As with all Queensland coastal spots, don't forget the Bushman spray or you will be carried away by the sand flies.
Cost: Donations
Address: Wunjunga Road, Wunjunga, Qld
GPS: -19.752305, 147.596207
Toilets: Yes
Showers: No
Campfires: Seasonal
Max Stay: 48 hours
Road Access: Unsealed
Water: Yes
Number of Sites: Plenty
Power Available: No
Dog-Friendly: Yes
Suitable for Big Rigs: No