A fireplace might not be the first thing that comes to mind when you're packing for a camping trip. However, when we set out for a 2-year lap around beautiful Australia, we knew it was something we wanted to have handy. We sheepishly put the Zorali Pack and Stash fireplace at the top of our Christmas wish list and luckily for us, Santa delivered!
Since then, our fireplace has accompanied us to all of Australia's states and territories and has lived to tell the tale. Here's how the Zorali fireplace stood up on the ultimate camping adventure!
Features & Specs
The stainless-steel Zorali fireplace's size once assembled is 42 x 36.5 x 35.5cm and it weighs 8.6 kilograms. Easily stored, it folds to the convenient size of a pizza box and is kept in a nifty black carry bag. If you can't resist a tasty meal by the campfire, you'll be pleased to hear that an adjustable grilling bridge and removable grilling rack for cooking is included.
How it works
Assembling the tent can often be a huge feat, especially if you're working alone. The last thing you want is an additional assembling task on top. Luckily, the fireplace is both quick and easy to set up. All you need to do is lay down the base board and undo the clasps. Next, expand the main fireplace and clip each foot onto the clips on the base board. After that, place the coal rack within the fireplace and you're ready to build your fire!
If you're planning on cooking up a feed, attach the grill bridge and grill on top. Then simply adjust it to the required height using the three rungs. Voila!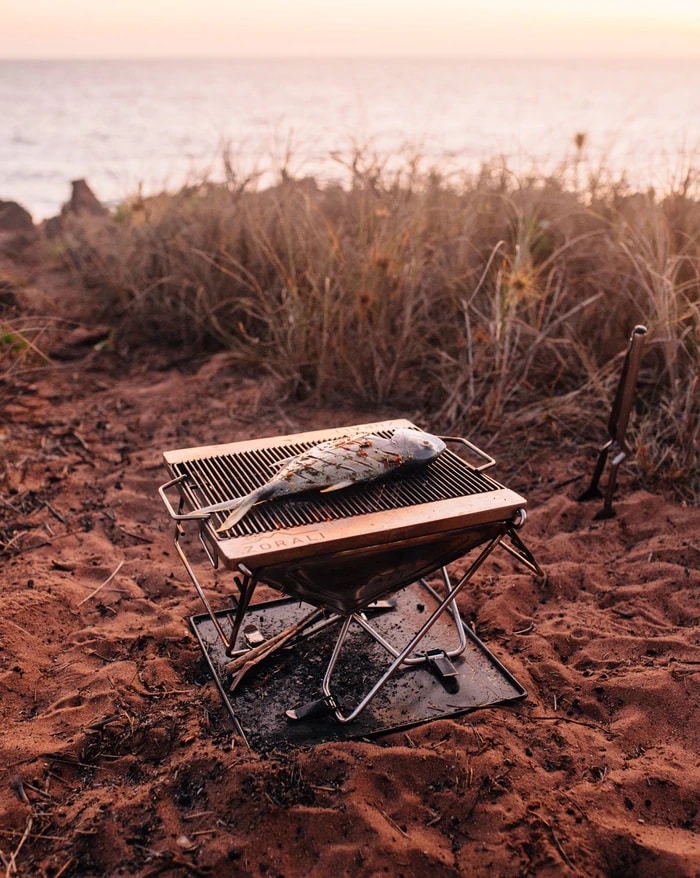 Best bits
The handy design of this pit is the reason the whole fire is lifted up off the ground. This was a saving grace on our trip, as we were able to create fires in multiple locations! Some campgrounds such as national parks, station stays and even caravan parks restrict fires to contained buckets off the ground. So we were well prepared when we arrived there.
Need to pack up quickly? The whole pit and grill packs down flat and small so it's easy to strap to the roof, slide in a little nook or cranny or just chuck it in the boot of your car. Making it easy to just grab and go and leaving you more time for your outdoor adventures.
Having an easy way to cook over the fire resulted in us doing it more often while away. If you're just starting fire cooking, it's a great way to learn the basics because it makes it easy to keep things up off the coals and the fire bubbling away underneath. Say goodbye to squashed and burnt food.
We often used the grill bridge to help us build a bigger fire even when we weren't cooking. The adjustable sides made it easy to have longer sticks and logs, minus the risk of them falling out of the pit or crushing the rest of the fire. 
Once the pit is assembled and the fire is going, you have the flexibility to move the fire if for example, the wind picks up. Keep in mind, you will still need to take caution and use welder's gloves, however the handles on the side help to shift the whole fire to a better location if needed.
Durability is guaranteed, tried and tested by us. After almost 2 years in the sun, wind, rain, and corrugations on the roof of our car it still functions as well as the day we bought it.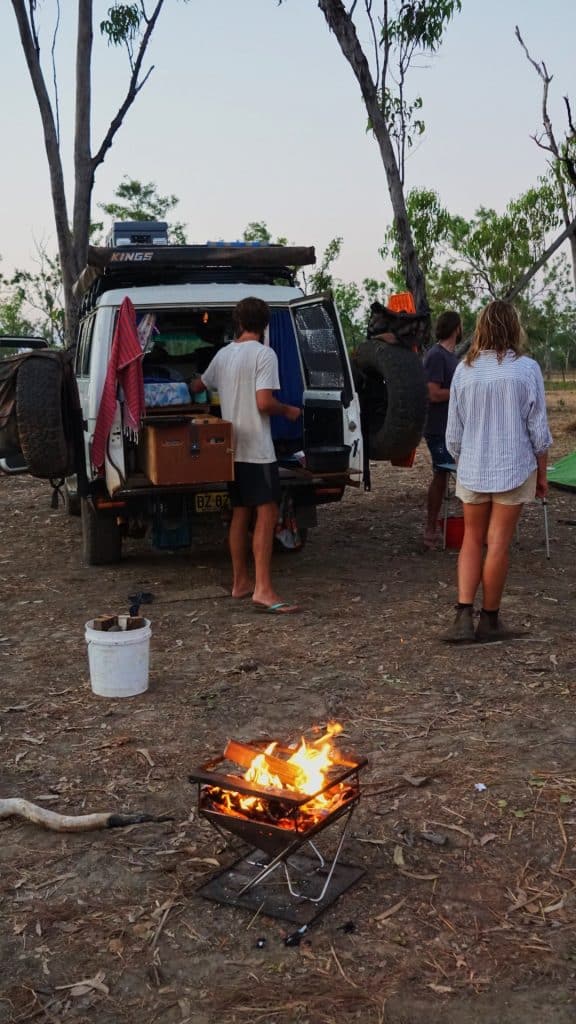 Worst bits
Because ours primarily lived on the roof, the bag disintegrated after about one year and needed to be replaced. However, non-stop Aussie sunshine will do that to relatively anything. If kept inside I have no doubt it would have lasted much longer!
It comes with a coal rack that sits inside the main tray, but we accidentally threw it out with some coals and ash early in our trip. It can be easy to forget about if you've had a large fire, so don't make our mistake! On the upside, we managed future cooking and campfires just fine without it.
The downside to bringing your own fireplace is you can't leave your coals in the pit when you leave. Finding a safe and appropriate place to dump coals was often a challenge.
The fireplace is a little on the pricey end as far as camping equipment goes. Those on a budget may be deterred and sadly it may not make the list.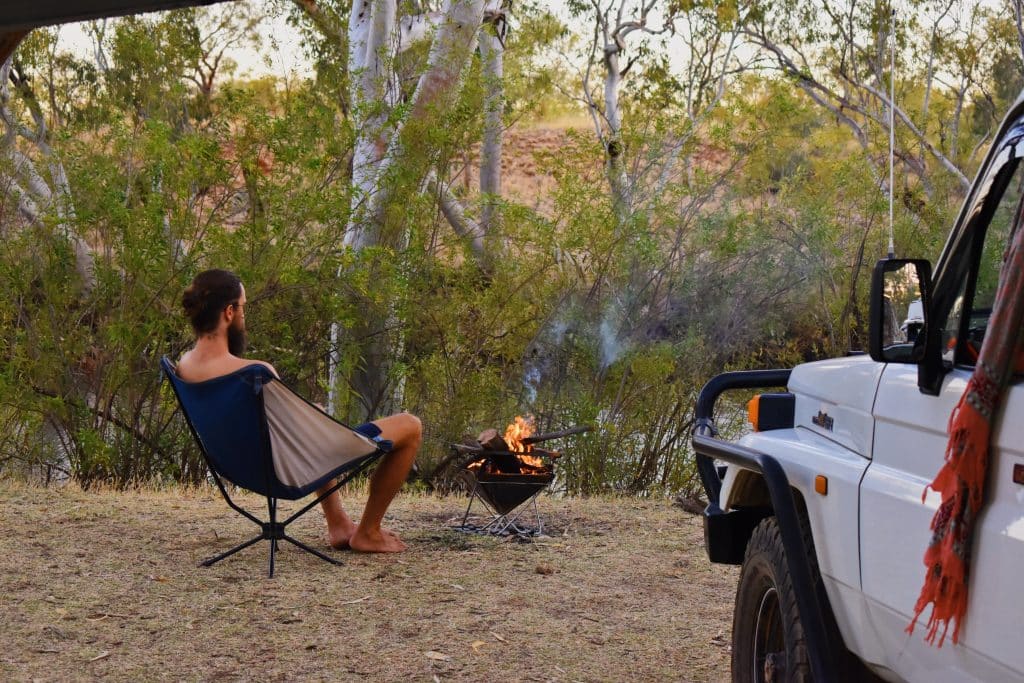 The verdict
For us, the pros of this fireplace far outweigh the cons. There's no doubt that we put ours through its paces and it's thankfully still going strong.
The durability certainly outweighs the cost and it's a worthwhile investment for any type of camper. It would work just as well for a yearlong road trip as it would for weekends away or even just some fun in your backyard!
To some, it might not be an 'essential' item on the camping list, but we are glad we had it. In our experience, it gave us more freedom, opportunities and overall great memories. Having it with us encouraged us to cook on the fire more, light more fires in general, and was the centre of some epic times under the stars with new friends.
How to purchase